Earth Frequency Festival is a place where you can discover the electromagnetic field of Earth that surrounds and protects life at a natural frequency pulsation of 7.83 hertz. Also known as the Schumann resonance. Allow us to explain
Electroencephalography,
In the field of electroencephalography, the average alpha frequency of the human brain is also 7.83 hertz, a coincidence? Perhaps.
Being more closely connected to nature gives our bodies the ability to tune into this frequency. This allows us to heal and restore much faster. The connection we talk about at music festivals is not just with the music and other humans. It is with Gaia, our mother, our protector, and our home.
The Story So Far
We are attending the 15th chapter of the Earth Frequency story thus far. The place is jam-packed with adversity and triumph. Find it at Ivory's Rock Conventions Centre just outside of Ipswich in Queensland, Australia.
Earth Frequency is fast becoming the benchmark for festivals across the globe. Set with a pure intention to bring cultures together on the sacred land of the 'Jagera' people. With the intention of learning to grow, and unite as one community.
A community that believes in a better future. One of love, acceptance, compassion, and working with the land not against it. It is an honor to be part of this experience,. Volunteering my time is the least I can do to say thank you.
Overcoming Adversity
Australia is dealing with a crippling drought, Unprecedented bush fires, and questionable decisions made by our government to build new coal mines. Never before have we been in such need of rain, and rain it did.
Some areas close to the festival site reported 1000ml of rain in 24 hours. So much so that the fate of Earth Frequency 2020 was in question. Right up until the Thursday before its commencement.
I will take this opportunity to express my immense shock and gratitude. To the crew that brought this all together in the most challenging conditions, I have ever seen.
Moving entrances, building roads, supplying gumboots, food, love, and support . You did it and you did it all with smiles on your faces, an unbelievable display of human spirit.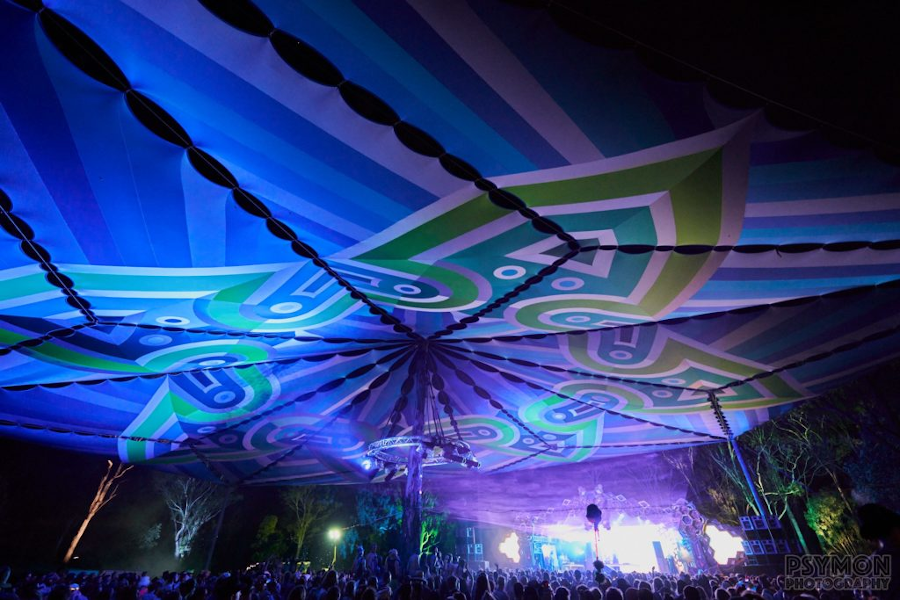 Solid Infrastructure
As I mentioned above. There is a huge focus on building a genuine community here so the facilities are fantastic. This includes shower and toilet blocks. Making the experience more accessible for people with special needs, children, and the elderly.
The main stages do not play music all night. This gives everyone a chance to wind down and restore their energy for the next day. Upon waking the vibe is already electric!
The site is kept so beautifully clean. One can forget 5000+ people are living together for the best part of a week.
Providing four amazing stages, a healing area, workshops, and a huge deli. Providing food from all over the globe and so much more. This is an immersive experience, a wonderland for all ages.
Let The Games Begin
Friday night. Although the grounds were soggy and crews are still scrambling to complete tasks proceedings kicked off with a bang!
Smokesign and Hellquist absolutely destroyed the Subterranean Stage. They played face-melting psytrance as we stomped away in the rain, knee-deep in mud, smiling from ear to ear. We are extremely wet but our spirits aren't dampened.
There is something truly special about the people that attend this festival. A type of innate resilience to adversity, a refusal to let conditions dictate the vibe. I find the younger people experience music festivals the more mature and resourceful they are.
I will certainly be taking my children to festivals from a young age, especially Earth Frequency.
Soaked And Still Smiling
It's Saturday morning after a rather soggy sleep (don't buy cheap tents, ever), I welcome the much-needed sunshine.
Be careful what you wish for especially if you're not used to the climate. Always make hydration the main focus, in any condition, especially in Queensland. The Subterranean stage pulls most of the crowd until the main stage opens at 16:00.
We witnessed some amazing progressive psytrance. At the hands of local favorites Fractal Fairy, Purple Hayes, and the Serbian powerhouse Talpa. We must have danced for almost 6 hours in the sweltering heat. That is the power of psychedelic trance – that is the power of music.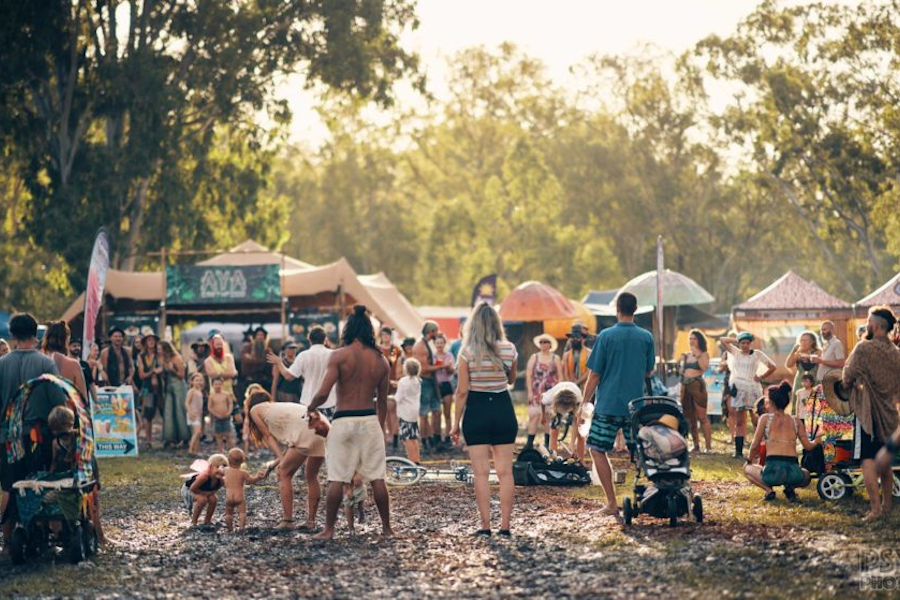 Opening Ceremony
Earth Frequency showcases one of the most well thought out and beautiful opening ceremonies that I have ever seen. Starting with a traditional Aboriginal welcoming, dances, storytelling, and didgeridoo lesson (my personal favorite).
Local children then act out a play that sends a different message every year. This year focused on diversity, a very important message and integral part of any community.
Kaya Project opened proceedings. As I recoiled for some much-needed respite and regeneration. Saving some legs for the sets of Skwid and Menog, who never disappoint.
High BPMs remove the last of the energy from my body and I am ready for sleep. I manage to catch a talk about Mugwart being very good for lucid dreaming, while I dine on an incredibly authentic chicken Pad Thai,
Sunday Funday
Opening my eyes after the longest sleep since Wednesday, The feeling of rejuvenation I am ready for Sunday Funday. Hydrate, stretch, eat, dance – that is my recipe for a great day regardless of the setting.
I plan to spend most of my day and night at the main stage. Twisted Sibling, Quivver, and Gabriel Moreas are on the line-up. I'm blown away by these amazing artists that I'm now just seeing for the first time perform live.
As if I wasn't already having the best time of my life. My soul brother Kurt surprises me by arriving unexpectedly. Kurt is a veteran of eight years at Earth Frequency, you can certainly say this is his stomping ground.
As the music and our excitement reach new heights we pay witness to KOAN Sound and K+Lab. Moving through booty-shaking genres such as glitch hop, dubstep, drum & bass, and Neurofunk effortlessly,
Survival Of The Fittest
Mad Monday – as referred to by festival lovers across the globe – is perhaps the best day of all.
This is because of those of us that are still in party mode are musical purists and all-around bloody legends. The vibe is worth bottling as we congregate around the Subterranean stage and Earth Pod.
Home gown psytrance heroes such as Terrafractyl and Ryanasaurus continue to push the boundaries as we cut shapes in the relentless heat. Chamberlain and Ultrasloth close out the festival with hard-hitting drum & bass as we gather to watch the closing ceremony.
The owner Paul addresses the crowd and pays tribute to the many teams of people that work as a unit to deliver this incredible experience.
Photo credit: Psymon Photography