If you thought you've heard someone spit fire on the mic over hip-hop, wait until you hear these DnB emcees ready to make waves in 2023.
MCs in the drum and bass genre are taking drum and bass lyricism to the next level. Below is our list of the 7 most fire DnB MCs to watch out for this year.
DnB Emcees on the rise
2022 was a great year for DnB. The quantity of quality DnB being released is overwhelming and with that the number of MCs along with. Any flyer for a drum and bass event in clubs like Printworks London will have a list of Masters of Ceremonies featured on the night.
Aside from the number of emcees there are also new and innovative styles emerging. Some DnB emcees like Bru-C are even getting signed to major labels like Def Jam Recordings.
Pro Emcee or Anti Emcee?
Despite their popularity, a genuine DnB emcee that people don't find annoying is a tough gig.
It depends on who is behind the mic, but a good emcee should add to the music being played by the DJ instead of taking the light away from it. A great DnB emcee should be as good in the studio as on stage. Loving or hating the emcee is a polarizing topic in drum and bass.
Regardless, if you like them or not they are not going anywhere anytime soon.
1. Bru-C, on the way to most successful DnB emcees ever
Bru-C's has gone far since his meteoric rise from his first release on Flex Records. This Nottingham (UK) based DnB & bassline MC is now signed to Def Jam recording and has been releasing track after track.
Bru-C has been oscillating from bassline to dubstep and of course DnB. His displays of versatility as an artist saw him start from smaller venues of a few hundred to shutting down some of the biggest dance music festivals with his distinct sound.
He has managed to make it as one of the most recognizable MCs in the business. So much that other producers are copying his distinctive DnB sound. His latest track with 2022 DnB breakout artist Hedex is called Clart and it's a wobbly mess. Meanwhile 'No Excuses' reached over 32 million streams on Spotify released in June of last year.
Hold onto your seat – more from the DnB emcee coming in 2023.
Bru-C on Spotify
2. DRS, a DnB MC that is hard not to like
DRS remains a classic DnB MC. His innovation continues to set the tone for today's DnB landscape.
The UK born MC is best known for his liquid collabs with some of the biggest producers in the industry such as Calibre, Lynx, LTJ Bukem, LSB and the late Marcus Intalex.
He's still a leading voice to the complex rhythms of DnB. When he gets in his state of flow it's soulful, deep and meaningful.
Last year he released an album called 'Del-Rok-Ski' n September on Shogun audio. His seventh album reportedly follows a life-changing point in his life quitting a reliance on drugs and alcohol. We also loved his feature on EP 'R.A.V.E.A.S.A.P / On That' with Gardna, the first track on it reaching half a million streams on Spotify.
Expect DRS to continue to evolve and to grow even more in 2023.
DRS on Spotify
3. Devilman, riding the DnB emcee wave and taking over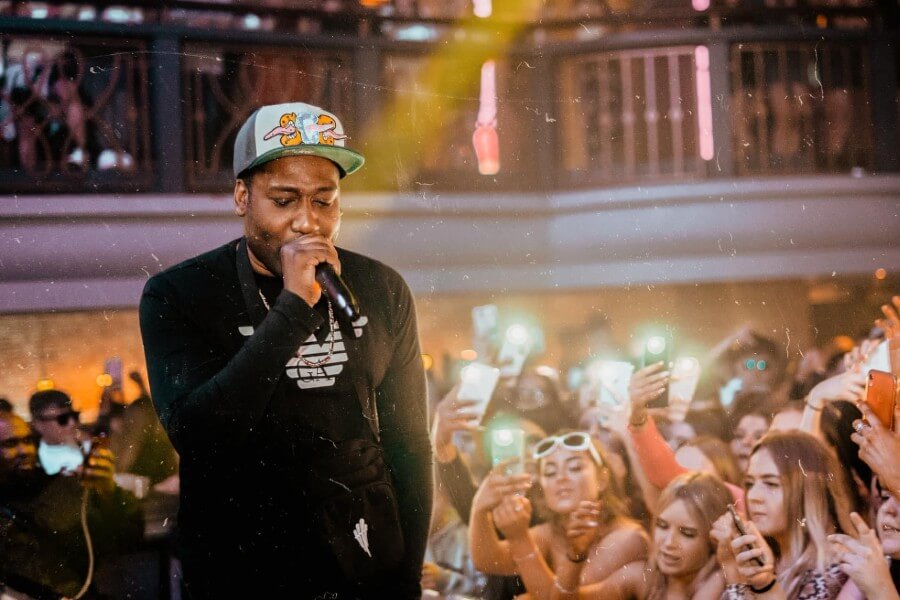 We aren't going to hold back on this one – Devilman is one of the office's favorite DnB MCs. It's simply the fact that his style is so odd and unique, strange and obscure raps over dirty as f*** grime beats.
Devilman was arguably one of the busiest DnB emcees in 2022. He was releasing a crazy amount of music, from full blown albums, collabs on EPs and fire singles like 'FOLLOW NO TREND' and 'Working' (the music video is fantastically simple yet effective).
If Devilman continues like this all the "working" is gonna pay off in 2023.
Devilman on Spotify
4. Harry Shotta, one of the emcees still firing shots and dropping bombs
Last year we wrote that was "not playing nor debating". The same holds true one year later. Holding the Guinness world record for the most words in a song (1771 versus Eminem's 1560 words in Rap God), he remains the most versatile emcee on the planet.
Harry Shotta is famous for his lyrical genius worldwide, racking up millions of views on YouTube and gaining a serious following on all social channels.
2022 saw him release 'Haters' and another track we are particularly fond of called 'We Are Not The Same'. Have a listen and discover this DnB emcees amazing talent.
Harry Shotta on Spotify
5. Eksman, this DnB emcee is a prolific collaborator
This is an example of a DnB emcee that is not afraid to collaborate. Eksman's 2022 album Evolution Mixtape is chalk full of tracks with other emcees. He also had success with his track Special Powers with DnB emcee Mr. Traumatik.
Eksman London MC lays waste wherever he spits. He is a big performer at DnB club night and festivals alike. Active since the early 1990s he one of the most prominent emcees on the scene, Eksman is considered one of the most prominent and respected MCs in the drum and bass scene.
Considering his 2022 performances and released, expect more fire from him this year.
Eksman on Spotify
6. Maddy V, repping the female DnB emcee role in the DnB world
There are not too many successful female DnB emcees, however Maddy V is leading the charge. She was featured on Mr. Traumatik's 'Dimethyltryptamatik' and this year she paved the way with 'MD' with Devilman and Skitzy.
Judging by the collaborations and singles she is appearing on, keep your eye on Maddy V in 2023.
Maddy V on Spotify
7. Mr Traumatik, a massively successful regardless of controversy
A drum & bass and grime MC from Cardiff, Mr Traumatik spits explicitly X-rated and high energy bars. That, plus being backed up with some of the dirtiest beats and drops known to the DnB world.
Out of all the DnB emcees on the scene, he released the most music in 2022. That includes two full sized albums and enough singles to fill your mum's kettle.
Mr Traumatik is not shy to controversy and has found himself on the cancellation train thanks to some misplaced comments on Twitter. Part of the internet hounded him for it, many people shocked when discovering the full extent of his lyrical vulgarity. At the peak of the scandal he was dropped from a music festival.
In response to the social media backlash, he refused to apologize, announced new tour dates and released a track called 'Cancelled' saying that "you can't cancel an independent artist".
With this confidence. Mr Traumatik will remain a force to reckon with in 2023.
Mr Traumatik on Spotify
Are you a Producer?
If you're a DnB producer make sure to check out this essential software to sync audio between headphones and speakers.