Cryptic Street – a hyper-energetic, no-nonsense punk band that could kick your ass with their tunes.
We meet frontwoman Leona to chat about Cryptic Street
How long has Cryptic Street been together?
The original band lineup started off as an English project back in school.
So we didn't actually choose to be an all-female band, it just happened.
With the current lineup, we've been together for about a year and a half, Leanne, Michelle, Janelle, and I – Leanne on bass, Michelle on drums, and Janelle on guitar. We've had the lineup change a lot through the years and that's how we got our style and eventually ended up sounding like this!
How long have you been involved in music?
I used to sing a lot for my family – I was always that kid! But it was because of Janelle that I took it more seriously.
She really thought that I could sing. But yeah, it's been going for about seven years and obviously, I took it to a professional level and started studying music theory.
I started playing the guitar as well – but that didn't work out.
What about the rest of the band?
Janelle has been playing since she was really young.
She actually started off playing the violin – she's classically trained. Leanne has been playing since she was 7, I think? And Michelle, since she was 4. She's the youngest but she's the most energetic.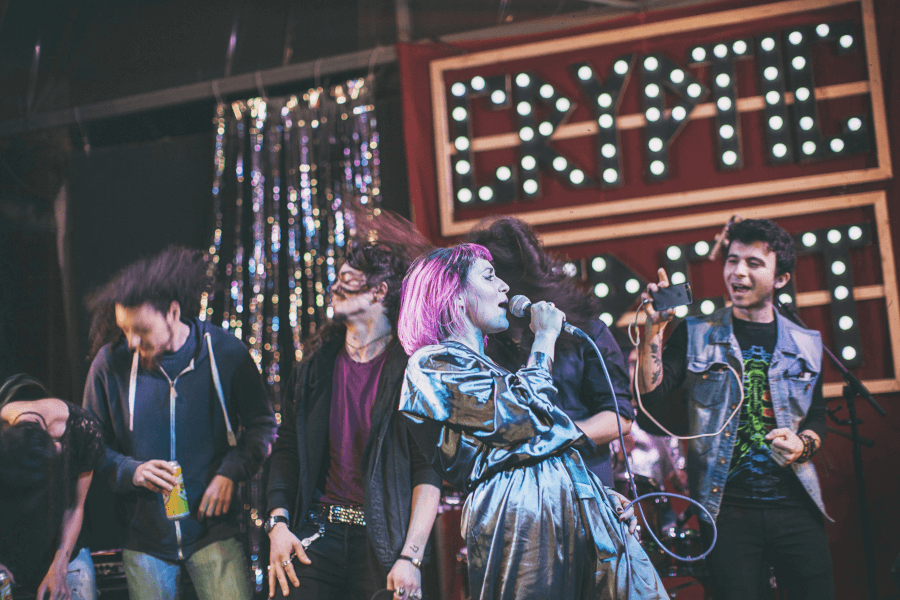 Dreamy stage fright
I've seen you guys play a couple of times and you always give a very unique, very energetic performance. How would you describe your band dynamic?
On stage, we're completely different people.
For me, personally, I'm always really fucking anxious before I get on stage but then it's like a dream – it just happens. I get into this whole vibe going on and it really works between us.
At the end of the day, we're not just a band, we're a family – we have this sisterhood going on. So that helped a lot with the dynamics of the band. It's not something that was there from the beginning though, it's developed over time.
Let's talk a bit about Cryptic Street. What kind of genre would you describe it as?
Most people are describing use as psychedelic punk.
We all listen to different types of music but, when we get together there's this whole vibe going on that progressed us to this point. It's not like we went to the garage one day and decided we wanted to be psychedelic punk,
It just kind of happened. But we're trying to hold on to that direction with our upcoming stuff. We're actually planning on releasing more material next year.
A psychedelic 2019 for Cryptic Street
Can you tell me anything about your new stuff?
Well, it sounds very psychedelic!
At this point in time, we're doing some writing and we're planning to go recording again in December and hopefully, we'll have it released at the beginning of 2019.
So, you've been heavily influenced by the alternative scene in Malta. What do you think of Malta's music scene?
There's a lot going on here – from jazz to metal, to alternative, to techno – there's so much potential but I think we restrict ourselves sometimes.
We have this mentality that first, you have to be able to make it in Malta by sticking to the norms that are suitable here rather than thinking outside the box. But the scene is definitely booming – there's a lot of talent for sure. I really want to see more bands going abroad though, you know?
What are your favorite places to go to listen to alternative music in Malta to see live bands?
Usually, I'm always supporting the scene here so I look for new alternative gigs and events
Musicians are all like a community,
We all try to go to each and every gig we possibly can. So I would go anywhere to see live music.
The Ranch, for example, did a gig in the middle of a field and that was fucking cool. I want to go to a gig in the catacombs. I was planning to do a launch there, but Janelle told me I was crazy!
Iggy Pop, Queens of the Stone Age, The Stooges
.What would you say are the main bands that have helped influence your music?
For me personally, I think Iggy Pop, Queens of the Stone Age, The Stooges, and Nick Cave. I also like Tom Waits, Leonard Cohen, and Herbie Hancock. There's definitely a lot of artists that have influenced me; I listen to a lot of stuff.
And apart from bands that have influenced you, what would you say motivates or inspires you to write your music as a band?
With Titty Monster, we were all passing through a really rough time, you know?
So, we listened to each other and that really showed when it came to writing the songs. The lyrics are like a personal diary for me, so personal experience and mental health have molded the lyrics.
There's not enough awareness about mental health and we really wanted to emphasize this. Like, anyone can feel like shit and you need to take care of your mental health. There's definitely not enough importance placed on this – usually it's like a fucking taboo.
Mental health
I completely agree, but I think that's not just in Malta, that's everywhere.
Yes, it's everywhere. The trick is to not let it get to you and that's why we use music as a medium.
That's the only time when we can really express ourselves the way we want.
That's actually something I've picked up on a lot in your album. A lot of the songs are very raw – there's clearly a big emphasis on mental health in them.
Yes, and repetitiveness as well because I think of repetitiveness a lot. One of my biggest fears is that I will end up living my life in a loop and I think that shows a lot in the lyrics too.
Titty Monster
How have you found Titty Monster has been received among your fans?
We're very overwhelmed by how well it's been received in Malta.
It's been received very well abroad as well. People have been buying our album from as far away as Norway and a lot in the UK. Even after Rock the South a lot of people were sending us really nice messages saying that they could relate to the stories in the songs – especially the whole mental health thing.
So to me, that was very satisfying because of the fact that there are people who can literally understand what you're going through – it means a lot. So I'm very glad that we could reach out to these people.
Will you be touring with the new album?
Yeah, we're planning a tour hopefully in November. We'll have a couple of gigs in the UK in August and September too. I don't have much information yet because Janelle is the mastermind behind touring.
So this isn't the first time you'll be touring abroad, right? Where else has Cryptic Street played?
We actually started off touring with Michelle's first gig with us,
It was in Barcelona in December 2017. We've been touring in Dundee, Edinburgh, Glasgow, London, and Madrid.
We supported PINS, an all-girl band from Manchester – they're really cool – as well as Acid Mothers Temple, a psychedelic band from Japan – they're fucking crazy!
Cryptic Street Glasgow bound
Where's been your favorite place to play live?
Glasgow and Madrid. I really liked the people in Madrid, they're always partying and, I couldn't keep up with them!
Even at the live shows, they're full-on, you know?
It's like totally fun chaos. In Glasgow, the people are really nice and we're trying to build a base there because we've been received very well. So, hopefully, they'll see us more
Do you think Cryptic Street will ever move up to Glasgow eventually?
I don't know, we talk about it sometimes. It wouldn't be cool to not plan everything and just move there and still have to work and pay rent.
Then you have no time for music – it wouldn't make any sense.
So, we travel there frequently to go to expos and meet up with people. But yeah, we would never eliminate that consideration. For now, we're taking it slow-moving at our own pace.
Photos courtesy of SpySessionz & Cryptic Street