Meet Haine, one of Malta's first deathcore bands representing the subgenre internationally.
In the Fall of 2017, Claudio (bass) and Jean Vella (founding guitarist), got together with Chris (vocals) and Konrad (drums) with the aim of working together to establish one of the first deathcore acts in Malta.
Claudio and Chris previously played together in other bands, including Innerlink,and MilkMi. Currently, a few of the band members still play alongside other established bands from Malta's metal scene. These include heavyweights Abysmal Torment and Repugnance.
Haine, creating their own brand of extreme music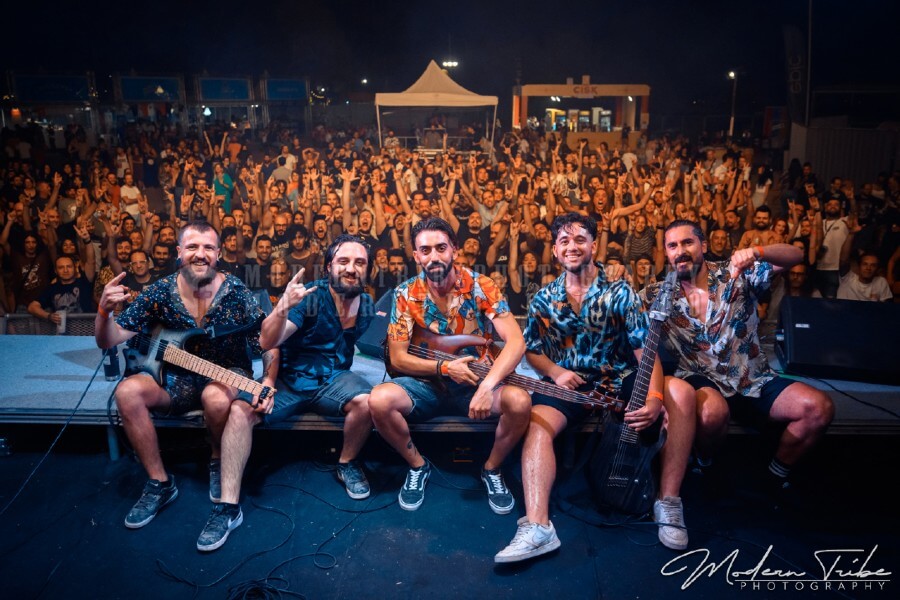 The band's mission statement upon forming was simple. Forgo all preconceived notions and pre-existing scene stereotypes to create their own brand of extreme music. Haine's sound was molded by influences from a vast variety of musical genres. However, it is the major deathcore acts like Whitechapel, Thy Art is Murder, Suicide Silence, Shadow of Intent, Lorna Shore, Fit for an Autopsy, and Chelsea Grin, that really left an impression.
The result is a deeply layered sound. Combining heavy grooves and crushing breakdowns, punctuated by melodic overtones. Deathcore is the culmination of assorted styles of metal which merge.
"We constantly talk about our favorite acts and new deathcore bands and how we can push our style further. The sound we are currently producing is a healthy mix of contrasting influences merging perfectly."
The first three singles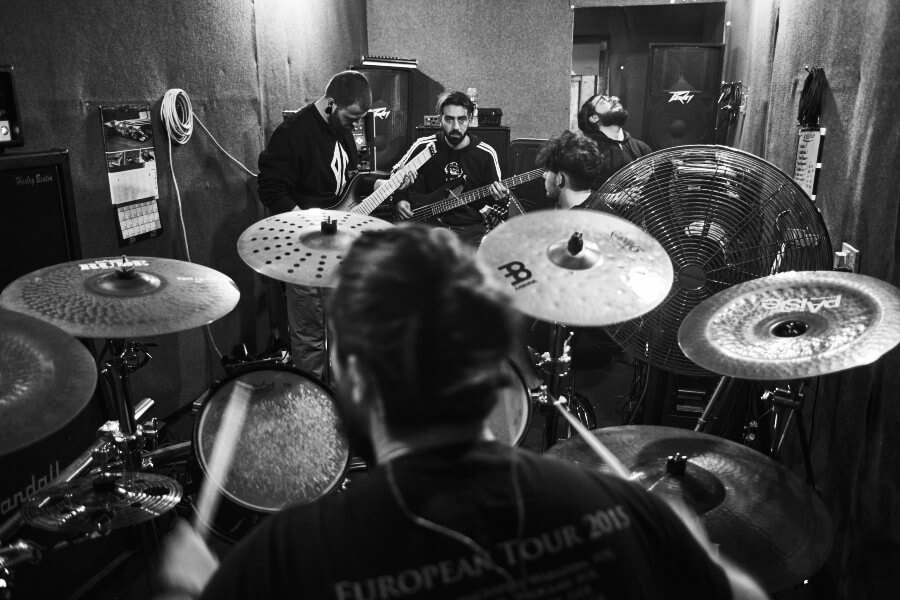 The band released their first three singles, 'This Darkness', 'Our Own Messiahs' and 'I, Empyreal' in 2018, with the intention of highlighting the band's sound. These were soon followed by a fourth single and first music video, 'Breeding Falsity' in 2019.
Soon after, the band started planning to release new material. Pre-production for the debut self-titled EP started taking place at the end of 2019. Which was subsequently released on the 6th of January 2021. The feedback that Haine received was overwhelming with praise coming from both the local and international scene.
Their recording takes place in two separate processes. Firstly, the pre-production stage when the band comes together to start writing the new material. Haine's writing process starts with the guitarists working on a collection of riffs, and then they start merging their ideas and creating the main backbone of the song.
Spine Splitter Studio a full audio assault
Subsequently drum patterns and structures are added to further consolidate the musical aspect of each song. Then the vocals patterns and lyrics come in at a later stage to finalize. It is always a collaborative approach and once they meet for rehearsals; they are ready to start off the session strong, by belting out a full set list, resulting in a better sounding music that can further develop.
Secondly, they execute the final recording process at the studio for the full audio assault. Recording then takes place at Spine Splitter Studio, which is run and managed by David Depasquale. David has managed production and mastering for their debut EP.
"David is an extremely talented and passionate artist, producer who's been there for the metal scene over the years. So, it's without a doubt that we will continue collaborating with him for our upcoming full length and future projects".
The Maltese metal scene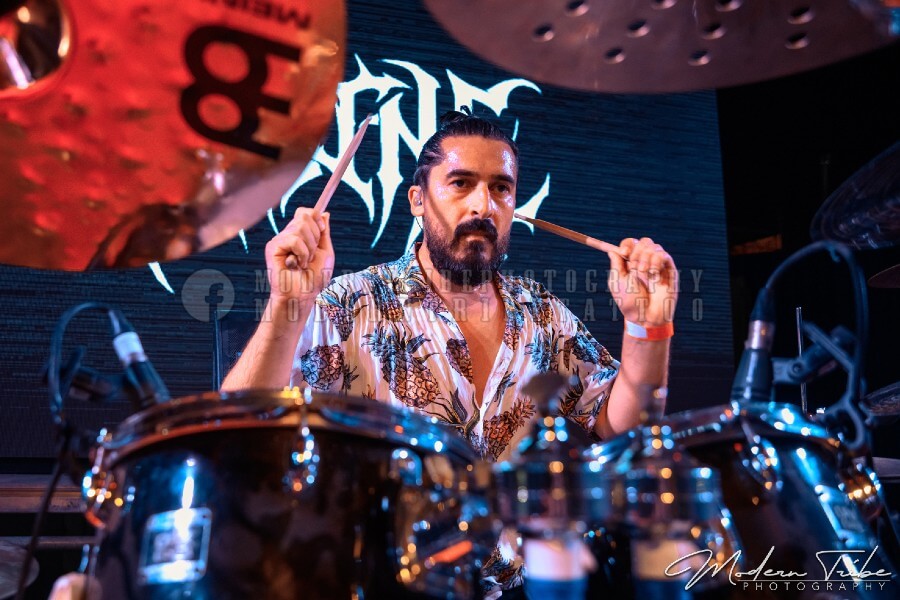 "I firmly believe the local metal scene is not given the right amount of respect and visibility it deserves, both locally and internationally."
With that being said, the band considers themselves lucky to have some of the older bands still around, ensuring that Maltese metal is given a voice. Similarly, new emerging bands are making sure that more modern bands and styles of metal thrive in the local scene.
Haine are living proof of this.
Prior to establishing themselves in the early days, there were no deathcore bands in Malta, and they were the ones who took the leap to try push the boundaries. Despite having worked hard for it, their fanbase is solidly growing. As "seasoned" musicians in the local metal scene and having attended numerous shows/gigs/festivals abroad, Haine honestly believe that the local metal scene has so much to offer in comparison.
"It is almost unbelievable to see how Maltese bands don't have the recognition they deserve. Having said so, bands nowadays have more opportunities to launch themselves on various social media platforms and push their material to a wider audience."
The disadvantages of being based on an island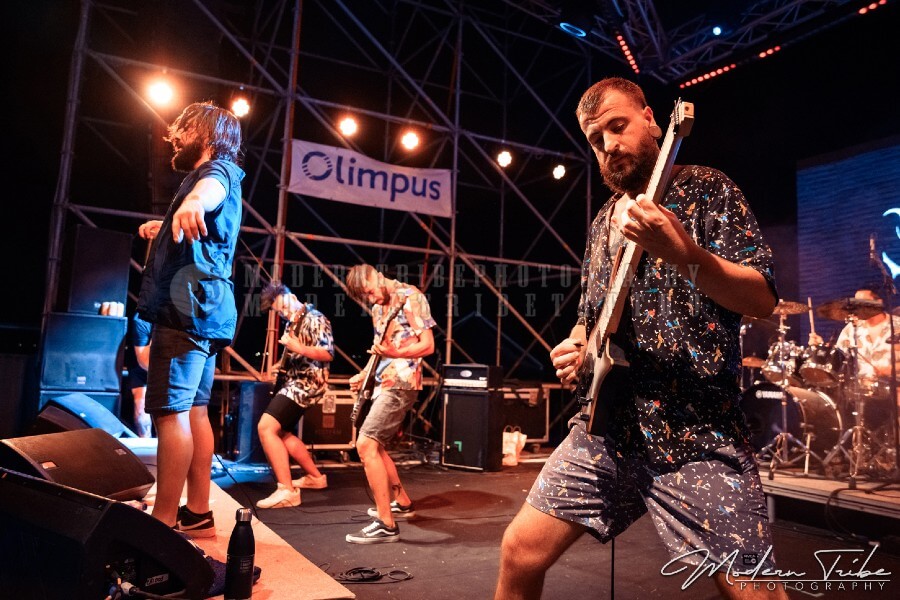 The fact Haine is based on an island creates disadvantages in terms of playing abroad and touring. Foreign opportunities are costly and involve an elevated level of organization that you must prepare beforehand. Unlike mainland European and American bands, they cannot tour as easily as they would like.
Whereas they start off by touring in a van and going around the mainland countries or cities, Haine are constricted by the fact they must catch a flight every single time. However, Maltese bands are playing abroad more often nowadays, so there is more knowledge and understanding of what you need to do to prepare for such an "ordeal."
The local metal scene is a very tight knit one, so they all help each other out as much as possible and share experiences to assist each other in future opportunities. If artists do not promote each other's art through all means available, then their story, their vision, their art will never reach the right audience and that is a major blow.
What the future holds for Haine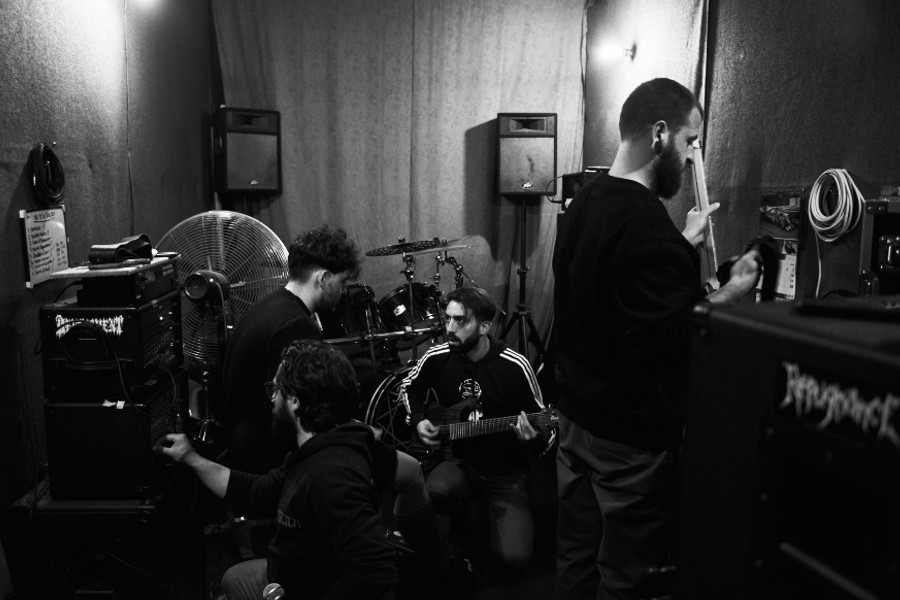 Haine is currently finishing off writing for their upcoming album and will soon head to the studio. Plans are in place for live performances locally, with one of these being the upcoming Zombie Apocalypse – Dystopia. Aside from the local shows there are plans for the band to play abroad. In November you will see them playing SbamFest in Turin, Italy.
As well as sharing the stage with deathcore giants Shadow of Intent, Angel Maker, and Aversions Crown on select dates across Europe. Haine's main goal out of all of this is to push the band as much as possible, as well as put Malta on the map for underground, metal, and deathcore internationally.
"Of course, local shows are still majorly important as we want to continue growing our fan-base in Malta and make sure that new fans truly know that the local metal scene has a lot to offer."
Performing at Zombie Apocalypse Dystopia
"We are genuinely happy to have this opportunity to play Zombie Apocalypse. Throughout the years, we have seen this event grow steadily. We look forward to sharing the stage with our friends from Lady Lizard and It Came From The Desert. We can assure you that we will give our utmost to give everyone in attendance the best metal experience."
"At the end of the day, every zombie movie is characterized by metal music, so it is only natural that we will do our best to contribute to the dread and carnage that is such an event! Let us give the undead something to die for!"
Zombie Apocalypse Dystopia takes place on the 5th of November 2022 at Tigullio Clubing Complex, St, Julians. You can find all the information on our page dedicated to the Zombie Apocalypse event.
#jointhehorde
Haine Socials: