The Roman project Lovegang 126 will make you float with their April 2023 first group-project Cristi e Diavoli.
What if I tell you that the Italian 2010s indie wave is merging with hip-hop music? Don't believe me? Then, have a look at what the Italian music collective Lovegang 126 is doing.
Thanks to their first album, "Cristi e Diavoli" (literally, "Christs and Devils"), the Roman collective consecrated itself as the most famous and exciting rap group of the new era of Italian music. Here, some insights are presented to make you understand what approach they establish in the modern Italian music culture.
There are more peculiarities than you would expect.
Before Lovegang 126, its solo artists took over the culture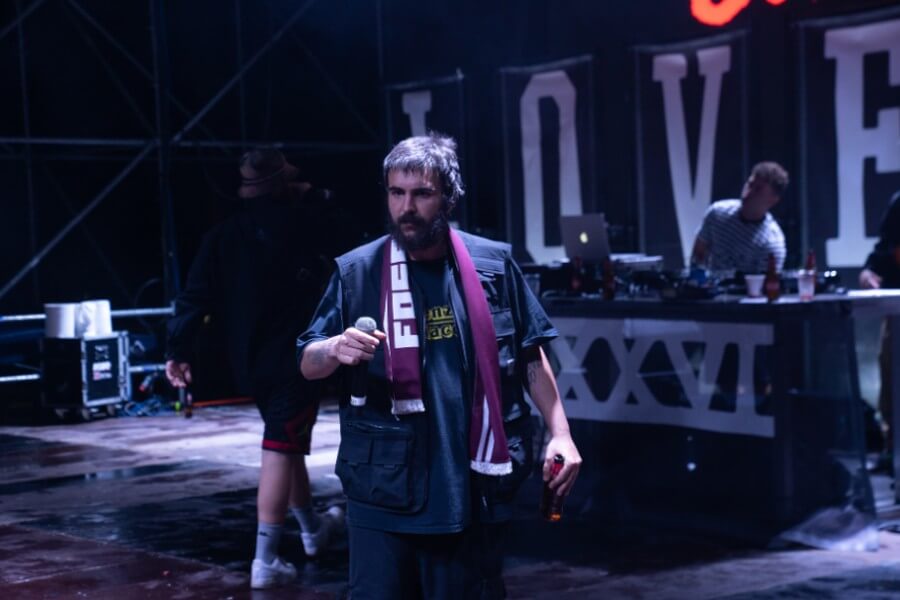 Lovegang 126 embody the Roman scene perfectly. Coming from a common background, they follow the steps of the most popular Roman hip-hop personalities of the past (think, Colle der Fomento, Chicoria, and Noyz Narcos, mainly gangsta-rappers).
They also all had similar paths as singles, but without ever completely detaching from the Lovegang 126 project. For instance, two of the most well-known artists form the collective – Carl Brave and Franco126 – dropped their joint album Polaroid 2.0 in 2018, rightfully entering in the Mount Olympus of the Italian Indie music.
With their apparently detuned and somewhat jazzy vocals, they were able to top the charts with multiple hits, with "Sempre in Due" (Always in Two) and "Solo Guai" (Only Troubles) to serve as their go-to anthems.
Representing Rome: Merging Styles and Aesthetics
On the other hand, people like Ugo Borghetti continue to tread the path traced by the past Roman underground artists mentioned before. He usually serves as the main feature on songs that need his off-tempo, dark, and storytelling rap style to complete the project. The most iconic one is surely the one done in collaboration with another figure of the Italian scene, Massimo Pericolo, which is called "Ansia" (Anxiety).
The common ground in which Lovegang 126 identifies essentially consists of representing Rome in a romantic way by drinking Peroni, shouting old Roman pillars of the Italian songwriting culture, and frequenting the historical nightlife places in central Rome. Most of them maintained the suffix -126 on their artist's name and founded a merch that produces eco-sustainable garments that are being sold all over Italy. It's also very stylish if you ask us.
A few Lovegang 126 songs that you must listen to
The peculiar vocal and producer abilities of them mixes perfectly with the flow of their music. Pretty Solero and Franco126 balance in a magnificent way with members like Ketama126 or Ugo Borghetti. They have rap skills, as well as singing, but also – as Ketama126 does – they are good at producing bangers on bangers both for the singles and for the collective.
It's very hard to make you understand what Lovegang 126 has pulled out of the hat with their newest project, but we still selected three major key songs that probably represent the concept behind this well-mixed group. They are totally worth a listen.
CLASSICO ft PRETTY SOLERO, FRANCO126, ASP126, KETAMA126, UGO BORGHETTI – PROD WISM
MARCIAPIEDI Ft. GEMITAIZ (PROD. DRONE126 & IL TRE) – FRANCO126, KETAMA126
CATTIVE ABITUDINI – Prod Drone126 & Nino Brown, Scratch by DJ GENGIS
These are all tracks that have something in common, and it's the most fascinating aspect about what it feels like while listening to them. They take samples from the Roman hip-hop classics.
Some of them unify their talent as one of the main 2010s Italian Indie-pop musicians (Franco126 and Carl Brave, above all) to merge with the hip-hop talent, which is evident from the start of the group itself (as Ketama126 has, being also an emo-trap legend in Italy). This peculiar feature distinguishes Lovegang 126 from the other artists/music collectives, making this project feel to the audience like a fresh wave of positivity and chilled melodic rap.
The Italian music scenario has ultimately found one of its centres in Rome
In Rome, Lovegang 126 is the most representative core in terms of embodying old-fashioned music, 2010s trends like the Indie one, and the obviously immortal hip-hop in all its facets.
Go listen to Cristi e Diavoli, you will not regret it. Their vibe is immaculate, and they can accompany you through your mind trips or make you think about the everlasting beautifulness of Rome, submerging you into their everyday reality.
Lovegang 126 Socials
Looking for more hip-hop?
Jump over to our dedicated section for hip-hop.