Bold, unconventional, and empowering – those are some of the words that can be used to describe Siri Narayan, also known as SIRI.
The Bengaluru-based artist raps in English, Kannada, Telugu, and Hindi. She rose to fame after her 2020 release 'My Jam,' with over 1.7 million views on YouTube.
Siri Narayan is an artist known for her smooth transition between languages without disrupting the flow and delivery. Also popular for her insane bars, catchy hooks, and smooth flow in all of her tracks, this rapper changed the way people looked at the mostly male-dominated hip-hop space in India.
Siri Narayan is a self-made artist through and through
The multilingual rapper is both the artist and the businesswoman when it comes to her music. She is not represented by any Indian/international label and is her own manager.
She also directs and edits her music videos and makes her artwork for her singles.
Breaking the glass ceiling since 2016
The hip-hop scene in India is mostly male-dominated. Siri Narayan is among the few rappers in India who, as said by the rapper herself in her track 'Hands Up,' "plays chess in a male genre." She has been featured in many songs that fiercely represent the women of India.
She was featured in the Girliyapa and Whisper (a sanitary napkin brand) 2018 dance anthem 'Tu Bas Naach,' which featured over 50 women achievers like Siri Narayan. It was a song made to empower women and break stereotypes that are imposed on them. The song went on to win two awards at the 6th Radio City India Freedom Awards the next year.
Some of her other feministic features include the 2020 release 'More Like a Lady'. It celebrated International Women's Day, and 'Rani Cypher,' alongside internationally recognized rapper Raja Kumari, Meba Ofilia, and Dee MC.
Fiercely represents the Indian regional indie music scene
Siri Narayan proudly raps in regional languages, therefore representing South India and its vibrant culture. This is not a small feat considering how the hip-hop industry in India is mostly dominated by Hindi artists.
She has released many tracks as a testament to this. One titled, 'Gold,' also subtly hinted that Kannada as a language is looked down upon. SIRI was also one of the rappers in Netflix India's 2021 viral 'Namma Stories – The South Anthem.'It featured artists representing four South Indian States – Karnataka, Tamil Nadu, Andhra Pradesh, and Kerala. 
She also supported RCB (Royal Challengers Bangalore), a cricket team representing Karnataka in the Indian Premier League (IPL) through her track 'RCB Anthem 646.'
A walk through the rapper's background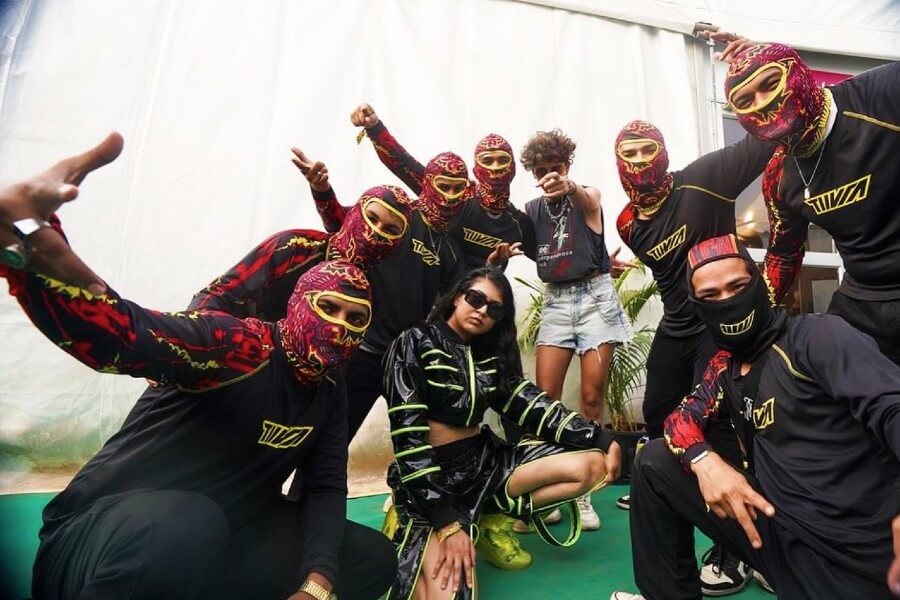 Starting by performing at college events, Siri Narayan found her passion for hip-hop when she discovered Nicki Minaj. She released her first video on YouTube in 2016 called 'ANYBODY.' In 2020 she dropped 'My Jam' with Sez on the Beat, the man behind the sound of Indian hip-hop.
Some of her artistic influences include Nicki Minaj, Missy Elliot, and A Tribe Called Quest. She has performed in popular Indian music festivals like VH1 SuperSonic, Lollapalooza, Rider Mania, and Echoes of Earth. 
SIRI is also trained in Carnatic Classical Music and plays the Veena. She went to design school and uses these skills for her artwork and editing her music videos.
Our top 3 Siri Narayan tracks
Now, some music from the artist we have been talking about all this while. Here are our top picks:
1. Sante
This Kannada/Hindi/English track is a perfect introduction to the artist. With its bizarre visuals, she tells an interesting story through a possible video game that slaps reality right to your face.
2. YAARU
"Who are you really when no one's watching?" Siri Narayan poses this question through this track. With its hypnotic tunes and straight bars, the rapper pays homage to some of the most 'Indian things' you can imagine while also being vulnerable about her mental struggles.
3. Hands Up
This most recent track of hers is groovy and has the typical Siri Narayan 'In your face' element. 
Siri Narayan Socials