The Odd Squad Family are a hip hop group of misfits who fight for the odd and inspire the rest through their music and positive outlook.
Odd Squad Family are an independent hip hop group, made up of three distinctive artists. N.U.B.S, Snowman and A-Factor.
The classic-inspired hip hop squad deliver inspirational, fresh and modern sounds and have garnered a a cult following of millions of fans. Many people relate to the group's positive outlook, real lyrics, and underdog mentality.
Odd Squad Family curiously magic
Curious is the best way to describe the Odd Squad family when you first come across them, after all, two of them have visual disabilities. N.U.B.S has no arms or legs and Snowman is a legally blind albino. However, the magic happens when the three get together, the beat drops and the lyricism flows. It's here that you start to see the raw talent that they possess which draws you beyond the evident disabilities.
Who are the Odd Squad Family
1. N.U.B.S
N.U.B.S (Normally Underestimated by Sight) is one third of the talented rap trio. He's known for using his metaphors and lyricism as weapons, cutting through societal norms and injustices with precision. N.U.B.S was born with a rare condition called acheiropodia, an autosomal recessive disorder that resulted in him being born without limbs.
Being different physically from others was already a difficult obstacle to overcome and relentless bullying added to his struggles. However, rather than letting his circumstances dictate his life, N.U.B.S chose to use music as an outlet while inspiring and educating others.
2. Snowman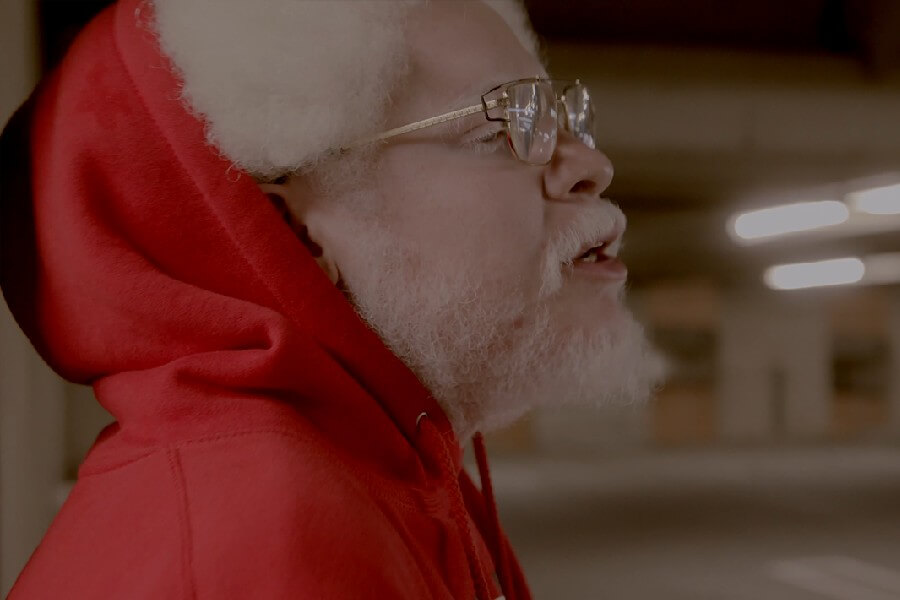 Snowman is a hip hop lyricist who effortlessly weaves storytelling, emotion and on point observations into his rhymes. He was born with albinism and is legally blind, and much like N.U.B.S, Snowman faced the same difficulties growing up.
It's through hip-hop and the recording studio where he found his solace and discover who he is and where he wanted to focus his time and energy. Due to their similar struggles and love for hip-hop both Snowman and N.U.B.S instantly clicked, which created the foundation for the Odd Squad Family.
3. A-Factor
A-Factor is the third gifted lyricist of the Odd Squad. He officially joined the group some years later, after the death of Frosty, Snowman's younger brother. Although there isn't anything physically wrong with Factor, he has had to deal with many psychological battles throughout his life.
This has not stopped A-Factor pursuing his dreams and innate ability to transform the mundane into poetic gold.
History of the Odd Squad family
The Odd Squad Family have overcome the odds, silenced their critics and carved out a successful music career.
N.U.B.S first met Snowman back in high school in Phoenix, Arizona. The duo bonded over their love of all things hip-hop. In particular, the music of Ice Cube and E-40 offered an escape from a cruel world, where their disabilities knew no bounds.
In the early years there was founding member, Frosty (biological brother of Snowman) who tragically passed away in 2016. Frosty was known for his energy and passion when it came to hip-hop. This was evident to anybody that had the pleasure of being around him. The fourth family member is known as A-Factor who they met and gelled with while in the studio laying down tracks.
The death of Frosty
The death of Frosty hit the family hard, and this became a turning point to take music seriously. With a new fire lit underneath them N.U.B.S, Snowman, and Factor hit the studio. Between them they set out to keep Frosty's name alive while proving that you should never bet against the underdog.
Odd Squad go viral
The Odd Squad Family have been a force to reckon with in Arizona's hip-hop scene since 2017, after their single "New-Ish" went viral on Facebook and other social media channels. The new viral fame earned the Family over 20,000 new fans in the first week alone. At the same time capturing the attention of hip-hop producer AKT Aktion.
"New-Ish" wasn't their only viral hit that year. A few months later the Odd Squad Family dropped "Done Did". This proved to be the breakthrough single that reached millions of people (over 9 million YouTube views alone).
Since the viral fame brought on by New-Ish and "Done Did", the Odd Squad Family have toured the U.S to sellout shows. Released countless singles and albums, which include Welcome to the Family, Against All Odds, The Flamingo Complex and the latest album release Abled.
N.U.B.S and Odd Squad release Abled for 2023
Abled is technically a solo album from NUBS however, the Odd Squad Family feature on each of the 13 tracks, along with a host of others including Efreezee, Bingx, King Dayo and Blind Fury. We think that the standout track of the album is 'Born Like This' featuring Blind Fury, which dropped ahead of the album release date.
'Born Like This' is a single that focuses on perception and judgment and offers a positive message of self-love.
According to N.U.B.S:
"'Born Like This' is about how no matter what or how I am perceived by people, I know who I am, and I know who I was born to be. This song is an anthem for being true to yourself! Blind Fury chose this record to hop on out of all the tracks on the album, which made me even more excited to show the world!"
Stay true to yourself regardless
The story of the Odd Squad Family holds a message that we can all learn from. It's about staying true to yourself while overcoming adversity and coming out on top even when the odds are against you, and everyone has counted you out.
Odd Squad Family Socials
Images Courtesy: Odd Squad Family