We interview Giorgia Angiuli and find out why this classically trained electronic music producer is truly one-of-a-kind.
Soundcheck with ALIVE
It's 11AM when Giorgia Angiuli arrives to Gianpula wearing her Yoshi hat.
Before we hear what she has to say, Ramzi Armani, head of ALIVE promotions leads her away for soundcheck. With them is a grey suitcase full of toys and a wood-style synthesizer.
When the first electronic sounds reverberate through the afternoon air, we know we are in the right place. Sound quality is the first aspect we notice pumping out of Gianpula's tropical Marrakech venue.
Giorgia Angiuli and her musical mind
After putting everything in place she joins us in the shade of a banana tree.
She hails from the town of Monopoli in Puglia, Italy, and had been in Malta during her teenage years. However, this was going to be the first time performing as an artist.
Giorgia Angiuli has music in her DNA. Growing up in a musical family she had access to instruments in her household. She was then classically trained in guitar, her first solo show at 10 years old at the conservatory.
Unfolding into the electronic world
Today, Giorgia is still on stage and still going at it solo. However, the sounds are different now.
Instead of classical instruments, she has a wide range of electronic devices that translate the music she imagines. This includes:
Jamy guitar (Bluetooth guitar with strings)
5 Ways Giorgia Angiuli Shaped Live Electronic Music at ALIVE
Fast forward to the evening and we're back at Marrakech under the cover of night.
During his set, maître of ALIVE Ramzi lays the fundamental groundwork. The anticipation is palpable when Giorgia appears next to him.
Here are five elements we discover when Giorgia begins to play.
1. Giorgia Angiuli harnesses the power of imagination
"Everyone should be able to use imagination to reach their full potential in life. You don't need to follow the rules."
Giorgia Angiuli's words above make sense when she pulls out an Aodyo Sylphyo, a bluetooth clarinet-resembling wind instrument made specifically for her.
She is inspired by "romantic science," the idea that the story of science is a romantic one and a rational basis for learning about vital or living nature. She is particularly in tune with Einstein's ideas on imagination and vibration.
That leads us to energy.
2. She facilitates an exchange of energy
"Energy is underrated. We need to become aware of our energy and the energy of others."
Giorgia Angiuli said this in the morning and later that night, she puts it into practice. The minute she starts playing, an electricity is felt among those in attendance. The energy is crisp, clean and finds its way through everyone.
This is her role as a music producer, to share positive energy in the form of electronic music. It's also clear that she is aware of the crowd's momentum.
3. Playing music flexibly without labels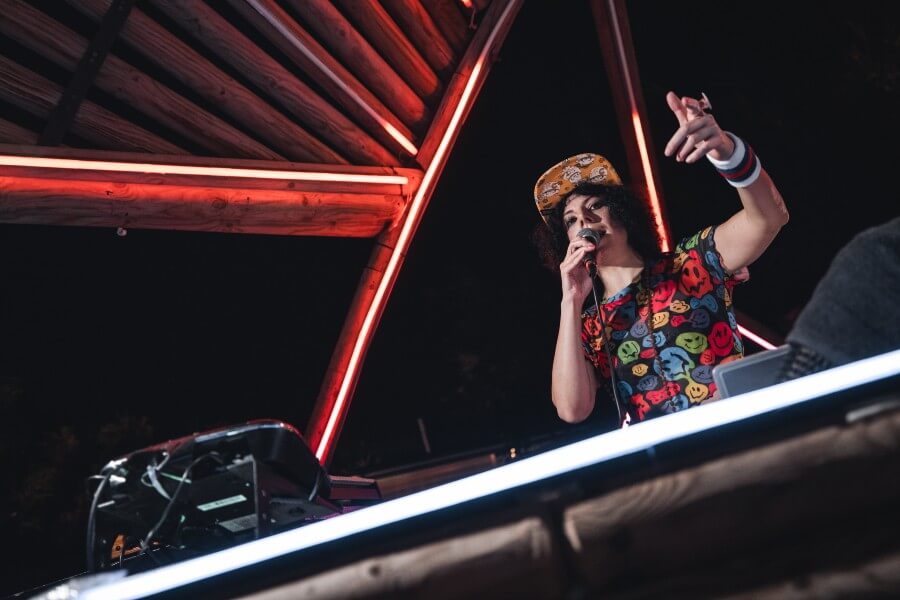 "The only thig certain is change."
While Giorgia Angiuli is well-known for melodic techno, she tells us that she adapts the music to the crowd she plays. She does not adhere to musical labels or stick to playing a specific genre.
The beginning of her set kicks off with a tribal drum, catching the attention of everyone. That's when low key acid elements meet with harder hitting techno beats.
Throughout the night she dives into the realms of underground sounds – never a boring moment. We are led into a beautiful techno cover of 'Come as You Are' by Nirvana.
To demonstrate the flexibility of her sound, she finishs off with a psy trance beat – simply because she can.
4. Interaction with the crowd as a standard
"I think it's important for people to see what the performer is doing. My use of different toys onstage is symbolic, I like to remind people of their inner child."
You won't find Giorgia Angiuli ignoring the crowd. Instead, when she picks up every instrument, she shows it to her audience.
Her performance breaks the conventional rules of live music production. From incorporating her Jamy guitar, a sort of phaser muppet glove and what appears like a squeaky pig toy strapped with electric wires, what can be seen can be heard.
It's almost as if she translates color to sound…
5. Seeing and hearing colors with Giorgia Angiuli
Which is exactly the case! Giorgia Angiuli has synesthesia, a condition where the mind associates colors to sounds and melodies. She tells us that before going to sleep she looks at impressionist paintings to create inspirations for music she plays the next day.
As with impressionism, colors are ever present with Giorgia Angiuli. Rocking up to the show with a multi-colored shirt, funky hat and kicks to go with it, she lives a multi-toned life.
Even her instruments are vibrant in their physical form and audio forms.
Latest release & upcoming projects
If you found inspiration in Giorgia Angiuli like we did, check out her latest single released with AFFKT. The inspiration from this came from the fact that music gives the opportunity to give hope and life. As said by Giorgia Angiuli, "you can change every day, never give up."
Keep an eye on future projects including her upcoming releases on Armada and Global Underground. She is also developing a revolutionary sound healing headband that uses music and tonality to change the shape of electric waves in our brains called Kayla (more information on that soon).
This article includes affiliate links & as Amazon Associates we earn from qualifying purchases.