Glitch Festival, once a small event, has now joined the likes of Europe's greatest techno gatherings held from 13-16 of August in Malta, celebrating the love of dance and electronic music. 
Drawing thousands from around the world, techno lovers flock to mystical fortresses with flashing stages and all-around sound systems, where electronic soundwaves are delivered straight through your eardrums, down to your soul. Punters will gear up to dance their days away on boats, in forts and in underground caves.
With an insane line-up of techno and electronic legends like Hector Oaks, Helena Hauff, I Hate Models, Cera Khin, and more, Glitch is ready to take everyone on an intense musical journey. 
We speak to the organizers of Glitch Festival as they gear up to give all the techno-thirsty ravers their yearly dose of the explosive techno line-up from all around the globe.
How Glitch got started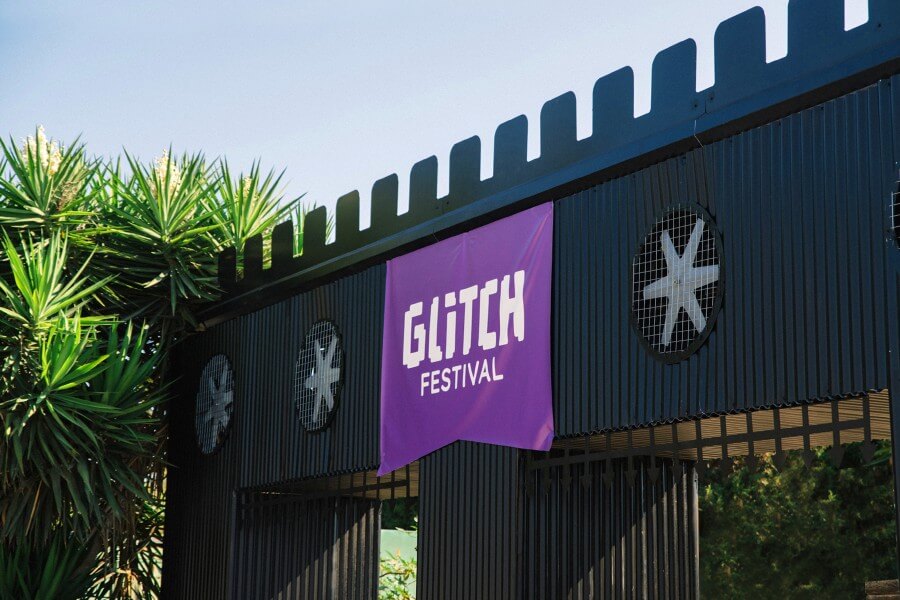 It all started back in 2015 when a couple of event promoters in Malta were discussing the possibility of a techno festival over a few beers. The next day the planning began and they never looked back.
Before such a big step into the festival territory, all members had been organizing events for 20 years prior, so this was the most natural journey to embark on next. Karl Attard explains:
"We took the leap, driven by our passion, to turn event organizing from a part-time hobby into a full-time project."
The guys behind it all 
The co-founders of the brand are three mates Andrew, Karl, and Kevin. Creators of Shift & Squadron Events, these are two of the leading techno and house music event organizers in Malta.
Shift was responsible for bringing over some of the biggest names in the techno world, like Ben Klock, Marcel Dettmann, Jeff Mills, Blawan, and Speedy J — to name a few. 
Squadron had a different sound in mind, with electro, italo-disco, and Detroit infusing the sound of the future and therefore connected Malta to artists like Legowelt, Helen Hauff, Kink, Juan Atkins, Aux88, DJ Godfather, and more.
The Glitch Festival vision 
The vision for such a big techno festival in Malta was originally curated to fill a gap in the Maltese techno scene.
They took it upon themselves to step up the industry standard on the island and create a brand at par with the rest of the festival leaders in the international circuit. This included leveling up of production for such events. 
Despite the island's size and limited resources, Glitch prioritizes pushing all the boundaries and creating a festival that was worthy of global buzz. Anyone who attends Glitch Festival knows the electrifying atmosphere you walk into. 
Glitch Festival is made to give ravers a full Malta techno experience integrated with fast, fresh and captivating electronic music. From dancing to your favorite tracks on a boat as the sun goes down, to gaining access to a cave hundreds of years old – quite literally direct access to the Maltese underground techno scene. 
With stages equipped for intimate sets and steaming back-to-backs with some of the hottest names on the techno roster, Glitch mixes culture and music to make one harmonious recipe for dance and connection. 
"We ensure that every fan has a great time within a community of like-minded people, creating a safe space where everyone is accepted and respected."
Putting Malta on the global techno stage
Glitch Festival has put Malta on many international techno lovers and artists' radars. This has also helped to strengthen the local techno scene and reach audiences outside of Malta with local artists finding a great opportunity to play alongside huge names.
They also managed to reach vital milestones such as partnering up with Boiler Room, Possession, and others that have opened up doors for the festival and performing artists into the global techno scene. 
Glitch Festival and its relationship with the local techno community
The opportunity Glitch has given local residents to play alongside some of the world's most respected artists demonstrates how this festival values and appreciates local talent. It's not just bringing in international names for a quick buck. 
Speaking with Dave Space, resident DJ of local promotion Midnite Snack, he will be performing at Glitch Festival for the second time this year. He describes his experience as one filled with excitement and motivation. Being a completely different scene than that of a nightclub, he says you can feel the crowd's energy responding to the music you're playing as a crowd of 20 people becomes 500. 
Dave Space also worked with Glitch Festival for the last four editions, setting up lights for stages and working with Late Interactive, a local interactive installations company.
"It gave me the opportunity to interact with the crowd and all around they've been very respectful and wild enough to nearly knock down my table (twice)".
The Glitch Festival Club Series spin-off
After the first few successful years of Glitch Festival, in 2018 they introduced Glitch Club Series as a spin-off from the festival to remain close to the community.
Glitch Club Series brings events throughout the year to the local scene, enabling them to produce more intimate gatherings that have proved to be quite different from the festival. 
"Fans can easily identify authenticity and a great experience. This has kept Glitch going and thriving year after year."
Glitch Festival from a small local festival to a European-loved techno festival
Establishing the Glitch brand took years of nurturing and refining. To gain international success, you need extensive planning, dedication, hard work, strategy, and above all, passion.
Despite seeing Glitch's best foot forward in the public eye, they have faced challenges and setbacks behind the scenes, which they have dealt with grace and a dedicated mindset.
Glitch has come a long way to gain international recognition. Regardless, they remain humble and grateful to the techno community that made all of this possible, keeping the raver's experience at the heart of all its planning and events.
Speaking with a Glitch Festival regular, we got an insight into the mind of a raver as they enter Glitch territory:
"Intriguing neon lights that draw you in, spectacular DJs, and an impeccable music selection with a fantastic sound system. You could feel the intention of people gathering to share their love and passion for the electronic scene, united through movement"
The secret behind a successful international festival
Glitch's current priorities are promising the most desirable names and upcoming artists in the Glitch Festival line-up, and then delivering. The team spends countless hours researching, networking, and connecting with artists from different musical backgrounds to create the most exciting and diverse lineup possible. 
"The Glitch Festival experience is designed for an enthralling atmosphere with fantastic sound systems, lighting, and decor."
The crowd grows year by year. More like-minded techno heads keep coming together to celebrate the love of music and dance in an oasis of liberty and euphoria. From humble beginnings, Glitch Festival has become a one-way ticket to enter the mind and soul of techno in Europe.