Celebrating International Women's Day, we reach out to Lady Tazz, talented techno producer, label owner and dominatrix.
We highlight her journey navigating the Bangladeshi underground music scene, her heightened sense of sexuality and the confluence of techno and BDSM.
Lady Tazz and the underground techno movement
At the forefront of Bangladesh's underground scene, Lady Tazz is known to take her fans on a journey through her provocative and liberating beats.
Despite being in the underground techno scene since the age of sixteen, it was her first trip to Berlin that really impressed her. It showed her the power of techno and beat repetition, which sparked an urge to create a style of her own. She sought a style that was true to herself and to the people around her.
"I'm naturally a very sensual woman, so it comes out easily and gets transferred onto things like my fashion, my music, the way I speak and my body language.''
When it comes to creating her music, her inspiration comes from deep within, where hidden and untouched desires come up to the surface to be expressed.
It's through her alluring techno beats that her personality shines through. She offers listeners freedom from the mundane, a place to move your body and express your kinks for those that dance and those that submit.
Moving from Canada to Bangladesh
Lady Tazz finds her inspiration from her own background as a Canadian-Bangladeshi who's always felt like an outsider.
After completing her psychology studies in Canada at the age of 21, she moved back to her home country of Bangladesh to give back and help unite individuals regardless of their gender, ethnicity, race, or sexual orientation.
"I owed it to Bangladesh. It's important to bring back fresh perspectives to the country. I want to help in evolving my nation."
SPICE FM – Bangladesh's first English-speaking radio station
That being said, when Lady Tazz first arrived in Banglades, she had nothing to do with the electronic scene. In fact, when she arrived, her life was very different. She hosted the most popular radio prank show in the country called "Gangster Time with Rj Tazz".
The reason behind this show was to bring to light the day-to-day issues happening in the country and send an educational and social awareness message through humor.
Growing up listening to the radio in Canada was an important part of her upbringing. When she first tuned on the radio channels in Bangladesh she quickly recognized there wasn't a single English speaking channel. So being the business woman that she is, she opened the country's first one called Spice FM.
As the station grew in popularity, she locally started the concept of live stream radio broadcasting.
"I made a huge brand out of the radio channel then got my own TV Channel (Spice TV). Then I sold both the Radio and TV and made a great profit that allowed me to invest in other projects".
Throwing parties in Bangladesh
Lady Tazz often threw basement parties in Bangladesh, and eventually she began to brand her parties as the Techno Bunker.
"Throwing any kind of underground event in Bangladesh can be a real challenge. It's very risky and scary as we can get into trouble with the law. Not to mention that being a DJ is looked down upon, so it's a constant battle."
Considering that the country is very conservative with a lot of social norms, we tip our hat to her for taking the challenge. It's a place of strong religious beliefs where men of age are seen as the persons best positioned to make decisions on behalf of a group or family.
Her work is not to be taken lightly – there are many people banking on her downfall. Each time she throws a party there are dangers that promoters in Europe or the US don't have to deal with.
"Whenever I throw an event, I have to be conscious of someone who doesn't agree with what I'm doing. These people can send the media with cameras and this would be all over the news.
"It puts myself and those who attend in danger, potentially putting shame on the families, and getting in trouble with the authorities."
According to Lady Tazz, despite the dangers, the underground scene in Bangladesh continues to grow. What makes it so special for her is that it's still very underground, allowing all that attend to break free from their restrictions and simply express themselves.
Kink and the art of seduction
For those unfamiliar, a dominatrix is a woman who physically and psychologically dominates her partner.
"I'm very much inspired through kink and the art of seduction."
Lady Tazz has a certain energy about her, one that is authentic, and strong. It has been described as strong yet comforting, as well as oozing in desire and sexuality.
This feeling is something you will see and hear within all of her work. That means her productions, live DJ sets and personal business ventures and of course – as a dominatrix.
Lady Tazz putting work before play
When she's not on stage Lady Tazz likes to be in the background to uphold her responsibilities in her line of business. It means that she doesn't play as much as she would like.
Instead, she constantly has her finger on the pulse in the background, making sure the techno scene in Bangladesh grows with the support of other likeminded individuals.
"I'm a business woman at the end of the day and I'm really good at what I do."
Mind Medizin electronic music label
Her label, Mind Medizin, is an independent sex positive platform reflecting her unique sound that is both provocative and liberating, with underlying rhythms made to awaken your sensuality.
Taken from the website:
"The pillars of Mind Medizin are to live free and kinky, to harmoniously coexist with similar souls and explore your inner desire, all with love. So, it's time to leave hate at the door, step out of your comfort zone and open your mind as you enter the expressive and inclusive world of Mind Medizin."
Lady Tazz finds that diving into oneself is the key to the production. When this something inside of her starts to brew, she begins recording her emotions by describing them verbally on the microphone then creating a loop.
This year she will be releasing on Mind Medizin and the EP will include a special remix. She states that in 2023 she wants to focus more on growing the label and helping her artists grow.
"I think it's my responsibility to make sure every release is taken care of very carefully. I'm very hands-on and involved in the release process. Everything needs to be perfect, always."
Lady Tazz self-pronounced freak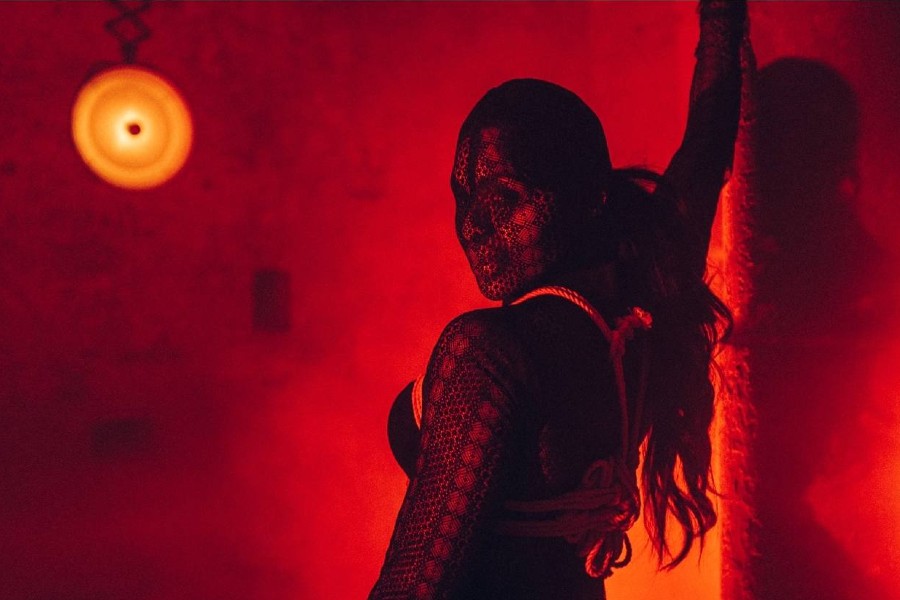 "I wanted to make music which represents me, and naturally I'm a very sensual woman. It was very easy for me to mix these two worlds together."
She is a self-pronounced freak and has always loved pushing the boundaries and exploring her dark desires. As a dominatrix her biggest kink is of course when someone lets themselves go and fully submits to her.
"I love knowing that they are willing to take a bullet for me. I love being worshipped blindly."
This may sound demanding, but it's these desires that she craves, and nobody has a right to shame her for this. The opposite is also true – nobody has the right to shame those that don't follow this lifestyle simply because it's not for everyone.
For Tazz, the art of erotic love has to be a deep connection through sexuality and spirituality. If she can't find this connection with someone intimately in a very raw and dark way, it doesn't please her.
Being a dominatrix out of pure honesty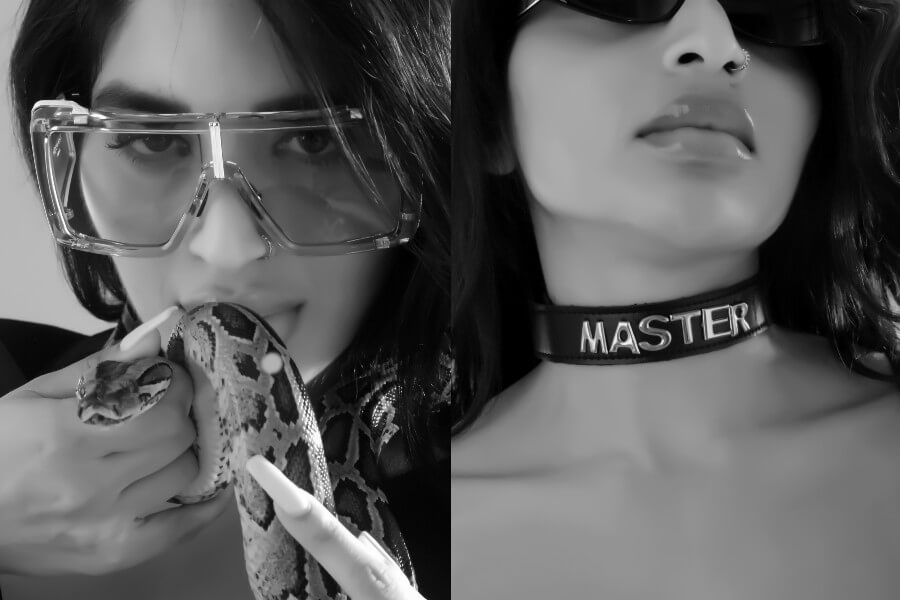 It's the honesty that draws her towards kink as a human, artist and dominatrix. The practice is based on the deeper emotions of love and devotion. Because her lovers choose to submit to her and give complete control, it shows vulnerability which is both personal and powerful.
Prior to any submissive sessions, personal borders are always established to help ease any tensions. She will then encourage all of her lovers who take part to just be themselves and see what comes naturally.
"One thing I would like to make clear is that I don't do clients, I genuinely form a relationship. So let's call it lovers. As a dom, I love my subs and would never hurt them in any way. We are in a safe space. You only let someone dominate you if you build a strong trust level with them."
"These traits make you a good dom, along with being independent, kind, understanding, and having a certain grace, mixed in with passion, honesty and support. It's a big list because, as a dom, you have a lot of responsibilities. It's not only sexual, but I know what they need."
For those of you wondering if the roles have ever been reversed we will leave you with this:
"Yes, I have tried it, but it probably lasted only two minutes and then the next thing I knew I was stepping on his neck, and we both liked that switch. Like I said I'm a natural dom. Stick to what you are!"
Lady Tazz Socials:
Images courtesy of Lady Tazz.