Esoteric Festival, a psychedelic music and art event in Australia. Find out what it is like becoming a part of this accepting community.
Esoteric Festival involvement
A little over a month ago I throw my proverbial hat into the ring to perform in the opening ceremony of Esoteric Festival 2020.
There I am scrolling through the Esoteric Festival Facebook group, getting excited. It's because I had been accepted to volunteer. As previously mentioned in other articles it is the best way to experience a festival of this kind.
I then see a post asking if anyone was wanting to take part in the opening ceremony. Who wouldn't?
Listen while you read!
Rehearsing for Esoteric Festival
I immediately apply, with no expectation as I had only ever danced for fun. To my amazement I am selected into the group and they give me the dates for rehearsals. Seven two-hour sessions over the next month.
The Esoteric theme this year is underwater – am I in over my head?
Here's the deal: thirteen people from various backgrounds, some with very little training like me, perform a choreographed dance for 13 minutes after the Aboriginal welcoming.
What an honor – it's something not to enter into lightly. You are reading this because I am lucky enough to be selected. This is my tribute to show my gratitude for Ebony, Damian, Ophelia and the crew.
Nerve racking
Like with everything, the first time you do it is the most nerve racking. Here I am standing in a circle with complete strangers as we go around and explain a bit about ourselves.
I quickly learn that most of these beautiful humans have some type of dance training, some even teach. Feelings of inadequacy briefly wash over me as I awkwardly explain my lack of experience, met with smiles and reassurance those feelings fade. Pressure makes diamonds, I am confident in my ability to learn fast and adapt to situations, challenge accepted!
Over the next month, thirteen land dwellers would evolve into otherworldly marine beings delivering a powerful message.
Choreography by Damian and Ophelia, the concept is that the ocean has become so full of pollution by humans that Gaia is sending us to deliver a message. It's one we can no longer ignore – to clean up our act!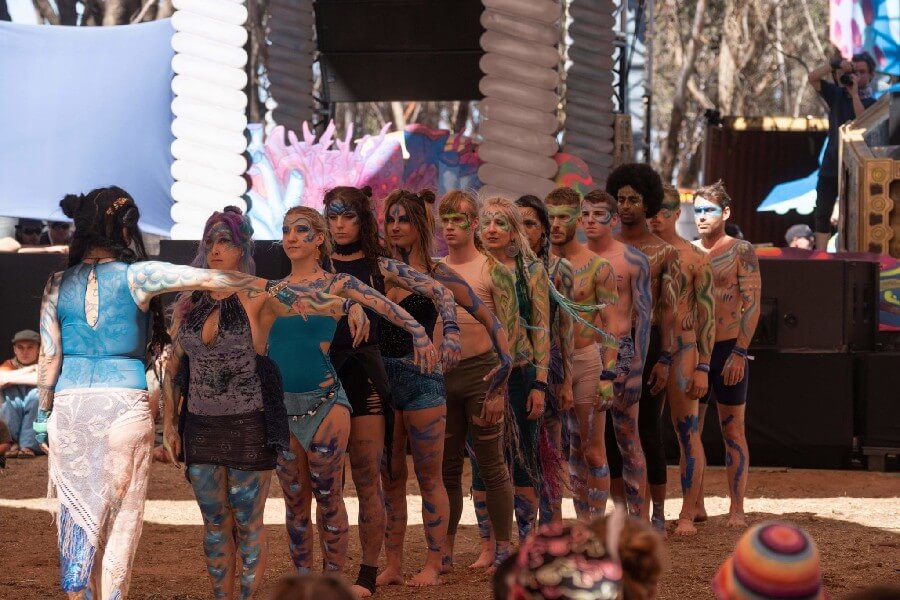 Melting insecurities
All my feelings of insecurity melt away as we move through the sections of the performance. Every movement carefully thought out and designed in a way that makes me feel "even if I get this wrong it's still going to look so cool!".
I am learning so much just by dancing next to these legends, just pay attention, work hard and let it flow – I tell myself.
Esoteric by definition
Esoteric means something that is likely to be understood by a small group of people with a specialized interest or knowledge. With only 6000 tickets available and this being the 4th installation that statement certainly holds true.
The Esoterican community is made of individuals who believe in working as a collective to achieve a common goal. That is to celebrate art, music, culture and life in the stunning backdrop of the Victorian Bushland, without expectations and judgment.
That goal is excess this year with an astounding effort by many crews and individuals. You maintain a vision and execute it in world-class style, I feel humble to be part of it.
Kicking off with psy
The festival kicks off with a bang on Friday with StomPsy. He struts his stuff on the psy-trance stage aptly named Ascension as the crowd slowly rolls in. Sean Grimes & Jed Kanga throw down some delicious techno, warming up the Bush Techno dance floor for LE' BRUH.
It's the perfect opportunity to introduce my partner to her first psychedelic festival. We blow out the dancing cobwebs in preparation for tomorrow's performance.
If you could bottle feelings I would have a shelf full of moments like this, beautiful music, amazing vibe, gorgeous people and a sunset that brings a tear to your eye. I am so grateful.
Opening ceremony day
Like a kid too excited too sleep before Christmas I barely get a wink. As I meet with the crew at 7AM, the first of us are being painted, another dream of mine coming true.
Anna is a world-class body painter and not only does she produce walking works of art she worked for other five hours non-stop, what an incredible human being. I personally feel much more confident after the paint, thank you.
Over months worth of preparation is over in what feels like a blink. I am completely overwhelmed at the reaction we received. Also I'm very pleased that I only made one (albeit huge) mistake!
Message delivered, closing thoughts
The message was delivered, we must all do more to help our environment. Gaia deserves it and there's no denying it. The tree-planting program at festivals such as Esoteric displays the intention behind these gatherings. To give back and learn from one another as we develop our collective consciousness and our relationship with nature.
I had the pleasure of listening to many great sets over the next two days and for me the standouts were Ryanosaurus, this guy always delivers and killed it on the main stage on Sunday. Lunar and Psyconaugh both absolutely rocked the Ascension stage, which looks like (and most likely is) a portal to another dimension.
The snake pit hosted Mood Swing & Chevvy Base, every time I see them the crowd is having an absolute blast. With so much happening within these small cities in the bush it's clear that we will need to return in order to get through it all, bring on Esoteric 2021.
With the current situation I do not take this experience for granted and urge everyone to invest in their favorite artists, music is the source and this world would be very lost without it.