The official Burning Man is taking place this year on 3 September 2022. But what if you cannot physically get to Nevada?
Fear not, for there are official Burning Man Project associated events all over the world. These "regional burns" all fall in line with the ethos of Burning Man.
We would like to point out that although this is in our Festivals section, Burning Man and the regional burns are not "festivals". At least not in the tradition manner. These are events where everyone is a co-creator, volunteer and participant. Everyone has a role to play and a responsibility to adhere to the 10 Principles of Burning Man.
Here we go over our picks of big regional burns outside the state of Nevada. Within each of the 10 regionals we also take the opportunity to go over the 10 Principles of Burning Man.
1. Amber Burn, practicing radical inclusion in Lithuania
Up in the Baltic states is Amber Burn, the Lithuanian regional of Burning Man. This year's theme is "perKŪNĄ" which is two words in Lithuanian that to mean "through the body". It's all about expressing yourself through the body to "experience the magic of existence".
The website states that all are welcome and that there are no prerequisites for entry. This represents the first of the 10 Principles of Burning Man: radical inclusion. While ticket prices reflect this at a very reasonable 88 euros, it appears that registration has closed for this year's event.
When: 30 June- 3 July, 2022
Where: Secret location, Lithuania
2. Kiwiburn, participate in the theme of the year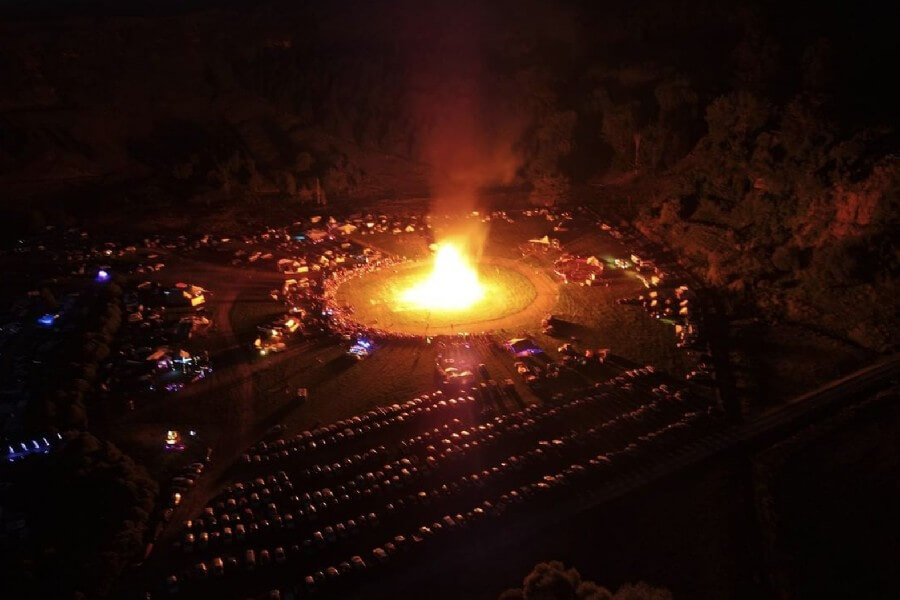 New Zealand's biggest regional burn is Kiwiburn and there are raving reviews. Here are some descriptions from the people of Reddit:
"In every way that Burning Man is harsh & difficult, Kiwiburn is the opposite. So fucking pleasant. Grassy field, forest, river. The best."
"I went when I traveled to NZ and it was such a good, positive burn experience. Just incredible."
One thing we like about Kiwiburn is the well-established themes. 2022 was supposed to be Time Travel while other years were Mythical Picnic, The Grand Bizarre, The Robots are Coming and Forgotten Dreams. Participation is a great way to enjoy your burn to the max and that happens to be another of the 10 Principles!
Unfortunately, this year's event was cancelled, but there is a date for early 2023.
When: 25-30 January, 2023
Where: Hunterville, New Zealand
3. Afrikaburn, gifting is only a part of the magic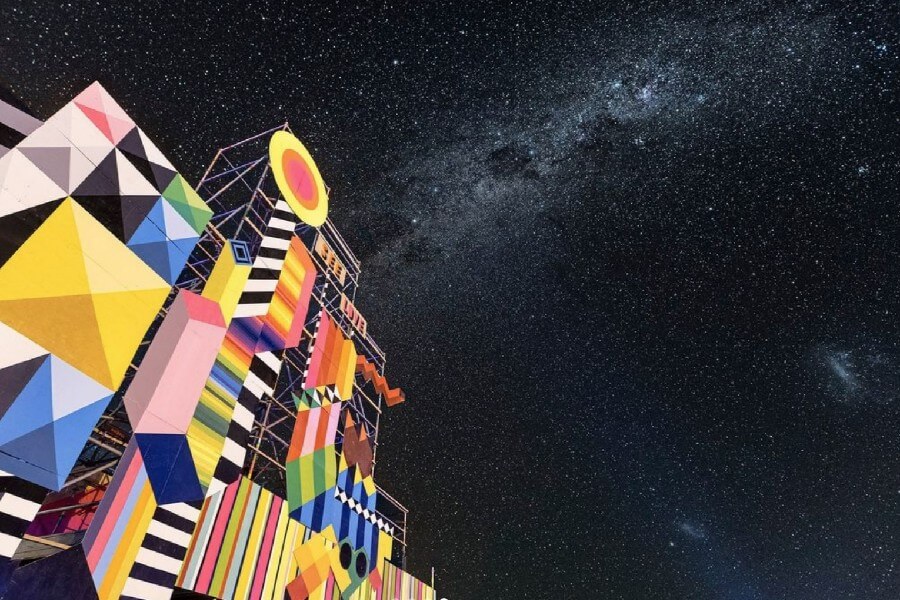 The African continent's largest burn and one of largest burns after the main Burning Man event is Afrikaburn. It took place only recently, was a great rebound from the lost years of the pandemic. It echoes the dusty locale of Black Rock City, only it takes place in a desert in South Africa.
At Afrikaburn, gifting is valued as one of the 10 principles. So bring or create whatever you would like to give away, with no strings attached. For the idea is to give unconditionally.
Want to learn more? Check out our last article written about Afrikaburn here.
When: April/May 2023
Where: Quaggafontein, South Africa
4. Apogaea, a Burning Man event in Colorado where there are no ads
Welcome to the temporary autonomous zone of Apogaea or "Apo", in southern Colorado near the New Mexico state border. As Apo's website puts it: "join us in a place where our spirits are as high as the mountains and our minds are as wide open as the plains".
It's considered one of the more art centric burns with much of the budget going to art grants for installations, music and theme camps. Surely you will see lots of art, but one thing you will not see is advertisements. Apogaea is committed to the principle of decommodification, as all the other Burning Man events.
When: 9-11 June, 2022
Where: Valdez, Colorado, US
5. Midburn, immediacy in the Negev desert of Israel
Insofar standing as the only active Burning Man event in the Middle East, Midburn is a fast-growing community getting together every October in the Negev Desert in Israel. It's a young gathering that was established in 2014. However, the number of participants is growing in this desert setting.
Listed first on the 10 Principles page of Midburn is Immediacy, stated as the event's most important value. It's basically the idea of seeking to overcome barriers that stand between us and a true recognition of our inner selves.
When: 10-15 Oct 2022
Where: Negev Desert, Israel
6. Burning Seed, leaving no trace in the Australian Matong State Forest
Since 2010, a city has been built and then torn down in Australia called Red Earth City of the Burning Seed event. It's a tremendous effort especially from a group of purely volunteers. Currently Burning Seed is going through a restructure that is seeing it establish two related non-profit organizations.
One of the Burning Man Project principles includes Leave No Trace. This is no different for Burning Seed, regardless of how big Red Earth City grows every year.
When: 29 Sep – 3 Oct 2022
Where: Mantong State Forest, NSW, Australia
7. Blazing Swan, heed your civic responsibility in Western Australia
All the way on the other side of Australia, you have another regional burn called Blazing Swan. Although the 2022 event was cancelled, we would like to highlight the commitment to the support of Burning Man events in Australia and the world.
The history of Blazing Swan involves a group of burners visiting Burning Man in Nevada. That same group then went on to be involved in organizing regional burns such as Afrikaburn and then Burning Seed as mentioned before. In 2014, they created Blazing Swan which has grown to over 3000 participants.
Civic responsibility is our highlighted principle for this event. At Blazing Swan, it's a requirement for you to be a good citizen. It keeps everyone safe while they do ridiculous things. That's why they have added another principle, consent. It's the respect of the autonomy of the individual and the right to say yes or no to all decisions regarding the body, property or personal space.
When: 25-31 July, 2022
Where: Jilakin Rock City, Kulin, Australia
8. Nowhere, discover a Burning Man community in Spain you never knew you had
Taking place in the dry Spanish wilderness of the Monegros desert and going since 2004, Nowhere is considered Europe's biggest burn.
The organizers state on the website that the environmental conditions are very harsh with 40 Celsius (over 105 Fahrenheit) temperatures. Taking place in a very dry area in the Monegros Desert, this burn does not include fire for the reason of wildfire alerts in the summer. Thus all open fires are forbidden, for the sake of nature.
At Nowhere, community is at the heart of the 10 Principles of Burning Man and is a strong concept here. To show for this, they have their own dedicated volunteering platform that is open to everyone.
Dates: 5-10 July, 2022
Where: Monegros Desert, located in Aragon, Northern Spain
9. Burn in the Forest, self-expression in the Canadian wilderness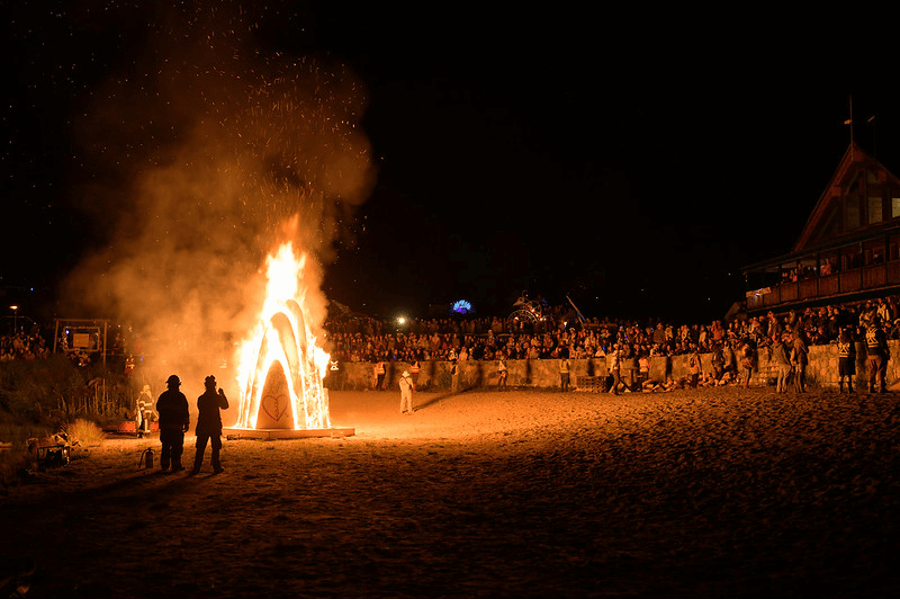 Taking place riverside in Merritt, Canada is Burn in the Forest 2022. Run by the Greater Vancouver Interactive Arts Society, this is an official annual summer burn supporting diversity and experimentation. It started in 2002 when inspired burners from Vancouver came together to camp following the 10 Principles of Burning Man.
Burn in the Forest states that they will create a "Temporary Autonomous Zone where people may safely engage in new experiences without judgement". It's the principle of self-expression that allows everyone to be whatever they would like and respect others for being whoever they want to be.
When: 14-18 September, 2022
Where: Merritt, BC, Canada
10. Where the Sheep Sleep, self-reliance in the Dutch forest in the spirit of Burning Man
A Netherlands-based burn in the Dutch Veluwe called Where the Sheep Sleep is on a forested ridge of hills an hour drive from Amsterdam. This charming burn is much like the other regional burns as self-reliance is key. This means you must bring everything with you including food, drink, shelter and sleeping gear.
Here there are no spectators – only co-creators in which the objective is to create a reality that you will never forget.
When: 23-27 June, 2022
Where: Apeldoorn, The Netherlands