05 Jun

Discover Indian Slide Guitar With Joel Veena, Click to Listen
Discover Indian Slide Guitar With Joel Veena, Read & Listen
Indian slide guitar expert Joel Veena speaks with us about his amazing instrument. Find out how he discovered it and what makes it so special.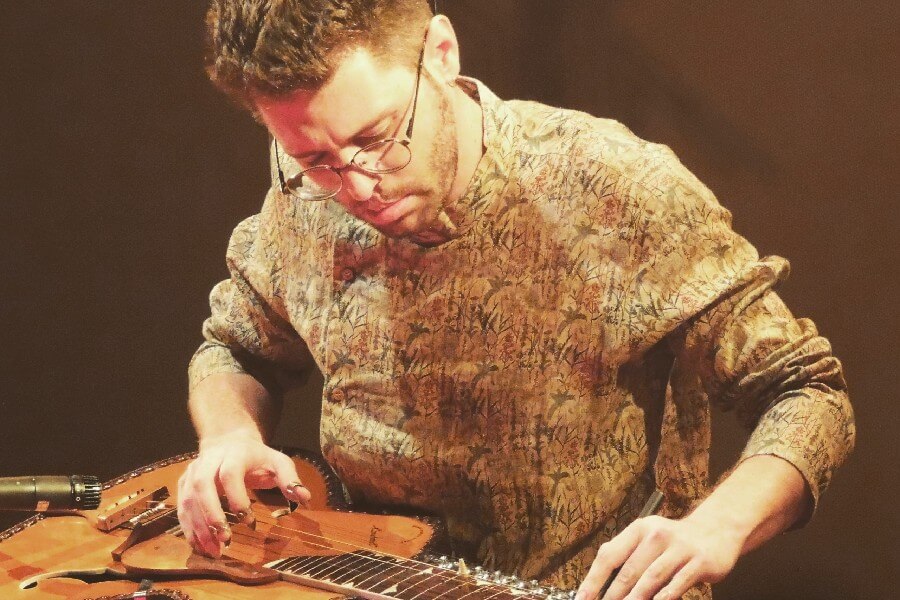 Indian slide guitar, the evolution
"The Indian Slide Guitar represents a new evolution of the guitar. It's an instrument that has deep and ancient roots," Joel tells us. "And one that has profoundly changed popular music all over the world".
American Indian Slide guitarist Joel Veena discovered this instrument through a CD he picked up on a study trip in Delhi back in 2007. This "mysterious guitar with too many strings" opened up the gates to a new world. It was one of cultural exploration and profound soul finding, landing him tours all over America and worldwide.
"On the cover of the CD was Pt. Vishwa Mohan Bhatt in a sitting position, holding a blurry mysterious guitar with too many strings. I bought the CD and brought it back to our student guest house. I end up listening to it over and over again the entire night on my portable CD player with headphones."
"The sound was inexplicably beautiful and so immersive and mysterious – I couldn't understand what I was even hearing. At that moment, I felt very strongly that I had to find a teacher and learn to play this instrument."
Here's Vishwa Mohan Bhatt playing the Indian Slide:
New dimensions of sonic realms
The Indian Slide is a cross-cultural collision with the Hawaiian steel guitar. Morphed into lap-slide guitar with droning and sympathetic strings, it took off amongst a new generation of curious guitarists like Joel Veena, since its birth in the 60's.
The Hindustani continues to push forth into new dimensions of sonic realms. It's experimental yet enticing sound made it a legitimate instrument befitting for the display of classical Indian music. Only with a fresh twist, ideal for meditation and some good old soul healing.
How to Play the Indian Slide
"It takes a lot of practice and focus to play in a beautiful way. There are many strings, but the tuning is relatively straightforward. The techniques of sliding and picking however take years to develop. Even though there are lines on the fretboard representing the location of the notes, they are only a guide.
Since the strings are raised above the fretboard, there is nothing to stop you from sliding too far or not far enough except for your ear. When I first started, I practiced 4 hours every day to develop the basics. When I am with my Guruji ( teacher/guide in Sanskrit) learning, we play between 4 and 8 hours each day. Otherwise, I usually play 2 hours each day."
Joel Veena on the Indian Slide:
"I feel incredibly blessed to be able to explore Indian culture. Especially as an Indian classical musician first, and a 'Westerner' second. Wherever I travel, in India or all over the world, when I meet Indian classical musicians, we all have the same language to speak, about raga and tala and the practice and the discipline."
"I am musician coming from the United States, home of the blues and rock 'n roll. However exploring the Indian slide guitar makes me more aware of the global currents of arts and culture that exist. Also, how important collaboration between cultures is for cultivating global solidarity and understanding."
From the day he discovered that CD, Joel dedicated himself to the instrument and has since been travelling to and from India to learn more about this intriguing instrument.
What exactly is Raga?
"Scholars and musicologists have been discussing for generations the question: 'What is Raga?' I have only been learning since 2007, so I will try to give my understanding so far: I believe it is helpful to think of a raga as a musical personality."
"It is a musical form unique to Indian classical music, so in order to understand it, one is better off to forget ideas like major, minor, and modes. A raga encompasses a musical scale (that can be different ascending from descending), a grammar for navigating that scale, a time of day or season at which it is performed, and a principal mood."
"Performances are given 'in' a particular raga, exploring all of its facets and nuances through structured improvisation in a particular form or order."
"The best performances for me are when I forget who I am and what I am doing and become completely immersed in the raga. If I am able to reach such a deep state with the music, then it naturally follows that the listeners will also be able to have a similar experience."
Indian slide vs. Western classical
The Indian Slide doesn't offer the same listening experience as Western classical music does. There's a timeless vibrancy to it and young people seem to really love it, as Joel tells us:
"Almost every day I receive wonderful messages on social media from young people who are appreciating Indian classical music and my playing. They share my videos with their friends and their parents and feel encouraged that I, as a foreigner, am promoting Indian music and traditional culture in this way."
"I have also had the experience of playing for young adults who have no interest in classical music or, even worse, have an idea that it is a old and boring art form. However, they are attracted by the instrument, how similar it is to guitar, and then become fascinated by the ragas in this way."
Joel uses his diverse musical background on tracks like 'Bhim', that bring the Indian Slide together with various other cultural blends to promote solidarity across cultures.
"What is different about my song 'Bhim' (along with the really effective and great fusion music I have been inspired by) is that it comes from a place of understanding all the styles of music that are being combined.
With 'Bhim', I am playing Raga Bhimpalasi in a twelve-beat cycle, called ektaal. I even start with alaap before bringing in the electronic elements. I love reggae music and have played in reggae bands and travelled in Jamaica."
Final thoughts
"I would like to encourage all your readers to give some Indian classical music a try. There are so many great artists and recordings out there. Maybe you can just take 15 or 20 minutes out from your day to sit quietly (you could listen on your work commute in the car or train too) and listen to an entire performance of a raga appropriate to that time of day.
For morning, it's nice to start with Ahir Bhairav. Afternoon, Bhimpalasi. Evening Raga Yaman or Rageshree and around or after midnight you can try Darbari Kannada or Malkauns. And just see how you feel, observe your body and mind. I think you will find some small benefits that will grow over time as you develop your understanding and appreciation of this incredible music."
"I'm live-streaming concerts every Sunday at 8pm IST, I believe that is 4:30pm CET, and you can experience the music for yourself on the platform of your choice (YouTube, Facebook, Twitch and Instagram)."
Joel Veena Socials
Images courtesy of Joel Veena. 
"To think is first of all to create a world (or to limit one's own world, which comes to the same thing)"