Getting up at 5AM on a Friday morning ain't easy ­— even if it's for an alcohol-free party.
Alcohol Free Morning Booster
The day before I convinced a couple of my friends to join me for Morning Booster, an early morning yoga sesh and dance party. Apparently they will only be serving juice, with no booze involved.
4:50AM man down
It's 4:50AM.
I call my mate. The phone rings eternally, with no promise of an answer.
Man down.
I message Fattima next who answers bleakly "going back to sleep".
Luckily I have friends with a sense of commitment. I pick her up and we head to Cloudberry.
Humidity on windshields. The odd car going to work. A hearse tries to pass me on the highway, but I accelerate and say no to death yet another day.
Aside from the grumbling self questioning of "what am I doing with my life", I appreciate the empty streets. The world is still sleeping, and we are awake. Differentiating ourselves from the masses.
The early risers and me
Even the sea is resting. Everything has a blue hue. My friends were skeptical that we would make it at all, but here we are, greeting our friends at the entrance.
Fellow early risers gather near the edge of the water. We trudge along and sit down for the first hour of yoga.
The vast majority are expatriate girls. The only other dude is in the far corner. I look around, realizing I'm not the only nutter to get up at this unholy time.
My musings cease as the yogi takes control of the group. Guided exercise is easy right? The first movements are fun and easy, but the going gets tougher. Muscles ache as I try to keep my arms horizontal.
The yogi tells us to smile, momentarily distracting me from the gradual suffering. "You must focus and push away distractions".
The words resonate with me as I forget the small grievances of life and focus on the big picture, the grand scheme of things. Maybe this 5AM thing isn't too bad after all.
"We all need to breathe". Sure, I dig that. I take my time and relax some more. "Now align your body into warrior two position. Make sure your body is narrow, like you are being put into a toaster."
That's it. She hits a nerve – or rather an organ. The idea of breakfast surges to the surface of my consciousness, my stomach growling in rebellion. After a couple more downward dogs and simply lying on the ground like a rug, my pangs of hunger subside when we are offered Dr. Juice smoothies.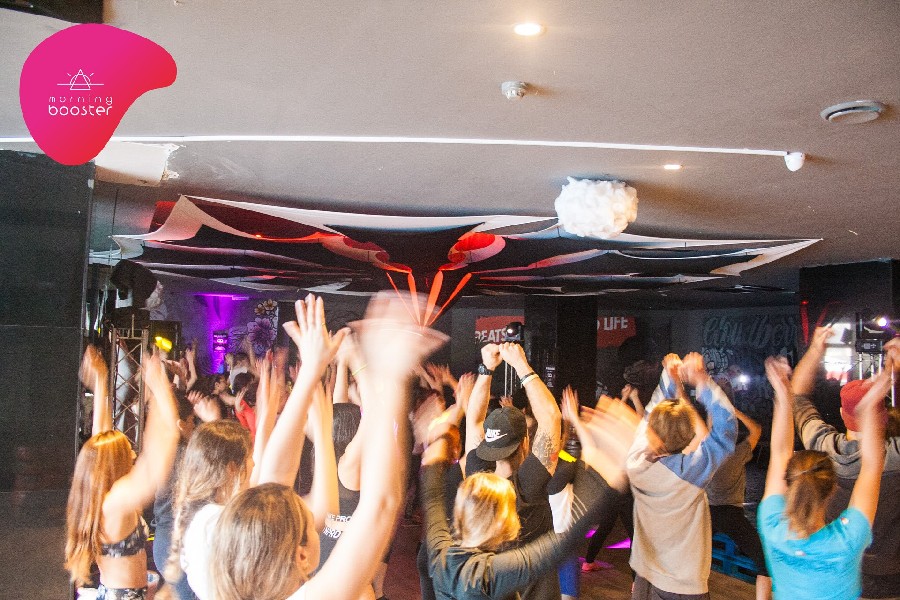 Alcohol free party time
It is 6:30AM and the sun has risen. We are awake, but little did I know this was only half the story.
We are shepherded into Cloudberry where we find a dance floor, a Brazilian DJ and 5 or 6 animators. No time to explain, the music is turned up and we go from 0 to 100.
Latin flavoured hits pump through the speakers. Hands in the air and asses shaking.
Daddy Yankee, Tropkillaz… the music selection is actually very on point and the vibe is good. This is booty shaking music. I shrug at Fattima and we dance for an hour straight following the movements of the animators. Definitely leave your ego at home for this one.
Mar Escalda on decks
Catchy tunes by DJ Mar Escalda, skilled animators and a lotta SWEAT. The feeling is great. I'm even getting into it. I forget the fact that I'm usually rolling out of bed at this time.
The session is over before we know it. People are now more awake then ever, wide smiles on their sweaty faces. A parallel can certainly be drawn to late night techno raves.
The result? A definite need of a shower, new friends and a thirst for the day to come.
RSVP to the next Morning Booster
Images courtesy of: Morning Booster