Camping antics, running stage-to-stage, catching sunsets and sunrises. Earth Garden is a four-day festival that brings together Malta's musical communities in a very charming way.
Making friends at Earth Garden Festival
30 May – 2 June are important dates in the calendar of the Maltese raver. Earth Garden festival spans from reggae to ska, techno to psy-trance and everything in between!
I join forces with our festival clan and meet new members along the way. One of them is my new rave buddy from Poland. When you find a mate that is mad like you, it's a beautiful thing.
Camping is just right – both areas beautifully lit with decorations and all. There are places to regroup and most certainly lose your lighter. At Earth Garden you have the choice to do nothing and everything – in both cases you aren't missing out.
Drink as you please, lay back and smell the fresh air. You ain't gotta be nowhere.
Reggae Roots
On the biggest stage, ManaTapu lifts spirits high. They are the positivity of the Maltese summer. There is love for ska music here – a reggae soul with a tempo to make you jump. No shortage of backup singers. The crowd sings along to their lyrics and sways to their melodies.
Airtist and Kumbia Boruka were supposedly a blast – you can't be everywhere, and we eagerly await developments in the physics of time travel. Check out their Spotify pages as you please, but nothing beats live.
Enchanted, Globalized Forest
Spending time at the Enchanted Forest stage surrounded by pines brings you to your worldly senses. Mundo Muzika brings music from far away places straight to your eardrums, in a new and exciting way, every time.
Leave it up to the man behind Mundo Muzika to capture Balkan, Latin and Afro vibes. And really from any culture he comes across. The Mundo Muzika stage unites the mood into a 7-hour shake down. The feeling is global. You are encouraged to sing along.
And here's a spectacular find – Tupimambo! Portuguese selector and loop artist with a sweet handle on psychedelic guitar riffs. This is Latin American soul, pure swaying and merry-making.
Jam Town at Earth Garden Festival
Walking through Ta' Qali National Park, you find a gathering of musicians on stage – yet nothing is staged here. Bass, guitar and drums of all shapes and sizes pass along so many talented hands, and nothing is planned! It's where the unknown finds its voice.
Techno Kingdom
Techno is king in Malta and this was made very clear from Friday onwards. Matrixxman followed by local favorite Manthrax led Earth Garden into pure disorder. By Saturday the crowd was swelling like a storm. Frothing amongst the palm trees under a canopy of smoke and dust. Brian James, local legend finds new ways to make you melt away.
Going Deep with DnB
A drum and bass (DnB) culture has seeped its way into Earth Garden. Specifically on Strawberry Hill, where deep beginnings take place from the highest point of the festival.
The sun reflects beautifully off of the trees. as a small crowd is drawn to the front of the stage where 4Ace is playing. They call it deep. In any case it's a filthy, filthy sound.
It goes from deep cuts to something entirely different. This is none other than the sound of Sean Rickett. You can tell he enjoys himself, with every twist, turn and wobble there is significance. He is a true representation of talented mixing of jungle, break beat and quite literally everything else!
It's nearly midnight and MIB crew takes the reigns, joined by KHL aka Rasta, a Sicilian MC with a heart of gold. This combo is able to feed the hardcore. Rolling and bouncing, echoing screams of the truth. This isn't dancing. It's a throbbing release of the tension within. Dark stuff.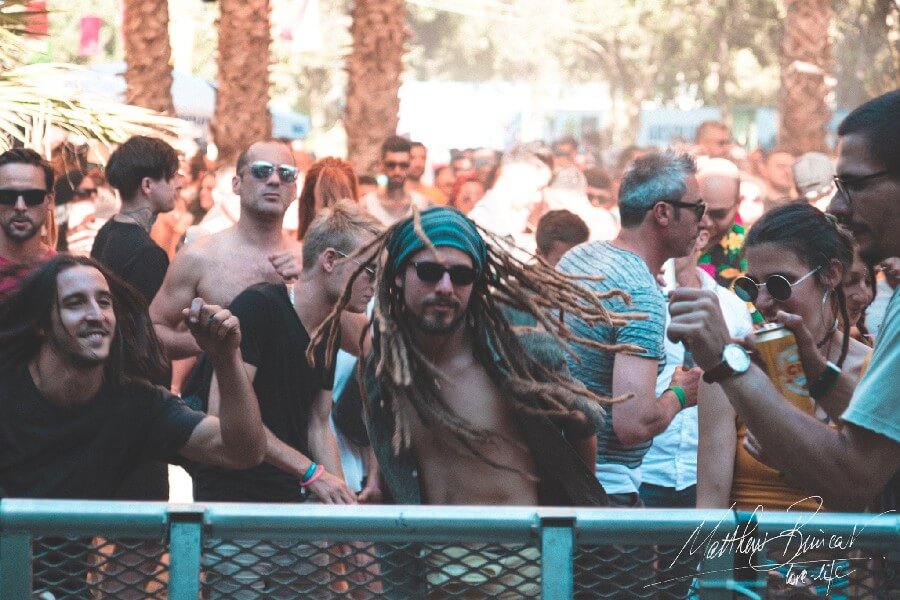 Psy Trance 'til the end of Earth Garden Festival
The classic cap to the Earth Garden festival is the psy-trance stage. While some people are already packing their tents to leave, a good majority are front of Atmos. Sporting a Texas hat, this Boom and OZORA festival champion is leading the crowd into a solid psychedelic set.
He beckons the final evening of the festival as the sun shimmers through the pine grove as it melts away, closing another year of Earth Garden shenanigans.
Images courtesy of Matthew Brincat