Vinyl records and originality have no limits, especially when considering some of the more creative LPs that are uniquely being manufactured.
Here are some of the most unorthodox vinyl records out there, made from zany materials, clever designs and a kaleidoscope of vibrant colours and patterns.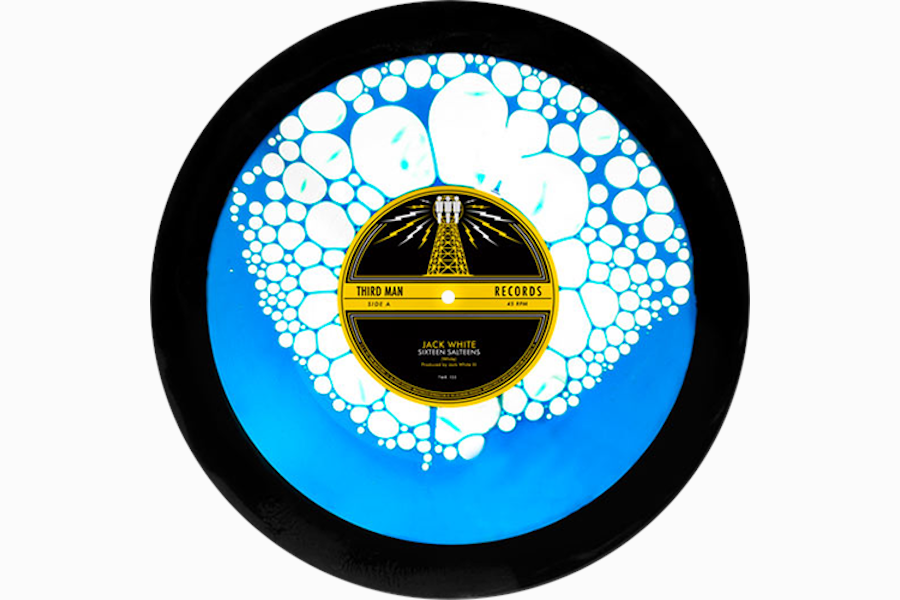 Jack White- Sixteen Saltines
This two-track record, featuring 'Sixteen Saltines' and 'Love is Blindness' (a personal favourite), stays true to White's pure rocky-blues soul. If I were to get my hands on it, I'd probably spend hours watching the striking blue fluid make its way up, down and all around the LP.
Eohippus – Getting Your Hair Wet with Pee
This next one is widely unconventional!
Talk about putting your heart, soul and… body hair into your music! This single-track record gives off an angsty, 'grungey' energy, is quite the wild card. Albeit there are only 100 copies of this mystical, piss-coloured hairy beast in existence, and no two are the same. Besides, It most definitely stays true to its title; I will give them that!
Slightly Stoopid – Dabbington
Hats off to Slightly Stoopid for creating a triumphant piece. This vinyl cost $7,000 to develop and is made from pure, entirely smokable hashish! *Jaw Drop*. The ska-punk, reggae band press their soul-energizing single to shed some light on cannabis legalization. However, they produced two prototypes but struggled to get the sound right. but talk of a third and final attempt was in the works back in 2017, but no updates yet.
Bob Marley & The Wailers – Legend
Significantly this masterpiece is a Limited Edition Record, that was produced in 2014 to commemorate the 30th Anniversary of 'Legend'. This album features the renowned and deeply loved tracks that embody the heart and soul of Reggae, such as 'No Woman, No Cry' and 'Buffalo Soldier.' Significantly this vinyl record features the Rastafarian's signature colours; red, yellow, and green. Simple, elegant, and timeless!
Shout Out Louds- Blue Ice
This next track hits where it hurts. In brief, this Swedish indie band released the track 'Blue Ice', which speaks volumes about dissolving love affairs and lost connections. To symbolize this message, they create 10 kits for listeners to make their own ice records at home. Although the record is quite cold, the sounds it emanates are warm, raw, and inviting. Moreover, this icy record is a very clever metaphor that represents the one that 'melted' away.
SAW VI Soundtrack – Various Artists
Specifically, this is for all the hard-core gore movie fanatics out there, this one is for you. Markedly this saw-blade-shaped vinyl features Goth Rock artists like Lacuna Coil and a wide array of heavy black metal to compliment the dark mind of the infamous Jigsaw killer.
The Flaming Lips – The Flaming Lips and Heady Fwends
This collaborative album features the sound (and blood) of artists like; Ke$ha, Plastic Ono's together with Sean Lennon, and Charlotte Kemp Mhul, New Fumes' Daniel Huffmann, and many, many more.
Furthermore, ten copies of the Limited Edition, double LP were sold for $2,500 dollars a pop, with all proceeds donated to The Academy of Contemporary Music at U.C.O and Central Oklahoma Humane Society. It's not the first time that The Flaming Lips use blood as a medium of expression in their work, and this project definitely doesn't shy away from that. Much like the vinyl, the music featured is surreal, experimental and stays true to The Flaming Lips' noisy, psych-rock tone.
Fat White Family – Champagne Holocaust Dick-ture Vinyl
Noatably Fat White Family is what sent me on my searching tangent for 'vinyl records to begin with. Blood Records reissued Fat White Family's 2013 debut album to feature an interesting concoction of images that quite literally represents the band's 'no fucks given attitude. (Let's just say, if you ever hit up one of their shows, you might witness a schlong or two on stage.) This album features some authentically angsty and jagged sounds that embody Fat White Family's haphazard depiction of an unsettling reality.
Watch an array of penises sway up and down: