MoDem festival translated as Momento Demento 'moment of derangement' – is a very fitting term if you make it to the last day.
One Big Family at MoDem festival
The festival started back in 2012. It is located just outside a beautiful little town called Slujn and is less than a two-hour drive southwest of Zagreb. It's definitely worth booking a couple of extra days to unwind and explore the surrounding rivers, lakes, caves, and waterfalls.
Unlike Ozora, there are only 6000 tickets sold which immediately creates a vibe like a very large family gathering.
With two of us have been here before, the plan of attack has been made, for the first day or two at least. We know we set up near the campervans on the lower level of the festival – it's quieter here in case you need to sleep. In 2016 I camped near The Hive (main stage) and that was a big mistake.
Although it is a huge walk, only going up to The Hive when you really want to party has its benefits. Because not only is it 150 beats per minute (BPM) the majority of the time, it is also at the top of a HUGE staircase that strikes fear in the heart of any festivalgoer.
Just so you know, there is a shuttle bus every hour that will take you up there for free, although I prefer the challenge.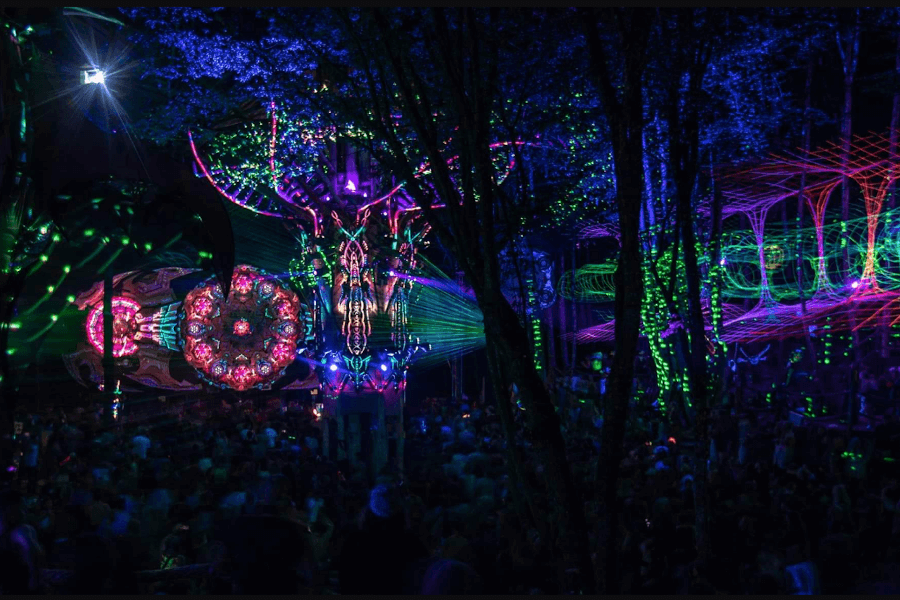 Leveling Up
Since 2016 I can clearly see that there have been a lot of upgrades. The Swamp Stage has been replaced with a clay model of a person, stunning to look at, especially at night with the projection mapping onto the face of the model.
There is now a chill stage closer to our campsite, which is stunning to look at. It resembles two geometric shapes stacked on each other made from wood with a very warm sound.
The Hive remains mostly unchanged, they have definitely upgraded the sound, added safety railings made from thick rope, and string art that transports you into a different realm.
The greatest advancement, in my opinion, is the way they have taken more care of the stalls. Now with carpets, much more space, and great shade, it is the perfect place to unwind, eat and catch up with new and old friends.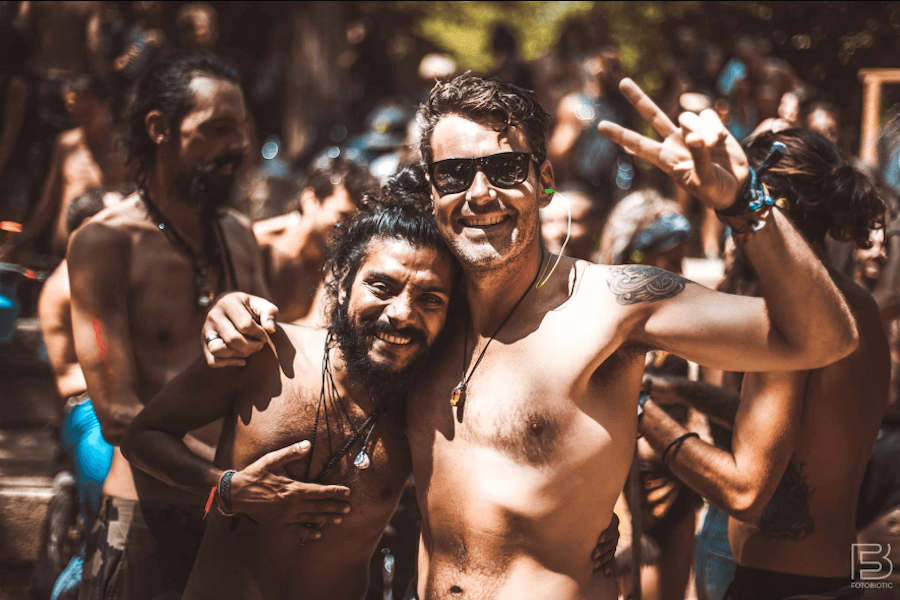 Transformations
Because of the warm family vibe, freshwater river, and stunning nature, this is the festival where you can truly transform yourself in many ways. I personally have some healing to do for both body and mind.
After Ozora, my body is tired, so many kilometers walked in so little time but my mind is feeling fresh and ready to tackle the week of dementing ahead.
After a day or two of taking it easy, swimming every day, and soaking my legs in the ice-cold river, my body feels rejuvenated and it's time to stomp! Personally, my favorite music to a party to is deep techno or psytrance, luckily at MoDem you can basically choose from either of these options 24/7.
The Swap plays predominately techno whereas The Hive is all about the psytrance.
Like most psychedelic festivals the last day is by far the best day, so make sure you save some energy for that.
The vibe on the dance floor is second-to-none because all of the people that are not truly there for the music and connection have gone home or are sleeping off six days of madness.
You can feel nothing but love and understanding from everyone you meet regardless of his or her country of origin. Without even using words you can create connections that last a lifetime.
Why? Because there is a level of understanding in the psychedelic community that we are all one and we are all fighting for the same causes, protect Mother Nature and flourish as a species.
With these friends, a very strong connection is made without speaking.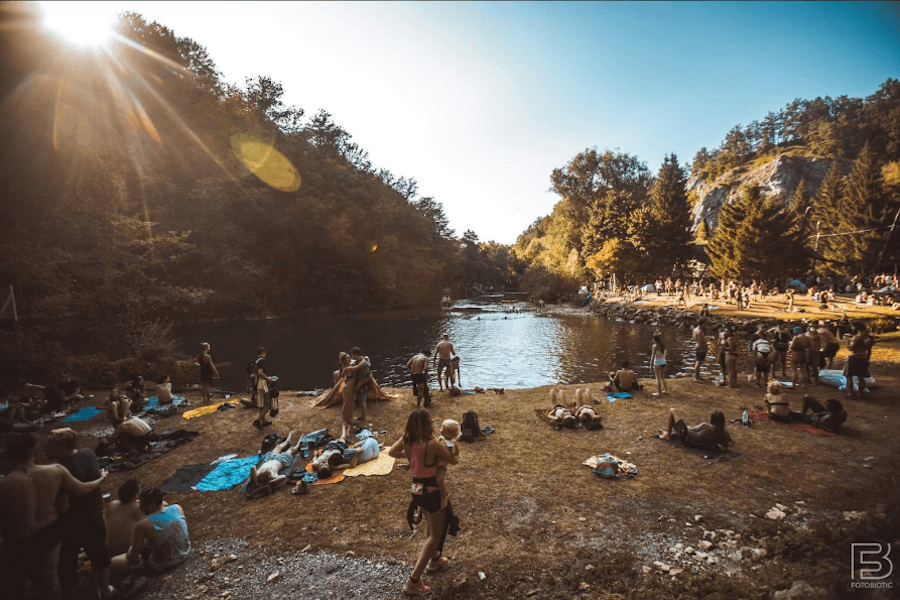 Sustenance
As always, we are spoilt for choice with options ranging from fresh and organic fruit, vegetables, crepes, pizza, juices, a full bar, and much more. I usually try to eat one of everything but depending on the festival it can prove near impossible.
My favorite is probably pizza because it is fast, easy, and delicious. Plus you can share it because everyone loves pizza!
Prices range from 55-70 Croatian Kuna, which in Euros is about 7-10. So, for this party of the world, it's actually quite expensive especially compared to Ozora.
Highlights of Modem festival
My favorite part of MoDem festival was definitely the last day.
The vibe was unparalleled and now that my mind and body have been healed, I can enjoy every demented moment 100%.
As far as music goes, my favorite sets were Suke,Megalopsy and Loose Connection.
They are all playing psychedelic hi-tech, over 180 BPM and the energy on the dance floor is out of this world. Through this 12-hour period, we estimate that we completed several million steps.
MoDem is on another level if you love beautiful locations, outstanding decor, and Psytrance. I recommend experiencing your momento demento at least once in your life.
Images courtesy of: Fotobiotic