Festival hopping with itzel Rodriguez. Join her as she documents her experience jumping from festival to festival from the UK to Malta.
Festival hopping, Boomtown
A few months ago I received an early bid ticket notification for GLITCH, a small techno festival in one of my favorite places on earth, Malta.
I went last year so I knew it was good. What makes GLITCH the selling point for me is that it is right after Boomtown Fair. In other words:
I don't have to suffer the Boomtown blues and instead, get to do some festival hopping and a hit of traveling adrenaline combined with more raving.
My friend Raquel from high school messaged me asking: wanna go to GLITCH?
Didn't think twice – we booked it.
The fest takes place in Rabat, a city where I spent two months once upon a winter, where I left a bit of my heart somewhere in between old rocks and good views.
Walking with Underground Sound
I browsed Airbnb, and came across this flat with a spectacular view. Then it turned out to be the Underground Sound head office.
I have had their business card at home since I met Ian who runs the magazine. Since then I always message Ian to ask what is going on when I visit.
I flew to Malta, arrived at Luqa airport, and had a nice, big, cold Cisk before making my way to the flat where Luc (the host) and Santi (housemate) greet me with nice vibes.
Luc had just arrived from Boomtown, we instantly clicked.
The flat is gorgeous with its majestic view, stunning moonrise, chilled vibes.
That first night we got invited to tag along with Underground Sound to visit a few places, so all of a sudden I'm with Luc, Santi, and Ian having a drink at Sliema harbor–side in front of beautiful Valletta and the moon.
We went to a couple of reggae bars too, I mean, there are lucky people in the world, but honestly, I'm spoilt rotten, listening to dub on the beach having bants with these three gents finding out about their music lifestyle.
Raquel arrived that evening, Glitch started and because of a national holiday, we had fireworks in the background for hours.
Festival hopping, GLITCH
Glitch is a nice, manageable festival that you can navigate around easily. Security is pretty relaxed, the bar and toilets have short queues if any and the sound is quite good at every stage. A couple of things are still lacking such as good chill-out areas and free running water.
At the end of the day, is important to have welfare (they have it, but small and scary), where people can rehydrate or sit somewhere to recover. It is such a hot environment as well – we're Mexican so we can deal with it, but is important to think of your punters.
Rave culture is about looking after each other in the best possible way.
Another horrific thing is the mindless amount of plastic, plastic cups, and bottles everywhere, not even disposed of appropriately. I kept drinking beer cans to battle such points.
The main stage is good in terms of sound and space, you can perfectly move around, still hear the music.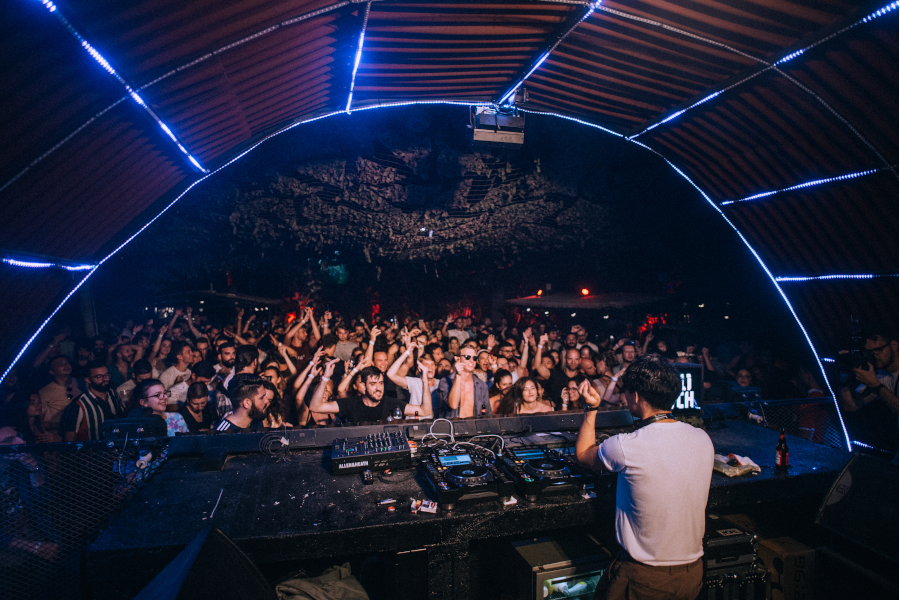 I thought it was well balanced, it's not as loud as a stage in the UK, but after coming back from Boomtown it was just what I needed. I must say the decor is basic – later on, I learned they use the arena for many other events, so not much effort into Glitch in terms of visuals or what I call eye candy.
Our favorite stage was the Rooftop, which seemed the place with the sweetest vibes, it had seats where you could take a break. I had a hoop with me, I played with it and others – fun times.
The Boiler Room stage
We also spent quite a long time at The Boiler Room stage, hands down the music, sound and whoever curated the program did a fantastic job.
We walked home in the moonlight talking about this.
The next day, Luc organized a BBQ party, so we got an introduction to a few groovy kids – good conversations, food, drink, and a priceless sharing caring atmosphere. Luc pointed out he enjoyed full moon parties – and there we were, at a full moon party with a nice view of Malta, with GLITCH in the distance.
We met a couple from the UK that were going to the festival so we tagged along, one of them, Jason, had just come back from Boomtown – what are the odds.
The next day Luc was flying to Brazil before midday, he looked fresh as a cucumber with his luggage all nicely packed and ready to go. Impressive.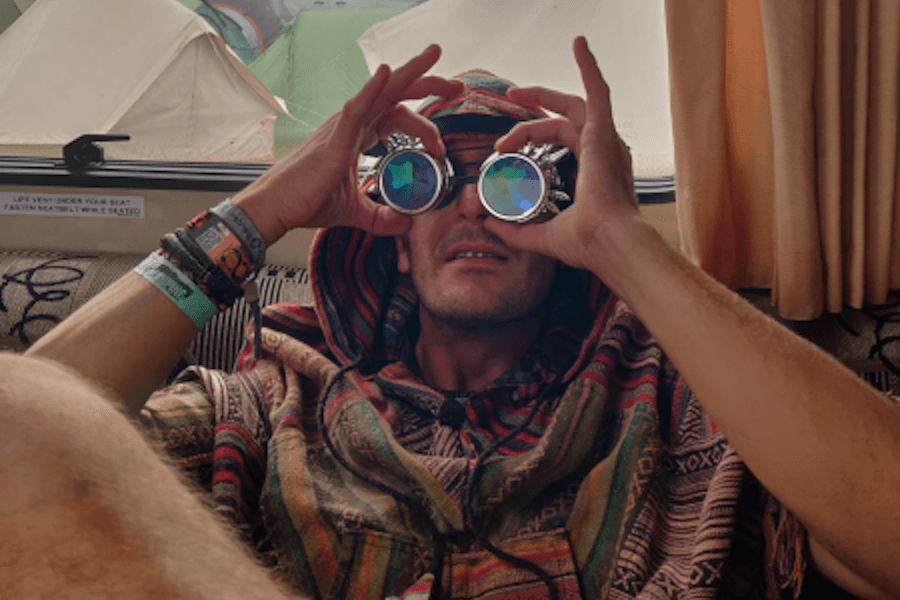 From Rough Waters…
After that we headed to the boat, I'm not going to lie, I have attended a few boat parties – this one was a big letdown.
We departed almost an hour later than scheduled, the sound system was muggy and very bad equalized, they had 1 set of toilets but two cubicles blocked, they wouldn't accept the drink tokens from the festival, despite the fact it was the same festival!
But the worst thing was their waste, no bins provided, plastic cups and bottles everywhere, no one was picking the rubbish up, all tables and floors rammed with waste. We were in open water, so basically we were littering the sea. Awful.
They stopped the music about 20 min before landing back in Sliema, there was no love, no care for punters. I think this may be my last GLITCH as I simply can't support that.
… To Calm Seas
The next day Raquel went to the airport, I had lunch with Santi and prepared for my departure, later on, I went to the beach in Bugibba to find that reggae bar on the beach, Ta Fra Ben.
One of my old-time tricks for having a good time everywhere in the world is finding the reggae – I tell you fam, find the reggae and you're good. I was on the coast listening to tunes, stunning views, drinking cold beer, meeting nice people, having my smokes thinking again, 'why is it that I am so lucky and privileged to be right here right now?'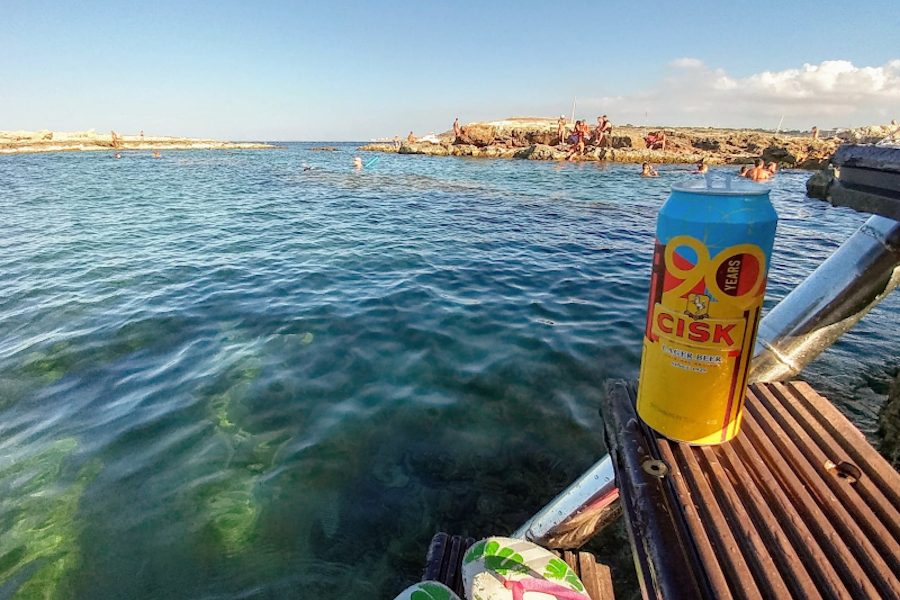 Random Malta Encounters
That night they had a DnB event from MIB Crew,
I stayed to hear a bit, beautiful sounds. I met a chap called Caleb from Nottingham (I can identify old school ravers miles away), we start chatting and he says he was managing the Blue Mountain club in Bristol exactly at the times I was working in an office in front of it.
Showing him a picture of a graffiti mural on my phone of the club, I tell him this made my day in the cold mornings when I was most miserable at my job. He loved to hear that for they spent thousands on it.
We went to see the sunset together talking about Bristol bass culture, shortly I left for St. Julian's to have more reggae before my departure.
I went to two more reggae bars just to say goodbye to Malta in the nicest possible way.
Before I knew it I was at the airport early on morning Sunday, it had been 6 days since I had arrived in Malta, exhausted, happy as only rave hearts can be.
So my biggest piece of advice is if you want to have a good time in Malta, you like good music and you're looking for nice and conscious party people, find Underground Sound and just let it flow.
Images courtesy of itzel Rodriguez