Finding a way how to sneak alcohol into a festival without security confiscating it and ruining your weekend is harder than buying a tent two days before a festival.
Why sneak alcohol into a festival?
As much as we all love the vibes and music, let's be real, you need to remortgage your house to pay for the tickets, camping equipment, overpriced drinks, and not to mention food and anything else you want to experience while you're there.
Avoid the long queues, mile long walks back to the tent and dodge the security's strict rules on bringing in alcohol from the outside using these 19 methods on how to sneak alcohol into a festival.
How to sneak alcohol into a festival
Many have tried to smuggle in alcohol to a festival and failed miserably.
Below we have compiled an essential list on how to sneak alcohol into a festival without getting caught. On a side note just remember the secret ingredient is crime.
For those who don't have an appetite for subversive behavior, there are more mainstream ways to do festivals on a shoestring budget that will cover cost saving in more depth.
Disclaimer: We're not liable if your ass gets caught!
1. Hidden sunscreen, protect your skin with Jack Daniels
Making sure you pack sunscreen for a festival is essential in itself. However, sunscreen bottles masked as an alcohol flasks are pretty much guaranteed to get you past security. They are generally looking for the obvious bottles, cans and drugs while at the same time checking thousands of eager festival goers passing through the gates.
2. The umbrella flask, stay dry and wet at the same time
Attending a festival in the UK? Then there's a high chance you will need an umbrella. So, there's close to zero chance on being questioned as to why you have one in your possession, or two even. One to keep you dry and the other to wet your throat.
I will definitely not be quoting Rhianna here so yea, click here to buy one.  
3. Boozey bladder, requires some acting
Wanting to go hands free? Look no further than the Boozy Bladder that will hide under your shirt while security checks your bags.
Pro tip: fill an empty bottle with a similar liquid that you're drinking to throw the men in black off of your scent while making a fuss about the decoy.
Convinced to buy? Click here to cop one.
4. Brush your hair and get drunk at the same time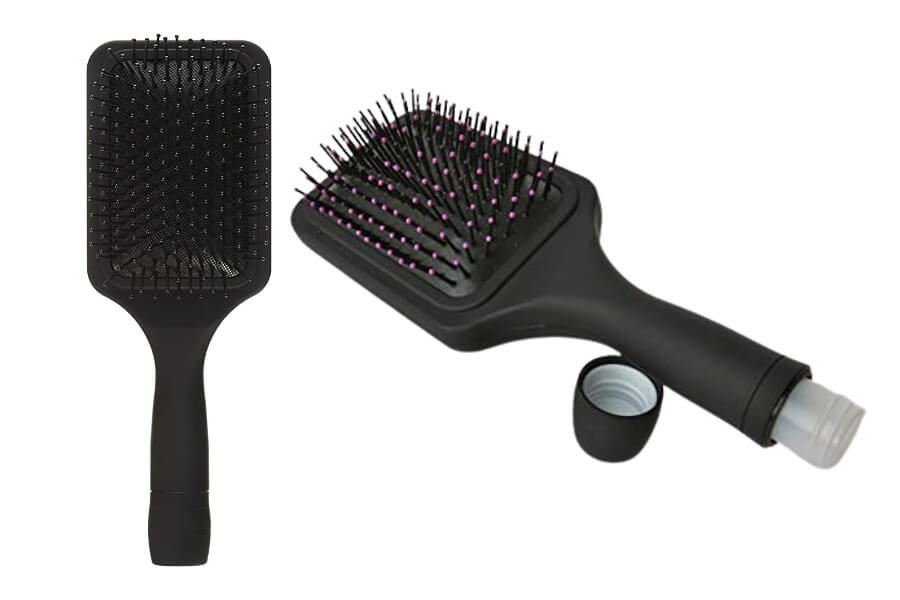 If you have long luscious hair, the chances are you will want to take care of it as best as possible for the duration of the festival. Enter the hairbrush flask and take advantage of both a brush and smugglers tool all in one.
Keep your hair on point and your liquor hidden here.
5. Booze bra, a camel pack for your tits
Anyone that's worn a bra will know how handy they can be for hiding and sneaking things past security. However this booze sport bra takes sneaking in alcohol to the next level.
It's perfect for the winos out there and you don't even need to bring a cup due to the bra's easy sip tube.
Stay sporty my friends and click here to buy.
6. You won't see much with these binoculars
Festivals are generally massive, so it's not hard to lose your mates. Although these binoculars won't be of any use to actually find your friends, you will have the perfect excuse for keeping the binocular flask hanging around your neck.
Just as long as there are no up close inspections, it should be a breeze passing security with your alcohol intact.
Lost your friends? Click here to find them.
7. Drink from a tie, another creative way how to sneak alcohol into a festival
If you've ever been to a festival you will know that you can wear just about anything, or nothing at all. With that said getting through the pearly gates of music, will be a breeze with this tie flask.
Now all that's left to do is laugh at your friends as they get their precious drinks confiscated.
You just need to park your ass on the grass and compliment yourself on how smart you are as the boys and girls head to the dreaded queues of the bar.
8. Icepack flasks, a legit way how to sneak alcohol into a festival
This one allows you to take in multiple drinks for the whole crew (depending on how many packs you take). Welcome to the icepack flasks. Security at the majority of music festivals are of course looking for alcohol in bottles and cans along with food.
Yes it's extremely annoying especially if you're on a tight budget, but their job is to protect the profits of the festival organizers. We recommend that you get a large cooler along with a few legit ice packs and pack it with some cheap snacks.
The result? Cold drinks, no queuing and… snacks.
Invest now and save later, you know we're right. Click here to be the hero that came up with the idea.
9. You may pass. An easy way to avoid security checks
The tampon one shot tubes are a bit leftfield but it's an easy way to pass security, without being questioned. Once you've passed through the gates you can be safe in the knowledge that you are good for at least five drinks, while at the same time pulling the wool over the security's eyes.
Stay ahead of the game by clicking here to order before your next festival..
10. Disguise yourself as a famous plumber
For this one we will lean on the randomness of festivals and the festival goers. If you can dream it we guarantee it's at the festival somewhere.
This Mario NES cartridge flask is one such random item you can get away with. However because it stands out this plan is not foolproof. So, to make it more convincing, get yourself this Mario costume.
Warning the flask doesn't fit mushrooms (or does it)? Click here to find out.
11. Your daily bread
So this one pairs up well with number eight in our list, the ice pack and cooler. The idea is simple yet creative. While you are topping up with drinks from the supermarket grab yourself a thick loaf of bread.
Like a surgeon slice down the side and pull out as much of center crumb from inside until you can fit your choice of alcohol inside.
Pro tip: don't use sliced bread.
12. Bury it weeks in advance, an ambitious way how to sneak alcohol into a festival
There are countless stories involving the festival goers heading to the location of the festival spot weeks or even months before the event to bury their booty (you know who you are) and retrieve it while the festival is happening.
This one takes a lot of effort and strategic planning. Ideally you will have to know the layout of the festival and ideally live close to the grounds. However, keep in mind that if you make one mistake your booty could be compromised and maybe buried under a bar, for which you are screwed and out of pocket.
Pro tip: You may have to smuggle in a shovel then if your calculations are correct then you will have to inconspicuously dig up your booze.
If you pull this, hats off to you.
13. Pringles, a tasty way how to sneak alcohol into a festival
Another food-based smuggle. This one is easy and cost effective but the chances of being checked and caught are higher.
Simply buy a tube of Pringles, find a bottle of liquor that fits inside the tube, and add some extra Pringles on top of bottle for further coverage. Oh, and if you can do this without damaging the opening then your chances of success are higher.
14. May God be with you and the bible flask
This one is going to be difficult to get in without being checked, since it is totally out of place. Team this bible flask up with a priest or nun outfit and you're good to go
Repent for your sins after the festival and click here for the power of God.
15. The precious goods in precious places
The problem with just stuffing a bottle down your pants is that they have a tendency to slip down not to mention security giving you a pat down. The solution? Pocket underwear that allows you to put your precious non expensive booze further down by your bits.
You already know security won't go that low so click here to stay a step ahead.
16. Handbags & wine the perfect fit
Generally all bags are checked at the gate. However, security are only looking at the contents inside your bag, not the bag itself. If you're both a carrier of handbags and love to drink cheap boxed wine then this is the perfect combination. If you want to take in more drink then team it up with a few of the smuggling solutions above, just make sure it's believable.
Pro tip: a loaf of bread in your handbag will raise questions, so play smart and click here for a stylish buy.  
17. Alcohol in your hair, a classic way how to sneak alcohol into a festival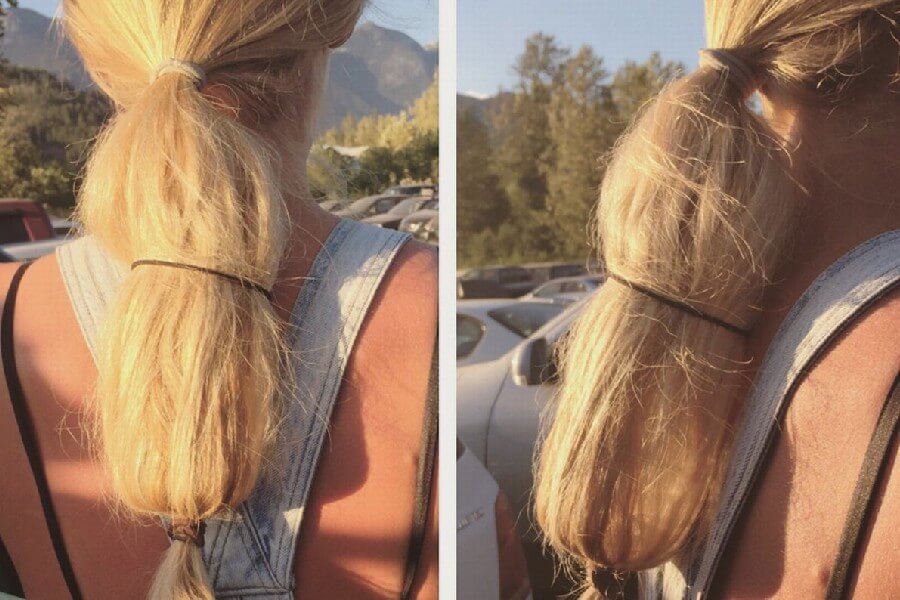 This is a play on the old-fashioned hiding a joint in your hair trick. Depending on the length and fullness of your hair you can either buy sealable tube sand fill with liquor (tube shots) or grab yourself mini bottles of liquor. Then, tie your hair around the bottles and voila.
Pro tip: make sure to secure the bottles or use a large clip.
18. A camera flask – here's to hazy memories
Who doesn't want to capture hazy memories? Well, more emphasis on the hazy here. This trick is a great one that's hidden in plain sight, the camera flask. It doesn't hold a lot (5oz) However, if you like to do shots its perfect.
Pro tip: Act like you're taking a picture in front of security and act like your creating memories.
Love this idea? Click here to buy your next best camera.
19. Bring the 80's vibe with the Walkman
The Drinkman is a Walkman shaped flask that you can hold in your hand as security looks at everything else in your possession. Again this leans on the randomness of festivals so try to look the part if you're going to carry an 80's style Walkman with an 80's inspired costume.
Click here for the Drinkman and then click here to look the part.
This article includes affiliate links & as Amazon Associates we earn from qualifying purchases.