Get ready to lose yourself in a sea of beats and rhythm, as the Monegros Desert Festival returns to the scorching Spanish desert on the 29th of July.
This festival is more than just a music event – it's a place where music and freedom reign supreme, leaving you with lifelong memories.
Discover Monegros Festival's Desert Rave Concept
The Monegros Desert Festival made its debut back in 1992, founded and launched by entrepreneur Juan Arnau Dura.
The first edition of the festival was a small gathering of around 200 people. Since then, it has grown to be one of the biggest and most popular techno festivals in Spain. In fact, it quickly grew in popularity with attendance reaching over 55,000.
This festival has a reputation for its otherworldly environment, with stages and tents set up amongst the rugged terrain of the Monegros Desert, creating a one-of-a-kind experience for ravers that lasts only 24 hours.
Freedom and escapism
Monegros is famous for its intense party atmosphere, with attendees camping out for the duration of the festival and partying around the clock. The festival is also known for being a wild and hedonistic event, with many people attending for the sense of freedom and escapism it offers.
Apart from that, it typically features a range of art installations, and other interactive experiences, creating a carnival-like atmosphere that adds to the overall sense of excitement.
It also offers the chance to party to high energy music lineup, featuring some of the biggest music acts, with top-tier DJs and producers from around the globe taking to the festival's stage.
Monegros 2023 lineup brings the heat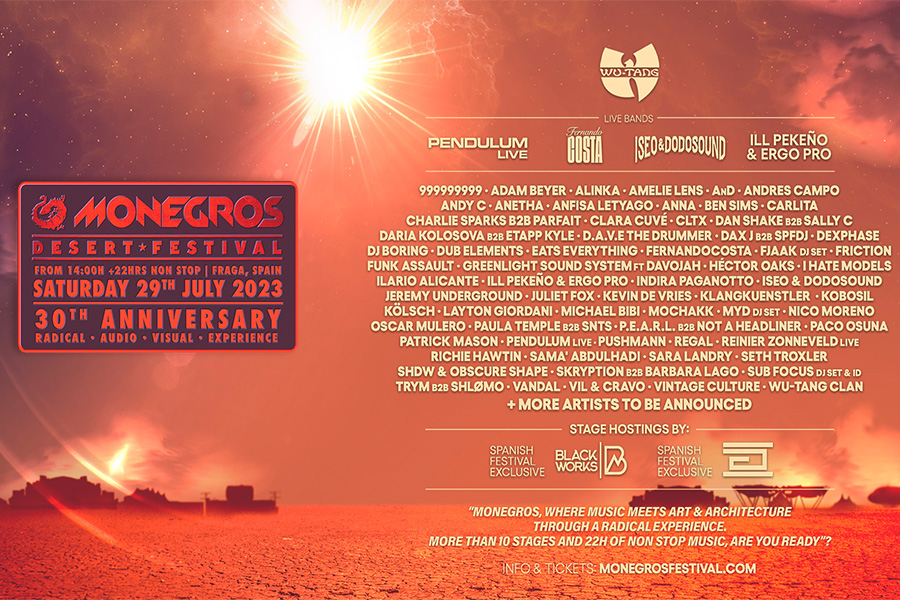 This year's Monegros Festival features an incredible lineup of 100+ acts from around the globe, covering numerous genres that will keep you dancing for a full 24 hours nonstop.
Here are some of the line-up's highlights:
1. Amelie Lens
Amelie Lens is a Belgian DJ, producer, and label owner. She gained attention in the techno scene with her DJ sets and productions, which are known for their driving beats and atmospheric soundscapes.
Lens has become a regular fixture at top clubs and festivals around the world and has played sets at events like Awakenings, Tomorrowland, and Time Warp.
2. Dub Elements
Dub Elements are a Spanish drum and bass duo – Jose Luis and Victor Garcia. They have released music on a range of DnB labels, including Hospital Records, Viper Recordings, and Eatbrain.
Dub Elements are famed for their high-energy, dancefloor-oriented productions that blend elements of drum and bass, dubstep, and other bass-heavy electronic music genres. They have collaborated with a range of artists over the years, including MC Coppa, Virtual Riot, and Neonlight.
3. I Hate Models
I Hate Models is the stage name of Toulouse-based French DJ and producer Guillaume Labadie. Labadie focuses on dark and atmospheric tracks that combine elements of techno, industrial, and post-punk.
He is remarkable for his intense and emotional DJ sets that span a range of genres and moods, and his live performances often feature visuals and other multimedia elements that enhance the immersive nature of his music.
See more of our experience of seeing I Hate Models.
4. Paco Osuna
Paco Osuna, a well-known Spanish DJ and producer, excels in techno and tech-house music genres.
He quickly became a fixture in the Spanish club scene, playing at venues like Amnesia and Space in Ibiza. He is famous for his intricate, percussive style of techno, which often incorporates elements of tribal and Latin rhythms.
5. Paula Temple
Paula Temple's style is unique without a doubt. The British techno DJ and producer focuses on dark and industrial landscapes.
She has released music on a variety of labels, including Noise Manifesto and her own imprint, Paula Temple. She has also collaborated with other notable techno artists such as Lucy and Rrose.
In addition to her work as a producer, Temple is also reputable for her energetic live performances, which often incorporate analog and modular synthesizers, drum machines, and other hardware.
6. Richie Hawtin
Richie Hawtin is a Canadian techno DJ, producer, and label owner. He is known for his innovative use of technology in electronic music and is credited with helping to develop minimal techno sound.
Hawtin has released numerous albums and EPs on a variety of labels, including his imprints, Plus 8 and Minus. He has also collaborated with other notable techno artists, such as Carl Craig and Plastikman.
He is considered one of the most influential techno artists of all time and has played a significant role in shaping the sound of electronic music.
7. D.A.V.E the Drummer
D.A.V.E. The Drummer is a techno and acid producer and DJ. Who has a distinctive style of hard-hitting, high-energy techno.
He has released music on a variety of labels, including his imprint, Hydraulix, and has collaborated with other notable techno artists such as Chris Liberator and Sterling Moss. He has played at numerous clubs and festivals around the world and is considered a key figure in the UK techno scene.
8. Seth Troxler
Seth Troxler is an American DJ, producer, and label owner who has contributed greatly to the underground electronic music scene. Troxler began DJing at a young age and became remarkable for his eclectic sets that blended various genres, including house, techno, and disco.
Troxler has released music on various labels, including Crosstown Rebels, Spectral Sound, and his imprint, Play It Say It. He has also played at many of the world's top clubs and festivals, including Berghain in Berlin, Fabric in London, and Movement Electronic Music Festival in Detroit.
The best ways to reach your festival destination
Monegros is a region located in north-eastern Spain, between the provinces of Zaragoza and Huesca.
The easiest way to get to Monegros is by flying to Barcelona-El Prat Airport (BCN) or Zaragoza Airport (ZAZ), both of which have regular domestic and international flights.
And, if you are coming from Barcelona, you can take a high-speed train (AVE) from Barcelona-Sants Station to Zaragoza-Delicias Station. From there, you can rent a car or take a bus to reach Monegros.
Don't let the stress of navigating to the festival get in the way of your good time. Take a peek at the festival's website for all the insider knowledge on how to get there hassle-free.
Monegros Desert Festival Socials