NASS Festival is the intersection where action sports and urban culture meet, taking place every year in Bristol. Let's shake down the line up.
About NASS Festival
An acronym for National Adventure Sports Show, NASS Festival 2023 holds an enviable line up of music acts, skate, BMX, inline, freestyle motocross competitions, and street art exhibitions.
It will take place from 6-9 July at the Royal Bath & West Showground, bringing together over 15,000 people. It's an affordable four-day festival that will see emerging and established acts take to the stages, covering the genres of drum & bass, hip hop and UK rap.
NASS collaborates with Upfest, Europe's largest street art festival. Street art is an intrinsic part of the party with live graffiti taking place and dedicated pieces shown throughout the grounds.
NASS Festival line up and stages for 2023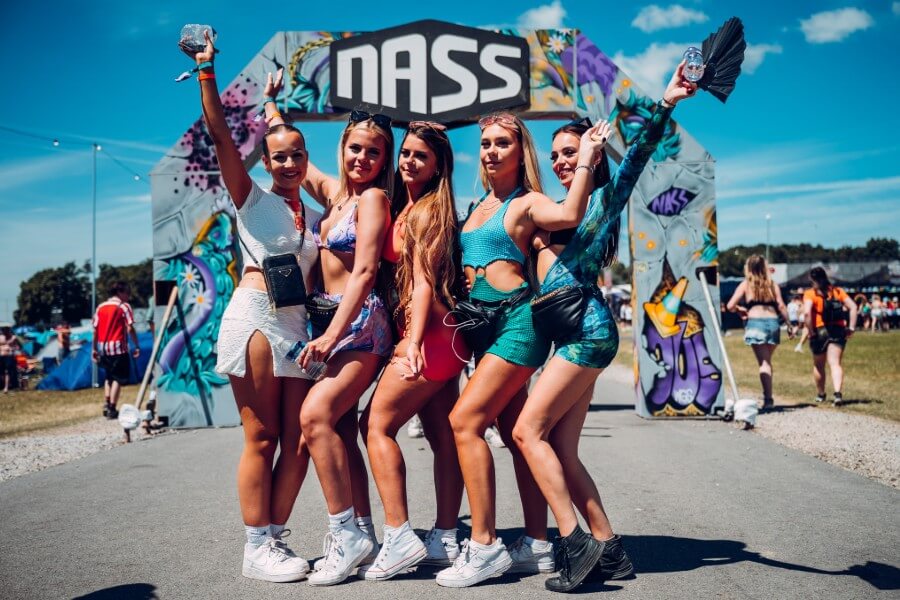 Over the years the NASS Festival line up has featured many genres and showcased some of the biggest acts in the world who have graced the stages. Past headliners include acts like Giggs, Pendulum, Cypress Hill and others.
Although there is always an international act for the main stage. It's fair to say that emerging artists and UK genres such as grime, are a big part of the overall success of the NASS experience. With six large stages, and many other smaller stages along with features throughout offering something different, you're pretty much guaranteed to stumble upon something new.
1. Main stage madness at NASS Festival
Welcome to the outdoor main stage of NASS, the festival's biggest to date. It will carry some of the biggest names of this year's edition from the likes of Wu Tang Clan, Chase & Status, Little Simz, and Bru-C.
Pro Tip: Head on down to the main stage from 19:30 – 01:30, for the world's biggest DnB silent disco.
2. Hanger, witness the heaviest indoor rave in the Southwest
Too big to be contained
NASS Festival claims a massive stage and judging by the lineup we cannot argue. Taking to Hanger will be Gardna, Joel Corry, Nathan Dawe, Example, Girls Don't Sync, MS Pink Feat Mila Falls plus Maddy V taking to the stage, For this year's NASS festival the Hanger is one area not to be missed.
3. South Bank presented by Shein
If you're a drum & bass head then the Southbank stage presented by Shein UK (yes the online fast fashion retailer) is where it's at.
Southbank is a massive indoor venue that will keep you skanking for 20+ hours to the sounds of the best drum & bass acts of 2023. Find Vibe Chemistry, Problem Central, Charlie Tee and plenty more here.
4. The Warehouse hosted by Motion Bristol
The heart of NASS festival is The Warehouse hosted by Bristol's legendary club Motion.
Motion is well known for its contribution to Bristol's (probably the UK's) clubbing and street culture scene. Expect high energy performances from Mella Dee, Hannah Laing, and Sammy Virji B2B with Notion.
5. Sika Studios stage for UK rap & DnB
Sika Studios are one of NASS festival's biggest partners and in the words of Sika:
we are built in the UK

from the underground up.
It's only right that the stage makes its return for this year's NASS festival. Expect some of the top names in UK rap, DnB and other genres that include Eksman, Devilman, Killa P, Charlotte Devaney and more.
6. Fatty's Yard Rollin with Rizla
Kick back at this open-air stage of NASS. Fatty's Yard promises good vibes, cocktails, chill out/come down areas and a sound system, setting the tone for the soothing oasis. Acts yet to be announced.
The action sport element of NASS Festival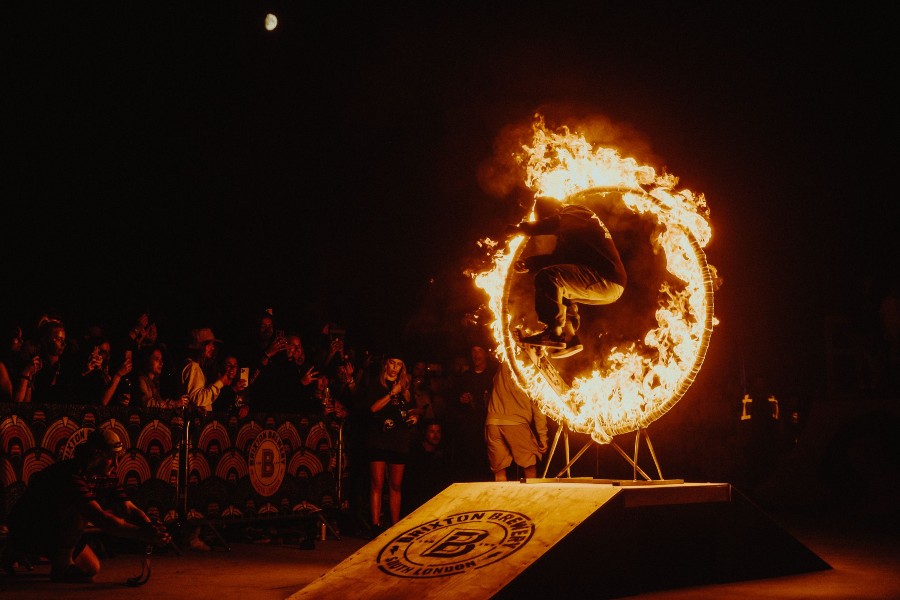 Music aside, the action sports element of NASS Festival is an integral part of the event.
Drawing athletes and fans from around the world, the festival hosts competitions in skateboarding, BMX, and inline skating. It features professional athletes showcasing their tricks, flips, and stunts on purpose-built skate and bike parks.
Street art at NASS Festival
Additionally, NASS Festival celebrates street art and graffiti culture along side Upfest. The area will provide a platform for talented artists to showcase their work. Throughout the festival site, you'll find various art installations, murals, and live art demonstrations, adding to the vibrant and creative atmosphere.
Tickets and camping at NASS
NASS Festival offers a range of ticket and camping options. There are different ticket packages available, including day passes, weekend passes, upgrade options. And even payments in installments along with coach ticket booking to get you to and from the festival grounds.
Book your tickets here on Skiddle.
Photography credits: Adam Lievesley x Josh Harkon x Chris Johnson x NASS
This article includes affiliate links we earn from qualifying purchases.
---