Festivals on land are far too mainstream – choose to go on a music festival cruise instead!
As summer rolls around, the music festival scene sets sail, and what better way to enjoy the hot weather than at sea.
We present the top six cruise festivals that deserve a prominent place on your travel bucket list.
1. Far East Reggae Cruise, a music festival cruise for reggae lovers
Yokohama / Jeju Island, Korea / Kumamoto
15-20 July, 2023
If you love reggae music, you might want to free up your calendar and hop on board for a unique music experience.
In July this year, the largest cruise ship in Japan is hosting Far East Reggae and traveling from Yokohama all the way to Kumamoto, with a stop in Jeju Island.
Besides on-board stages and live performances throughout the 5-day festival, you will also be able to enjoy an aqua park, a casino, dance floors, shopping mall, theater, yacht club, gym, and more.
This year's line-up features both Japanese and international artists waiting to dance all day and night while cruising Japanese waters. Reggae lovers will also be here music legends all the way from Jamaica such as Barrington Levy, Beanie Man, Freddie McGregor, and more.
2. EDSea, setting sail onto the electric sea
Miami / Nassau / Great Stirrup Cay, Bahamas
4-8 November, 2023
EDSea is setting sail from the port of Miami to the exotic lands of the Bahamas, stopping on Nassau and Great Stirrup Cay islands on the way.
Imagine the sweet taste of a Sex on the Beach, as you relax in a deckside hot tub, slowly cruising into the Bahamas. If you are into house, techno, bass, trance, disco, and the sweet sounds of electronic music, this is the place to be this November.
As we await a full artist line-up, a curated activity list has been released for this year's edition of EDSea Paradise, making sure that when your feet aren't stomping around on the dance floor, they're kicked up and relaxing. Go-Karting, laser tag, themed parties, comedy shows, whirlpools, interactive games, live performers, casinos, water slides, and more will be available to all festival-goers. Spa amenities and pool facilities will also be available for those looking to kick back.
3. UberSoca Cruise, the largest Soca festival at sea
Miami / Roatan, Honduras / Harvest Caye Belize
11-16 and 16-21 November, 2023
Setting off on the 11-16th and again on the 16-21st November 2023, UberSoca Cruise will leave the Miami port as the largest Soca (a music genre that has influences of African and East Indian rhythms) festival at sea.
Starting off with a pre-party, the Caribbean Explorer cruise ship will have more than 50 events, 80+ entertainers, pool parties, comedy shows, live concerts, themed parties, workshops, sports tournaments, and more.
Patrice Roberts, Ding Dong Ravers, Skinny Fabulous, and more, join forces to give all passengers on board an experience beyond the music. After reading the line-up, all I can picture is diving into a refreshing pool while listening to Skinny Fabulous do his thing on the mic.
4. Groove Cruise, connect and celebrate the love of groove
Miami / Great Stirrup Cay, Bahamas
24-28 January, 2024
Getting down to some electric groove while you sail the Western Atlantic Ocean, sipping on a spicy margarita. Groove Cruise will be celebrating its 20th anniversary, from the 24-28th of January 2024, with 96 hours of themed parties, contests, workshops, and more exotic cruise ship activities.
Big artists such as Tiesto, Diplo, John Summit, and more have been announced as part of the 70+ DJ lineup, promising a non-stop rave from sunrise to sunset. This means that from the minute you wake up to the minute you fall back asleep, you'll be part of a non-stop party, so better prepare some comfortable shoes and sunscreen.
5. Rock the Bells Cruise, a music festival cruise for the hip-hop heads
Miami / Nassau / Bahamas
13-17 November, 2023
Rock the Bells Cruise is the experience hip-hop heads have been dreaming of. From the 13-17th of November 2023, the Norwegian Pearl sets off on an immersive music journey with some of the biggest names in the hip-hop scene.
Offering festival-goers 10 restaurants, 8 bars, a casino, basketball court, spa, gym, and more, when you're not jumping around, you'll be entertained by the large selection of entertainment on board.
Work on your summer tan by the pool deck with Kid Capri on stage, hang out with Miami's own Trick Daddy and Trina at a private happy hour party, and shake what your mama gave you to Rick Ross, Lil Jon, Big Boi, and more as the sun sets, and rises again.
6. 70000 Tons Of Metal, the world's biggest heavy metal cruise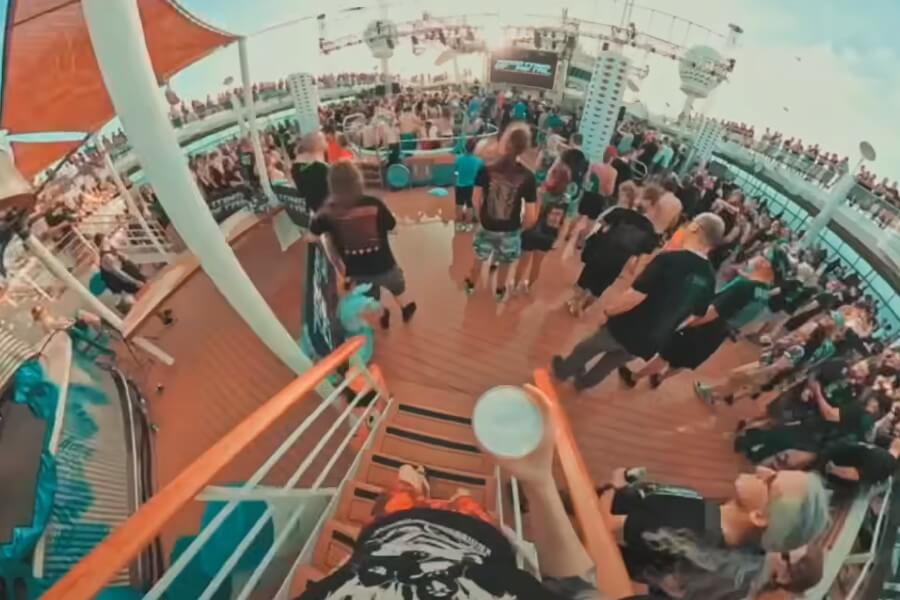 Miami, Florida / Puerto Plata, Dominican Republic
29 January – 2 February, 2024
From January 29th to February 2nd 2024, you can join 60 bands, and 3000 festival-goers, for four days on a cruise ship sailing from Miami to the Dominican Republic.
Planned for the beginning of next year, 70000 Tons of Metal have a lot in store; from open jam-outs on international waters, hardcore metal karaoke till sunrise, 120 live shows on board, and more.
Aside from the head-banging music metal lovers can look forward to, they also have ongoing contests, workshops with musicians, shore excursions, and bars that never close. With the cruise promising to create a safe space for all metal lovers to connect and get to know some of their favorite artists on a more intimate level, we hope that this will give a whole new community feeling to such music festivals.
So far, artists such as SODOM, Lord of the Lost, Teutonic Thrashers, and more have already been announced in this year's 70000 Tons of Metal cruise festival.
Still looking for the perfect festival for you and your mates?
Check out our Festivals section for our ultimate Music Festival Guide, where all your festival questions can be answered under one media hub roof.