For those going to a hot festival you're going to need a specialized festival packing list that covers more than the basics.
There are some festivals that require you to be fully prepared. Definitely some that will exceed the standard, tent, sleeping bag and crates of beer. We are talking about festivals in hot and arid locations, ranging from the Maltese summer festivals to the 24-hour Monegros Festival taking place in the Spanish badlands, and yes even the bucket list experience of Burning Man taking place in the Mojave Desert in Nevada.
Festival packing list to thrive
From our personal experience attending festivals in the heat, we can say that preparing as much as possible at home is the key to thriving rather than just surviving.
With that said, let us guide you through our all-important checklist before you head into uncharted territories.
In the words of Bruce Lee "He who fails to prepare, prepares to fail".
8 necessities to add to your hot weather festival packing list
1. Solar charging power banks
We all have multiple electronic devices that require charging. It's easy to stay on top of your charging in the comfort of your home. On the other hand, keeping the juice flowing over the duration of a festival, while considering the time in-between needed for travel, requires some forward thinking.
Keep the power in your hands with these power banks. Click here to buy.
2. Hydration Pack
Yes, you can fill these with beer and/or spirits, but believe us it doesn't work as well as you would think. With the obvious out of the way, we recommend that you use this for its intended purpose and fill it with cool water that you can drink throughout the day to keep cool and fight off the impending hangover.
Live to party another day by keeping on top of your hydration.
Click to get your H20 on here.
3. Electrolytes are your friend, add them to the essential festival packing list
While we're on the hydration train heading straight to thirst town, we also recommend that you keep your electrolytes flowing throughout your days at the festival and replace the essential salts lost through dancing, walking and just plain existing in a hot environment.
Pair these electrolyte sachets with the hydration pack above and keep the dry mouth at bay. Click here to hydrate like a pro.
4. Sun Protection
We like to think that our readers are a smart bunch. So, we won't go into why it's a good Idea to use sun protection when out in the elements.
Protection at its finest here.
5. Ice Cooler
There's nothing worse than warm beer! In fact any type of warm drink in the heat we would give a miss. The British may not agree on this, because a hot cup of tea can hit the spot in any weather.
In any case, I think we can all agree that there's nothing quite like a cold one with the boys or girls on a hot day. Oh, and let's not forget food storage for when the munchies set in. So do yourself a favor and grab a cooler, you will thank us later.
Click here to say no to warm beer.
6. Portable Folding Stool
Half of the fun of attending festivals is finding a spot in between stages to get some more drinks in and roll another one before heading over to the next act.
Once a shaded chill spot has been secured, watch as your friends all hit the dusty ass ground. However, you're smarter than your peasant friends and whip out this portable folding stool and look down in disgust as the ruler of the new chill spot.
Be better than your friends by buying your folding throne here.
7. Camping Shower
If there's anything worse than the toilets at a festival then it's the long queues for the showers. That's if showers are even available at all. So, for those that want to wash down and wake from a night of sweating then this portable shower should be on your festival packing list.
We've tried and tested this brilliant piece of gear on the road touring the US Southwest in August.
Let it rain baby, click here to buy.
8. Eye Protection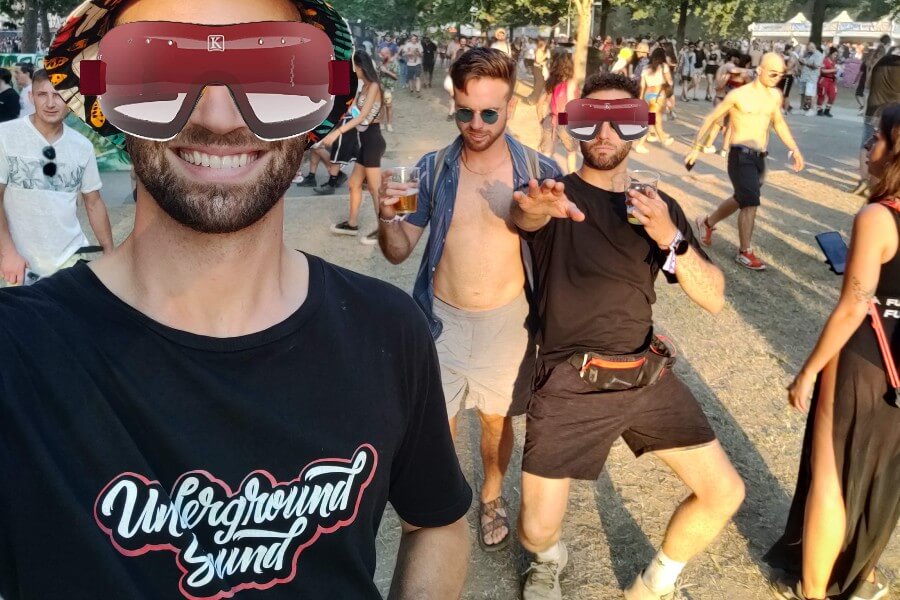 Most seasoned festival goers and ravers alike, will know that sunglasses, are a staple must have. So, we can only assume most of you will be prepared on this front for reasons other than the sun. However, there are certain festivals especially those that take place in the desert such as Burning Man, where you will need some proper eye protection from the sand blowing into your eyes.
We highly recommend goggles especially this one that won't break the bank.
This article includes affiliate links & as Amazon Associates we earn from qualifying purchases.