The UGS team went south last weekend to explore RTS – Rock the South an alternative rock and electronic music festival.
Saturday at RTS – Rock The South
Malta is a great place to bring your friends.
The chance your trip coincides with a festival remains rather high. So when my Czech counterparts told me they would be arriving in mid-April, a quick verification told me that it would line up with RTS 2018, an underground indie festival that keeps its mind open to electronica, dub, beatboxing, and even more experimental sounds.
After managing to lodge the Mitsubishi between a dumpster and another car and we stroll on down to Zion Reggae Bar in front of St. Thomas' Bay. We turn around the back and the place looks like a dusty backyard. In this space are two stages tucked in between olive trees. The young and old have come together to knock back beers and kick off the summer.
We arrive at around 9 PM and catch the Beangrowers on the main stage.
They definitely offer the crowd something to dance to and those in the front get comfortable enough to throw themselves at each other in the spirit of the mosh.
Soccer96 came on stage with an approach to music that I have personally not heard before. They send the crowd into a state of trance, with the lead singer chanting about our capitalist world and hitting high peaks with a turned sideways saxophone.
Then out of nowhere comes Danjeli with his synthesizers, techno beats, and Maltese socio-political messages dictated by a girl on the mic.
Behind them are visuals of pieced together snippets of infamous videos of the internet, mashed and looped together to create a digital creation that definitely left the crowd feeling intrigued.
A beautiful experiment.
Despite these highlights, our crew kept finding itself in one place: the silent disco.
All appreciation to the live bands that performed – however the energy in that small tent was what truly rocked the south. Inside this strange space were two DJs playing on different decks that fed into two channels selected via Bluetooth headphones. In changing the channel, the LED light of the headset would change to either red or blue.
The two selector teams were Bass Culture (red) and Rock the South Crew (blue). They went head-to-head winning people over by playing the best tracks to those who danced merrily on the carpet-clad earth.
This was a beautiful experiment.
People did not struggle to talk over blasting speakers nor did they fight each other to get to the bar. Everyone's focus was on the music and the headphones isolated this perfectly while connecting the crowd through sound.
We cried with laughter when a techno remix of "We Are Family" was dropped by Rock the South Crew. We removed our headphones to hear the sound of everyone singing as if no one is listening.
Sunday vibes at RTS
Once the sun started to slowly descend behind the olive trees, the chill vibes gradually disappeared with it.
You could feel the crowd becoming more energetic.
Whether it was the substantial amount of alcohol consumed, or the impressive musical variations pumped out band after band, is open for debate. I'd like to think it was a combination of the two.
Pyramid Suns were up on the Orange Stage just before the sun began to set. These guys injected a much-appreciated element of progressive and psychedelic rock into the place. They played some serious headbanger material full of tasty riffs and addictive guitar solos.
Even though I no longer don the long mop of hair I used to, I still found myself headbanging along to it. It would be rude not to after all.
After Pyramid Suns played the crowd into the darkness, you could feel that the night was only getting started.
Recharge
Taking some time to recharge with an icy cold one and a cigarette, it was time to move inside to the Purple Stage where Eyes of Argus were setting up.
These guys brought a great sound to the place, with a perfect mix of slow ambient music followed by heavy vocals and bass-centric tunes that were a joy to listen to. I found myself on several occasions getting completely lost in their music.
After this rollercoaster of slow dancing and energetic flailing, I was off to check out the next band setting up, Lucy's Last. What can I say, these guys were awesome. After some slight issues setting up, they were fast to get into the vibe.
Their set was very interesting, and I must say, there's absolutely no point in pinning them down to a specific genre, they are so diverse. Playing a mix of guitar-heavy tunes at the beginning. But halfway through the set, the guitars were switched out for synths and the crowd went wild.
There are no words, just go see Lucy's Last live for yourself.
Cryptic Street was up next – high energy, big attitude post-punk band with a sound that would put the soundtrack of Scott Pilgrim Vs the World to shame. It didn't take them long to get everyone up and jumping around.
At one point, they invited the crowd to join them on stage for a performance of their song Damaged. With about 15 extra people on stage, they played out this super catchy, super jumpy tune (while the small stage struggled through) I have to say, it's rare that you find a band with this much energy and charisma.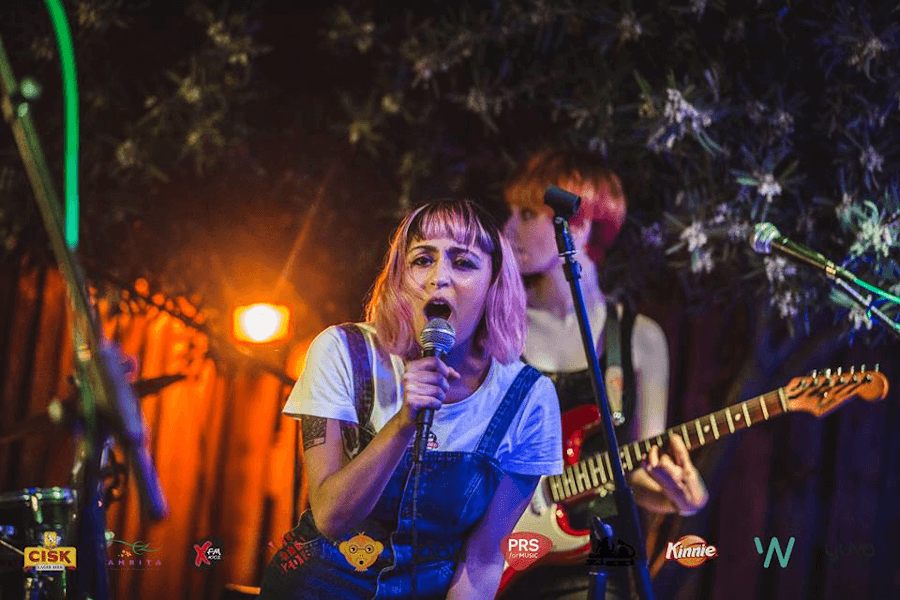 Brodu
The last performance of the night for me was Brodu. For those of you who still have yet to learn Maltese (myself included – perhaps someday I'll get around to it), brodu is the Maltese word for broth.
Yes, you read that right.
The name suits them though, with their no-fucks-given attitude and, what I was told from my Maltese friend, edgy lyrics. Sure, missing out on the lyrics sucks, but they have a really great and diverse sound and the crowd really loved them. To be honest,
It's amazing to see Maltese bands that sing in their mother tongue and even without understanding, I certainly appreciate the fact that they do this. Prosit guys.
Rock The South Social
Photos Courtesy of: Joseph Camilleri