Dancing barefoot amongst the trees as the sun sets, therapeutic reggae music buzzing through your ear drums and a cold, spiced rum coke in hand – this is Boomerang Festival Malta.
Welcome to the  sweet little escape where I reconnect with myself, nature, and the world of music and dance. 
Press pass in hand, me and a few of my mates spend four days camping under the shade of the Maltese trees. We dance to the rhythms, discover new sounds and artists from Malta, France, UK, and elsewhere.
Join me for my first hand account of the debut edition of Boomerang Festival Malta and what it has to offer. 
A quick change of plans
It's a few days before the festival and I don't have any plans of going out – until the Underground Sound team threw a press pass in my direction.
Suddenly, I find myself packing my festival essentials and heading down to the miniature woodland we call Ta' Qali.
Campers first impressions
The festival kicks off on Thursday exclusively for the campers. This means that those with camping passes have the chance to adjust to their surroundings and discover the festival grounds.
Picture this: a sunny Thursday afternoon with just the right amount of wind to keep you cool enough to set up a tent without sweating buckets. A games area to kill the time, private workshops, a bar with drinks half off, and free water. 
The love shown to campers is refreshing. Other than passing out seven steps away from the moon stage, as a camper it feels good to be taken care of.
I've spent many nights over the years camping at festivals in intense heat, so holding a festival in May is a good call. If you have spent time camping and raving at a hot festival, then I'm sure you can relate. So believe me when I say that the choice of month does not go unnoticed.
Opening up Boomerang Festival Malta to the public
Friday rolls around and the public is itching to pass security to get their dose of the Boomerang buzz to dance the day and night away after a tiresome work week.
It's the festival's first year, so it's relatively small compared to the more established ones. I find it easy and pretty quick to walk around the festival grounds. 
Boomerang stages
There are two main stages, the Sun and the Moon stage, which allow people to travel back and forth between fictional day and night. Even though the stages are small, they make sense in the way the festival is set up and the line-up is a well-curated one to satisfy the techno, house, reggae, dub, and electronic lovers.
The hammocks set up all around the area turn out to be very popular. They are in use at all hours, especially by tired ravers like me looking to kick my feet up and sip a cold beer for a few minutes. It allows my feet to recover from the intense jumping around.
Boomerang, less of a festival and more of a community
While Boomerang is classified as a festival, I feel like it's more of a gathering of a diverse, multicultural community.
Those who seek out the small festival experience will find home here. Especially since there isn't the chaotic and overwhelming energy that you usually associate with the big festivals.
Everyone is able to integrate and get to know each other on a more intimate level. In my opinion, I would say that this experience for me is less of a festival, and more of a community of people coming together to reconnect with themselves, the people around them and the music. I get the feeling people are here to ditch tech temporarily for a true digital detox.
Here for the music
I'm dancing through the night until my feet are sore. It feels like I'm being taken back in time. Back to a place where festivals are stripped back to their basic and essential roots. Where time stands still and everyone around you is there for the same reason. To dance, laugh, and feel free.
If my original intention was to look for over-the-top stages with insane visuals, Boomerang might not have been my first choice.
However, I'm finding it easy to put my phone down, reconnect with the world of music and spirituality, and experience a down-to-earth festival that made me appreciate those around me.
It also makes me appreciate experiencing a festival at its beginning, before it grows into a huge festival and enters a whole new category. This appreciation was evident while dancing my weekend away to electrifying music that vibrates my soul to the core. It just makes me think "I wouldn't want to be anywhere else right now."
Even the smoothie guys can't help not to dance all through their shift, with their stand smack in the middle of both stages.
Just like a Boomerang, what you give is what you'll get back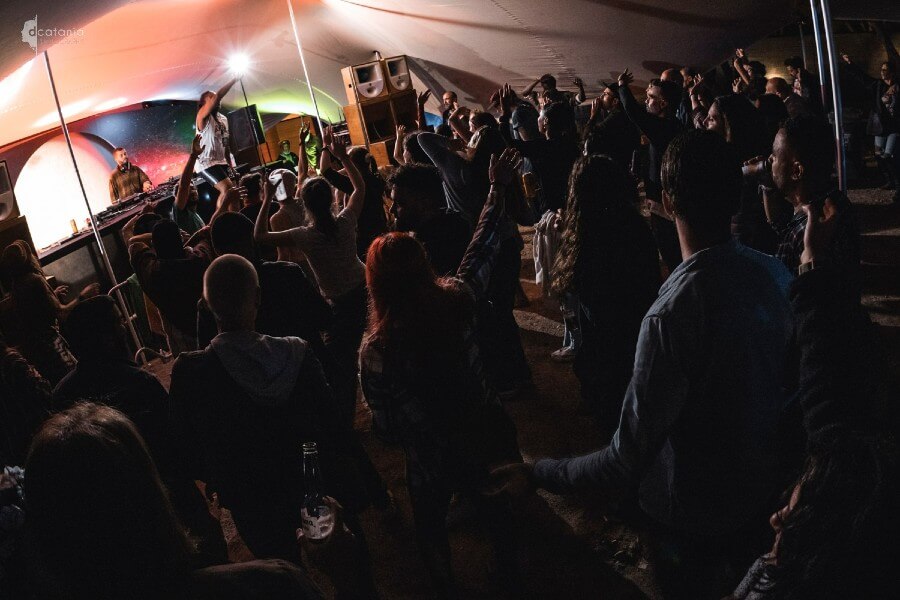 The last day of the Boomerang Festival is by far the best night of the entire festival for me and my mates. In store is an insane reggae closing line-up at the moon stage, including Chief Rockas feat. Aziza Jaye and Prince Fatty & Horseman all from the UK, and Rasta (of Pon Di Corner) from Italy.
This was only a fraction of Sunday's lineup, but it's definitely the perfect end to a spectacular festival. You could feel the loving energy coming from both the performers and the crowd.
Uniting as one, Boomerang set the tone for the upcoming festivals in the summer season through music and dance. I hear the sound of laughter and rekindled friendships after a long rainy winter, mixed in with a perfectly balanced intensity of soulful reggae. It gives that beautiful feeling that everything is finally right in the world.
I just feel this overwhelming sensation from the people in the crowd letting go and opening themselves up. This helped me gain back a sense of freedom and acceptance, after living out my lifestyle of chaotic winter hibernation.
As we head home in my friend's pick up truck, singing along to some dusty cassette tapes, I can't help but feel that rush of energy from my head all the way to my toes, eagerly waiting for what's to come.
The Future of Boomerang Festival Malta
Will Boomerang be the next big festival in Malta? We will have to wait and see, but it sure sets an epic tone for the summer season, and I would do it all over again.
Images courtesy of dcatania Photography