EXIT Festival is a major Serbian event that revolves around techno. Look further and dive into the Serbian underground and some of the best acts in the world.
Pure hysteria
The sound of people screaming. Bands of youth. Pure hysteria.
Walking through the tunnel into the perimeter of Petrovaradin Fortress, tradition is to let out a loud scream. We're not even inside EXIT Festival yet and I've already got goose bumps.
The four-day festival started as a student protest at the start of the millennium. It has since largely overgrown it's original size to gigantic proportions, surpassing 200,000 attendees.
These attendees enter the 18th Century fortress that watches over the city of Novi Sad. Located at the bend of the Danube River, it's one hour north of the Serbian capital of Belgrade.
There are 16 km of tunnels under the ancient structure that go four floors deep. Little did the original builders know how closely associated with the underground Petrovaradin would get.
Night & Day at EXIT Festival
EXIT Festival is not a day and night party – it is reversed. A space where you enter the void at midnight and emerge at the break of dawn together, discovering faces previously concealed in the veil of night, the blur of alcohol and the obscurity of illicit substances.
Pre-gaming until midnight. A practice for those with the after party in mind. No use pushing to come any earlier – the treat here is the sunrise and whatever comes after that.
I have travelled from Malta with The Interpreterr, my DJ friend who grew up in Novi Sad. He has been attending the festival since its inception. Never have I been to a festival with so many return attendees – 10, 15, 19 years of EXIT! What keeps them coming back every year?
Mega Line-ups
Featured on the famous Dance Arena Stage: Monika Kruze, Charlotte de Witte, Maceo Plex b2b Carl Cox. Just around the corner at No Sleep Novi Sad stage, Boston 168, SHDW & Obscure Shape, I Hate Models. Techno, on techno, on techno.
Between these two stages we get a sampling of the people of EXIT Festival. We pass drunks, high people and normal people (albeit, rarely). There's also happy people, passed-out people, the damned, the mad, the mentally insane, the loved and the tormented.
The masses are unforgiving and we do not venture to the front – the veterans want space to dance and breathe.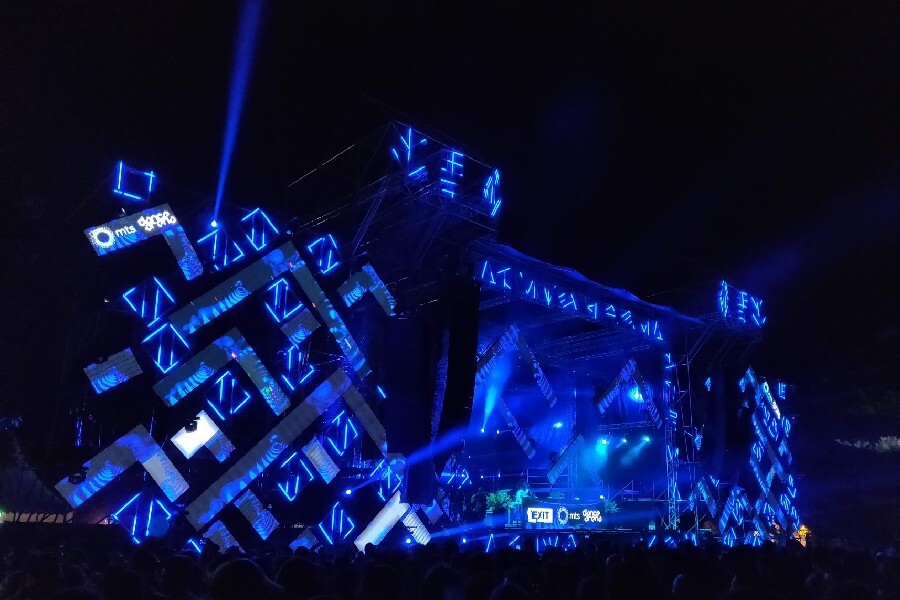 Surrounding us are high walls built centuries ago designed to keep away invaders. Now every year these walls hold a frothing mass of ravers that. If left uncontained, could wreak more havoc than any Ottoman invasion.
Dark places, dark faces, dark techno. It's unrelenting, as Maceo Plex plunges us into the abyss.
Then something catches my eye. I spy a tinge of blue and orange on the horizon. It's 3:53 AM and a sunrise is in the making. Faces begin to appear around me. In the light, their appearance is less striking. Sunglasses on. Shirts off.
"Oh yes, oh yes!"
It's the distinct voice of none other than Carl Cox, who has joined Maceo Plex on the DJ booth. They go back to back and Cox finishes off the night solo, in beautiful fashion. As thousands of people feel the beat, I feel as if I am losing my, losing my, losing my mind…
Some are alone. Others are with friends. There are those that call it early and leave. And then there are the heavy hitters – hardcore fans that sacrifice their eardrums and a significant amount of brain cells for that good feeling.
There are those who come determined to get what they have come for. Those who give it all for the beat.
Up comes the sun – photosynthesis. We are bathed in its regenerative rays.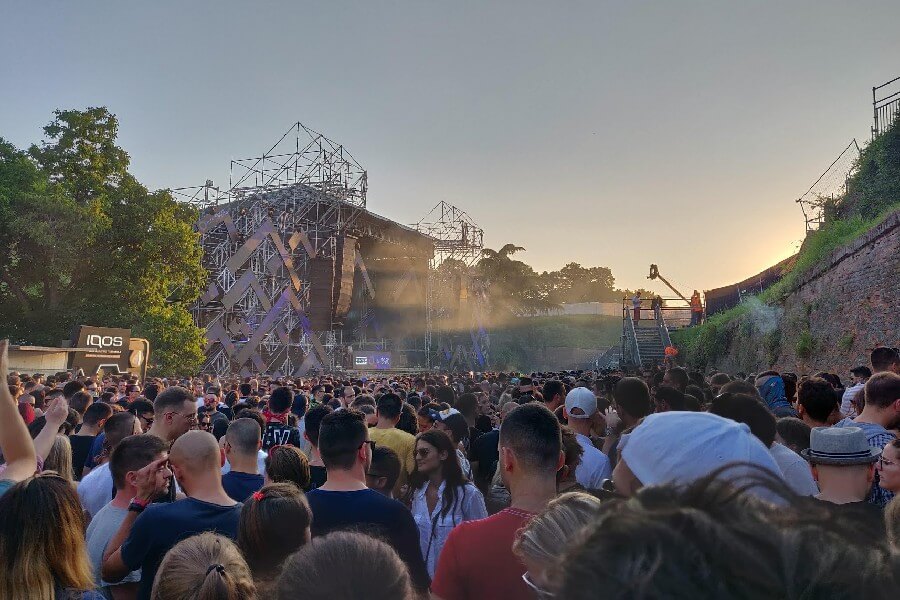 BOOM
It's 7PM Friday evening. My biological clock has been turned upside down and the numbers 1-12 replaced with hieroglyphic alien script. Am I still on planet EXIT?
It's the second night and drum & bass is on the menu. Different dancing muscles this time around. After another strong pre-game with The Interpreterr and the gang, we are back at the gates of EXIT.
Both Friday and Saturday are key performances: Chase & Status RTRN 2 Jungle album party and Dub FX open our minds to the infinite universe and its possibilities. How far will they take us?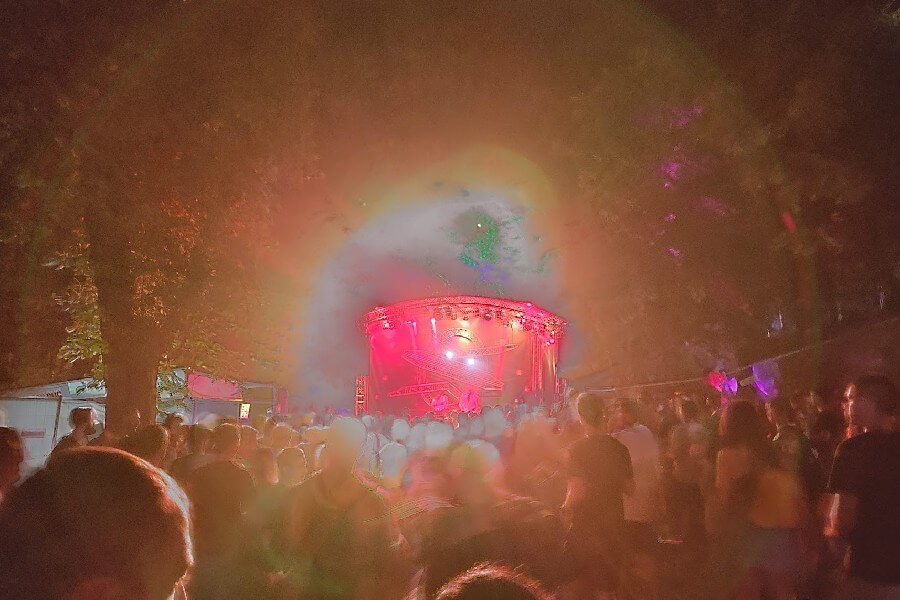 Urban Bug & No Sleep Novi Sad at Exit 2019
A stop by Urban Bug – EXIT's showcase stage for local acts – which proves definitely worthwhile. Nestled in the hillside of the fortress this is taking shape into house, tech house and other crossbreeds. Here I name Neutron, Schiltz, M.U.T.O.R. and Peter Portman.
There comes a point where a decision must be made: A. Stick with your mates or B. Disappear and do whatever floats your boat. Hearing BLAWAN's monster set pushed me to the latter.
I squish in ear buds for this one and vault to the front of No Sleep Novi Sad. The sound is so loud, my eyeballs vibrate, my ribcage buckles and my heart palpitates.
People around me are flailing madly. Others simply float around in their own existential pool of nothingness. One guy sits on the metal police barrier – literally in front of the speakers – looking at the crowd with a dull gaze.
There is no hope for some.
Rain
It's Sunday night, the last of the festival – and it's pissing rain. We post up at our mate's place, Fritz.
Our planned pre-EXIT sunset parties are cancelled as it's literally dumping buckets. Branches and trees buckle and break under the pressure of the summer rain. A Serbian cyclone.
Fritz plays with my nerves and tells me he heard that they might cancel the last night of EXIT. I refuse to believe such gossip and for the first time in ages I appeal to God – please don't let EXIT be cancelled.
Whether it's pure luck, God's appreciation of deep house, or simply the magic of EXIT, the rain clears just in time. We now have a muddy playground to thrash in.
All Day I Dream
Yokoo, Sébastien Léger, Lee Burridge are featured in their showcase event: All Day I Dream. It's pure class from the very beginning. These three mix like they breathe.
The crew and I hang out somewhere in the middle. Mud, caked to my trainers up to my ankles, doesn't stop my rhythm nor does it impede my necessity to move. It does not quell this desire to continue living this lifestyle of musical discovery.
New friends, new adventures, new hopes, new dreams. With this mud on my shoes I will dance my life away with great happiness and little regret.
I have never seen my friends smile so much. The only bigger smile in sight is on Lee Burridge's face.
The Interpreterr pulls me aside: "Now this is a true rave." It's 5:57 AM, the post-rain sky is beautiful and I could not agree more. Before us, a sea of ravers demanding more. More soul, soul, spirit and sunshine. This is no basement rave: this is EXIT – let there be light!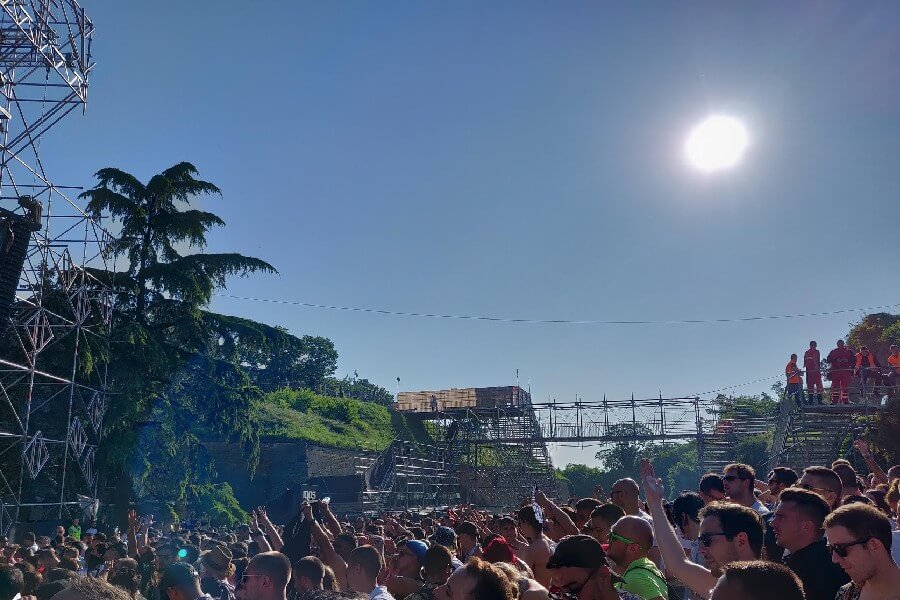 Amelie
Yet my attention is drawn once again to the darkness.
It's the very pretty Amelie Lens. There is no doubt in my mind that she is the queen of darkness. Despite her sweet Belgian looks, she wreaks pure mayhem on the crowd of her choosing.
Until now I had not understood the power behind her music. No headphones or monitors can translate this. I'm alone in front of the stage, facing two stories of stacked speakers. And it's pure. Fucking. Evil. The last track she plays is Firestarter by The Prodigy – a true homage to Keith Flint that is honorably received by the masses.
Monday Morning
It's Monday morning, and only now I understand what EXIT is all about.
Many say it has fallen out of touch with its civil and grassroots origins. Many say the music isn't the same after 20 years of existence. Of course, it's the reality of blatant commercialization. Yet I think one thing remains the same.
EXIT is not selling a story. It is offering an escape from reality – an escape for a community that prefers therapy by sound. This comforts me as I follow the signs to the exit. I take a sharp right down the dirt road that leads to the after party, and for one more afternoon, I set aside reality and live another day.