Through dancing, wild encounters and hearing techno's greatest, our crew hits Kappa Futur Festival 2022 in Turin, Italy.
Kappa was a festival we had talked a lot about. We named it as one of our top festivals to visit in 2022 and the best festivals in July.
That being said, we had no personal recommendations to go. Not a single friend or acquaintance I know has ever gone. It meant one thing – we had to go to Kappa Futur.
Off to a rocky start
Planes, trains and taxis. The Italian countryside flies by my window. The festival is off to an ominous start – it's only day one and we're already two members down. Bad timing – my brother Louis and his mate Sarkis missed the train. We'll see them in Turin, I guess.
Lucille (Louis' other friend whom I've just met in the train compartment) and I, however, are well on our way. We're travelling west of Milan towards our techno destination. Our ears are scintillating with each passing moment.
Parco Dora, home to Kappa Futur Festival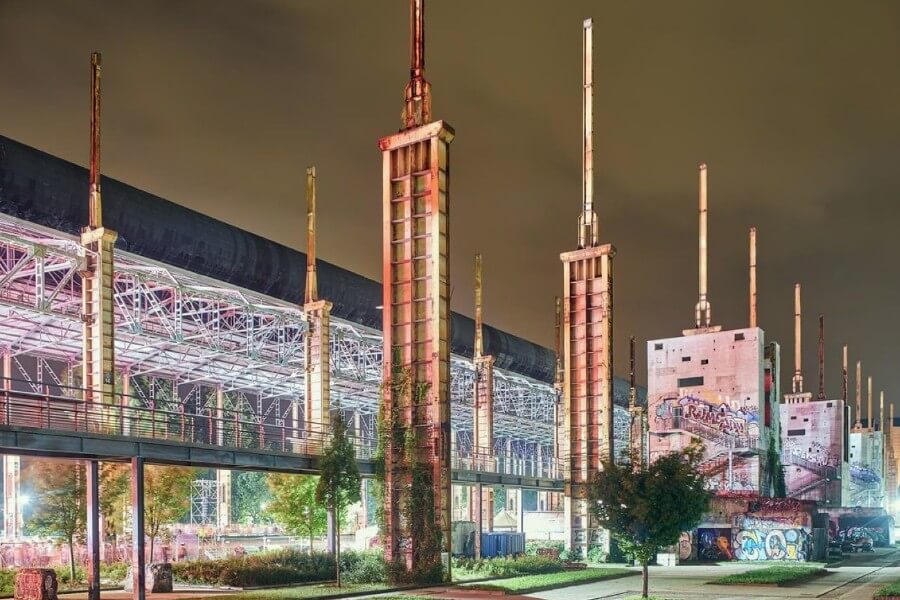 The festival takes place every year at Parco Dora, a post-industrial park in Turin. There, old nuclear reactor towers and dilapidated automobile factories sit amongst the towering mountains in the horizon. Sounds perfect for a techno festival, but first we need to get there.
Much to our chagrin, we realize that we've booked the farthest hostel from the festival. Turin really looks a lot smaller on a map. Two long, laborious bus rides proceed the entrance into the glorious maximus that is Kappa Futur.
Honestly, morale is low. My new friend, Lucille, is visibly disturbed about our lateness. Louis' head leans against the window as he slumbers after having consumed what can only be described as a "wonky pizza." Across the aisle, Nick and I observe a presumably coked up couple interact with each other.
Approaching the final bus stop, the couple leaps onto the curb. "I can hear it!" the girl screams with a guttural holler. The tattooed, Ramones's shirt-wearing boyfriend echoes her cry. He sprints into oncoming traffic supposedly on a higher plane.
After a rough trip, we are uplifted when we finally hear a thumping in the distance. The sultry techno beats giving us a warm embrace as we approach. Everyone converging towards Parco Dora can feel it too. A quick shuffle past security and ticketing and finally we're in.
Hello, Kappa. Hello Boris Brejcha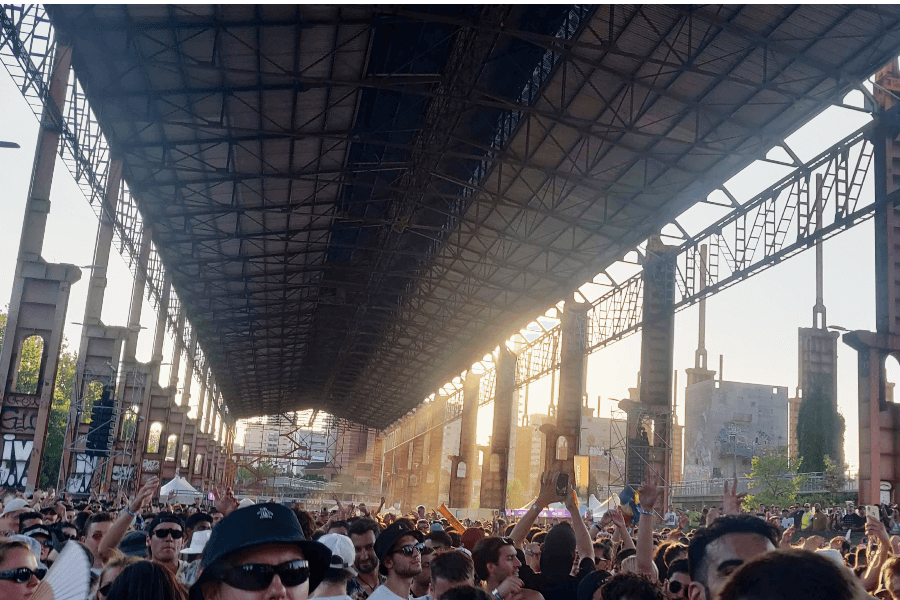 Attracted like moths to a light, we are immediately drawn under a large metal structure called the Jager stage that looks like an open-air hangar. It's 7PM and we're arriving late – the gates of Kappa Futur Festival opened at noon.

No time to spare, we bounce right to the front, easily. Before us we find the masked Boris Brejcha performing to a massive sea of ravers. Cercle educated me on his ability to move a crowd. But in all fairness, I was always skeptical. Until today.
Skepticism out the window, Boris Brejcha plays a phenomenal set, and we know we're on the right path. Back in the gauntlet baby.
The eccentric Kappa Futur Festival techno tribe
On the surface you see a mean-looking mob of tattooed arms, necks and faces. Also, chains, bandanas and plenty of shirts with drug references adorn the concert goers. But upon closer inspection, you will find a tribe of people brought together by the common search for music and trip. The masses prove to be particularly nice.
Of some of the things we were asked: "Where are you from?"
"First time in Turin?"
"Would you like some?"
Welcome to Kappa Futur.
Like a fish in water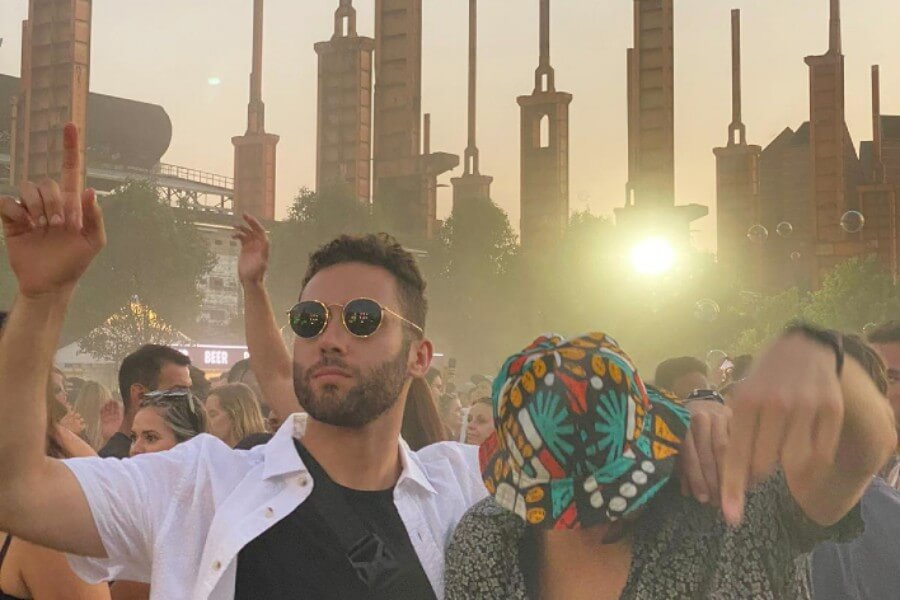 Instead of pushing through stiff and uptight festival goers, moving through the crowd was being a fish in water. Italians don't really have a personal bubble. People were more concerned with dancing than bumping into you.
We hop over an open field stage called Futur. They could shoot the next Dune here. Imagine a dust storm in an ocean of humanity where we find I Hate Models on the decks. His tracks are so wild it starts to sound more like psy trance. I'm smashing my Shazam button so hard I fear my gorilla glass smartphone screen will crumble before my eyes.
Interested to know what we Shazamed? Find our little but very meaningful Spotify playlist here.
As we admire the apocalyptic views at Parco Dora, we naturally form with another rave crew. It's peculiar how two groups just happen to get along perfectly and start bouncing between stages together. The set transitions to Reinier Zonneveld who plays music for the end of the world. Being that's how it felt, we are clearly where we need to be.
The Kappa Futur Festival gang gets a name
Directing our expanded crew back to Jager stage to catch Four Tet, we find a crowd not so into breakbeat. Four Tet is indeed slinging techno beats like a boss, but the few breakbeat tracks he plays don't' get the attention they deserve. Perhaps it's less popular than the UK.
Then Peggy Gou appears. It's nice to see a lady on the lineup's final act of the day. Her beats ebb and flow from techno to house to electro – Peggy is not simply a musically gifted human being, she is a straight up vibe.
She flows seamlessly from one track to another. We are enchanted until midnight – and just like that, the first day of the festival is over. We dub our crew "the Peggy Crew".
The lights of Parco Dora turn on and we discover that we're in zombie country now. It's only day one – by Sunday I'm going to end up a raisin of a human being.
We're late for a techno date
Despite the intention to arrive early and catch Dennis Sulta and Agoria with our new Scottish friends, we slither in around 6PM. We even use Cityscoot, an electric scooter rental service to move around. No scooter however will make up for time spent crawling out of bed like cold blooded lizards searching for a spot in the sun.
But the real reason we are late? Because after we drop our Cityscoots off, we hit every bar within a 5 km distance from the festival. It is an attempt to get lit instead of falling prey to exorbitant festival prices. First beers, then gin and tonics. Our glasses don't even have time to get sweaty in the summer heat before they are consumed.
On our last liquid stop we find a foosball table and ended up playing a few games. The sound of techno can be heard banging on in the distance. From our calculations, we still have a solid six hours of techno left.
A day full of high-class electronic artists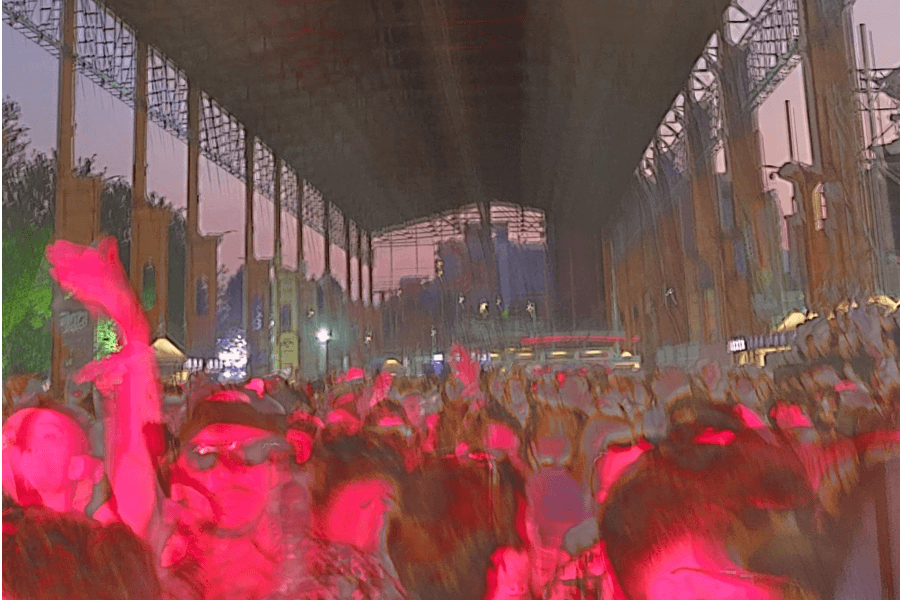 Back in the mix. Lucille left early in the morning so it's us three gringos now. We hit Diplo, turns out to be a straight up vibe. Solomon is up next, however we break off early to hear Ricardo Villalobos on the other stage. The reaction is mixed.
At this point I don't think we are on a high enough astral plane to even understand Villalobos. Everything feels loopy and offbeat. Although the most entertaining part is when he's not DJing – it's just him dancing around chatting up girls backstage. The boys give me a sign and it isn't long before we are off again.
Returning to the main dance hall, Jamie Jones B2B The Martinez Brothers are an unstoppable combination. In Italy a little Latin influence goes a long way, so their selection they play vibrates very well.
Lastly, we hit Carl Craig live featuring Jon Dixon. It is a great finale to our second day at Kappa Futur Festival with a piano solo and easy dancing.
A descent too deep into darkness
Leaving the festival, we settle for a kebab outside the park. To our dismay, instead of food we discover a girl passed out near some bushes. We check for signs of life and get a few mumbled words out of her mentioning she'd pinged her friends.
We follow our instinct to stick around until they come around. Onlookers are nice enough to offer water to this floored techno soldier. Thankfully her friends arrive, and the handoff is successful. Our rave-Samaritan work is done here.
That's when strange people begin to appear in the night. Taxis become sparce. Two random guys in a sedan pull up and ask if we want a taxi. Needless to say, we are not interested – it registers very high on the shady factor. It wouldn't be the last time.
Back to mission kebab, we set off on foot with the other walking dead in search of grub. We finally find the Istanbul Kebab. The mood is amiable as we get our order. We feed our primal instincts with pizza, lamb wraps and cokes.
Shady alarm bells ringing
As we begin to leave, a random guy tries to usher down the street to find a cab. Our shady alarm is ringing yet again. We ignore him and do the exact opposite, going the other direction to a large and busy roundabout.
It's around 2AM and we see another weirdo come to us. "Please can I have some water?" It's a distraction. We hardly notice Sarkis get pulled behind us. The first rando from before has his hands on Sarkis' chain. Our friend proves to be more formidable that this scumbag and he breaks his grip.
"Fuck off!" yells Sarkis, more irritated than intimidated. The altercation ends after the two antagonists realize they're not getting shit.
Sure, you have the possibility of getting robbed in nearly any city. But it's unfortunate to meet such people just off the festival grounds. Despite the attempted robbery, day two is an overall success as we make it back safely to our distant hostel in a faraway kingdom.
Sunday, the final and holiest day of the festival
Sundays at festivals are the holy blessing of this life. It is one of my favorite days to attend. It weeds out the bad, the uncommitted and the ones who went too hard the days before. People are here for one reason and that is for techno music (and to get absolutely wrecked, having to take Monday off).
The first friendly DJ face we see on this sweltering hot day is none other the king, Carl Cox. There is something about Carl. Whether it's his hearty smile, his energetic dance moves or his unbeatable selections – it's something that we can't really put our finger on.
Around us like a Tuareg family of ravers, people wrap their faces with t-shirts for the dust. Many are sweaty and dehydrated. This is the moment that body heat plus the unrelenting sun is annihilating us and we love it.
Goosebumps from Fisher at Kappa Futur Festival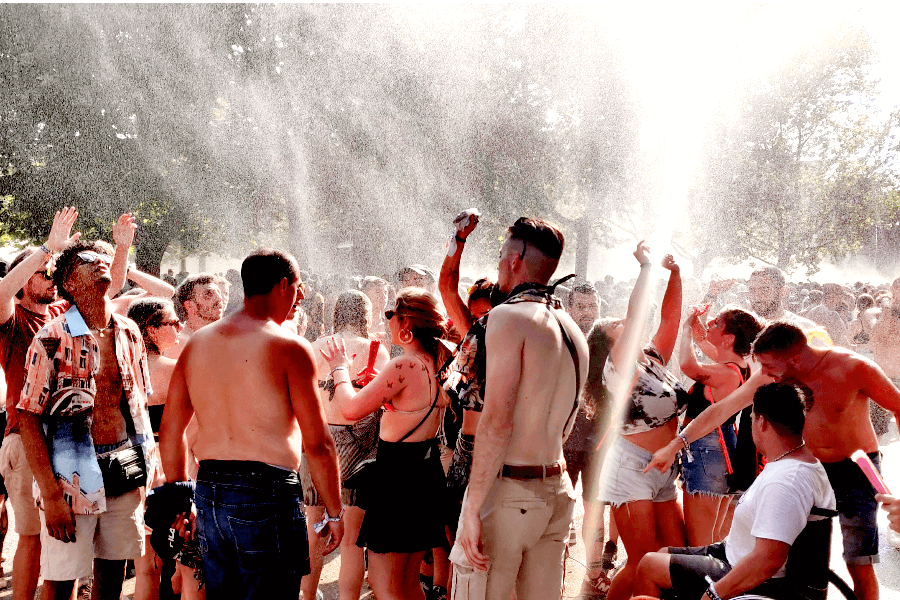 One DJ I am most curious to see is Fisher hailing from Australia. He turns out to be a character, with all that movement on stage, wrist flicking and standing on top of the table. Goosebumps form on my arms as Fisher plays us like a violin. It seems too easy for him – a mix of his own tracks, a few unknown bangers all sprinkled with mainstream remixes everyone can sing to.
That's when I feel drops of water. Is it raining? Impossible – the scorching sun cannot allow it. Instead, it's an angel with a pressurized gun going around spraying water on overheated ravers. Her only job is to get people wet. Despite a moment of refreshment, we're starting to run on fumes.
Sunshine, Sweely and crew dynamics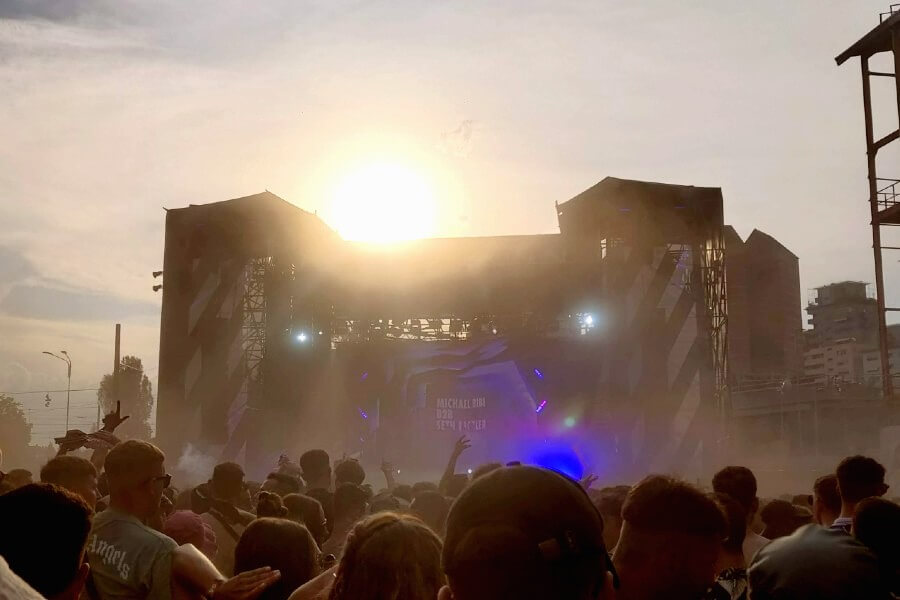 Sunshine blinds up from behind the Latz stage. Here, Sweely the French DJ spins uplifting tech house. He plays and plays until they literally take away the decks from him. Another act takes over, but before he does, we offer Sweely a well-deserved round of applause from the back of the crowd.
In front of us is an intimidating wall of humans and dust. There's an electricity that pulls us like a magnet. However, I hesitate to push past the wall of people in front of me.
My shoes are beginning to fall apart – a hole is forming where my toes are. Is it my body refusing to go any further? Or is it my mind that also begs for rest?
In life, sometimes you need a friend to help you get to where you need to be. That's when Sarkis motions that we're moving forward to the front. I follow him – Louis closely trailing us – as we prance through the dust cloud, all happy to be together, happy to be alive on this epic finale of Kappa.