Riding the fine line between alcohol abuse and Eastern European tradition, my friend Sims and I travel to the heart of Serbia. At the international event of Guča, we struggle to survive the onslaught of booze, barbecue and brass.
Guča Festival 2017 – Guča, Serbia
Brass. I can already hear it. It permeates the summer morning air. Not high school fanfare, or any old marching band. This is a feverish sound – one that makes its way through the village with a buzzing energy.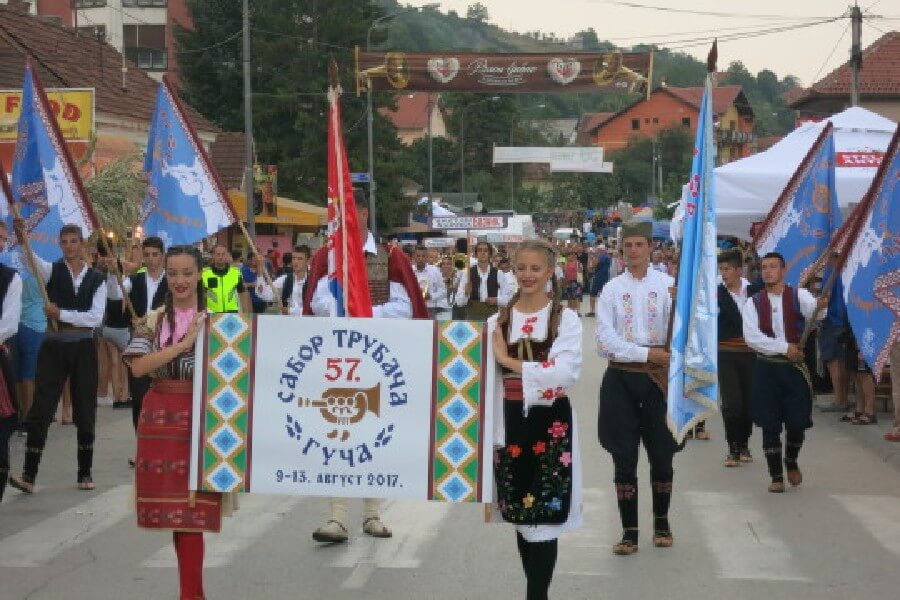 Welcome to the Dragačevo Trumpet Assembly, simply known as Guča (pronounced gucha).
The small town of 2,000 people becomes one of Serbia's largest and wildest summer parties revolving around traditional Balkan music and copious amounts of beer, wine and rakija (Serbian eau-de-vie).
It is the largest party of its kind, seeing nearly 1 million visitors dancing in the streets within a matter of days.
We meet our local contact and family friend Djordje (pronounced like George), who is a 2-meter-tall force of nature with a Balkan thirst for life. From a distance, we see him sitting with his crew on the patio of a cafe with a grimace on his face and his brow furrowed.
Our eyes meet and his expression reverses into joy. He has been to Guča consistently over the past 21 years – a true veteran of the infamous Balkan music weekend.
Balkan brass & rajika
For those unfamiliar with the genre, Balkan music insists that you stand up, throw back that shot of rakija that you initially refused and stomp your feet to a rhythm that is over 200 years old. And that is precisely how our day starts with Djordje and the A-team.
A roving brass bands appears at our table. Romani are a nomadic ethnic group present in Serbia, who are often called gypsies. Learning to play by ear, they are the masters of street music and many learn to play as a means of living. At Guča's competition some even get a chance at musical fame.
Fame and glory aside, Djordje pulls out 20 EUR from his wallet and proceeds to stick it in the horn of the lead trumpet player of no more than 15 years old. That's the signal – a seven-member brass band fires the Balkan beat loud and fast, aiming their horns at us and blaring away traditional music.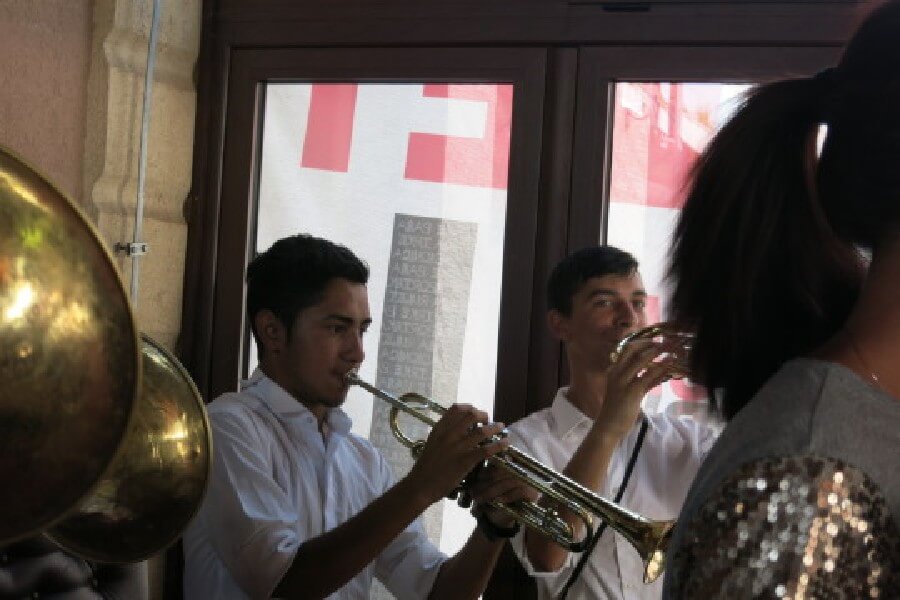 Happy to be alive at Guča
Everyone is happy to be alive, happy to be in Guča and happy to simply lose it. More money is transferred from Djordje's wallet into the horn of the trumpet and the band rejoices again. They play the famous Serbian song Bubamara from the iconic gypsy film Black Cat, White Cat.
Our cacophony draws the attention of passerbys as it grows louder. A Serbian Jonah Hill climbs onto the table, beer in one hand, cigar in the other who begins to laugh and dance hysterically.
Sims nervously looks at me as another round of rakija is placed in front of us. Sweat drips down the focused brow of my friend. This is the moment you realize you are not from the Balkan gene pool and your tolerance will never come close to either Serbian Jonah Hill's or Djordje's. We fear imminent blackout.
Suddenly the band disperses and I am saved from the brink. For Sims it may be too late. Our group collectively decides to look for a tavern for a nice, greasy lunch.
Guča in our hearts
We did not see world-class orchestras such as Boban Markovic compete in one of the greatest trumpet festivals. We did not see any of the main acts, nor did we even see the main stage. Yet, in fact we missed out on nothing at all – Djordje led us into the morning, day and night where we happily fell victim to the ways of the Serbian celebration of life, tucked away in the countryside.
It is along this countryside that you hear the trumpets playing their solemn melodies. Songs that work quickly on the heart, calling a spirit inside of you. During every sunrise of the festival, a small group of trumpet players make their rounds waking up the village with their melancholic tune – it feels like an ancient calling. Guča is where trumpet hits the soul.
Looking for a sampler of balkan music?
Guca's website has a player with a good selection to begin with. From that website we recommend (sorry no links!):
Boban Markovic / Underground cocek
Slobodan Salijevic / Kalashnikov
Fejat Sejdic / Dirlada (who passed away August 22nd several weeks after the festival)