How the infamous cult leader Charles Manson tried – and failed – to launch a music career. We look at his album "Lie: The Love And Terror Cult".
Charles Manson and his creative side
If you're intrigued by the inner mechanisms of the psychopathic mind, the best way to get a closer look is through their creative outlets.
Before Charles Manson became the notorious cult leader that terrorized Southern California, in 1967 he moved there in hopes of becoming a musician.
Although rejected by many, he managed to get in touch with musicians like Neil Young and Beach Boys co-founder, Dennis Wilson and got pretty close to sealing a record deal as talk was underway.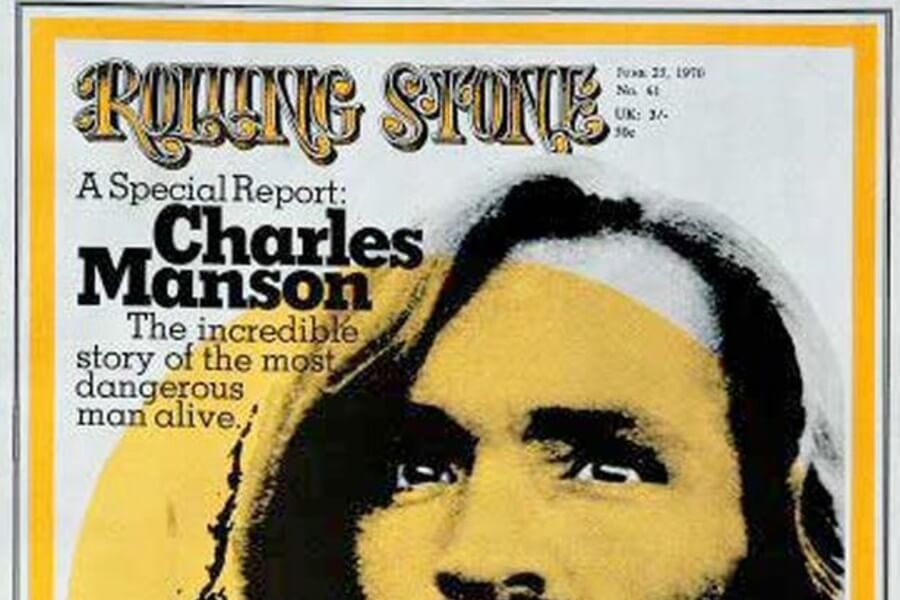 Charles Manson spent 1968 working on demo tapes.
Dennis Wilson helped him come close to breaking a deal with Brother Records. Although by 1969, Wilson and his family grew ever more disturbed by his behavior. It stirred away any chance of him sealing a record deal and becoming a recognized musician.
Manson's name is now buzzing in the media after his arrest. People want to know more about the cult leader his music released under the title 'Lie: The Love and Terror Cult'. Albeit for all the wrong reasons during his trial in the 1970's.
I'm a sucker for a basic, folksy guitar and raspy vocals.
There is a raw, expressive energy to its simplistic nature, and to my surprise I enjoyed listening to this album. Manson evokes that evocative ambiance with his robust vocals and hard-hitting strumming patterns.
Nonetheless his guitar playing is simplistic, disorganized and off tempo at times. His music really open the gates to Manson's inner world.
The Beatles sound resonates within Manson's music.
Charles Manson's love for The Beatles isn't limited to his obsession with Helter Skelter.
Around the time he was recording this album, they released two highly experimental albums, Revolver (1966) and Sgt. Pepper's Lonely-Hearts Club Band (1967) that took on a far more psychedelic twist. They were featuring sitars and a concoction of other trippy sounds, like this one track:
Charles Manson follows suit
Bringing a haphazard sitar into his sound on a couple of tracks, however his execution isn't quite as elegant.
Regardless, listening in to 'Ego', triggers a psychedelic 'mind-fuck'. He chants that the Freudian ego 'is a too much thing' and you should let it all go, releasing yourself from the burdens false consciousness.
His lyrics are far more striking than his guitar playing. You can nit-pick at them for potential clues to unravel his deranged psyche.
People Say I'm No Good' is quite a dire track. It is a reflection on Manson's poetic understanding of society's double standards.
Check out this cover by Unearthly Trance.
Reading through the lyrics now makes me feel a little uncomfortable.
Even more so because the little rebel in me find these lyrics kind of relatable.
Before the Tate/La Bianca Murders, the psychedelic movement Manson associated himself with was all about love and liberty from societal conformity. Despite his manipulative take on it, his actions and the negative media portrayal created an unfortunate association with madness and fear.
He radicalized young women into his Manson Family and kept them on the hook with high doses of LSD, wild group sex and the attractive qualities of communal living. These are all qualities of the psychedelic movement of the 60's.
They sang along to his lyrics while scavenging for food in dumpsters, huddled up in Spahn Ranch and went on to chant these same lyrics in their cells to while away the time.
This 40-second track features the voices of the young women of the Manson Family. It's pretty haunting. You can even hear a baby cooing in the background:
Look at Your Game Girl
This is a literal homage to Manson's effective manipulation of young woman. It's a mid-tempo ballad that's got some twisted romantic undertones. Dedicated to the mad game misguided woman play when in love, Manson seems to be offering them a deluded sense of direction.
Spoken like a true sociopath.
These women were not only addicted to the psychedelic experiences.
His manipulative ways also made them hungry for his love and approval. His 'romantic' lyrics are attributed to that. Even in childhood, Manson would coax his young gullible classmates, mostly young girls, into being violent with kids he didn't like.
When teachers confronted him, he'd say that he had no control over their actions and couldn't be held responsible.
Guns N' Roses Cover
Guns N' Roses actually did a cover of Look At Your Game Girl on their 1993 cover album, The Spaghetti Incident. It's almost unrecognizable, stirring away from the rustic and folksy sound of the original:
Cease to Exist
This track talks about Manson's requests for love and submission. He's asking a pretty young girl to leave her whole world behind and be with him.
I had to go through the album a couple of times to really pick up on some of those lyrical cues. It's because it's quite easy to get lost in the folksy psychedelia of it all. Taken out of despicable context however it's got quite 'campfire vibe'.
If you were to listen in during the 60's, not knowing who Manson really was, you'd probably think it was just a fun little demo written on an acid trip by a no-good 'hippie' on a ranch.