It's not uncommon for producers or live electronic music performers to flaunt their old school drum machines. But is it really necessary, or will a drum machine clone do the trick?
We reach out to Edwin Balzan, one half of Duo Blank, for an answer. Considering they are experienced dance music producers with their NGO Electronic Music Malta active in promoting the how-to's of electronic music production, we got a full list of the 10 best clones of classic electronic beat makers.
Do I really need an original drum machine?
The answer is no. There are plenty of drum machine "clones" on the market that replicate the sounds of the old guard drum machines quite well.
Especially if your budget is not very high, then drum machine clones will certainly get the job done. Sometimes getting the original hardware is out of budget. Other times it's out of stock, or simply not available in your region.
Either way, if you are into music production, drum machine clones are always an option, and Electronic Music Malta has a list of them just for you.
What are the best drum machines to buy?
It all depends on what type of music you wish to produce. However, if you are just starting and just a beginner, your best bet is to purchase a drum machine clone, simply for the sake of ease of access, price and quality.
Allow us to support your search for analog sound by checking out our top list of drum machine clones below based off Edwin's decades of experience and Electronic Music Malta's institutional know-how.
Who is Electronic Music Malta?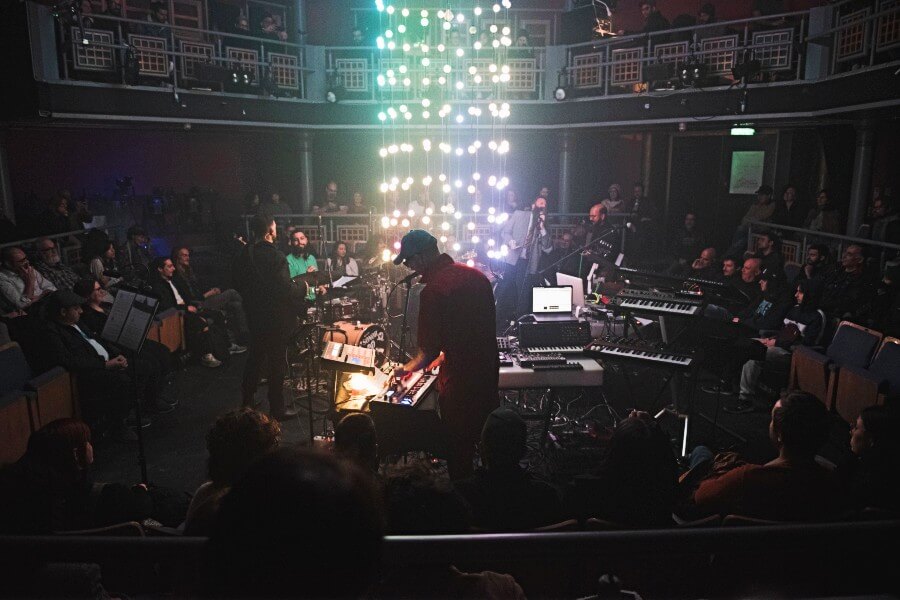 Electronic Music Malta (EMM) is a non-profit organization with the purpose of promoting electronic music production, dissemination and culture based in Malta.
Their objectives are to bring together the local music scene, support research and innovation as well as to promote electronic music education.
A lot of their work involves holding regular workshops in the capital Valletta. They invite professionals to come show the next generation how it's done. Many of their workshops include playing their unique gear live, some of which are mentioned below. You can support more EMM by becoming a member here.
As promised, here are the top 10 drum machine clones as recommended by EMM.
1. Behringer RD-8, an honest 808 clone for cheap
The Behringer RD-8 is a true analogue recreation of Roland's classic drum machine, the TR-808. The knobs have the unmistakable Roland look and they have even cheekily inverted the original 808 colors.
However, it seems that Behringer wasn't out to simply replicate the 808. They've managed to make a hybrid with original analogue drum synths along with a brand-new sequencing system.
This might just be the best drum machine to replicate the 808 ever created. It's a fraction of the price of the original and has some great additional functionality – what not to like?
Start making music by ordering your Behringer RD-8 here.
2. Behringer RD-9, a clone of the TR-909 Roland drum machine that goes above and beyond
Reading about people's experience with the RD-9, it appears that there is a lot to love. It has features that are great for live performances that the original didn't event have.
Edwin states that this is another affordable Roland drum machine clone by Behringer and speaks highly of it. Think of dry and dark analog sound ready to be processed.
While it doesn't have as many raving reviews as the RD-8, remember that the original 909 sound wasn't the most welcomed at first either. While it does a good job of cloning the sound, apparently the buttons aren't to everyone's liking.
For those looking for a 909 sound, buy the Behringer RD-9 here.
3. Korg Volca Beats, little drum machine, big punch
According to EMM this is a "very cost-effective drum machine" that is analogue and works on a PCM samples hybrid. It's originally a clone of Korg KR-55, a non-programmable analog rhythm box from 1979.
It's about the size of a VHS cassette (remember those?) making it perfect mobile production solution. Once plugged into your studio monitors or a sound system, will you understand how serious this little machine is.
As Dan Goldman of Music Radar put it, "Korg has done itself proud and it's set a new benchmark for sound/features at this price point."
Pick one up here on Amazon for under $150.
4. Behringer RD-6 SR, a clone doing the Roland TR-606 justice
The Behringer RD-6 SR is a very affordable clone of the Roland 606.
The original TR-606 often gets overshadowed by other Roland classics. At the time it was considered the little brother of Roland 808. Today, a 606 is considered a vintage purchase, especially since they are no longer in production and in high demand.
However, there is no need to scour the world for the rare 606 – Behringer has created a modern and affordable alternative. Edwin is correct for recommending this one – many reviews claim that Behringer nailed the sound and functions of the original just right.
Pick up this badass little drum machine here.
5. Jomox XBase 09, a drum machine dedicated to the dancefloor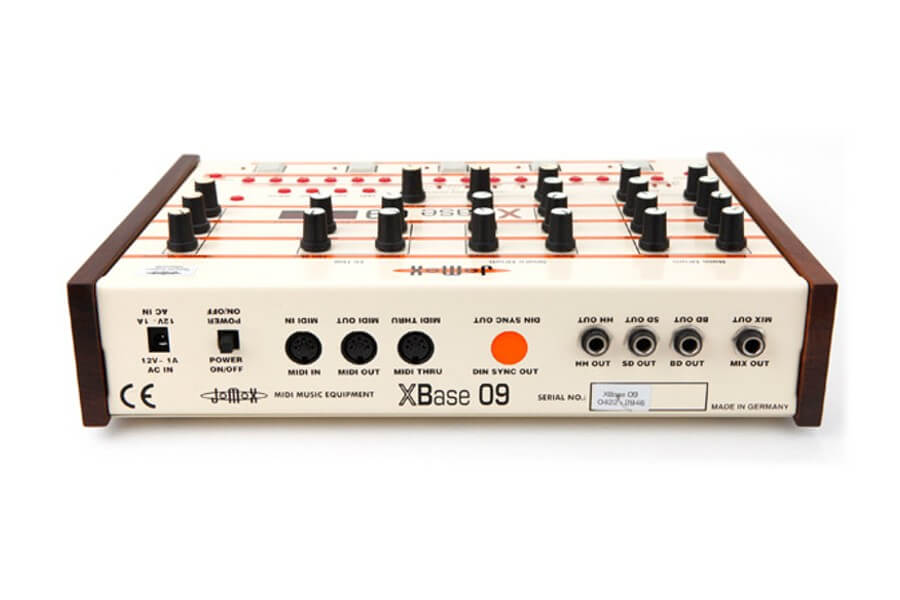 Designed and built by a small independent company called Jomox in the late 90's, this was a classic TR-909 clone dedicated to dancefloor sounds.
The Jomox XBase 09 was successful in replicating the 909 and then some. The result is an analog drum machine clone that is more versatile than the original. If you are sick and tired of using software to make beats and seek the real feel of using a drum machine with your hands, then this is your best bet.
The only setback is that Jomox discontinued the drum machine in 2005 and it is no longer easy to find (nor cheap). Happy hunting.
6. Roland TR-8, the best of the 808 and 909 in one instrument
Edwin describes this sweet drum machine as the "digital recreation of various Roland classic drum machines such as TR-909, 808, 707 and 606 in one cost effective unit."
Yes, Roland not only cloned its own machine, but it also combined the great aspects of its classics into one piece of machinery. This is the real deal – is reflected in the price in comparison to the other clones Edwin has mentioned.
While it's officially discontinued from Roland, the manufacturer is still selling units here on Amazon.
7. Acidlab Miami, the first 808 beat machine replica
The Miami beat machine by Acidlab is a geniune TR-808 clone that was very successful upon its release. Although it's not as cost effective as the Behringer, it was one of the first genuine 808 clones on the market.
Reach out to Acidlab yourself to see if you can snag one – otherwise start looking for used models.
8. Din Sync Drumdokta 2, genuine analogue Boss DR110 drum machine clone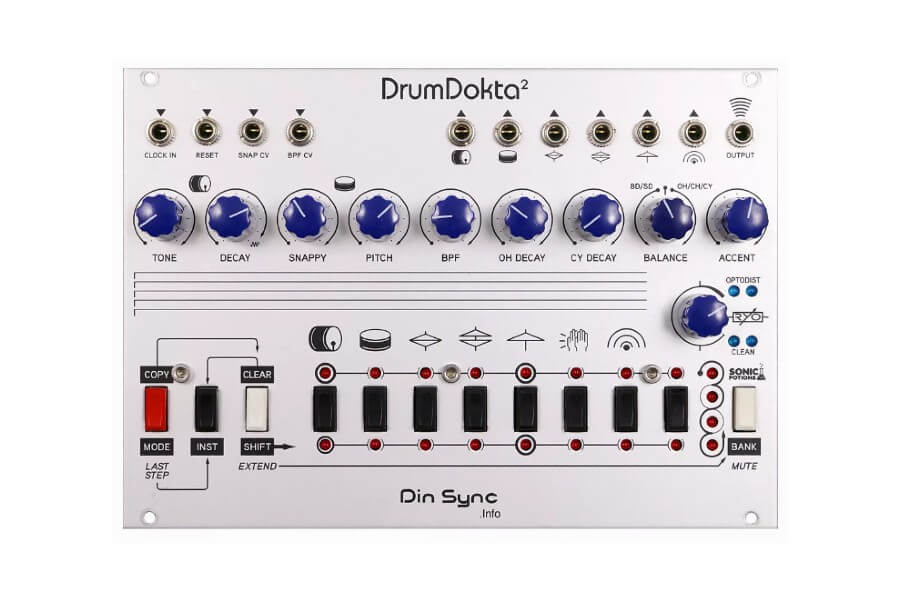 The Din Sync Drumdokta 2 is indeed a genuine analogue Boss DR110 clone with some great add-ons in Euro-rack format.
It's a fun little module and being a clone of the DR110, it sounds just as crisp and punchy, just as analogue should sound like.
As it's original, it appears that the Din Sync Drumdokta 2 is no longer in production. Find it on various reseller sites such as Reverb.
9. Roland Boutique Series TR-09, a 909 drum machine clone from the creator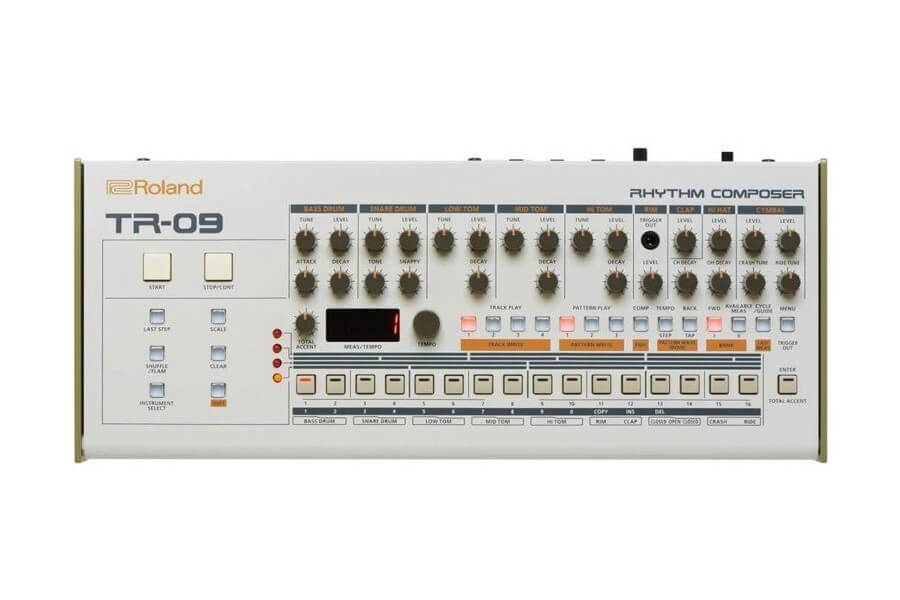 As Edwin told us, the TR-09 drum machine is "a digital faithful recreation of the Roland classic drum machines TR-909 in a small format."
Indeed, the TR-09 delivers on new software recreations of the old 909 only smaller in scale and polyphone. While this is a clone, you can't fault its classic recreation of the 909 sound.
Since this clone has joined its original machine in the "no longer in production" category, we suggest you go on Reverb or Ebay to add this one to your collection.
10. Novation Drumstation, drum machine clone on a rack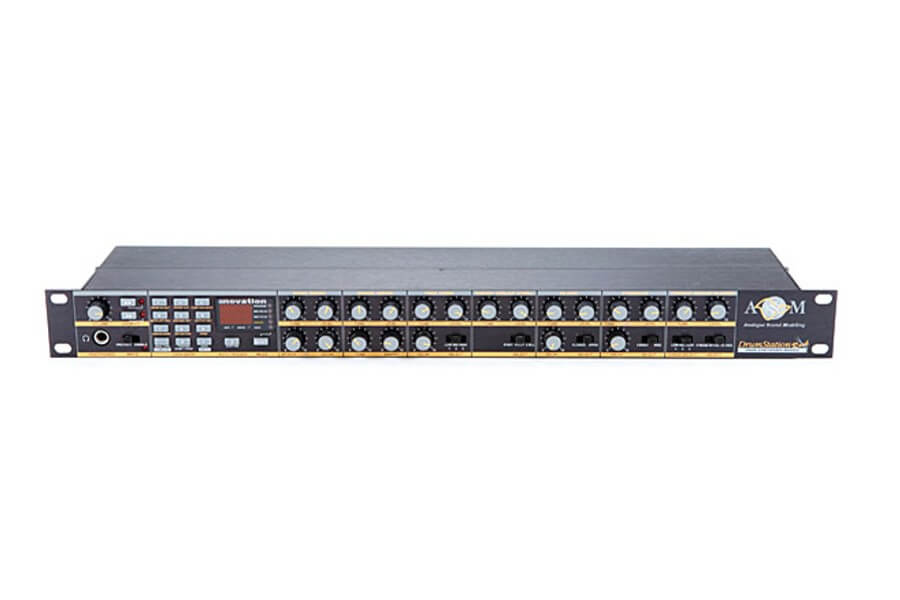 This is the classic and first digital clone of Roland's TR-808 and 909 from the nineties in rack format. The sounds this thing produces are pretty damn close to the originals.
Even though Edwin notes that this drum machine does not include a step sequencer (Roland's cool way of programming rhythm patterns), this is still a neat piece of kit.
For the curious, this beat machine is known to have been used by Massive Attack, Orbital, Laurent Garnier and Hardfloor.
It appears that used models of the Novation Drumstation are available on Reverb and Guitar Center.
Looking for more music industry tips from professionals?
Click here to check out our fully dedicated music industry section.