What makes a great live DnB (drum and bass) performance?
While there is no perfect mold to make that dirty sound we love, it pays off to ask the professionals.
So we reach out to Clive Meaker of the infamous live DnB outfit Dr Meaker from Bristol in the UK to fill us in.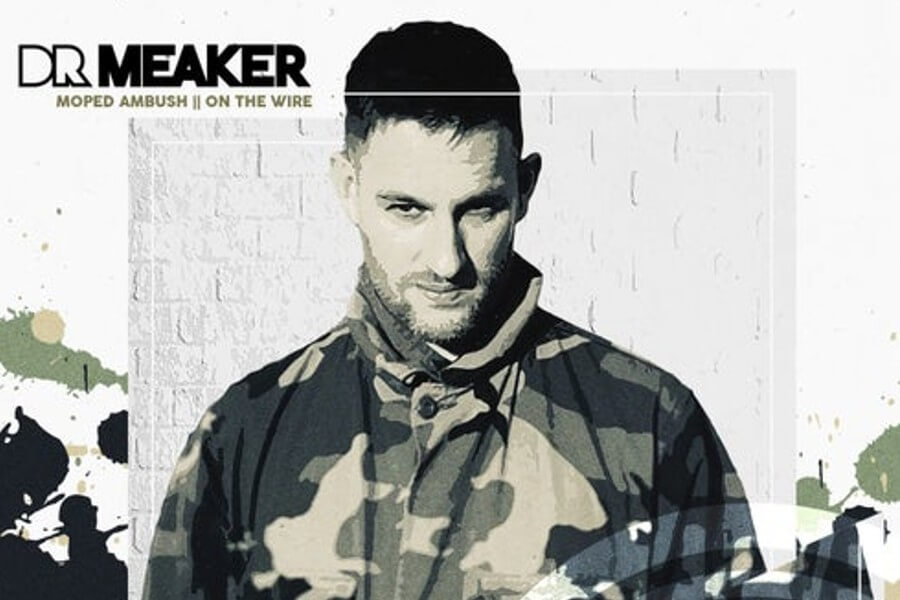 Dr Meaker, banger factory
Dr Meaker is a well-recognized band of filthy drum and bass producers – they are releasing bangers at a constant rate. This includes their latest EP Moped Ambush / On The Wire released at the end of September. On The Wire is an irresistible track along with That MS20 Life and Here & Now, all heavy rollers released in 2021. They just keep on coming.
Clive has years of experience running an instrumental drum and bass group and has even received awards for it. All in all he is a wealth of knowledge when it comes to putting out downright, wobbly drum and bass. So let's begin with the first essential element to a live DnB act.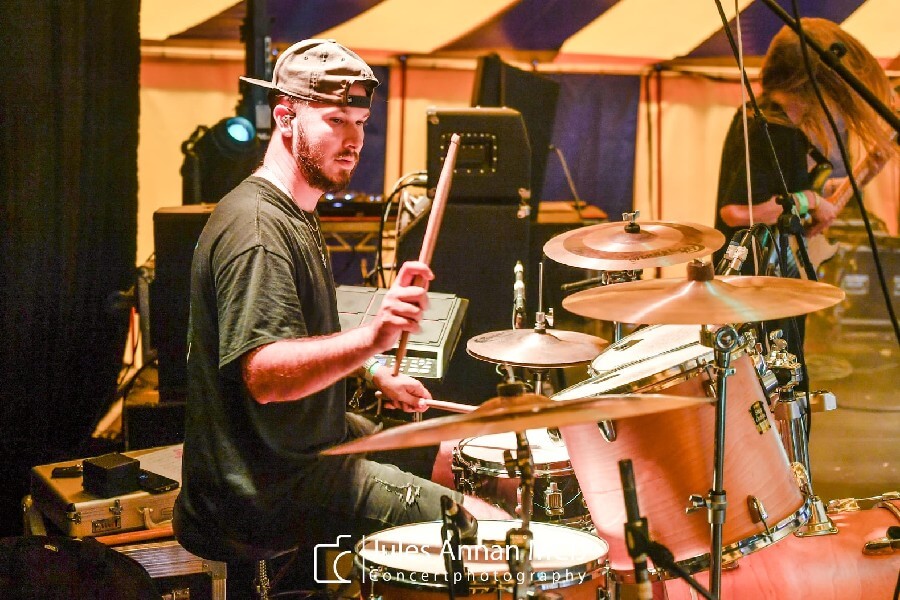 Drums, as in drum and bass
Wow. What a surprise! Drums are in fact a key element to drum and bass. But what makes a great DnB drummer?
Finding the right DnB drummer is not an easy task. The skill is a downright rarity. "Our Drummer, Tom Wheeler is 'The Machine'. He really is a linchpin and backbone in the band and sets the timing for the show."
To get the idea through of the technicalities this kind of drummer should have, we urge you to watch Jojo Mayer, a highly recognized drummer. It's mind-boggling stuff.
Bass (live or synth)
An unbreakable bass line is the logical second element. However in the case of live DnB, this refers either to the role of playing on an actual bass or using a synth. Clive mentions that a great DnB bassist should not only be solid on the beat but also flexible enough to groove and funk out.
"Because I play some of the bass lines on synths, Dan Plimmer (bass guitarist) works with me to sculpt his sound. He has a wide selection of FX pedals to help him achieve this. On some songs he removes his low end and uses pedals to push the low mid sound forward."
"That in turn brings out the growly, driving tones and at other times he will lay down the low bass when I am playing other keys. Dan also rocks out which really adds energy to the show."
Electronic production – AKA, the wobble
Bring forth the filth. This is an element you will find across the board with live DnB acts and it's where things get interesting and complex. Live instruments can only go so far. Thus the electronic element is an undeniably good addition to a live DnB act. Clive takes many electronic sound machines on stage with him, one of those being a Roland SPD-SX.
According to the product description, SPD-SX Sampling Pad by Roland lets you sample, capture, allocate and play drum sounds and audio phrases on its 9 drum pads that are velocity sensitive. To explain it in simple terms, it provides some of the backings for the samples that cannot be produced live.
"I produce all the backing tracks. We have those and some additional samples all loaded on the SPD-SX. Tom then triggers the SPDSX keeps the entire band aligned to that by playing drums to the backing tracks."
While Clive will take either a Roland Stage piano, EP or organ to show, he states his "ever faithful and wompy Korg MS20 Mark II" comes to every show. It's his downright favorite.
"It sounds so raw and is perfect for live because you can chisel the frequencies using the resonant high and low pass filters. There are also many semi-modular patching options so it's a hugely dynamic synth."
"I always take another 1 or 2 analogue synthesizer and I tend to change this show by show to keep things interesting and spontaneous. This can be a Minimoog, Juno 106, Yamaha CS5, Monopoly, or one of my secret Soviet synths. They all make pretty nice womps!"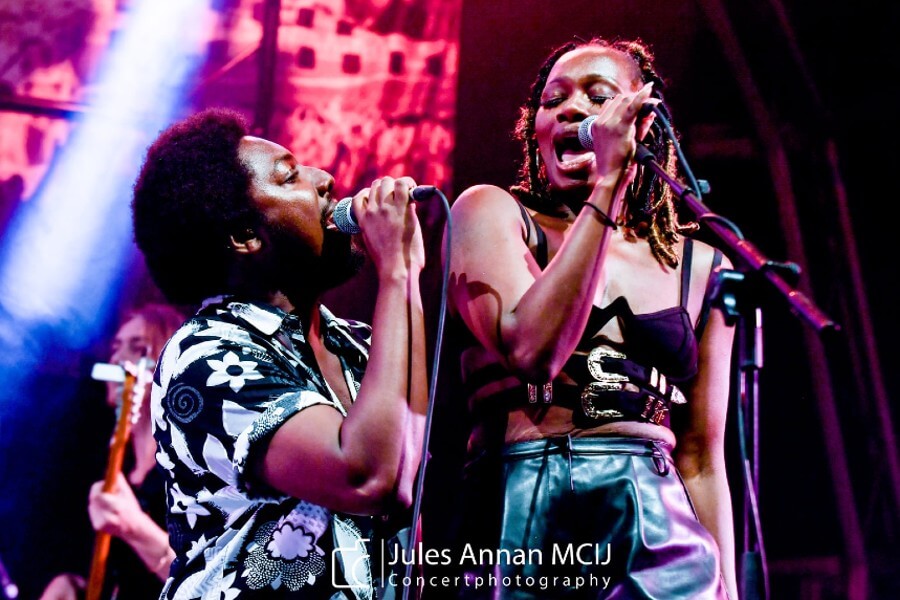 Vocals for live DnB
In the world of Clive, "a great vocalist is a great vocalist, no matter the genre."
He says they don't specifically need to be DnB vocalists and that they can be experts in their own fields in order to bring them to play exclusively in the DnB or bass music arena.
"It's really important that the team gel together as one tight vocal unit, so dynamics in sound are very important to me. Each vocalist has his or her own sonic pocket to sit in."
"Celestine has that powerful, in your face soul sound and Tenisha has a more silky RnB sound. Laurent has a lower and deeper soulful blues voice. Together they form an amazing trio that I feel is the best you will hear coming outta Bristol right now and indeed any dance act in the UK right now."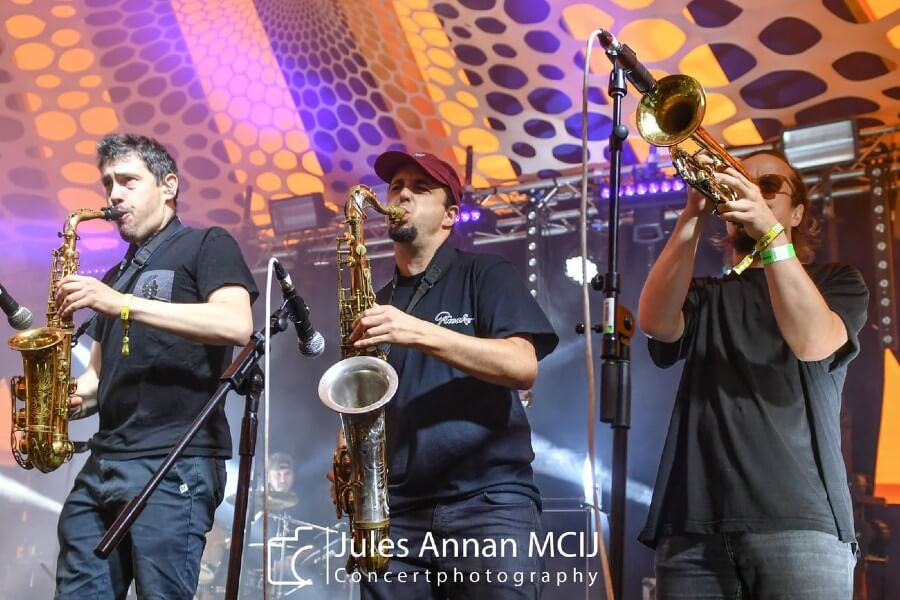 Horns, guitar and other instruments or sounds
With this foundation, you can then build on it with anything you like. Often times you will have to be resourceful with who is in or around your circle.
Clive says that from his very first show he put together the best performers he knew. He says it's a sound that is evolving and always improving.
"We have three horn players, Ben on alto sax, Sam on tenor sax and Simon on trumpet. They work out harmonies and find ways to work as tightly as possible together to create a cohesive fat brass sound. They often reinforce the bass hooks on the more bass hook driven tunes."
Even guitars have a place in live dnb – just look at their usage with Pendulum and The Prodigy. With tis inspiration, feel free to add whatever you think suits your sound.
"There have been waves over the years where you feel you have the perfect lineup and then someone leaves and you have to tweak things again to find a new balance. I feel we are sounding as good as we ever have and I want the world to see and hear the experience of Dr Meaker live."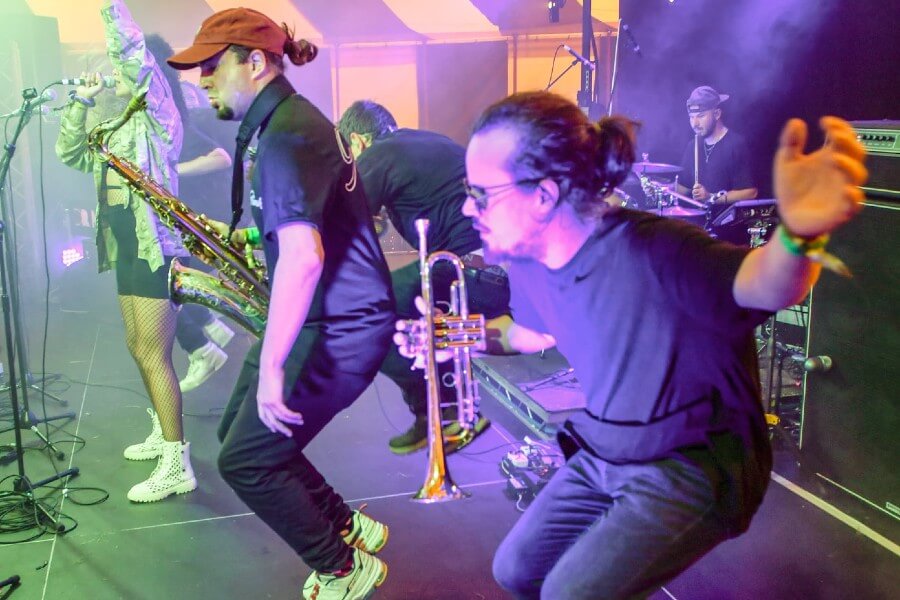 Bonus – tips for running a live dnb group
Dr Meaker gathers the large band for rehearses at Factory Studios in Barton Hill, Bristol. He tells us that with so many band members, it's not easy to get everyone in the room at the same time, so organization is key.
"To get everyone there on time seems to be an ongoing issue, which drives me mad. As one person being late affects the whole band's morale and motivation to hit the ground running from the start.
"Rehearsals can be tense at times, but generally they are wicked. I try to keep things vibey and fun and keep everyone on track to learn the new material while rehearsing existing material to stay tight and right."
With the elements of organization there is also aspects of leadership involved. After all, a band is a team.
"Know what you want to do because the rest of the band will require you to have vision. Leadership skills are also needed to get members onboard and dedicated to help you realize that vision."
"Allow people to have creative input into the show. Demonstrate that they have a real sense of ownership and investment into the show and most importantly – catch vibes and have fun!"