Gilkicker Music a collective of music industry professionals extends their reach within the global music industry, by opening a new eco-friendly music studio in South-West London.
The new Gilkicker studio is situated in South West London and is the brainchild of collaborator and now business partner Matt Hyde. Moving the location to the UK from Malta made sense for Rikki of Gilkicker Music, as ultimately all the tracks they produce have the mixes finished and mastered with Matt in London.
Rikki (Gilkicker founder) has spent most of his life living and working in London and is currently in the process of relocating from Malta. For both Rikki and Matt it makes perfect sense to move their operations to the UK. Musically, London is a thriving place to create with a growing number of their clients coming from all over the UK to record at Gilkicker.
Fellow Gilkicker Music collaborator Marc Dold still remains in Malta. It's there that he plans to continue to offer services to the existing client base.
Gilkicker Music goes eco-friendly
The decision to be more eco-friendly was partly to do with the UK's sustainability initiatives. This is in part to the country moving towards its net zero targets. Along with the huge rising energy costs that have tripled in Britain due to geopolitical issues.
The entire studio runs on solar power with four large panels mounted on the roof. Each panel has a 420-watt output generating during daylight hours. This is considerably more energy than the studio can ever consume, even with all the gear running. So, all of the additional electricity is exported back to the grid as clean renewable power.
In the darker evenings and winter months this excess power is then re-imported so on a cold December day, the studio is using power self-generated from summer. Even the heating is an electric-based underfloor system, rather than using gas heated water.
Gilkicker Music keeping it minimal
During construction all materials were locally sourced from within the UK. A considerable amount of the timber was reclaimed leftovers from other projects. The sizing and dimensions were based on cut timber lengths to ensure that any waste was absolutely minimal and all the lighting is low voltage LED.
Matt uses Genelec 8000 series monitors that have their own set of green credentials. They are made up of 95% recycled aluminum, and in 2013 intelligent signal sensing circuitry was introduced. This sensor circuit will detect when the speaker is not being used, and will place it into an environmentally-friendly, power-saving mode.
The new studio
Mixing and production is at the heart of the new studio space in South London. Matt has been working in the biggest commercial studios in the UK for over twenty years, so he knows better than most in regards to what would be involved in creating the new recording studio.
The main mix room is roughly 3m x 4.5m. The booth area at the back measures 2m x 1.5m. So it's big enough for vocal or solo instrument tracking.
Acoustic treatment and room tuning were the other key considerations in the design. With the correct placement of bass traps, broadband absobtion and diffusion. All were installed to create a listening environment that Matt wanted and was used to.
For larger tracking requirements Matt has built great relationships with a network of commercial studios in the UK. Working in this way Gilkicker are able to cater to all recording needs and budgets.
What stands Gilkicker Music out from other studios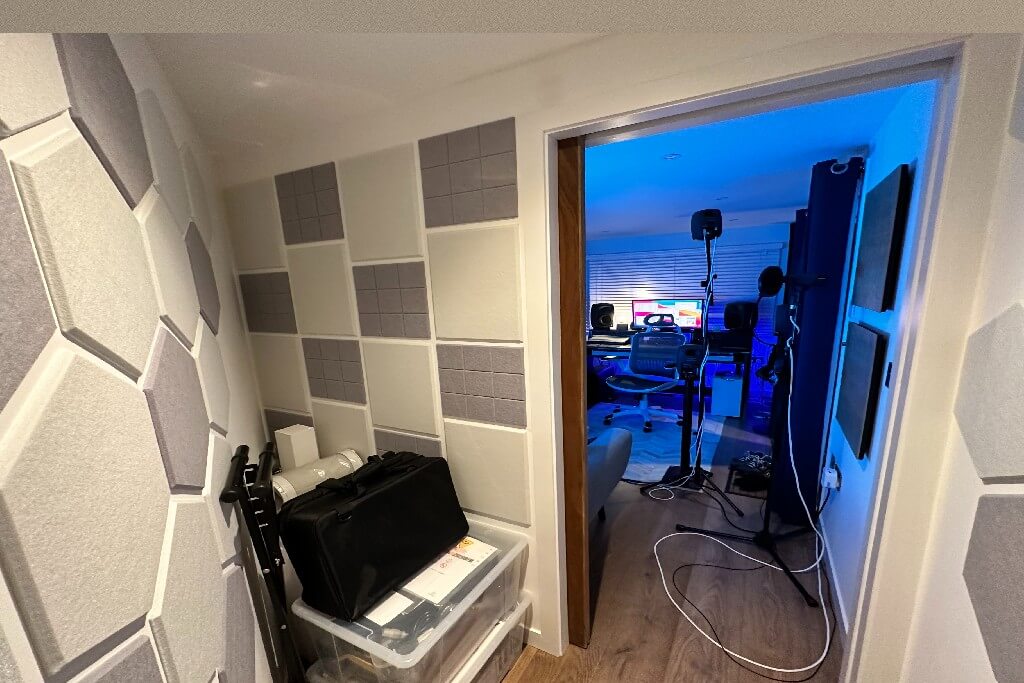 This new partnership with Matt now positions Gilkicker as a production team based over different territories and time zones.
They have the pop writing, production, mixing, mastering that Gilkicker have been known for. However, now they're able to expand that to offer Atmos mixing and all the latest formats. Rock or heavy metal bands will now be fully covered by Matt who has years of experience producing, mixing and mastering music for some of the world's biggest acts.
The London studio now offers a central hub where all their productions will be finished to the highest standards, for the latest formats no matter what type of music, who has produced it or where it was recorded.
"Working this way allows us to maximize each other's strengths to ensure we always deliver for our artists".
Gilkicker Music services
A key reason for partnering with Matt has been to expand the Gilkicker offering. This includes everything Matt is known for while looking to the future for emerging technologies of the modern streaming dominated world.
The studio in London already has a full Dolby Atmos 7.1.4 Genelec based monitoring setup. They have previously delivered multiple projects to Apple Music, Tidal and Amazon which already support Spatial based audio. According to Rikki "It is amazing how quickly such a new format has grown. It is now getting to the point whereby, if artists want to have their music featured on curated playlists or promoted with banners they will require an Atmos mix alongside the stereo mix."
With the major tech companies having invested so heavily in immersive binaural listening through headphones, it feels like a format that is now here to stay so it is important for Gilkicker Music to be able to meet the latest delivery standards.
A full Atmos service for supporting platforms
Gilkicker Music is now able to offer a full Atmos service for supporting platforms. Whether that is for their own in house productions and mixes or working from other engineers pre-mixed stems to release their mix in the surround domain.
Apple Music require partner engineers to be accredited and approved to deliver masters to their Apple Digital Masters standard. Matt is on that list so at Gilkicker they now offer these masters. This keeps the productions at their highest quality sample and bit rates, especially for streaming.
"Matt has an extensive background working with alternative, rock and metal bands including Slipknot. We want Gilkicker to also be considered a good fit for these kind of artists".
Gilkicker offer all services associated with this side of production. From the re-amping of guitar tones using a home recorded DI track, through to editing of live recorded drums, and vocals. Already they have a cross collaboration going on with an artist, who wants to incorporate live drums and more of a band based feel into her music.
Aside from the above, Gilkicker Music work alongside some really great videographers and photographers. In the near future Raymond Petrick will be joining the team to take care of high end visuals.
What can artists expect when working Gilkicker Music
The Gilkicker Music team is made up of extremely talented musicians and producers. Each have been in the music industry for decades. So, when artists work with any of the Gilkicker team, they know they will get a high quality result at the end. Whether an artist has backing from a label, management, publisher or their self-funded it makes no difference and everyone is treated with the same respect.
"We have a saying. You are only ever as good as your last record"
Their approach is to listen to the aims, and understand the overall vision of the artist. Then work out the best way to bring that idea to life. Some productions will be based around ideas or songs an artist has written, while others will require an element of songwriting.
Be that in full or helping with arrangements or adding additional parts musically or vocally, there is no one size fits all approach to making music. That is why at Gilkicker Music they put a high importance of working with everyone in their own individual way.
Recording costs and packages
Gilkicker Music never put a flat rate cost on any music creation. For them it is far more important to discuss the needs of an artist from the outset, as to understand exactly what they want. This kind of open discussion and complete transparency works to the benefit of both sides.
Package agreements will be worked out to fit each artist's individual needs and budget. Some artists will require a full album with all production, mixing, mastering and Atmos whereas others may just be an editing, mixing and mastering job.
Sometimes it is better to take a much more long term view. The industry has changed so much over the past decade and with streaming now the dominant way people consume music, everything has become a lot more individual track focused.
Future plans for expansion
Matt, Rikki & Jacob have recently been collaborating on a number of productions with writers and a studio in Brooklyn, New York.
Early talks are taking place with Matthew James Thomas who runs MJT MEDIA. MJT operates as a Film and Music production company out of New York. Matthew tells us, "I've been quietly working with artist development teams for over fifteen years so I'm excited to work on this project".
This yet to be fully announced US collaboration will be a key component in the Gilkicker expansion story. Putting the brand in yet another key location and also offer them the opportunity to release new music under their team of partners.

However, the main focus right now is on expanding the production side of things. Matt has a network of top musicians he is able to call upon from his band based background that they are able to utilize in their productions. Gilkicker Music now has a genuine rock and metal producer so they're are able to target far more artists across more genres.
Becoming a record label?
Aside from top level productions, the guys at Gilkicker Music offer advice and guidance on promoting and releasing their music. Becoming a full label setup isn't where they have set their sights for the time being.
For Gilkicker Music, the focus is on the creativity from making music and ensuring that what they deliver is up to the highest quality and latest formats expected by all their clients, whether they are major labels or independent artists.
Gilkicker Music Social
Images Courtesy of Gilkicker Music
This article includes affiliate links & as Amazon Associates we earn from qualifying purchases.