If you are curious what expositions, conferences or forums to attend and access within the Italian music industry, we're happy to open the door for you.
Talking about music events in Italy, we must firstly, keep an eye on Milan. This international and vibrant city holds the key to most of the music conferences held in Italy. We've also included valuable events in Rome and Venice.

Read on and dive into our short guide to discover the top four music conferences Italy has to offer.
1. Milano Music Week, one of the best annual music conferences in Italy for music business
When: 20 – 26 November 2023
Where: Milan, Italy
Milano Music Week is the central event for Italy's music industry. Held in November, the event hosts panels, DJ sets, meet ups and workshops. All events are spread throughout the city, however the 2023 edition brings a new element. From Monday to Friday there will be a general headquarters where main events will take place. During the weekend, these headquarters will be dedicated to educational events.
Co-organised by Milan City Council, Assomusica, Italian federation of Music Industry (FIMI), NUOVOIMAIE and SIAE (Italian Society of Authors and Editors), Milano Music Week gathers musicians, producers, managers, labels, technicians, associations and music journalists at an international level. Miliano Music Week is also open to fans and people outside the industry, where talks will take place between the audience and their favorite artists.
The panels are always innovative, and covering the main aspects of the music industry. Think copyrights, songwriting, AI, gender gap, music export, and streaming. From the 21st to 25th November, Milano Music Week will also include Linecheck – Music Meeting and Festival, a collateral event dedicated to cultural industries professionals.
2. Music Minds, a European sub-event for experts, inside the Milano Music Week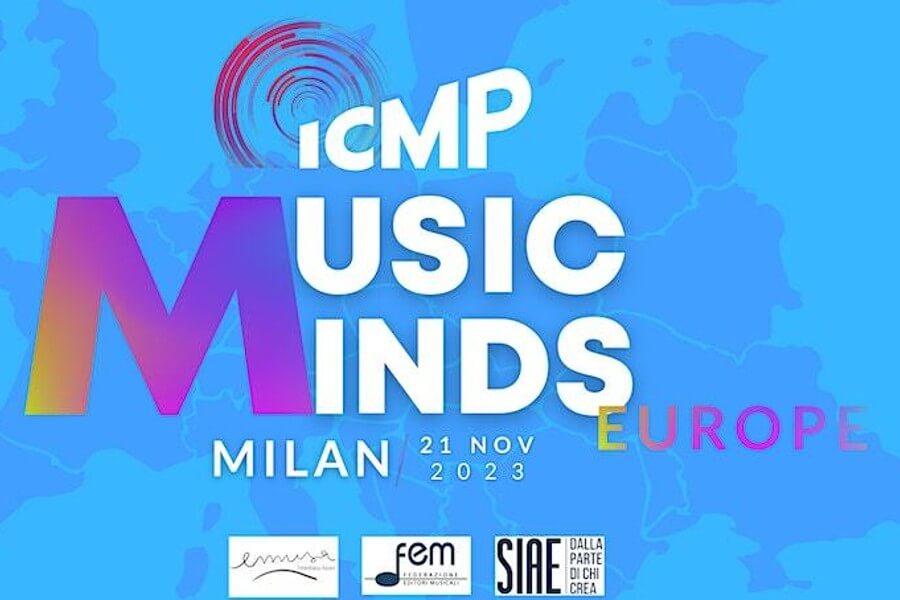 When: 20 – 22 November 2023
Where: Milan, Italy
A European appointment, Music Minds international conference series hosts both music industry and political leaders. In November 2023 it will take place during Milan Music Week, in a central location, (MEET | Digital Culture Center). It is organised by the International Confederation of Music Publishers and this is its second edition.
Alongside private industry meetings, the main part will be a public event on current issues in music business. Metadata, EU regulation and of course artificial intelligence will be discussed.
Among the speakers you can expect to find managers of notorious labels and CEOs of different CMOs (collective management organizations). They belong to the ICMP (International Confederation of Music Publishers) group of experts and the ICMP Board.
3. Biennale Musica, one of the more contemporary music conferences in Italy
When: October 2024
Where: Venice, Italy
A unique event held in a unique location. Biennale Music takes place every year in Venice and gathers people who work in contemporary music, such as musicians, labels, managers, and producers.
Conceived as a festival, just like the Venice Film Festival, it is also a moment for presenting new artists, projects and innovative concepts. And of course, it is a chance to expand your network with people from the industry.
This year's Biennale Musica is called Micro Music and is dedicated to digital music. It presents a variety of styles and creative research, hosting artists and experts from the international scene. Electronic sounds, and artificial intelligence applied to composition, along with voice tones will be featured for the 2024 edition. Expect to find the connection between science and music and the future of music machines.
Biennale College
The event also includes Biennale College, which runs various programs that helps young people aspiring to pursue careers in the music and artistic industries. Performers and musicians can submit their proposals and accept one's that will help in furthering their career. Results of their projects are then presented during the event.
Shows, roundtables, and lectures will complete this program which is dedicated to music lovers, composers, and students.
4. Musika Expo, the biggest instruments expo venue
When: October 2024
Where: Rome Italy
Merging an exposition with a festival vibe, is Musika Expo a unique event for professionals and amateurs alike. Here, brands have the chance to present their music products and projects. There's plenty of technology and instruments on display where attendees can learn about drums, basses, guitars, keyboards, music components and more. It's also worth noting that there will be a space for music services that include, production, audio, and training programs.
In 5,000 square meters the audience can also access concerts that feature bands, instrumentalists, and solo vocalists in the genres of blues, and jazz. There will seminars worth attending which will focus on the latest products, brands, and technologies. The seminars will offer attendees the opportunity to rub shoulders with those who operate in Italy's music industry.
Curious about music conferences around the world?
Here we have guides for Asia and Africa.