RZA from Wu-Tang Clan has just released "Guided Explorations". It consists of five episodes of meditations for the creative mind.
Wu-Tang on Shaolin and meditation
While this release may surprise some, the Wu-Tang de facto leader has dedicated years to his Shaolin practice and meditation.
His career has taken many forms which has given him the opportunity to travel many continents. One could say he is a natural explorer of both the outer and inner worlds, which aside from his talents has resulted in his successes.
The current situation of the planet has everybody talking and seemingly split. Mostly, between the people that are struggling mentally and the ones that are using the conditions to thrive.
This partly depends on what you are actively doing and what you are filling your psyche with. After all, your thoughts create the world that you live in.
Positive mindset, sponsored by Wu-Tang
Myself? Well I fall into the latter. I am filling my mind with the positive, adapting to the constant changes and creating the self I envision while remaining aware to what's going on around me.
I'm a fan of both the Wu-Tang Clan and meditation, something I've practiced for a number of years. However over the past year I've kind of lost the inner Zen.
During our morning coffee I explain this to Luc, my current roomie. His reply: "why the fuck don't you listen to RZA's Guided Explorations to get you back on track?"
Ok, so I'm behind on this release (by two months) so I reply: "how have I missed this?" I quickly grab the beanbag along with my headphones and sit down. In the words of RZA, I "kill the noise".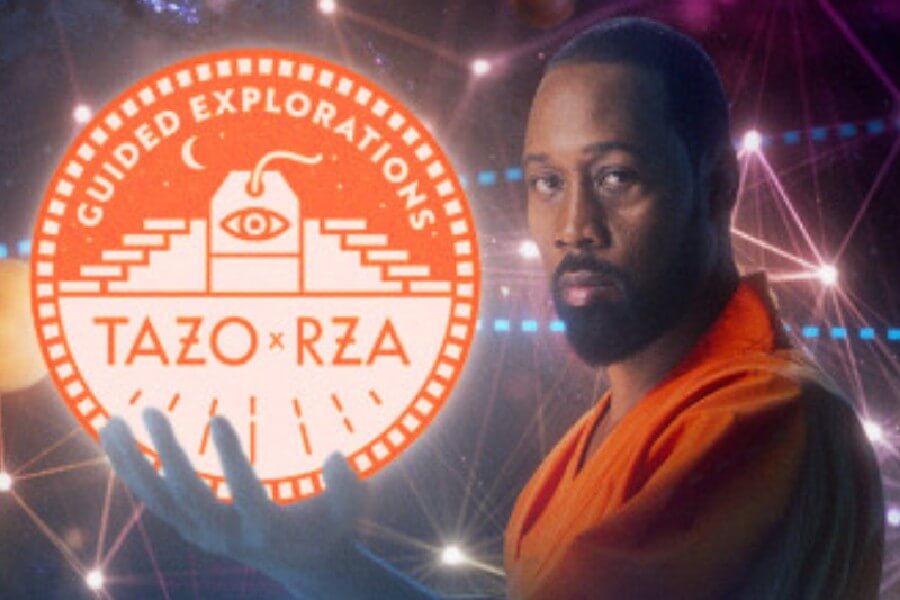 Exploration now in session
TAZO x RZA Guided Meditation
(EP1) Introduction
Starting off with chilled beats and a little history on The RZA I start to feel like this is a meditation I can truly relate to.
(EP2) Kill The Noise
RZA starts with preparing your body and getting away from distractions such as your phone. He encourages you to get comfortable in a chill environment, plant your feet to the ground, breath and be patient.
(EP3) Fan Your Flames
It starts with a brief introduction of how being isolated on Stanton Island, NY and cut off from the mainstream forces. Also how Wu-Tang find their own sound.
The island is a place RZA goes to mentally when he needs to find inspiration from the feelings associated with that period.
Now RZA helps you to summon your island – a place you can go to when you need strength, inspiration and creativity.
(EP4) Bite or Stop Barking
The continued chilled hip hop beats and RZA's voice take your mind out of a negative state with the full intentions to put you in a positive place.
This episode looks at your goals and achievements and how to pass the shrouded valley of doubt, procrastination, and excuses.
(EP5) If Not You
RZA asks: "if not you, then who"?
Reaching deep inside to uncover the truest version of ourselves.
Rather than sitting for this episode, RZA gets you to rise and observe your pose and get into what he calls a Warrior Pose. He states that this stance along with the breath has a significant impact on the way you think about yourself and the risks you take.
(EP6) Making Moves
Put on some kicks – it's time to go outside.
"You don't have to be still or keep your eyes closed" you just have to be self-aware of your inner and outer self. "Walk slowly and find wisdom in your walk and be mindful of each step you take".
After all the long walks around Stanton Island are where RZA himself found the answers to all his questions. Particularly the ones about the future of the Wu-Tang Clan the music he was making and how to start a label.
Guided Explorations
If there was any time in our lives where we need to find inner peace, it's now.
So, do yourselves a favor and take 30 minutes out of your day and let RZA guide you on a self-exploration.
Peace!