How does High Focus Records, the legendary UK hip-hop record label, stay relevant in 2023?
At the forefront of the UK hip hop scene since its inception in 2010, it holds an enviable roster of some of the most progressive and distinct UK hip hop artists.
The man behind the label's success is Fliptrix, a London-born lyricist known for his enlightening tracks as both a solo artist and member of the highly acclaimed group The Four Owls. Fliptrix's impact on the UK music scene is undeniably significant.
We reached out to Fliptrix to understand where he is coming from and where High Focus Records is going.
High Focus Records, born out of necessity
In 2007 Fliptrix dropped his first full-length album Force Fed Imagery. In 2010, the second album he released was Theory of Rhyme on High Focus. Around this time, Lowlife Records, an instrumental and influential force in the UK hip-hop scene, was starting to decline.
"There was a gap in the market. I needed to create a platform to release my own music. So it was out of necessity that I created High Focus Records to release my album. I had done all the artwork, press shots, and the video production for 'Theory of Rhyme'. Everything was ready to go. But there was no home for it at that time because of the state that the scene was in".
The successful release of his second album and the direction that High Focus was heading in was enough for Fliptrix to offer the services of High Focus to Jam Baxter, Dirty Dike & Leaf Dog. Verb T signed as word and the music started to spread, signifying the beginning of the label's super group, The Four Owls.
Creative vs. Business
"I just turned the street approach that I already knew into something more professional"
Before High Focus Records, Fliptrix was always hustling. He managed to borrow £500, so he could press up his first album. He then began selling the CDs on every street corner and going to every single open mic night possible.
Being an artist is not only about creating music, shooting videos, creating artwork, dealing with press all become part of the panorama. To be successful, you need to have a good understanding of the business side of the industry. This side involves many moving parts such as knowing about copyrights and royalties. Knowing how to market and distribute your product, and all the elements that go into mixing, mastering and touring.
"Some artists enjoy dealing with the business side. Some don't. Some are strictly creatives. That's how I ended up signing Jam Baxter because he thought I did a good job on my previous album release which laid the foundations for our conversations. Not long after, Leaf Dog and Dirty Dike both had albums ready. I just fell into the role of running a label and went tunnel vision from there".
How does High Focus Records stay relevant in 2023?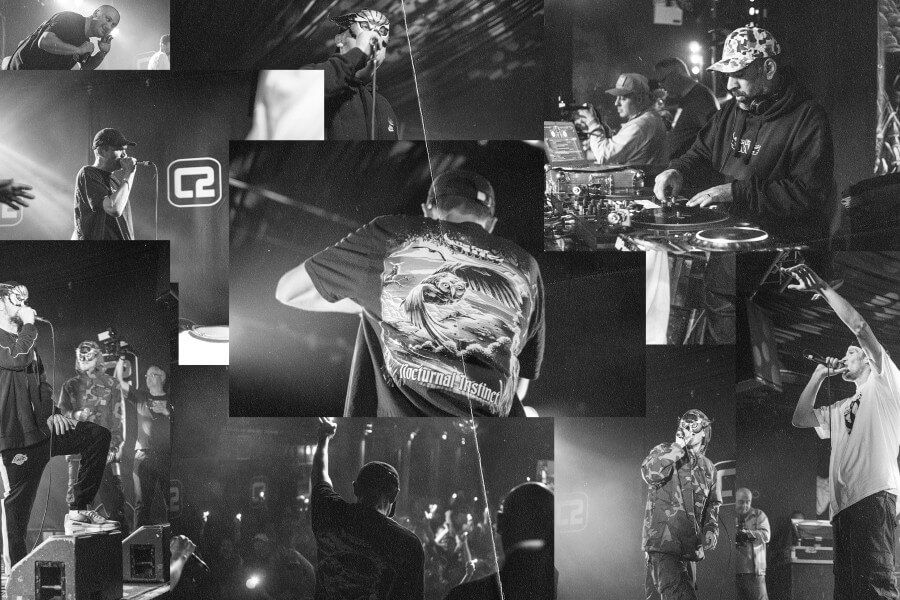 One look at the artist section on the High Focus website, coupled with the history of the label will show that they have a keen eye for attracting unique artists with a fresh sound. With artists that capture the attention of audiences like Onoe Capone, Ed Scissor, Verbz & My Slipz and beyond. It is fair to say that High Focus doesn't even need to try to stay relevant – the label just naturally is.
"I'm always on the lookout for new artists. I think it's really important to sign the new generation, to keep the hip hop scene alive. I'm always listening to demos. If you think you have what it takes, don't be shy and send your music to me via the High Focus website contact section"
Ocean Wisdom
One of the biggest artists to come out of the High Focus camp is Ocean Wisdom. Working alongside each other has worked wonders for the label, Fliptrix, and Ocean Wisdom himself.
The success that High Focus had with Ocean Wisdom has managed to bring new eyes and ears to the label and helped in opening up doors to high-level collaborations.
"We made some classic shit working with Method Man and Dizzy Rascal. Wizville went on to be a top 40 charting album".
Ocean Wisdom got to a level where he had a lot of attention from major labels. Even after all the success with Chaos 93 he chose to stay with High Focus for his second album Wizville. After the completion of the album, Wizville before taking leveling up and accepting an offer from Warner Music.
"For me, it is inspiring watching artists grow. We are still good friends and Ocean moving onwards and upwards is great for the scene".
High Focus Records adapting with the times
The label stays ahead of the game through adaptability. As with any business, adapting to the constant changes and advancements in technology is not something to be taken lightly. If you don't move with it, it's going to move without you.
Fliptrix noticed when streaming first came along, that there was a lot of resistance, especially from the older generation. They felt that people listening to their music for free was going to kill off the industry and eventually the artist.
"I remember seeing certain artists refusing to sign up for streaming platforms for a long time, and at their own detriment. Now, obviously, they're all on it because you have to be."
Knowing your fan base
Knowing your fan base and placing products in physical locations where the HF fanbase is most active is another non-negotiable. For High Focus the biggest UK cities of influence are London, Bristol, and Brighton (all locations for Fliptrix's 2023 tour that also includes Manchester & Bournemouth)
"We wholesale to quite a few different shops around the UK, Europe, and Australia. I'd say the record shop that holds the biggest collection of High Focus products in the UK is Rare Kind Records in Brighton. We've got strong ties with them, they've got a lot of our clothing and most of our vinyl."
Fliptrix drops Mantra No9
Fliptrix returns with a momentous 18-track LP, bursting with classic boom bap, forward-thinking hip hop and spiritual messages welcome to'Mantra No. 9'
The album marks 15 years since his first LP 'Force Fed Imagery' – and sees the UK boom-bap OG reconnecting with his roots.
Calling upon an all-star list of production and feature talent from the High Focus roster, Mantra No. 9's 18 tracks reaffirm why Fliptrix is regarded as one of the most valuable and forward-thinking voices in the UK hip hop movement today.
Listen to Mantra No 9 on Spotify
Images Courtesy of High Focus and Henrijs Freibergs