Meet Poster Child, the person behind the eye-catching and artful graphics of music festivals around the world.
Festivals have become a staple of underground music culture. However, behind the scenes, competition between festivals is fierce. There are thousands of established and plenty of new festivals coming up. With the room crowded, it can be challenging to make one stand out from the rest.
There are many factors leading to the success of a music festival, but the key ingredient is branding – enter Poster Child.
Who is Poster Child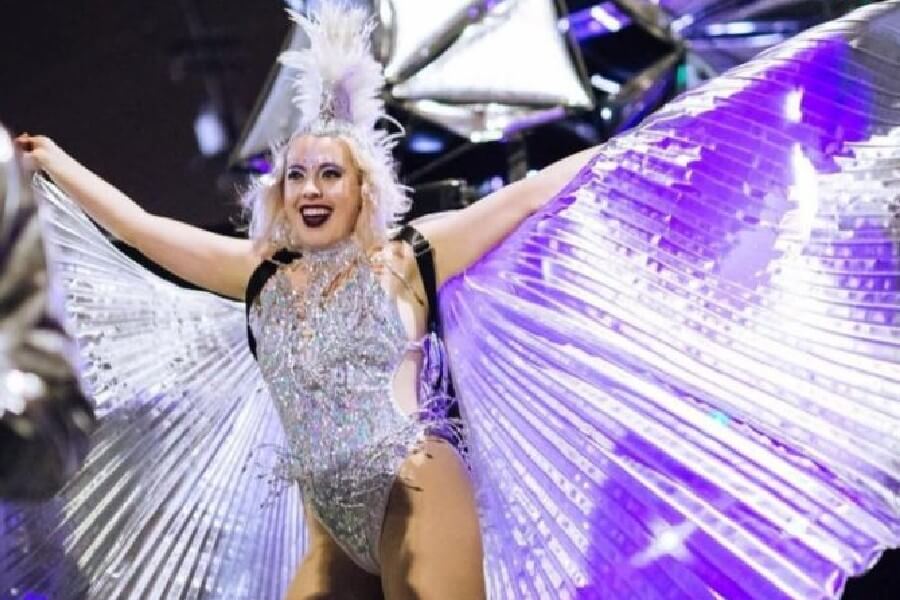 Maya Jevans, aka Poster Child, hails from New Orleans, and is currently living in Barcelona, Spain.
Maya's journey into the world of design started in her first year of university, when a local music festival dropped their lineup. Just the mere sight of a black and orange illustrated poster papered all over her campus was the push that made her commit to a graphic design trajectory.
"Truthfully I had grown up playing around with design software and was in a transitional stage of young adulthood where you're grasping at anything that seems directional. I didn't understand at the time the difference between art and design, or design and illustration, I just latched on to the first path in that nebulous direction,"
The spark that caught
It just so happened to be a music poster that hooked her in. From then on she zealously made that ambition her whole personality.
Over a period of two years, she found a way to relate every homework assignment in her design classes back to festivals. She created a working website for Outside Lands in her coding class, designed merch for festivals that didn't exist, and made posters for her own imaginary lineup.
"I found the email address of a woman on the BUKU team and sent her all of my designs (aka homework with B- grades) and landed an internship. That year in the back of my math classroom I got to surreptitiously type in all the band names on that very same lineup poster that had so impressed me".
Incorporating a passion for music into design work
Maya's interest in music posters got her in the door of art galleries that trafficked in posters. That gradually led her to street art galleries, and contemporary art fairs. Eventually, her path wound up with her attending a classical 19th-century oil painting academy in Europe for 4 years.
Maya's mom is a university professor who once told her that young people feel excluded by the art world. These same young people believe that art begins with Michelangelo and ends with Monet, and that art spaces aren't open to them. But then someone like KAWS or Takashi Murakami will do an album cover for Kanye, and the art world finds itself on the walls and phone screens of those same kids.
"She called this an infiltration of art. Music and design can conspire together to infiltrate the ears and eyes of the world. Everyone deserves to find art that speaks to them, when music and design work together they can invite all the more people inside".
What's a typical project for Poster Child
There's two models that Poster Child works under: branding and execution.
Model 1: Branding the Poster Child way
Maya says branding starts early for festivals. They like to switch up their branding annually to give it a sense of occasion and collectability. She can be brought in for a comprehensive re-brand or for a more subtle brand refresh. Maya and the Poster Child team start with a discovery phase.
This can include mood boards, a word bank of terms like 'electric, classic, disruptive, groovy, hip, etc.', and their brand do's and don'ts.
A typical brand package includes: logos, font selections, color palette, general tone, illustration bank, patterns, and icons. The team then goes to work to tie it all together in a style guide to help enforce continuity across all festival communications as well as onboarding external partners who use brand assets.
Model 2: Execution the Poster Child way
Maya explains that execution is a long-form commitment that lasts through the whole festival cycle. The Poster Child team uses the brand package and extrapolates into every communication and collateral. The lineup poster is the most iconic asset, a balancing act of satisfying sponsors and agents, all the while making something people will want framed on their walls.
"Each year giant stage scrim vector print files tax my computer's memory within an inch of its life".
"There are plenty of festivals where I have done just branding or just execution, but my favorite is a mixed project when I can do both. Developing the key art is exciting and creative, but the execution phase is often when I learn and grow the most as a designer. The limitations or specs of all the different execution assets are often what will prompt the more editorial and thoughtful design choices."
Unique challenges for Poster Child when designing for music festivals
"Sometimes branding is a challenge because you have to stand out whilst fitting in".
Maya notes that there are colors and symbols that are classically "festival-coded." Think lightning bolts, eyeballs, rainbows, stars and psychedelia. Festivals are very competitive with each other, but often they still want to fit into the same popular design conventions.
Festival design campaigns can last months or years so Maya and the Poster Child team have to be inventive about stretching key art assets across campaigns and mediums. This means cannibalizing vectors. One bank of illustrations can become giant stage banners, wearable merch, and hundreds of digital and print media without becoming stale.
"After a few months of working with the same six-character illustrations you find yourself piecing together new little guys by cutting out features and arranging them on a drawing of a disco ball or a cartoon bomb".
How Poster Child stays up-to-date with current design trends & tech
The people who produce and attend mainstream festivals are likely to be active on social media, consider themselves 'taste makers', and are generally plugged in to pop culture trends.
"Festivals use professional demographics services and I'm just the girl who takes that data and designs pie charts with it for investors".
Festival producers usually approach Poster Child with examples of splashy new font and illustration styles they see on Instagram and TikTok and want Maya and the team to identify and emulate.
Warped Tour, Poster Child's most memorable festival branding and artwork
Warped Tour is the highlight of Maya's design career so far. She tells us she feels incredibly grateful to have been on the project.
"It was my first time branding a festival by myself. Before I had worked under senior illustrators of BUKU and Okeechobee as a ghost illustrator in their style. Warped Tour wanted a victory lap and asked for design that would reference their storied 25-year run. Of every festival I've worked with they were the one that had philanthropy in its DNA since inception".
At the time, Warped Tour was older than Maya was and she was yet to attend fine art school. "I had no drawing training and a nascent grasp on editing/composition".
How to tailor designs that resonate with festival demographics and vibes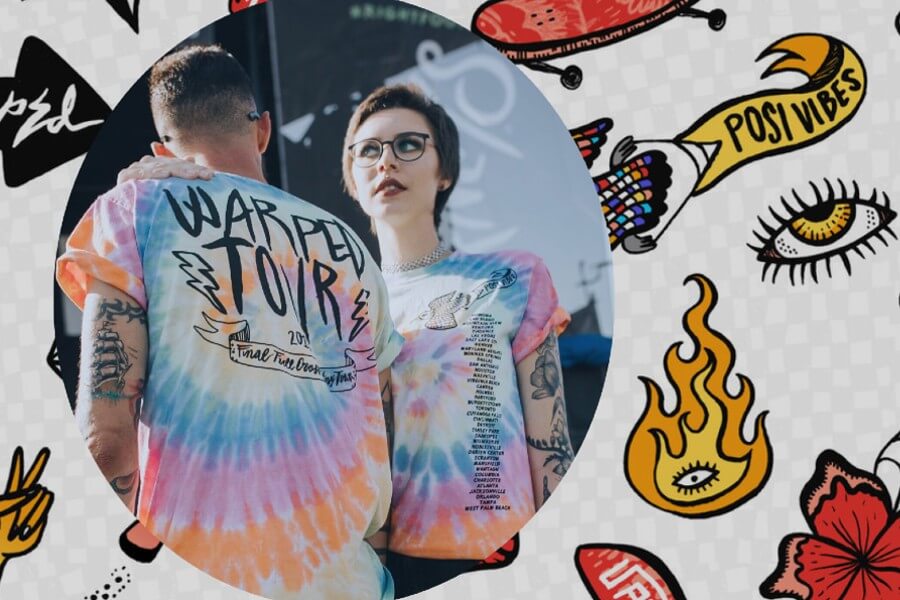 "Color is a profound communicator," Maya explains. It so happens that country festivals are more likely to ask for illustrations of guitars, just as EDM festivals request disco balls, aliens, and lightning bolts.
"An EDM festival is more likely to pair well with black, purple, pink, saturation, vibrancy, and contrast. A festival that produces rock, jazz, blues, etc is a good fit for colors that evoke a classic vintage feel: red, blue, cream, and a muted palette like an old band t-shirt faded from years of washing".
Texture also plays a powerful role that "average laypeople are quite attuned to. Imagine a texture with a digital grunge distorted feel to it versus a weathered and distressed texture. One is befitting an electronic or hip-hop fest and one is better suited to a Willie Nelson poster."
Poster Child, balancing brand consistency and desire to create fresh and innovative works
Like any brand, festivals are very conscious about their image and are always hoping something from the branding will stick in the minds of their fans. While Maya was working with BUKU and Young & Sick the organizers noticed fans getting tattoos of the moon eye logo. The Poster Child crew had fun redesigning it each year with the launch of the next moon eye becoming an anticipated event for regular attendees.
Maya thinks the hype-beast culture surrounding collectible editions and drops is endlessly fascinating, especially sneakers and vinyl art toys. When a festival launches an annual refresh of their iconic logo or character, merch and poster sales go way up, because those assets become collectibles.
Tight deadlines, quality, and pressure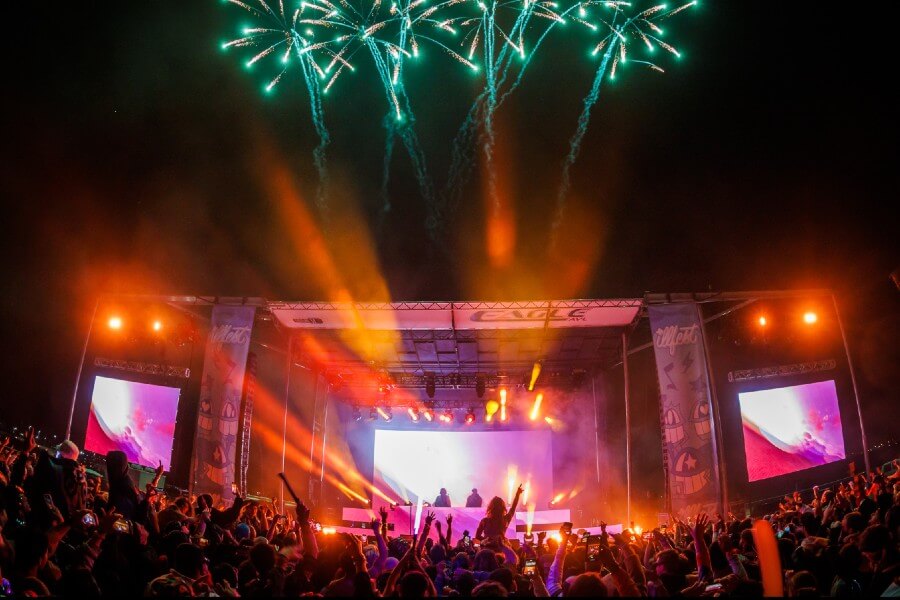 A talent buyer's chief prerogative is to get the best deal on the hottest performers, and their currencies are billing and placement on the poster.
Lineup season used to be brutal for Poster Child, as they would be up every night for weeks just moving artist names up and down the poster. The size, color, and placement of a DJ/band/rapper's name are often deal breakers over whether they agree to play the festival or not.
Their agents to see poster comps in real time during negotiation, with agency specific confidential watermarks.
Building out a brand hub with her favorite tool, Canva
Maya swears by Canva, which in her words, "has been the most transformative platform for my process". She now builds out a brand hub in Canva for each client and makes all digital and print graphics there.
"Now a festival owner, marketer, or buyer can go into my files and make slight tweaks without any design software or experience." Billing, door opening times, supporting acts, artist press photos – these are critical pieces of information that are always changing, and her clients have the power to make those changes without roadblocks. It's how they can retain editing power even when the designs have elaborate animations and advanced compositional devices.
Dividing festivals into a tier system
For her own mental organization Maya has created a sort of class system for festivals.
A-Tier
According to Maya, these are cultural juggernauts with global name recognition and 200,000+ attendance across a multi-week run, such as Coachella and Glastonbury. Lollapalooza, Primavera Sound, and Warped Tour are also A-tier because they sprawl across multiple months and countries and can draw 300-600k in a season.
B-tier
Think Bonnaroo and Okeechobee. These are also huge destination events with an international draw, exceeding 80,000 people.
C-Tier
These are festivals with regional acclaim, usually drawing 12-25k, with less than half of attendees traveling in from out of state.
D-Tier
Maya categorizes these as beloved intimate local events, usually one day and 8k max capacity, almost exclusively catering to their immediate community.
A few trends from Maya on the above:
"Huge swaths of the C class have quietly discontinued. Many B class have been acquired by one of the two big production companies and now their graphics are produced in-house by one of a handful of internal corporate subsidiaries. Several venerable A and B festivals who seemed like institutions recently retired, closing their legacy on a high note. Right now the best in-roads seem to be with small local indie festivals".
What this means for aspiring designers
Maya claims that these trends are advantageous for aspiring designers. Indie festivals can be easier to break into, and in Maya's experience, offer a lot of creative liberty, laid back deadlines and surprisingly generous budgets.
Some of these projects have had the greatest impact on her skill advancement and those contacts still include her on new projects. "I would recommend designers target C and D Tier festivals in their region and scour LinkedIn and Instagram to find as many real people on those teams as possible".
Every festival has a general 'info@' email but the best bet is to cyber stalk people on their marketing, admin, and talent acquisition teams and slide into their DMs. Make some spec graphics to show them what you have to offer.
Strategy for the 2024 season
"It's the same strategy that got Maya her first festival nine years ago. "I'm hardcore plugging away a everyday recently with whatever technology I can think of. I identified five aspirational festivals I think I have a shot with for the 2024 season and found a couple of well-connected folks who work at each of them… then I coded a bot that combs through their Instagram page and follows all of their friends who have 'X' festival name in their bio or keywords like music, DJ, band, production, etc".
Thanks to a one-month free trial of the LinkedIn Sales Finder service she's been able find and direct message high placed individuals at A class festivals and some of the biggest music production and publishing companies out there.
A special tip for younger designers
"Sometimes Live Nation and AEG offer design internships to undergraduate students, so keep an eye on their posts on LinkedIn, Indeed, and the Careers page of their website. Those internships are usually placements on A-tier gigs who are almost impossible to break into as a freelancer."
Digital and social media strategy according to Poster Child
Video is king. Or rather, animated gifs are, says Maya.
"In recent years festivals are asking for everything to be animated, if it was possible to make the logo on a t-shirt drip and flash, they would be doing it." With Instagram prioritizing reels she's sure this trend will continue.
Fortunately Canva lets Maya and the team create impressive animations that are fully responsive and flexible for those typical music industry changes:
"Reflexively I always layer and structure a graphic for ease of resizing. In these instances I operate on an economy of clicks. For graphics I know will need to be resized into a lot of standard formats, I will strategically design them in a way that requires as few clicks as possible to translate from portrait to landscape, or from square to rectangular. I expect we'll all start animating lineup posters for TikTok within the next two season cycles".
Trends or changes to the field of music festival design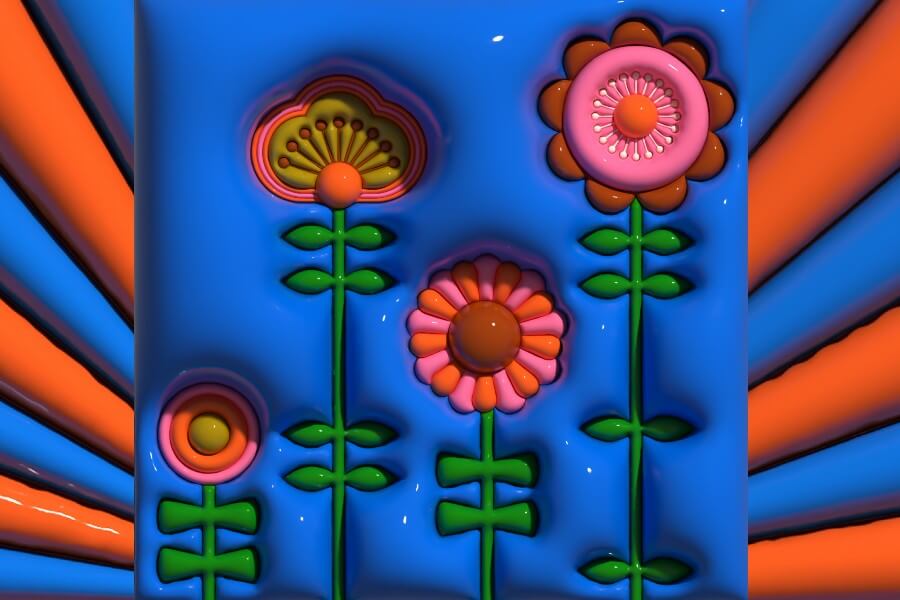 For a few years, the leading industry design trend was to have sprawling illustrated brand packages that changed each year. Then festivals moved away from cute character illustrations and became more defined by 90s-era grunge textures and club flyer aesthetics.
Recently those trends stabilized and we're seeing a return of illustrated branding but with some of the minimalism and restraint of that pared-back design era. In recent months, Maya has learned 3D rendering technologies and developed her own new juicy, shiny, bubbly style that she thinks could totally shake up the festival branding scene.
She's created sample graphics in this 3D style for several music festivals and has been sending them to every industry inbox she can find. She hopes that we'll all see her new bubbly 3D style splashed out on a high-profile lineup poster next season.
"Market turnover" & upcoming projects
"The summer festival season just ended so now is what I call 'market turnover', the time when festivals start thinking about the development of key art for the 2024 festival season."
"2024 might be an exciting year for lineup posters due to the growing popularity and sophistication of AI and 3D modelling, which can herald in fresh ideas and unexpected design solutions. I hope to be out there on the scene with a couple festival partners who are down to have fun and experiment."
Poster Child Socials
Images Courtesy of Poster Child