Sometime in the haze of 2020 I tuned into SWU FM radio from my flat in Malta. From my PA system came out positivity, sunshine and music I had never heard before.
This was Felix Joy spinning his weekday morning show live from Bristol in the UK.
After much morning listening and appreciation, I reach out to hear from the man behind the burner phone and all those records.
Southwest Underground, SWU FM Morning Show with Felix Joy
Four years ago 103.7 SWU.FM trialed for a month and brought together many of the city's artists. In October 2020, they got their FM radio license and have been banging on since.
Felix heard they were taking applications and reached out and has been at it for just over a year now.
"I have very minimal radio experience before this, Sip The Juice (the DJ collective I'm part of) had one show when SWU did its month long broadcast years ago. Before that I did a show on a pirate station in Bristol with a couple of guys. But that was just us mixing on a Wednesday afternoon together, I'm sure, to no listeners."
Through knowing one of the founders of SWU he got in touch.
"I remember bumping into him in a club on a night out. Basically pitched myself to him saying I listen to a lot of radio and was certain I could do my own version quite well."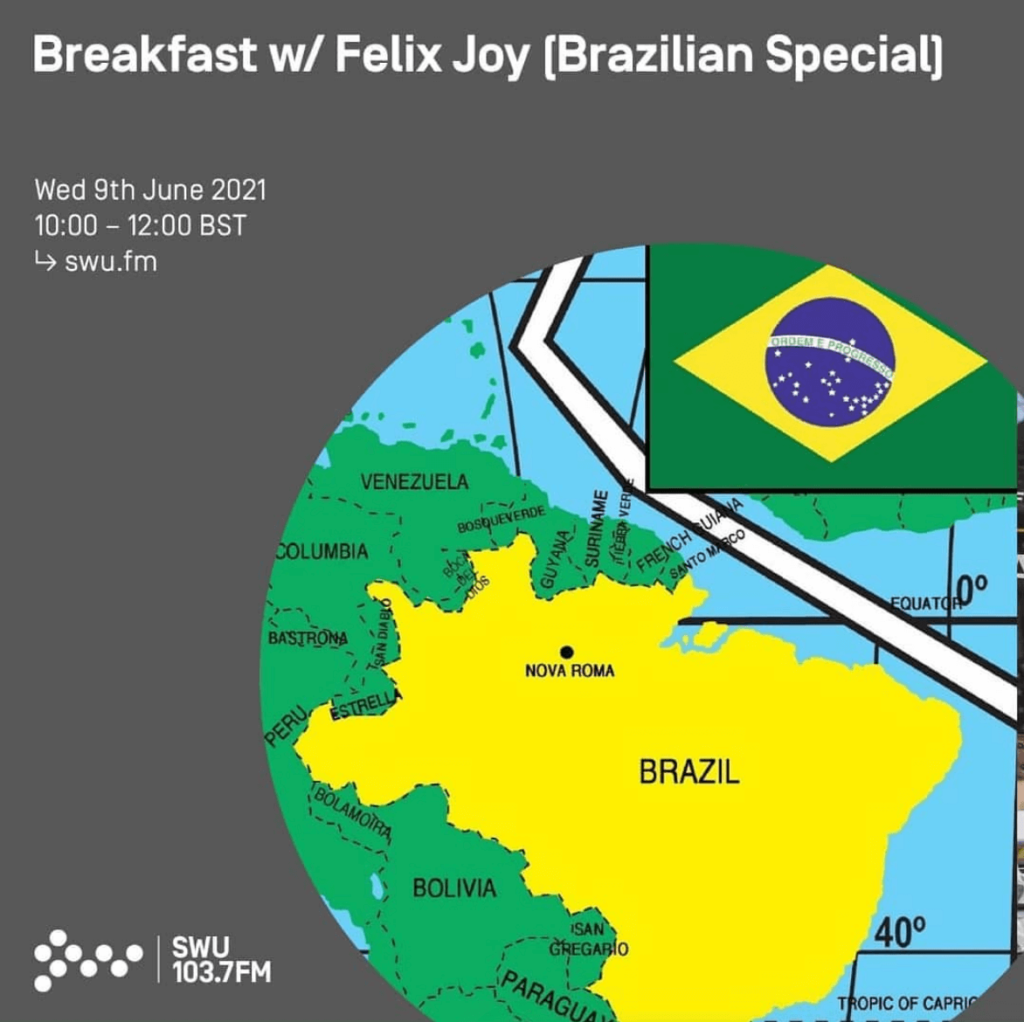 Diverse mornings at SWU FM
Felix has been at it for a while now – it's the only possible explanation I have to the diverse sounds that come out of his show. "I've been DJing and buying records for around 12 years or so now. I always have memories of my dad having records in the house as a kid and buying CDs as a teenager and always organising them."
"These days I'm constantly listening to things and hunting the internet far and wide for something to play on the show."
The morning show airtime is mostly music rolling. However aside from the odd shoutout, it's Felix informing his audience of what is playing. Perhaps some gem of knowledge about the artist or the release. I'm always pleasantly surprised to hear that he is well informed.
What is morning music?
The answer to that is hard to encapsulate. I personally have heard samba, Afro, gospel, soul, blues but also drum and bass, house, hip-hop and more. In the words of Felix:
"It's difficult to say which genres I like in the morning. The way the show has worked out is I try to make to music fit the day of the week. Which is how I would most likely listen to music at home."
"I didn't plan for it to be this way, but it sort of just happened and now I can play any genre I like just as long as Monday feels like Monday and so on."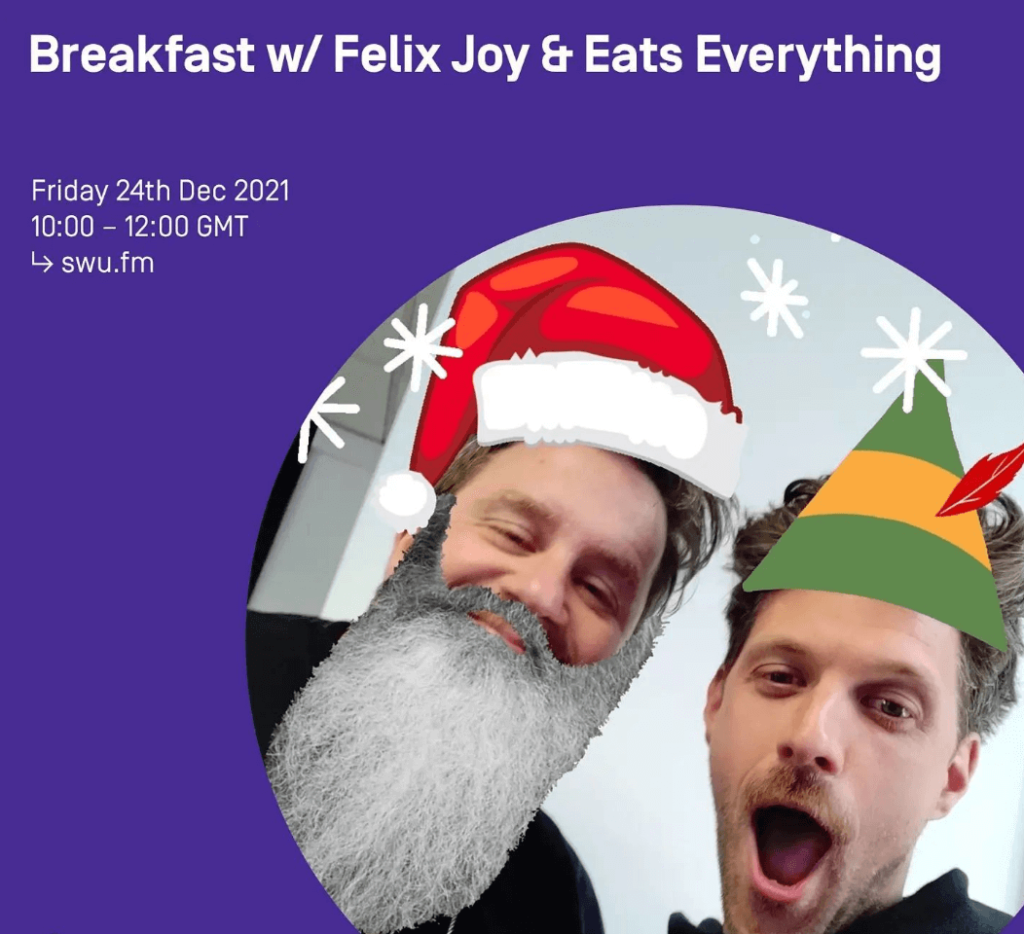 Top rankin' morning guests
Since I've been listening, Felix seems to get a nice mix of guests on the show. This spans from artists, invited listeners and sometimes just his friends.
"It has been a mad year for guests coming on! I get messages now from people I wouldn't have even thought telling me they listen. So I always extend an invitation if that's the case."
"A lot of people I know also ask to come on, so it's great people are keen for it."
In any case it's always a roulette – you could switch on SWU FM and be listening to vintage soul or smoothed out DnB.
"Crazy P came in at the start of December which was a total mind fuck as I play their music all the time on the show, other big names are Eats Everything who came on and absolutely smashed it."
"There was also Joe Talbot who is the lead singer for IDLES, Admin, Red Rack' Em and The Allergies, but I really love having my mates and people I've played with over the years come on as guests. There's immediate chemistry as we've played together countless times before or have just been mates for a while and that really translates over for the listeners!"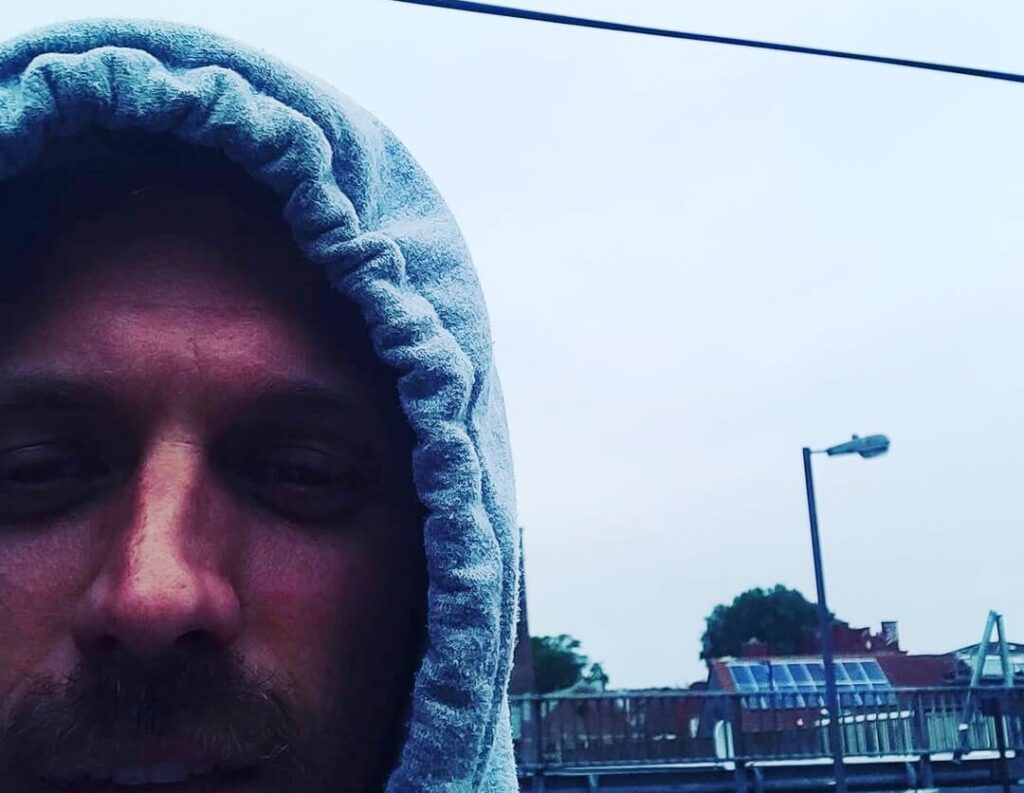 That morning feeling
Felix really just seems to play whatever he feels like. "Music has every effect on me in the morning. Sunny, cold, happy, sad, needing a pick up, wanting to be annoyed, there is so much to choose from. Hopefully the listener can tell what the music is doing for my mood when I'm live on air!"
"One thing I always say is the show is completely reactive to me and what happens to me or in the world in general. I never get told what I can or can't play so it's not like commercial radio where you have to be fake. If I'm pissed off I tell the listeners and play music to fit."
On what makes a great morning show
"I feel like to make any radio show great is just being yourself and playing music you like. I listen to a lot of radio and notice a lot of things I dislike that multiple radio hosts do and I try to avoid doing the same."
"I'm lucky I get to do it 5 days a week so my confidence is high. But I notice that on some stations if the host is only on once a month. They might emulate what other shows do to fit the radio mould – not that it makes the show bad, but it doesn't help to stand it out."
For me, it's consistency. The fact that you can turn on the radio player and hear good music for two hours in the morning with the same, non-obtrusive, informative radio show host is of great value.
A Bristol morning show heard round the world
All it takes is some regular listening in to realize that the shout-outs to the texters are super international. And if not increasingly so.
"I do get messages from people around the world that tell me they listen and it literally blows my tiny little mind wide open."
And lastly… coffee or tea?
"Mango in the morning! I hate to be that guy, but I stopped drinking caffeine a few years back after my coffee addiction was getting too much. Mint tea if I do have tea, but mainly fruit and water for me in the morning."
All of Felix's mixes are available on Soundcloud or Mixcloud in case you miss the live shows and want to bask in the uplifting morning sounds of SWU.FM around the clock. Alternatively check our Spotify playlist of nicked tunes directly from the show.
Tune in and catch a vibe!
Felix Joy Socials
SWU.FM Socials