Eight years after my first visit to the capital of Iraqi Kurdistan, Erbil has completely changed.
New roads, new skyscrapers and plenty of new places and – a developing music scene. Over the course of a week, I uncover key actors in this development, go out drinking to a vibey rooftop lounge and smoke way too much shisha.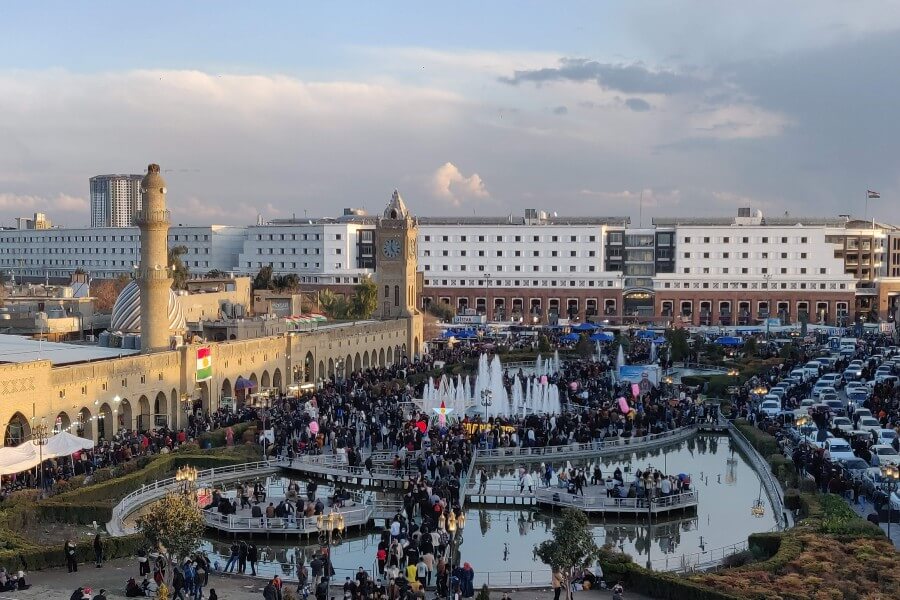 Return to Iraqi Kurdistan, the independent region of Iraq
Yes, this is still technically Iraq, but at the same time it isn't. It's what is known as Iraqi Kurdistan, an independent region within the country with its own government and military where reside a majority of Iraqis of Kurdish ethnicity. They speak Kurdish, an Indo-European language closer to Farsi than Arabic.
We pass a sign for Mosul and Baghdad just after the airport – that's for a different trip.
Out of all places to eat in Kurdistan, the last one would imagine would be an American style burger joint. Yet lo and behold, I've have a pint of German beer, a plate of burgers and truffle fries in front of me. Damn the permeation of American food culture. But the calling is too strong. We indulge with little regret looking out at Empire World, a cluster of purple LED lit skyscrapers, hosting offices and blocks for residential apartments.
We grab a Careem (Middle East subsidiary of Uber) and make our way to Ainkawa, a mostly Christian district of Erbil in the north. A lot of gaudy looking restaurants with big, white Toyota Land Cruisers parked outside. We end up in a smoky café full of men smoking shisha and drinking tea.
A righteous sausage fest, but this is kind of the way it is in this region. Although, I hear that Sulaymaniyah, the second largest city of Kurdistan, is a little more liberal.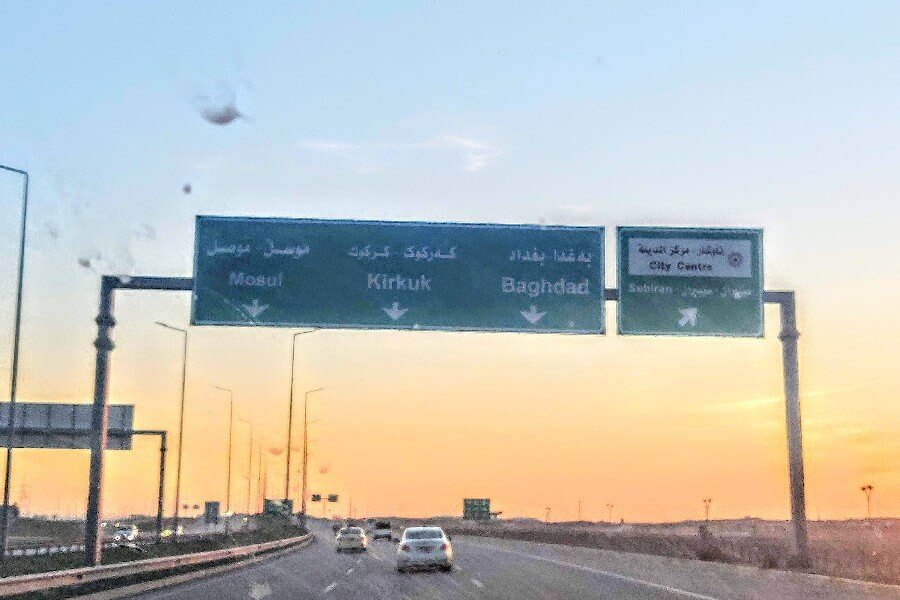 Pushing back ISIS from the region
The last time I was here, it was a month before ISIS (Islamic State of Iraq and Syria, alternatively ISIL) made its barbaric claims in Mosul. There was an attempt to take Erbil.
Thankfully its efforts were pushed back by the Kurdish Peshmerga, Iraqi army and Iraqi militias. March 2019 was considered the territorial defeat of ISIS. Regardless this took a toll on the region.
There are supposably still ISIS sleeper cells in Mosul & Tikrit with sporadic fighting in the South. A careful eye can spot drones taking off at the airport nearby. I'm told that every now and then you can hear what sounds like rockets in the distance.
Then in 2020 COVID meaning the region reeled again.
Now we are in 2022 and it seems like Erbil is on the upswing. That, plus very high oil prices for this crude producing region means a cold winter is turning into a warm spring and hopefully a fruitful summer.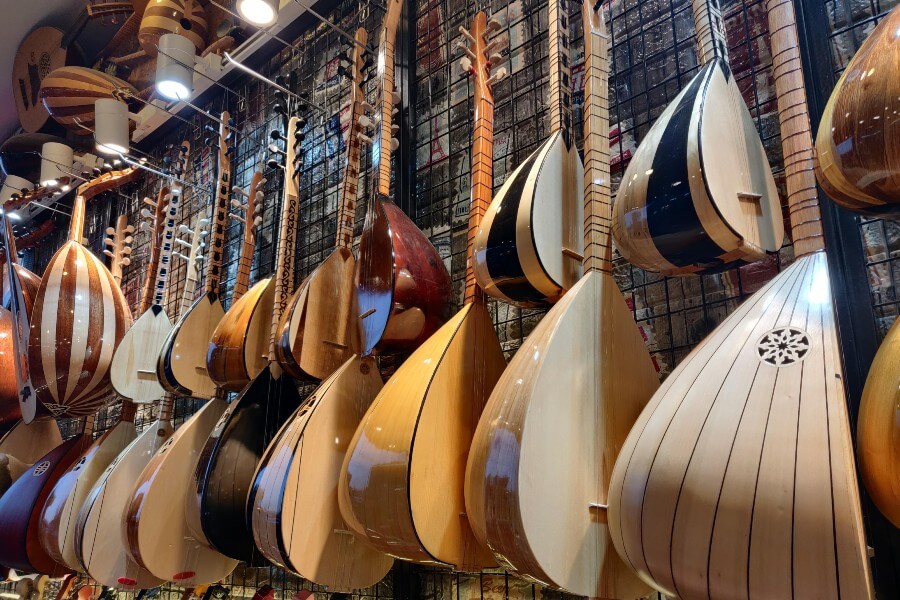 A city on the rise in Kurdistan
Erbil is a city in development. Everything changed since the last time I was here. New high rises, plenty of restaurants and new roads. It has expanded by leaps and bounds, all centered around the historic center of Erbil, the citadel, which they claim to be the site that has longest been occupied by humans in history. Its height above the land that surrounds it is a testament to the millenniums of inhabitants building on top of the ruins of the last.
In Erbil there are no official nightclubs. Rather there are a few hotels, restaurants and lounges that host DJs and live music. It's the private parties that really heat up here. It's where you can find the more alternative sectors such as psy-trance and techno DJs letting loose. Such events are by invite only and often take place in the nearby mountains, away from prying eyes.
Key people making music happen here
The next day the electricity and water return to the block which means the speakers turn on again.
As I'm typing away on my keyboard, Mitch Abdo, multi-instrumentalist recording artist, is playing on his keyboard, soloing of a progressive/deep house style mix. I'm staying at his little oasis of music here called Maestro Music Center.
Mitch offers modern music lessons and is noticing a mix of expats and locals starting to populate his schedule. It means there is interest in music, which means there is undiscovered talent here. This statement is confirmed with my next meeting.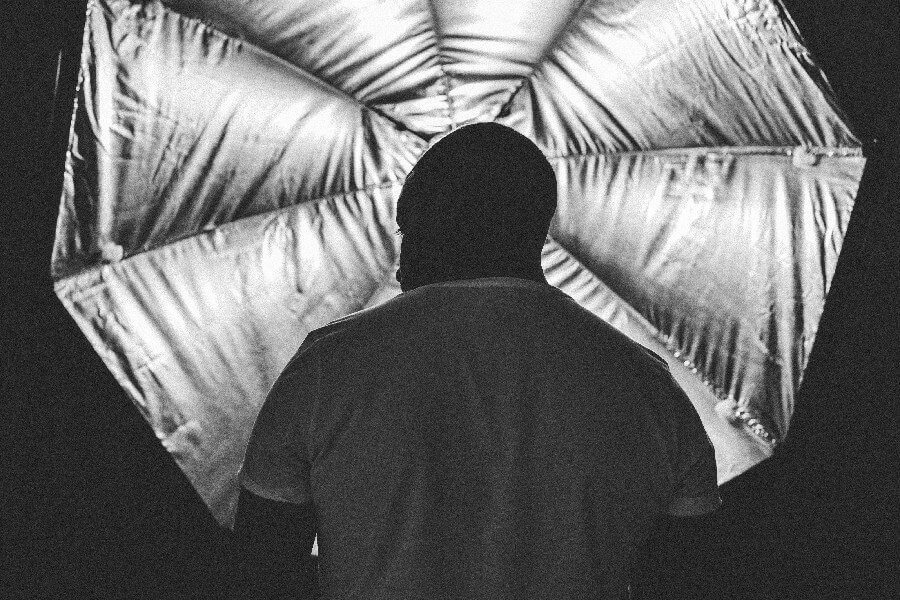 Prince Slomo, audio engineer producing and mastering out of Erbil
Thanks to my new friend Kivi, I'm put in touch with a music producer and audio engineer based out of Erbil mixing, mastering and creating hip-hop beats. I greet Prince Slomo at street level in his slick blue ride. He has an accent I find familiar, and when he says he grew up in Toronto, it all makes sense.
Prince Slomo makes beats that make you want to cruise down the highway to a setting sun. He comes from humble origins, his family having immigrated to Canada from Iraq. Today he has returned to his home country and is running his studio from Erbil.
Slomo tells us there are Kurdish artists in the city that are breaking the norms of traditional Kurdish or Arabic music by introducing Western elements. Abba Karib, an artist he records for has some pretty nice tracks out there working with reggaeton influences. These kinds of beats can even be heard at local venues such as Basilis and Habana.
Aside from Kurdish language music, Prince Slomo has also recorded Assyrian rap from a guy called B3NJAM33N, which is as obscure as it sounds. Assyrians are an ethnic minority in the Middle East that can trace their origins back to Assyria, one of the oldest civilizations in the world from Mesopotamia.
It will be interesting to follow how the local scene will evolve. In any case we are sure that these guys will be at the forefront.
A night out in Kurdistan
In most countries in the Islamic world, Friday and Saturday are considered the weekend, making Thursday a perfectly fine night to go out. We get an invite to join a group of expats at Mars Lounge, again, in Ainkawa.
Back into a Careem, we go to a nicer looking hotel and head for the elevator. We're only on the first floor and we can already hear the bass. I know this feeling. It's the feeling of excitement to arrive to a party. Something that I haven't felt in a good little while.
Stepping out, we walk into a red-bathed world, a bar with views all around the city. And it's just starting to fill up. We greet our new international friends from Jordan, Lebanon, Sweden, Iran and Brazil, all working in Iraqi Kurdistan. I will never tire of this international world. The music is a bit house-y and people are already starting to dance.
Shisha on the bar
I post up near the bar with my grape and mint flavored shisha, as recommended by my Libyan friend back in Malta. Acting as our personal dancefloor smoke machine, I puff away happily, observing the scenes around me.
My new Lebanese friend shuffling from one side of the bar to the other. A couple is dancing giving each other sweet nubs with their noses. A group of girls grinning at someone at the other end of the bar. Am I really in Iraq?
I step outside to get some fresh air to find that they've put a speaker outside as well. My view of the expansive rooftops of Erbil has a soundtrack – wonderful. Getting back inside and I hear something unexpected – Afrobeats! This sound has officially travelled the world. Not only that, but people are singing and dancing to it. Even better.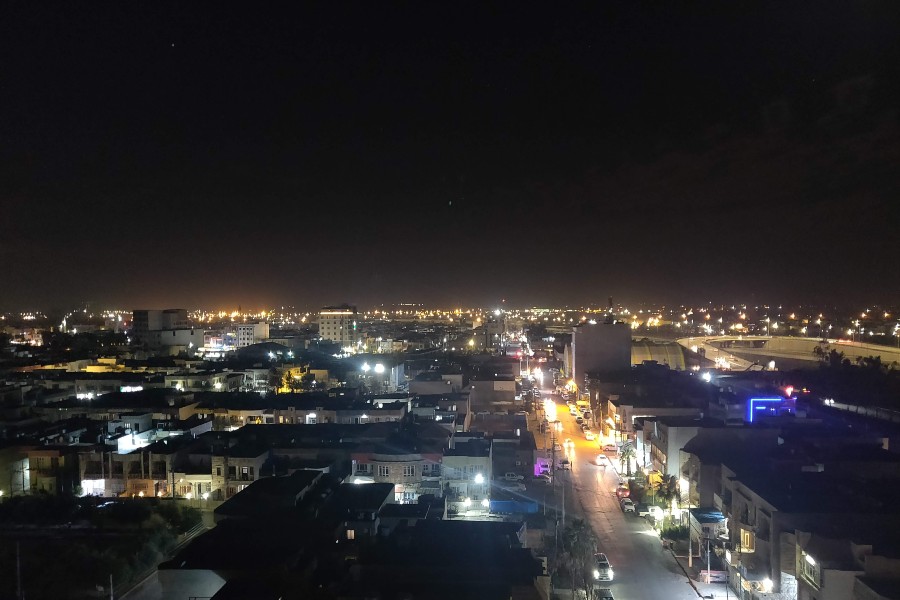 After party munchies
The bar empties out around 1:30 AM , perhaps people going to the next place, home or wherever. Mitch and I agree not to end the night there but rather to hit up B2B, a round-the-clock Lebanese restaurant serving delicious food of all types, all day, all night. We stroll in and find the place packed and a dense cloud cover of smoke. Some people chit chat over hot tea. Others play backgammon. What is universal, however, is the shisha hose that appears permanently stuck to their faces.
Around us every table someone is smoking an arguileh or shisha. No, let me correct myself. Everyone has a vapor tube connecting to their mouths in what appears to be a new form of machino-humanoid that billows a cloud of smoke at regular intervals.
There is something about late night culture that I appreciate here. Kurdish (and in general Middle Eastern) people like to stay up late, whether they are working, playing or really doing nothing at all. Perhaps it has to do with the heat of the day being so intense that it's better to move around at night.
B2B2B
The next day, Mitch and I meet for our last dinner before my 2:00 AM flight to Istanbul. We happily bound over to B2B again, order another zaatar and cheese manouche and a 'parasteak' sandwich, which has no military affiliations whatsoever.
The complement to every Iraqi or Kurdish meal is a strong Ceylon tea with an excessive amount of sugar. They pour it on like diabetes doesn't exist.
We finish our teas, I grab my bags and say farewell. I wonder what this place will look like next time round – as my return is definitely in the tea leaves.