Hearing aids, bionic ears or in ear mixes. Whatever you want to call them they have the power to completely change a persons life.
Hearing speech with hearing devices offers more focus that accommodates high frequencies. Music on the other hand tends to lean more towards the lower frequencies. Older hearing devices have a much lower processing capability then the more technologically advanced devices of today
This is the story of how I got my hearing upgraded.
Hearing loss and the upgrade
Ever since I can remember, I've suffered from hearing loss. It's been an issue throughout my school years that followed me into adulthood. Wearing hearing aids helps me make sense of the world around me.
As humans we have a yearning to feel the emotions and chemical rush that invokes the feeling of pleasure. For me, music, especially finding that new track or mix can really lift my spirits.
There's just something about the feeling of discovery. Whether that's a new release from a favorite artist on Spotify's release radar or a recommendation from a friend.
We listen to music in all aspects of our lives. This could be in the car on the way to the 9-5, hitting the gym, firing up a fat zoot with your squad or in my case at helping to take take in the minute beats of a killer track whilst working away on my laptop or taking in a live performance at a festival.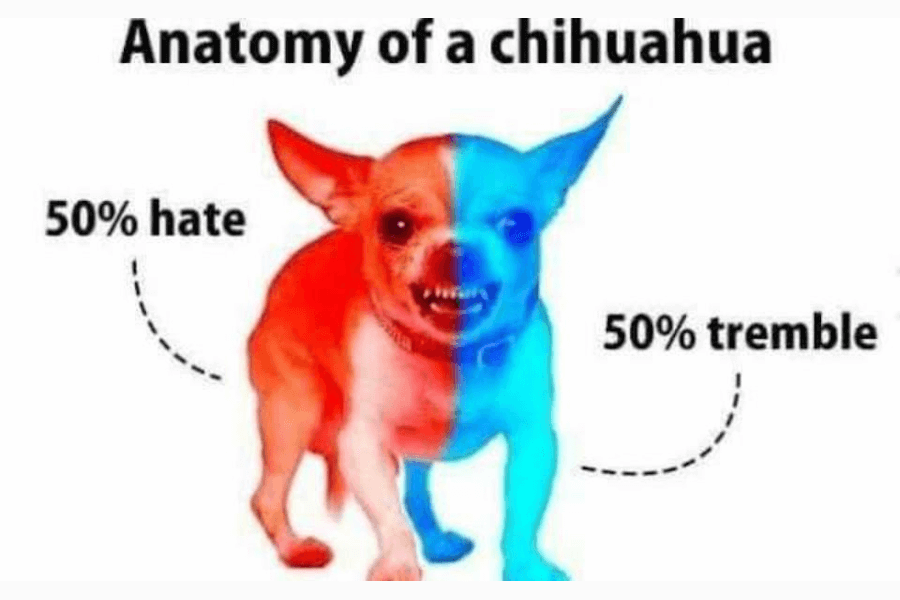 A chihuahua eat my hearing device
Wearing a hearing aid (in my case, two hearing aids) has not always been the case due to one main reason, bullying as a child, which hit my confidence which kept me away from accepting that I have a physical condition that plagued me for years. Considering that I'm the co-founder of a music and subculture magazine where I'm constantly interacting with music professionals, and listening to new music. I find this to be extremely ironic.
Since I moved out of the UK, I've been relying on NHS-issued devices, which were obvious looking and starting to become a little worse for wear, by showing signs of giving up. As if that wasn't annoying enough somehow one of my precious devices ends up in the jaws of a chihuahua (don't ask) leaving me with one.
I hear you (hah?) why didn't I go and see a specialist?
In all honestly money was a large factor so I just kind of accepted and learned to cope with hearing loss over time. Then there was the acceptance and confidence factor that was in play, even after all these years.
It's time to accept and move on with life because like it or not hearing loss is with me for life. It's time to confront the problem head on and get my life back.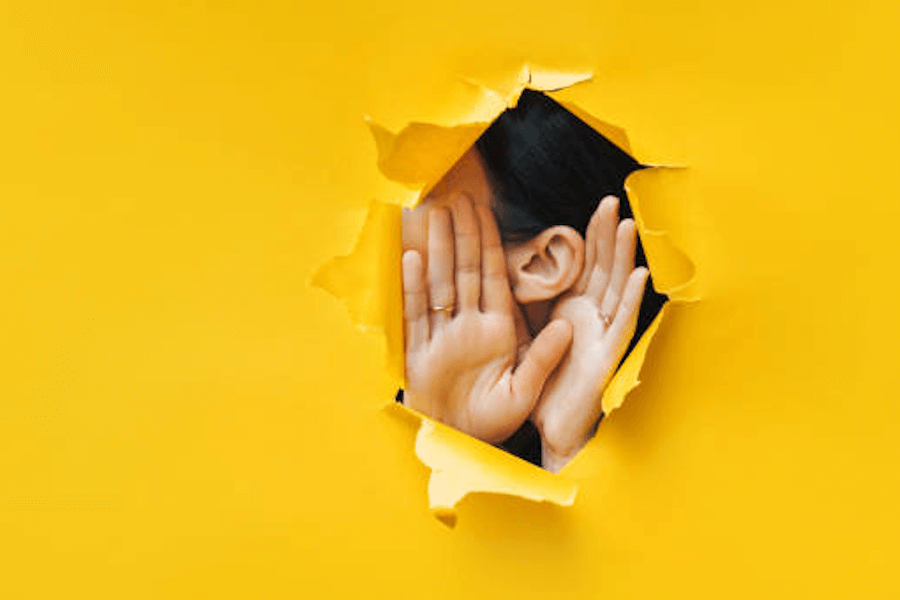 Discovering sound after hearing loss
The only device I have left starts to falter. It's time to book that overdue appointment to see the hearing specialist.
On the day of the appointment as I was making my way to the hearing clinic, I had no idea that the way I hear the sounds around me and the way I listen to music, was about to change drastically. The situation I was in had been accepted, so I don't really know what was in store for me. When you "lose" a sense, it's extremely hard to envision life any other way.
The appointment took an hour and a half. During the final 15 minutes in the clinic I'm fitted in both ears and the devices were switched on. I vividly remember an abundance of sound that smacked me in the face. All I could do was smile. A few minor adjustments by the specialist and I was ready to go.
For the first time in what feels like forever, I have my hearing back. Is this how everyone is hearing, or do I have a new acquired superpower?
After exiting the clinic I was immediately hit with a wall of sound. This feeling left me a little confused but at the same time excited, I realized just what I had been missing out on over the years.
Adjusting to the sound and new technology
My thought process at the time was that I needed to adjust myself and the devices settings, via the hearing app that I had downloaded whilst in the clinic. I make a beeline for a Coffee shop close by to get my bearings in this new world of sound.
Taking a seat, ordering a coffee and grabbing my phone, were my next three steps. It was time to discover the Bluetooth activated application that controls the hearing devices. I'm keen to see and hear exactly what different features the application can do.
I can literally personalize my experience with sound. Comparing to the older models that I had previously been using, it becomes apparent just how behind I was with the new technology that's now available. This is the next generation. It's time to accept and embrace next level sound.
Technological advances for hearing loss
Technology has come a long way in the area of automated hearing it's a world I didn't know and a world where interaction – technology and human senses meet.
If you're an android user unfortunately you don't get as many features as an Apple user. However, I'm in luck. There's an array of different features and benefits that you can play with such as switching between devices to stream music, audiobooks and podcasts.
For example if you switch from one device to another the hearing devices will disconnect from that bass face DnB track on your iPhone to a movie on your iPad. The features also include the ability to stream phone and video calls directly to your ears giving any wireless headphone brand a run for it's money on sound quality.
Some other great features that are available on the app to both apple and android users is, "find my hearing aid" that users GPS tracking to locate the devices when you have misplaced them after a heavy night.
The open sound solution is another great feature will that let you adjust to the environment that you're in. You can choose where the focus of sound comes from by limiting listening effort by up to 20% when in a noisy environment and increasing the sound of speech up to 35%.
True freedom!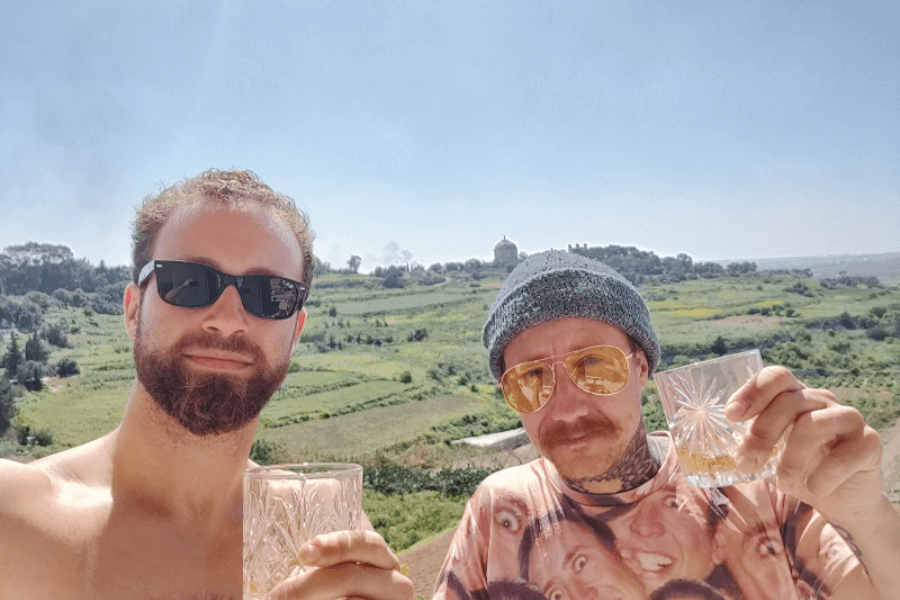 Annoying American-Beats-Purple Haze and Whiskey
As I was playing about in my new world it had dawned on me that music, and especially live events were about to get a hell of a lot better. With the coffee I was drinking now cold from being sat in the café, for the better part of an hour. It was time to move on and discover more new sounds
I jumped into a cab to make my way over to Luc's place for a scheduled meeting. It's an understatement that I was eager to tell him about my experience so far. When I had arrived, I didn't let him get in a word for a good 15 minutes. Once he started to ask questions I realized how annoying his American accent is much to his visual annoyance.
Then he spoke the words I needed to hear "should I play Calibre"?
Smoke fills the air
"What are you are you waiting for?" We spent the next few hours planning world domination with Underground Sound. Playing track after track and filling his room with smoke from Purple Haze.
It wasn't long after we had finished our meeting that I started to get the feeling of wanting to go out. I wanted to get more out of my day, I wanted live music.
There was a minimal techno event happening in the evening. We hadn't planned on attending this due to a heavy weekend, but this was a special occasion. I wanted live music. Being a little high at this point it was clearly a great idea which was enough to convince us that we should go.
We booked a cab poured a whiskey and hit the glasses together to my new found superpower.
Upon arrival we made our way across the carpark of the club. Hearing faint sounds of techno in the distance brought to mind a meme I had previously seen.
As we edge closer, I become increasingly eager to get in to the club.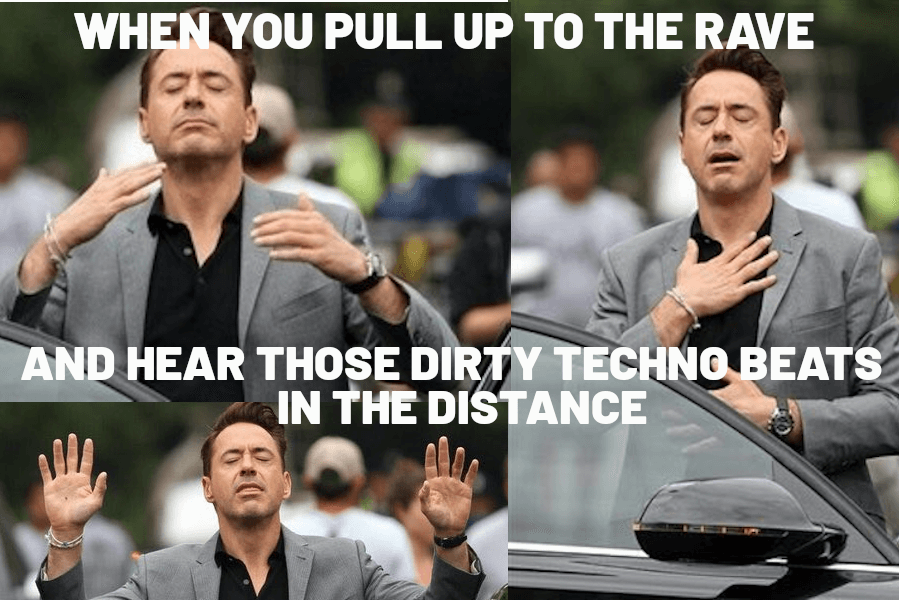 Into the night
Once we had a quick stop by the bar for drinks and to have a chat with the manager of the club who wasn't expecting us. In a staggering voice I explain why we had decided to swing by. It's with this that we are gifted shots on the house. "To hearing".
"Not to be rude guys but I need techno". Without hesitation Luc agrees, a quick click on to the app to adjust the settings from the "all around" hearing to the music only setting, and it's time to make our way into the night.
---