Deki drives past chained-up lots and industrial parks in Belgrade where cold machinery rests in the humid evening.
We weave our way around the headlands, between the Danube River and the Belgrade city fortifications. The castle lights beam onto the misty road as the BMW accelerates onwards.
"Now we are entering the 'bad' part of Belgrade, " Deki tells me. I begin to ask myself what this means after the car's headlights start to reveal low-hanging smoke as a result of the burning garbage.
Deki indicates we are entering a gypsy neighborhood. As if on cue, four scarved women hobble along in the frigid winter night to a backdrop of derelict structures scribbled with graffiti. It's an ominous beginning of our tour of Karaburma.
Turkish reign
Derived from Turkish, Karaburma translates to "Black Circle".
What is present-day one of Belgrade's most populous districts was historically an uninhabitable swamp. Located near the Danube, hot springs would emit a constant fog. According to Deki, it was a notorious place during the 400-year Turkish reign to execute locals by hanging. With a name like Karaburma, it was understood as a no-go area.
After a time, the swamps and hot springs disappeared and became neighborhoods outside of the city center. This area, in particular, earned itself a name as a rough part of town in the 1990s. It more or less holds true to this day.
Driving out of the lowlands we reach residential high rises of the late communist era and find ourselves in a more familiar and much less gloomy atmosphere, with the odd restaurant and bar here and there.
Along the side of the road, we pick up Bojan Vukmirović a local DJ who is all over Belgrade's underground techno scene and who calls Karaburma home.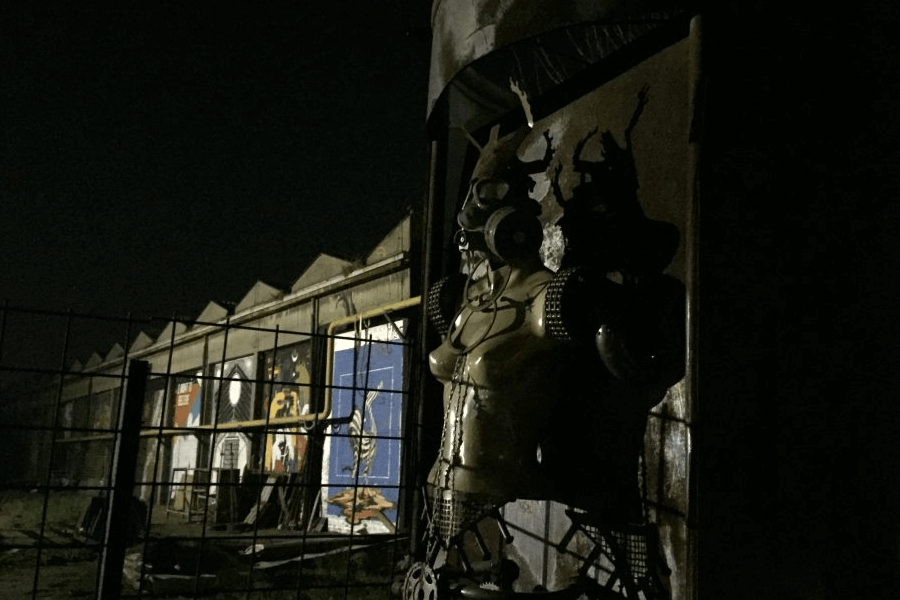 Belgrade steampunk
After some direction from Bojan, we pull into the parking lot of what used to be a nickel factory.
The brick walls are covered in excellent graffiti and a factory chimney tower looms in the near distance. Urban decay at its finest. Around us, an array of steampunk-style metal structures litter the uneven lot.
These pieces were left out for the winter, Bojan tells us. Much more artistic installations are stored away inside the factories, but unfortunately, the owner is not around so we can only see the outlines of this rusty art gallery.
This is the location of the summer art festival called Dev9t (pronounced Dev9t, the Serbian number for nine) and is a nine-day party and art competition. It draws creatives and musical acts from around the world with appearances from the likes of Jeff Mills and Die Antwoord.
Bojan and his favorite back-to-back partner Luka Concrete both play here and suggest that we come by during warmer times. Cold hands stuffed in our pockets, we're off to the adjacent bar for a drink.
Bellegrade
Later on, I was able to catch up with Nataša, who runs an independent blog called Bellegrade. She seeks to share her version of the city with the world. She tells me more about this summer party:
"Dev9t took place for the first time in 2015 as a free event.
Every year there is a new theme and aside from painting you will see sculptors, films, photography, and anything that you can imagine". Nataša takes note that "nobody is paid at this festival. It's just amazing what people can make out of passion rather than money".
Dev9t aside, she describes Belgrade as intensively dynamic, seeing the opening and closing of nightlife and art districts within a span of months.
For example, the once lively art and design district of Savamala near the train station has been uprooted from the area to make way for large-scale, Dubai-Esque urban developments.
Pljeskavica
Since then, the Dorćol area has gained popularity, with Belgrade's adaptive residents nicknaming it 'Dorćolmala' to that effect.
With steaming hot Pljeskavica sandwiches in my hand, Deki, Bojan, Luka, and I stand outside on the street and talk about what's next for Belgrade's nightlife scene.
The city's revelers are spoiled for choice. On weekends you find top-notch venues hosting A-list electronic music artists at the same time. The cost of these events stays low in consideration of the low wages in Serbia. This in turn allows foreigners to come and see their favorite DJ for half the price of what they would pay in Western Europe.
Bojan sees an opportunity for Karaburma to take the next throne as Belgrade's underground cultural center.