Mushroom supplements are my secret weapon for feeling better during and after a night out raving.
After years of hardly scientific self-experimentation, I've listed the best mushroom supplements that have worked for me, in addition to other products that help me stay out longer and wake up less destroyed.
Important note: This is only my personal experience and is for informational purposes only. This article does not substitute professional medical advice or consultations with healthcare professionals.
Anyways, here is my story.
15 years of parties, raves and festivals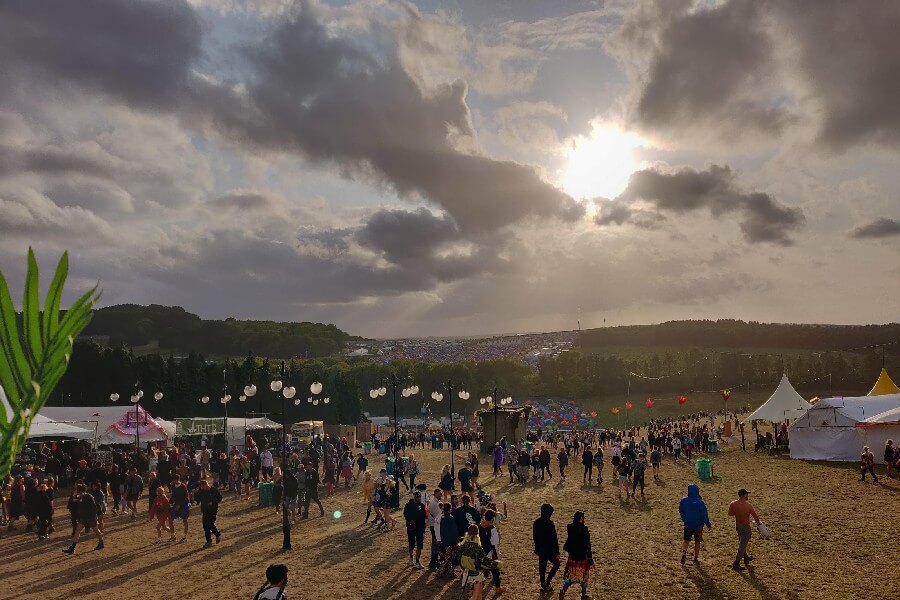 From the United States to the Middle East and Europe, I've attended 15 years of house parties, outdoor events, underground raves and weeklong festivals.
Aside from suddenly realizing I'm not as young as I used to be, I can fairly say I've gone through the gamut of hangover preventatives and cures and general wellness products. Anything to soothe the body and mind during a soul crushing day at the office after a euphoric weekend.
The year is 2019 – enter the mushroom supplements
In 2019 I am introduced to a mushroom supplement called Host Defense and a personal revelation was made.
I found out there were fungi with many different properties that could positively affect my health. Ones that could help me think more clearly or ones that could help me find energy on days I was lacking.
This came at a great time since that year was a busy one for me. I had just left my day job and gone 100% full time entrepreneur. It was a lot to manage.
The team and I were hosting multiple events in Malta including a lido summer party, hosting a stage at a festival and throwing our own annual one-day urban festival. Add to the fact it was my first year at Boomtown Fair and EXIT Festival and you start to understand how my health could be potentially affected.
While I managed to stay fit and eat well, I partially credit my stamina during 2019 to a variety of mushrooms and health supplements I was taking.
Effects of functional mushroom supplements on me before, during and after the rave
While I can't promise you anything, I can tell you functional mushroom supplements do a pretty good job for me.
Here are some of the benefits I discovered:
Being mentally quicker and generally feeling better on nights out
Having the energy to stay out later without the use of drugs and alcohol
Feeling better the next morning while my friends who went just as hard as me still have trouble putting two words together
Being able to maintain my sport regime despite having an active nightlife schedule
7 mushroom supplements and other raver nutrients
I use these tools for when I go out when I may not come home until early the next morning. For me, these following 7 supplements help me continue to feel good, make clear decisions and feel connected to people around me longer than I would without them.
1. Organic Ground Mushroom Coffee by Four Sigmatic, a surefire morning kicker after a great weekend
Mushroom coffee for those hazy mornings. It's coffee with lion's mane, a type of mushroom known for clearing brain fog – and that's exactly what it does. Especially when caffeine alone will not be enough to kickstart you're lagging braincells Monday after a fantastic weekend.
The first time I tried Four Sigmatic was in one of their smaller instant coffee packets. I loved it but didn't dig the fake coffee taste so much. But when I got my hands on my first 12oz bag of dark roast ground mushroom coffee I knew I found gold. It's very tasty.
Put it in a Moka, drop coffee maker, French press or pour over for a switched on morning.
Buy Four Sigmatic here on Amazon.
2. Advanced Immune Support by Host Defense, a comprehensive mushroom mix before the festival starts
Festivals throw everything at you. It's basically an assault on the body and my favorite way to safeguard my health is Host Defense and their all-around immune boosting supplement.
The company was founded by Paul Stamets, a famous mycologist and one of the main advocates of mushrooms worldwide (check out Fantastic Fungi on Netflix if you want to learn more). His organization specializes in mushroom mycelium-based supplements, and you can tell why they are at the forefront of this.
This is bar none my favorite brand of mushroom supplies. I've been taking them for years and I always stock up when I'm back in the States since they are not available in Europe.
Pick up your supplements here.
3. Om Organic Mushroom Superfood Powder, shake up your recovery
Dancing is serious business, especially at festivals. Depending on how hard you go that could mean 20 even 30 kilometers worth of steps a day.
I consider this a sport and after heavy damage to my poor legs, I like to make myself a protein shake. And while I'm at it, a scoop of Om Mushroom Superfood Powder comes in real handy.
Depending on what you need the supplements for (extra energy, a clear mind, a healthy immune system etc.) Om has a great range of different mushrooms including cordyceps, lion's mane or reishi.
4. Garden of Life Magnesium Citrate, the best magnesium supplement to make sure sleep is my best friend
Thank goodness for magnesium. It's not a mushroom, but it's saved my ass a number of times after a night out. Thus, it's deserving of a valid spot on this list.
Even if I've just working late and I want to get a really good sleep, I'll take Garden of Life magnesium in any form.
Here we're showcasing their gummies. They actually taste quite good, don't have added sugar and just calm me the f*** down when I need to get some rest.
Sleep well, even though the morning light, here (link to Amazon).
Bonus: the powdered magnesium format is my second favorite version (raspberry lemon tastes way better than the orange).
5. FreshCap Ultimate Mushroom Complex, all-in-one booster of mushroom supplements
Number five is the Ultimate Mushroom Complex from FreshCap, a great all-around mushroom capsule for any pre, during or post party ailment. Not enough sleep, not enough food, not enough techno… all factors leading to a stressful situation. In times like these I turn to the shroom.
This specific brand is great when I travel abroad for long weekenders or am on the road between cities, I prefer to travel light. Easy enough to throw a bottle of these in your bag.
I found these guys through their content on YouTube. They do a great job of explaining the difference of what can be found inside mushroom supplements and the differences between each kind.
Each of these capsules has 6 different powerful mushrooms. This includes lion's mane for mental clarity, reishi for vitality, chaga for cell health, cordyceps for energy, maitake for heart health and turkey tail for immune support. Not to forget a whirlwind of other benefits such as endurance, gut health, lung health, sleep support and longevity… damn!
Found these mushroom supplements on Amazon.
6. ONNIT Alpha Brain Premium Nootropic Brain Supplement, after "the after," sport supplement
I like to find time to move my body in other ways than to a techno beat. When I'm not raving, capoeira is my go-to sport. It involves uncomfortably close kicks near the face and other trickery that requires your absolute full attention. One false move and you're on the ground.
Enter Alpha Brain Memory & Focus. While not technically a mushroom supplement, the product does a hell of a good job to get my head screwed on straight again after a heavy weekend. Ingredients include cat's claw (a vine helping for a range of ailments), bacopa (apparently for memory improvement), oat straw (a supposed mood improver).
Co-founded by Joe Rogen, he claims this ONNIT product aids with "verbal memory" and uses it "anytime I have to talk to a scientist."
Grab your 90-count bottle here on Amazon.
7. 365 Turkey Tail Mushroom capsules by Whole Foods, when I'm down for the count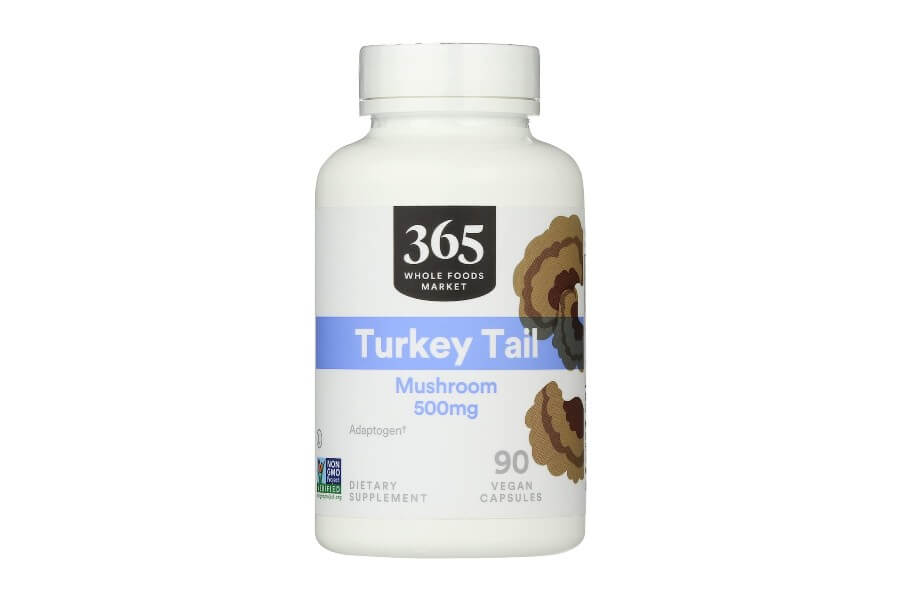 Sometimes the late nights, junk food and busy lifestyle get the best of me. However, running a company means there are no days off, even if you have the best team members.
My last suggestion for supplements is Whole Food's 365 brand Turkey Tail 500mg capsules. The Turkey Tail mycelium powder found inside the capsules has proven to get me off the ground and back on my feet when I'm feeling sick.
Whole Foods has other of the big 5 mushrooms available in capsule form available on Amazon.
This article includes affiliate links & as Amazon Associates we earn from qualifying purchases.