Malta's independent movie scene doesn't get the coverage it deserves.
So, we think it's about time to shine a light on the hub of ex-pats and Maltese people bringing various film/acting talents and general creativity.
We sit down for a chat with director Mike West on his short movie A Better Life.
Malta's independent movie scene at bursting point
"Malta is at bursting point and it's going to be essential to have independent filmmakers make movies using the talent of the people who've been trained in film making,
it's an exciting prospect that we can all benefit from.
A Better Life came about when a group of talented friends got together and wanted to express themselves, movies had dried up so weren't going to lay down and die.
We wanted to create characters, and free-forming scenes, and we all felt the strong urge to go out and get this project going.
So we started planning A short film called A Better Life
One day, I was taking part in a commercial, we were talking about the movie Victoria,
A one-take shot Improv film. Discussing this with a fellow actor, the idea of making an Improvised dialogue movie started to grow on me.
The director of the commercial,
Martin Bonnici of Shadeena Studios had overheard me, and said, he'd give me the use of his studio space and equipment if I came up with a script".
A lack of films and parts
"The determination came out of the lack of films and Parts as actors and a feeling that we needed to continue creating and making and in reality if we could do this, we could make whatever we wanted,
The parts we wanted and the films we wanted.
The thought began to feel good, and we then realized we loved the idea.
We would be creating and acting in things we all really enjoyed making.
We ran into a number of problems along the way so we had to shoot the film on two separate occasions.
The whole process has felt extremely daunting, scary, and painful, facing negative feedback and enormous amounts of self-doubt, for all involved.
The idea was to make something that supports the community that involved all of our talents.
Once we started to make the film, we began to collaborate with people in the industry who were just as hungry to do something".
Raw and unstructured
"During the whole process, we had a very raw and unstructured approach so as to allow for organic non-rehearsed responses.
I thought this might allow room for some beautiful new reactions,
Which would allow anyone viewing it to feel immersed in the story.
An important approach for me was to give each actor a character backstory,
So their reactions to the environment and scene would be based on their own character story, which worked as a reference point to react to the others and act the part out however they liked.
The script, in a nutshell, was based on the idea that something with supernatural powers uses their power to bring random strangers to an out-of-this-world sales pitch".
Things soon started to fall into place
"Creating an environment that included close friends was an enormous part of the process that created a relaxed vibe on set,
As an actor being able to 'play' in a relaxed purposeful way with capable people who are eager and supporting us to do new things is such an amazing payoff.
Coincidentally we had the honor of getting input from two established Improv Film Creators Sarah Jayne and Ivan Malkin, who randomly showed up to the Studio just before outlining the main production aspects."
We're all very excited that the release of A Better Life is just around the corner at the same time we're all feeling the nerves and can only hope people like what we have created".
Special thanks to all involved in Malta's independent movie scene
"Martin Bonnici from Shadeena for allowing me to take over his studio and support me personally in making it, and without whom this film wouldn't have been made.
Clint Camilleri for being an exceptionally patient man as our camera and director of photography as well as editing overseer.
Massimo Portelli for being a constant source of encouragement and working to get this made and editing along with us,
Jonas Alexandra and Elena.The unnamed sound engineer, Vangel Say Cheese Media, and all the excellent actor's Aliya Darko, David Andrews. James Caselli Johan Emerén Massimo Portelli Monika Kopcilova Stefan Djoric and Vladimir čabak".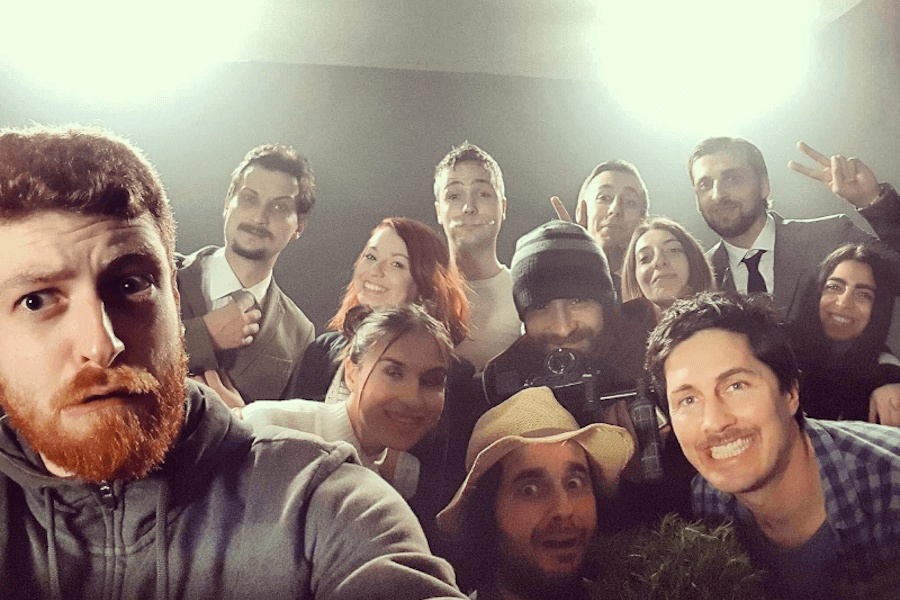 Photography Courtesy of Clint Camilleri.