It's nearly noon and Beirut's Hamra Street is churning full of traffic. Weaving past gridlocked cars and dodging the occasional buzzing scooter, I walk into a nearby commercial building to meet Beirut's graffiti kings.
Lebanese graffiti and rap duo
I'm here to meet Ashekman, a Lebanese street art and rap duo that have become a household name. Omar and Mohammed are identical twins and with their four hands they are changing the face of their city. As a brotherly team, they feel their relation positively impacts their complex graffiti murals and twisting rap verses.
"We work very well together. We have known each since the womb – even before we knew our own mother".
The Kabbani brothers have been in the game since the early 2000's, and started painting when they were 17. They grew up in the ambiance of destruction and devastation of the Lebanese civil war. The Ashekman twins saw the damage the civil war had wrecked on their people, their city and it walls, then covered in tags demarcating territory, sects and political parties.
City of the Phoenix
Beirut has a nickname – the City of the Phoenix. It is a city that has been rebuilt from it's own ashes seven times throughout history. Omar agrees with the "City of the Phoenix" mantra that has come to describe Beirut.
He tells me that the work Ashekman does is like a mirror to the city. And what that mirror shows is the reality and truth of the colorful society that Lebanon embodies.
Culturally rich and diverse, Lebanon is home to some of the greatest musicians and artists in the Middle East. Ashekman exemplifies this in the form of expressive murals that are filling up the blank concrete walls of the urban jungle. The faces of great Lebanese artists such as Sabah, Fairuz, and Wadih al Safi cover the walls, replacing the war paint.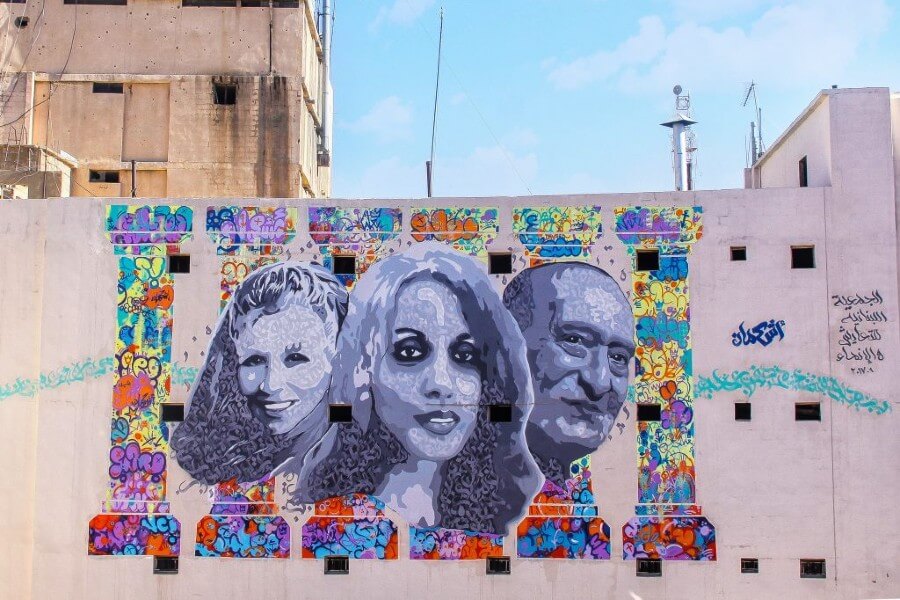 Golderak & Operation Salam
Their mascot is their childhood hero, a Japanese manga character called Golderak, which can now be seen all over the city, and even in as far away places as Yerevan, laced with complex Arabic calligraphy.
Go beyond the street view and think about graffiti that can be seen from space. I am referring to their Salam (Peace) project. In the northern city of Tripoli there exist two neighborhoods: Bab al-Tabbaneh and Jabal Mohsen. Being Sunni and Alawite neighborhoods respectively, there was a point of time when they were at war with each other.
The project, now referred to as Operation Salam, painted the Arabic word for peace in large green block calligraphy on the rooftops between the neighborhoods, involving a multitude of buildings over several blocks. Project Salaam was self -funded and with money raised from their shop in Hamra they were able to buy the paint they needed to finish their work.
"We don't have anything to prove because we funded ourselves".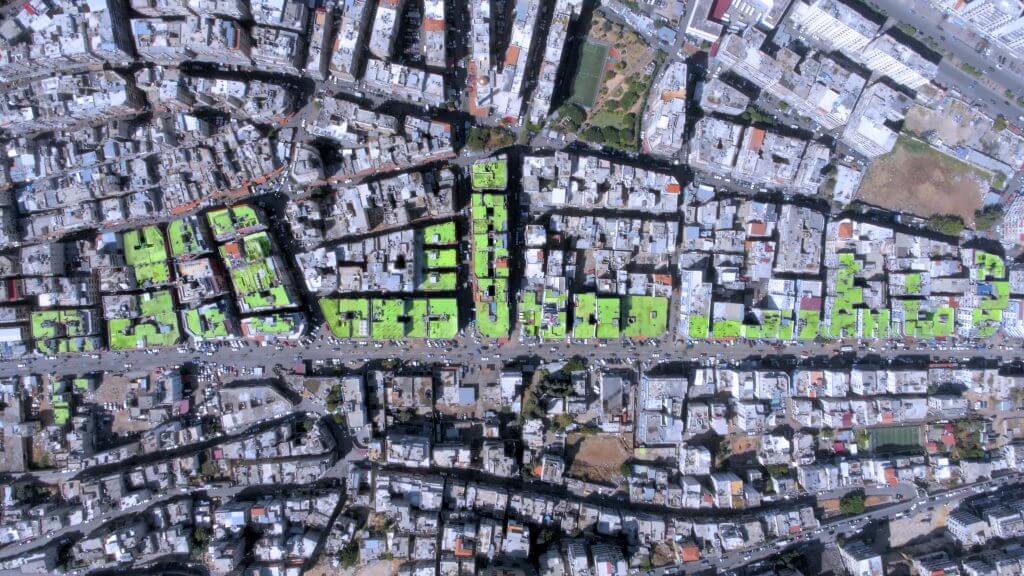 Past, present & future graffiti
They both studied graphic design and Arabic calligraphy at the Lebanese American University in Beirut and since then have been putting ideas from paper onto the street. "At first people did not take us seriously and started asking us to paint in their homes, thinking we were offering it as a service, rather than it being purely artistic. Now people see our initiatives and respect the work we are doing".
Despite all this, it does not feel as if the coverage and popularity have gone to their heads. Their office is modest and they stick to the urban mindset, all the while their reach grows outside of Lebanon and into the Gulf, where they have initiated art expositions and have even been asked to do further projects.
Aside from changing the face of Beirut and other Lebanese cities, Ashekman balance their art with rap and hip-hop. "I wouldn't say the rap scene in Lebanon is on the rise, but we are definitely playing a part in promoting hip-hop culture."
Having already dropped an album in 2011 called Ashekmanphobia, and putting out high quality Arabic beats and raps, this could not be truer. Even if you don't speak Arabic, it doesn't take long to realize that these guys are the real deal.
Check out their music video for "Deyman Ijebeh" (Always Positive)
Ashekman Socials
Photo credit: Ashekman