Burlesque was used and is still used, in musical performances to indicate a zestful mood often in contrast to the serious nature of the acts.
The Siren of The Mediterranean
Early in the 18th century, the term burlesque was used across the European continent. It described musical works which had serious and comedic elements that were combined to accomplish a grotesque outcome.
Burlesque performer Undine LaVerve AKA The Siren of The Mediterranean, Talks us through her art form and the Future of Burlesque.
You're a pioneer for burlesque in Malta tell us about your journey.
"It all started almost 10 years ago now when through some friends I was introduced to a Canadian burlesque performer, now known as Pyra Teknix, who was briefly living in Malta".
Developing style
"I fell in love with burlesque and soon enough she became my mentor, teaching me much of what she knew before she left the island. A year later, I went to New York and watched shows there to experience burlesque at its greatest".
"It took a couple of years to find my way and develop my style until in 2012 I had my international debut in Amsterdam and started going abroad with Burlesque performing all across Europe in a variety of events from small bar nights in Paris and Madrid, to big festivals in Rome, Moscow, Munich, and many more places".
"It wasn't until 2015 that I decided to brave the Maltese public and produce shows here".
"I have been performing in Malta since 2011 but the reception has been varied. Finally, I had the experience, motivation and, I dare say, courage to put myself out there, onto the front lines, being the only Burlesque performer on the island and produce shows".
"Slowly the popularity of the shows grew, I produced my first theater show – MalTease in 2016 and since then, from an uphill battle, it turned into smoother and smoother sailing by the year. Now I have a group of mentees, a lot of students and shows, still travel abroad and another edition of MalTease is just around the corner".
Burlesque – the classy tease
What inspired you to go into burlesque performing?
"Since childhood, my mother made sure I did a bit of everything – dance, drama, music, singing, painting, horse riding, synchronized swimming – you name it, I'm pretty sure at some point I did it".
"We were constantly going to the theater, to the opera, ballet"
I was rejected when I tried to enter ballet school because they could see I would always be too heavy for that. I tried all sorts of styles but nothing inspired me until I found Burlesque – this art had everything. Dance, music, and acting all merged into one".
"A bump of the hip, flashing a cheeky smile, wink as you drop a shoulder strap, then retreat into a demure mood and restore the strap in place".
"That's what attracted me to burlesque – the classy tease, how I can play up my character and be sultry, then sensual and then cute and innocent the next moment".
Show ready and feeling mighty fine
Do you have any rituals before a show?
"Not anything in particular."
"Actually, I love getting ready for the show. Doing my hair and my makeup could be my ritual. I don't believe I have a stage character, I can just fully become myself when on stage and be free…so I just love taking my time when I can afford to and getting my show face on".
"It really gets me into the mood with some music, maybe a cheeky sip of bubbly… and then BAM – show ready and feeling mighty fine".
Neo-burlesque, and other sub-branches
What are your thoughts on today's burlesque scene worldwide?
"The burlesque scene or community is definitely growing fast. Burlesque is, of course, not what it used to be in its heyday (and not what you saw in that movie. yikes), but every art has to evolve and nowadays we see a lot of variety and quality of performance".
"From classically trained to never train, from special skills to personality-oriented… Some performers bring back the classic old-school glamour of burlesque, while other ladies and gents and everyone in-between do other things – comedy, circus, neo-burlesque, and all the cool sub-branches like nerdlesque, grotesque, cheesecake, and so on and so forth".
"But the best thing about the burlesque community is that it doesn't matter what size, shape, race, gender, age, orientation, religion you are… as long as you have passion and an interesting performance to bring to the stage".
It's a community mostly run by women and queers, which is amazing, and most of us, myself included, manage ourselves, make our own costumes, choreography, we are our own managers, bookers, logistics managers, costume designers, stylists, and producers".
Half-naked, empowered bodies
What do you have to say to people that have a negative view of the art of burlesque?
"Everyone is entitled to an opinion, but most of the time the negative comments come from a place of ignorance, and by no means do I mean stupidity, not at all – just not knowing what the art of burlesque truly is".
"Our minds are riddles with connotations and associations and they are not always right".
"In today's world, we are quick to judge, we jump the gun and often enough we don't take the time to learn about something new. People judge burlesque and make assumptions without knowing what it truly is and without experiencing it."
"My advice is – come watch a show, step out of your comfort zone, give burlesque a chance".
"If you hate it, you can always leave… but I doubt you will. It's not for everyone, but it's an art, it's fun, it can be gorgeous and then silly and then weird. It's two hours of escapism".
"Actually, more women than men watch burlesque worldwide these days, that's a fact. Also, who doesn't love to see half-naked, empowered bodies on stage"?
"That's the best thing ever in my opinion. And lastly, it's not the final reveal that matters, but the journey you take the audience on to get there".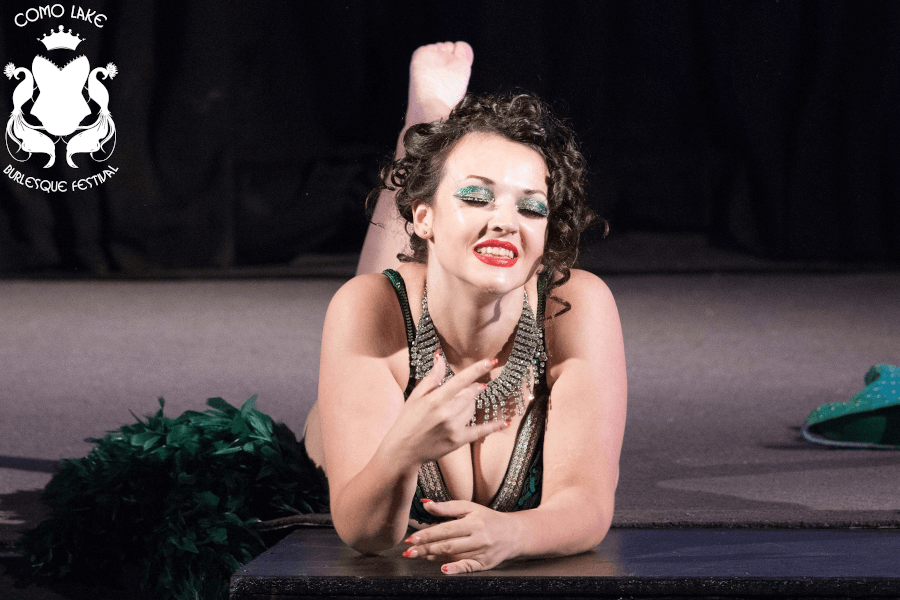 Performing on a boatel
Can you tell us your favorite place to perform?
"I have traveled quite a bit with my art, or rather, my art has allowed me to see many places I would not have visited otherwise and experience lots of new things. It's hard to choose a favorite".
"I love big theaters because a big stage allows for a lot of movement and freedom, but I also love weird little underground venues because sometimes they have the best audiences".
"I'll mention some of the weird places I had to perform at – on a boatel (boat hotel) in Croatia where I headlined the opening night of a festival; at a tiny cocktail bar in Paris".
"In a vintage shop in Como, and once we were meant to perform outdoors in Italy, it was July. Unexpectedly that day it started raining so the show was moved to a nearby school and got to use the auditorium…we had a huge, almost full wall copy of the Guernica behind us as a backdrop… imagine that".
Germany – The home of burlesque
You've just come back from a tour can you tell us how it went down?
"I've just come back from a German tour.
Usually, I try to include a few countries at once but this time just touring Germany – starting in Munich at the Bavarian Burlesque festival, then on Saturday we went to Stuttgart to do a show called "Corso Cabaret" there, on Sunday we came back down to Munich for the all-stars Gala show at the festival".
"On Monday I flew into Berlin and enjoyed two days off because there is no better place to unwind and party than the city where Cabaret is set! Then on to Hamburg to perform at one of my favorite places – The Home of Burlesque".
"The original club does not exist in fact when I found out it was closing I made a snap decision and booked a flight and flew the next day to perform at the last night but the legacy lives on".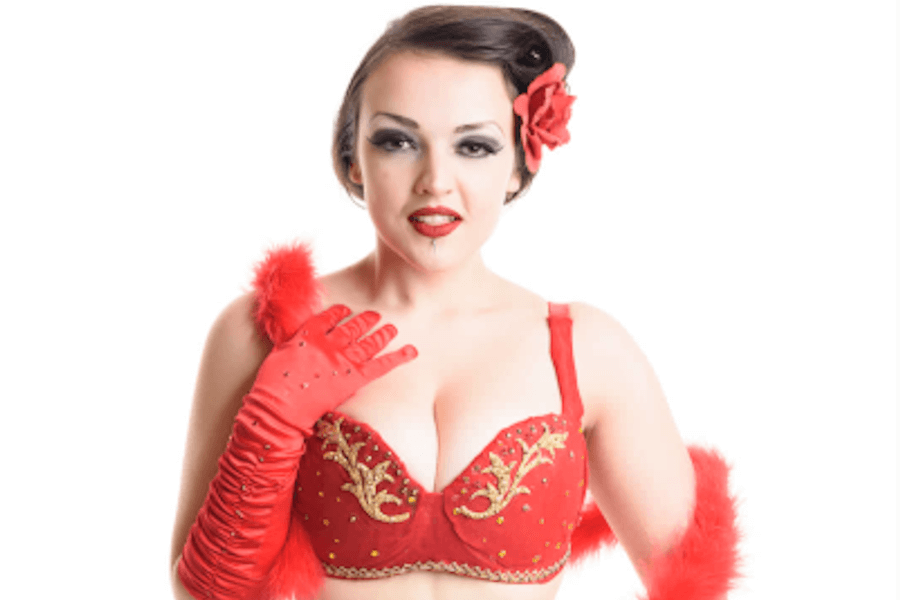 The tease, the glamour, the grandness
What is the key to the growth of burlesque both in Malta and worldwide?
"Burlesque has been experiencing a revival since the 90s. It started out slowly but has been gaining momentum".
"I hate to say that the movie helped… Hollywood always waters down and misrepresents whatever they lay their hands on, as was the case here, sadly, but it helped get the name out there".
"Burlesque is making a name for itself and becoming more respected and accepted for the art that it truly is. Which is great. It's a strong movement when it comes to empowerment and body positivism, there are a lot of queer bodies and activism and that is great".
"We are a strong, opinionated community with a lot of political acts and that makes burlesque even important and relevant".
"Also the tease, the glamour, the grandness of it all".
"I think all those aspects come together in beautiful harmony to make a blend that the audience just can't get enough of".
Building a legacy
Who are you most grateful to?
"I will forever be grateful to my mother for allowing me to have a choice and the basics in everything to do whatever I want and for supporting every (almost every) crazy idea I have had and allowing me to be me".
"My parents have been by my side throughout. My dad supports me so much and sings in my show, my mum manages stages, helps me create my costumes. She is my toughest critic and my biggest supporter".
"I am also grateful to my sisters and brothers in the burlesque community who inspire me and who have helped me through hardships and through bad times. And to my students and mentees, they have becomes my team and help me tremendously,
"As well as inspire me to evolve, to push them harder, and push myself and my creativity! My work has doubled with them but so has the amount of love and happiness in my life. They are part of my legacy".
MalTease
What are your long-term ambitions and goals moving forward into 2020?
"With all the work and plans and projects in 2019, next year is only just appearing on the horizon".
"I know what my heart desires and what I want but nothing is set in stone".
"The premiere of my new and upcoming show MalTease, is by far my most ambitious Tease and most expensive act, as well as a bit of an experiment".
"The plan is to take my MalTease act to as many festivals that I possibly can next year along with showcasing more of my work abroad".
lady of many talents
It's come to our attention that you plan to release a single, Have you gone in this direction to show that you're an all-around performer?
"I have released a single entitled "Silicone Soul" in collaboration with the awesome DJ Mykill.".
"The single was released in August with an exclusive first play on the Big Breakfast on XFM, then we had a release party and the single has been played on the radio quite a bit ever since".
"In October 2019 our song was Number One on the Malta Top 20 and was just nominated for "Best Dance Track" at the Lovin Music Awards. For my first venture into music on that level, I am over the moon with the results and the response."
"As a Burlesque performer I'm booked almost exclusively for these types of performances however, it's important for me to show that I am an all-rounded performer and a lady of many talents".
Burlesque will always be my forte and focus but I am definitely not stopping there".
Pro-body positivity
The burlesque scene is a body-positive community and rightly so, would you encourage people to come and try it for the self-confidence aspect?
"I truly believe that burlesque is very pro-body positivity irrespective of gender or age or body type".
"I think in today's society many people struggle with body image and that is unattainable or just one standard of beauty that we are constantly fed".
"Burlesque is inclusive – everybody is a burlesque body!
"I often see that for many it's hard to come to class and face themselves in front of a mirror, face their insecurities and their fear, but it's a friendly and judgment-free environment where we talk about how important it is to give some love and attention to parts of our body that we don't necessarily like".
"Through dance ad movement one becomes more confident and comfortable. I used to have issues with my body but through burlesque, I have learned to love myself and my body the way I am and feel sexy, feminine, and confident".
"Burlesque is a feel-good art. You leave feeling good after watching it and you leave feeling good after practicing it too. It's a win-win."
BAM – Burlesque Academy Malta
Do you run classes for those that might be interested in burlesque?
"Yes, I am the Headmistress of BAM – the Burlesque Academy of Malta, a school that runs weekly Beginner and Advanced classes, as well as special workshops with foreign visiting performers".
"The Majority of students who I mentor now, have become my mentees and are an important part of my team and my shows. But many people attend just to feel good, to get in touch with their femininity or sensuality, or feel more confident in their own skin"
"Burlesque is about authenticity. To me, it's the philosophy of sensuality and self-understanding".
BAM – Burlesque Social
Photography courtesy of: Undine LaVerve