Sneaker culture is everywhere. It can be seen on feet, on the streets and on the social feeds of celebrities, athletes and everyone in-between.
In the realm of fashion, one cultural movement has firmly established its foothold. Captivating the hearts and soles of enthusiasts worldwide — the vibrant and ever-evolving sneaker culture.
What is sneaker culture?
Sneaker culture is a subculture that revolves around the love of sneakers. They have cemented their place as a must-have fashion item that everybody can benefit from. It's an ever-growing community of people who collect, trade and wear sneakers as a form of self-expression, personal style and investment.
What started as functional sports footwear has now become a global phenomenon with millions of fans worldwide. Sneaker culture encompasses not only the shoes themselves but also the brands, history, hype, exclusivity and storytelling behind them.
For sneaker heads, owning rare or exclusive pairs is like owning pieces of art. They are highly sought after and can fetch thousands at auctions. The passion for sneakers extends beyond just buying and collecting, it's about understanding their cultural significance, design aesthetics and innovation.
Sneaker culture has also become intertwined with social media platforms, like Instagram and YouTube where influencers show off their latest buys or custom designs. Brands collaborate with influencers to promote new releases or exclusive drops through online content creation.
The origin of Sneakers
Sneaker culture has a rich history that dates back to the early 20th century with Converse holding the claim to fame for the first documented celebrity endorsement. In 1932 the company added Chuck Taylor's signature to its trademarked star and thus the Chuck Taylor All Star was born.
Converse were certainly ahead of their time when it came to celebrity endorsements. In fact it took a few decades for others to catch up.
Fast forward to the early 70's when former New York Knicks defender Walt "Clyde" Frazier, who was known for his fashionable sense of style on and off the court, became the first NBA player to have a signature sneaker when he endorsed the PUMA Clyde.
Nowadays, It's not just about sports or even just the shoes anymore, instead, it's a lifestyle that many people have adopted. Sneakers are now more than just functional footwear – they're a reflection of one's personality and interests.
In the US, sneakers gained popularity when companies like Converse started producing basketball shoes with rubber soles. Sneakers became popular not only among athletes but also among everyday people who wanted comfortable and stylish footwear.
Nike introduces the Air Jordan 1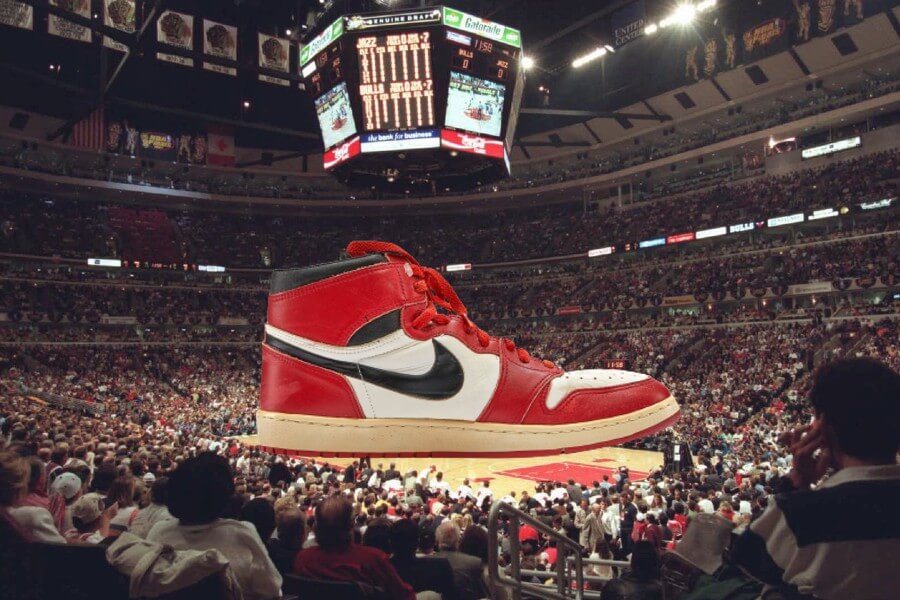 The turning point of sneaker culture as we know it today is often attributed to the 1980's. This era saw an explosion in athletic shoe technology, design, and innovation.
In 1984, Nike was interested in entering the relatively unexplored basketball footwear market. Even though they had already achieved success with their Air Force 1 sneaker in 1982, most basketball stars at the time still preferred Converse shoes due to its rich history and association to Basketball.
Meanwhile, Michael Jordan wanting to make a name for himself, had just been drafted into the NBA. Nike saw an opportunity to work with the future hall of famer, and offered him a five-year, $2.5 million deal, along with the now famous AIR Jordan 1 specially designed with Jordan in mind. Jordan's Nike deal was the main pivotal moment for Nike, sneaker enthusiasts and collectors.
RUN DMC enter the collaboration game
From its beginnings as athletic footwear to becoming a billion-dollar industry, sneakers have come a long way in their journey. As such they have become an integral part of popular culture today
In addition to advancements made by manufacturers, and collaborations with athletes it was RUN DMC that also played a significant role during this time period. Their track 'My Adidas' led to their custom release of the Superstar Style in 1986.
The collaboration worked wonders for Adidas. The company saw an increased demand for their Superstar model – highlighting how fashion trends were becoming closely intertwined with music preferences within youth subcultures. The collaboration between Ye (Kanye West) and Adidas on the Yeezy is a another perfect example of fashion and superstars successfully merging.
Today, sneaker culture is at an all-time high with collectors paying thousands of dollars for rare or exclusive pairs. Sneaker heads around the world collect limited edition releases and rare vintage kicks as if they were precious gems.
The rise of sneaker culture events
This new audience gave birth to sneaker culture exhibits and tradeshows which have become increasingly popular in recent years. They attract thousands of enthusiasts who admire each other's collections while trying to add new pairs to their own.
These exhibits provide an opportunity for fans to delve deeper into their passion and learn more about the stories behind some of the most iconic sneaker designs.
One such exhibit is The Rise of Sneaker Culture. RSC is a traveling exhibition that's drawn from the collection of the Bata Shoe Museum in Toronto. The collection showcases over 150 pairs of sneakers from various eras. It includes vintage shoes from the early 1900s, and modern-day collaborations between designers and athletes. The exhibit explores how sneakers evolved from functional athletic footwear to a cultural phenomenon that has impacted music, art, fashion, and even politics.
These sneaker culture exhibits are not just for avid collectors. In fact it's for anyone who wants to understand how sneakers have become such an integral part of our cultural identity. Sneaker exhibitions offer an immersive experience which allows all that visit to appreciate these iconic shoes as both works of art and historical artifacts.
Sneaker culture, a billion-dollar industry
It is predicted that the sneaker industry will reach $120 billion by 2026. This billion-dollar industry has is driven by the growing demand for rare and exclusive releases. Major players' strategic approach and the booming resale culture have contributed to the growth of this thriving market in recent years..
Sneaker enthusiasts appreciate the craftsmanship that goes into designing these shoes. They value the unique designs, financial value, social clout and sport performance. Big and small brands alike understand consumer trends and invest heavily in research and development to create innovative designs that stand out and perform.
StockX live marketplace
With the rise of the industry it should come as no surprise that online marketplaces popped up to cater for the fans. Enter StockX an online marketplace which operates on a "stock market" model, where buyers place bids and sellers place asks for specific items. The company specializes in the buying and selling of sneakers, streetwear, electronics, and other popular consumer products.
StockX became popular among sneaker enthusiasts and collectors due to its authentication process. The process which ensures that all products sold on the platform are genuine. StockX employs a team of authenticators.
We will continue to see sneakers everywhere for a while – when are you getting yours?