Boondocking the United States is the alternative way to road trip, especially when it's visiting the mighty National Parks of the Southwest. We found this out first hand by boondocking or overlanding in a Jeep Wrangler with a tent on the roof for 12 days through Nevada, Arizona and Utah.
What is boondocking?
Boondocking is camping where there are no facilities. It's when you are quite literally in the middle of nowhere (the boondocks). This is our plan for our USA National Parks tour.
The US National Parks are some of the continent's greatest natural wonders. Inspiring millions of visitors every year, some pitch tents, book hotel rooms and rent lodges. But today, we're talking about a different class of traveler – the boondocker. These are the people that have turned their means of transport into a home on the road.
With a little preparation, it is the ultimate way to visit the National Parks. Especially when you have a long list of places you want to see in a larger area and when time is a factor to consider.
Choosing our mobile home, the Jeep Wrangler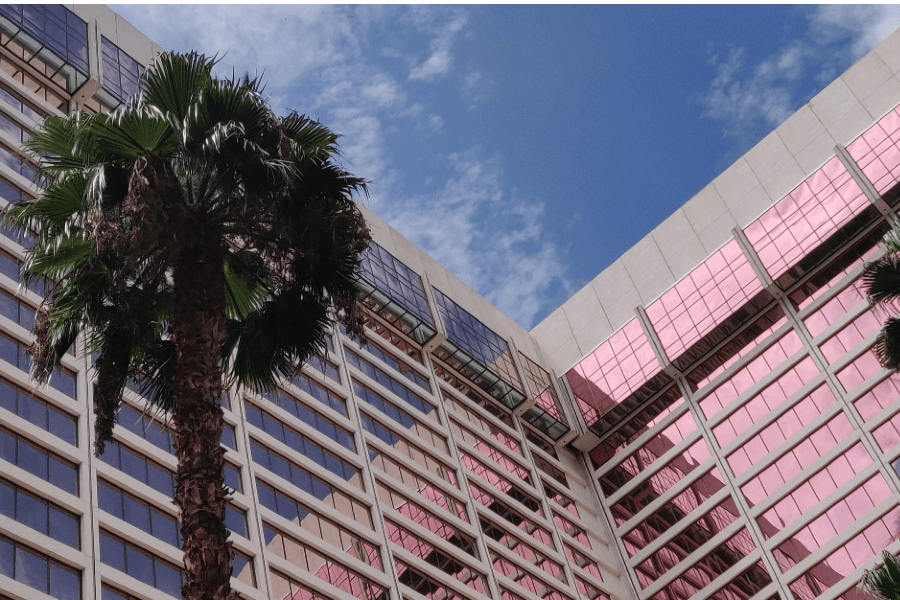 It all starts with the idea of camping in the National Parks – there may be no better way of seeing the US than through its natural beauty. However, arriving to the US with only 50L carry-on backpacks, we find ourselves certainly short of gear.
For anyone that lives or has been to the US recently, things have gotten expensive. So, we figure it would be best to rent everything out.
That's how we talk ourselves into overlanding – basically riding around in a 4×4 and sleeping on an adapted rooftop tent. We book a 2001 Ford Expedition at least two months in advance through a car sharing website called RVshare (like Airbnb, but for mobile homes). However the morning after we land in Las Vegas, the reservation is cancelled, the owner telling us that the previous renters seriously damaged the suspension.
Without drowning in panic, we manage to book another vehicle through Indie Campers. Well, not any other car – we get a last-minute deal on a decked out 2021 Jeep Wrangler. By decked out that means including a tent on the roof, a working fridge on a spare battery and a portable gas stove. Talk about a way to hit the road!
With our roving home, we will end up covering 2000 miles and over 9 National Parks, State Parks and National Forests.
Here are our journal written on the paths less travelled, Gonzo style.
The Ghost Town of Chloride, Arizona stop number one
Leaving the black hole that is Las Vegas, we head east towards the Hoover Dam. We pick up a few camping supplies on the way at REI, one of the bigger chains of camping equipment stores. Leaving we feel completely gutted at how expensive it is. We ain't paying 75 USD for a compass.
Night is here, and our distinguishably round Jeep lights illuminate the long stretch of highway. From this point, our phones become disconnected with the outside world. No signal, no internet. Thankfully I had downloaded large sections of Google Maps at REI.
We identify a place to spend the night via Campendium (one of the many apps for boondockers) and head there. Looking closer it says "Chloride, AZ (Ghost town)". I choose not to divulge this information with my girlfriend Giorgia before heading in that direction. Eventually, we pull off the highway and hit a dirt road. Chloride is one of the oldest mining towns in Arizona apparently.
We find a pull off area that looks relatively flat with only one other motorhome. This will do for tonight. Unsure of our surroundings due to the blackness of the night, and a bit uneasy on our first night on the road, we sleep with a steak knife in the tent.
Enter, the epic Grand Canyon
The next morning, we wake up to a whole new world – one in the desert. We have a quick coffee to start our day, leaving no time to set off again. Chloride turns out to be partially inhabited by ramshackle homes and eerie giftshops.
Driving through nothing but flat land all the way from Las Vegas, you are suddenly met with a gorge that out of nowhere descents deep into the Earth. We get goosebumps the first time we see it. To say that the Grand Canyon is awe inspiring is selling it short.
It's day two of camping, this time instead of a creepy ghost town, we are in the crisp Kaibab National Forest, adjacent to the Grand Canyon National Park. With 6,500 km2 of the Kaibab to roam, we don't have trouble finding a nice place to park surrounded by pine trees. Night falls, and we perch up in our tent above the Jeep Wrangler.
It takes about two seconds for Giorgia to fall asleep. And no wonder – after a day of waking up early, driving four hours and witnessing the Grand Canyon for the first time, it's enough to tire anyone. The night is still, and I'm not used to hearing true silence, so it's a little unnerving. As I write, the hairs on my neck stand up, a whooshing sound can be heard in the distance.
The sound grows louder before we realize it's the trees swaying in the wind of an oncoming storm. Lightening cracks through the sky, signaling that a storm is upon us. Our plastic hardtop tent may not be ideal, but at least we are protected from the rain.
It's a special moment of bonding with Giorgia. We have never been closer. She's a proven partner on the road and this is super important. Nothing worse than a lame road trip buddy. It's our second stop and I can already say that this is by far the ultimate way to travel. We need to get our own Jeep one day. I hear a second strike of lightening and then fall asleep to the sound of the rain.
Leaving the forest, Boondocking the desert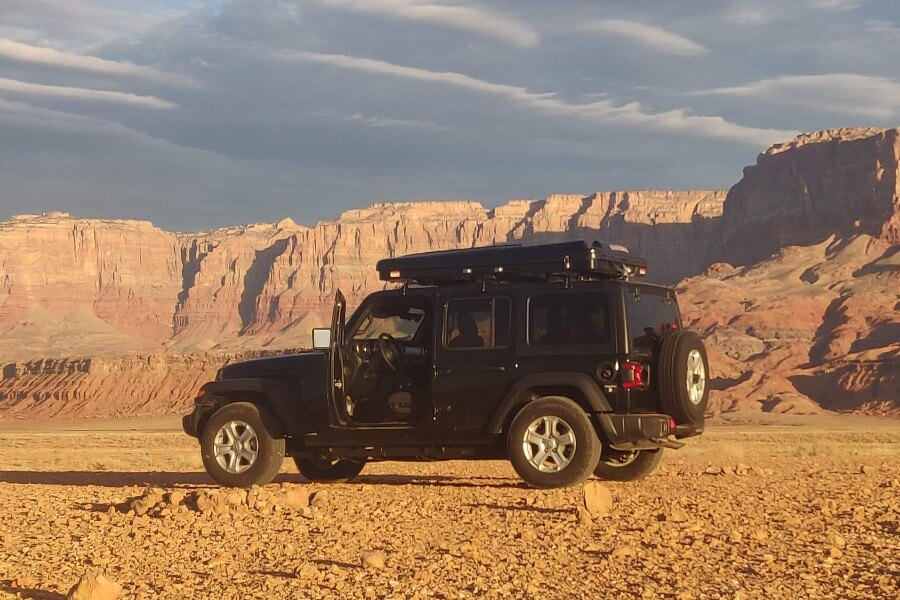 Waking up, we find massive elf hoofprints around our car. It seems we were visited in the night. The world around us is now green and very much alive. Helicopters fly over us, companies offering helitours of this exciting place.
With much excitement comes hunger, and sustenance is vital on the road. We cook up a breakfast of champions. Bacon, eggs and cornbread tortillas are the name of the game. We relish an outdoor shower with a portable pressured water bag from Decathlon (that we can only recommend) and are on our way.
We decide to see the South Rim another time, catching a glimpse of soaring hawks and ground squirrels running for their little lives.
A few hours later we're cruising through Navajo country. We're in the middle of the desert with open rocky terrain with nothing but a few simple shacks and cars parked around them. We drive further and see a school bus stop, but with no homes for miles. Add the odd gas station and there's an idea of the landscape for you.
Geographically and topographically, its stunning, towering rock shapes surrounding a desert. We reach a point north where we cross a bridge over a massive gorge. Below us is the mighty Colorado River.
Searching for a BLM campsite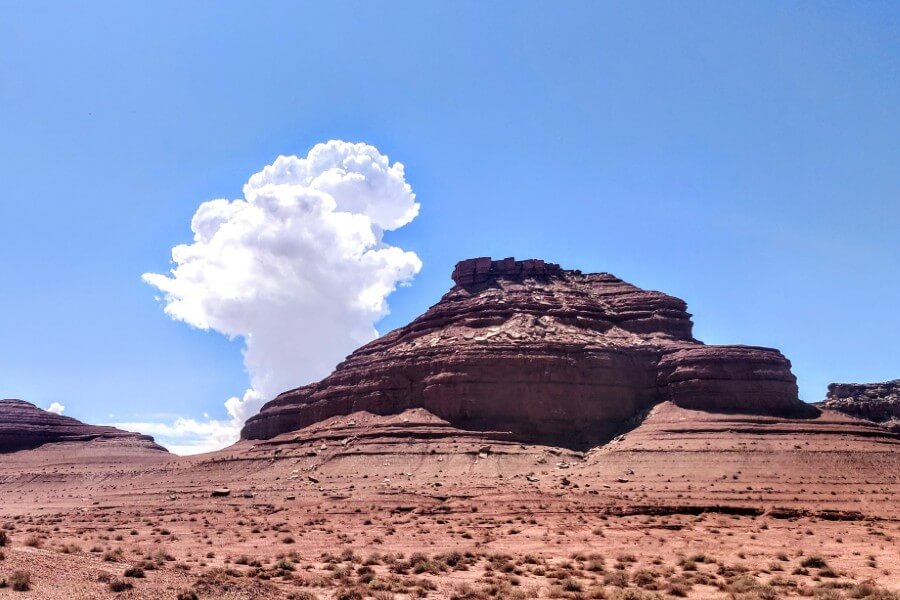 Stopping at a lodge we ask for advice where to find good, dispersed camping (free n' wild camping) for the night. The lady suggests a BLM (Bureau of Land Management) site just up the road for about ten minutes.
Following her instructions, we pull off the road and hit a dirt path until we find ourselves right next to a cliff with another impressive view of the Colorado river below, slowing cutting through and into the Grand Canyon. We even find a firepit and a great level place to park for the night, basically boondocking heaven.
That's when clouds start rolling in from all sides, lightening firing across the sky, indicating we would be sleeping elsewhere. Little did we know, August is monsoon season in the American Southwest. Unwilling to be the highest point in the land in a metal structure with a plastic roof, we heed the warning. We play it safe, seek shelter at the lodge where we ordered food and Giorgia claims I supposably "ate all the nachos".
The storm passes and we head back to the desert. Now it's 9:30 PM, the heat is making me sweat like a maniac and Giorgia is again, fast asleep. I ask the Navajo spirits to stop the rain for now, at least for this week. Spoiler alert – my request will not heeded.
Boondocking the North Rim of the Grand Canyon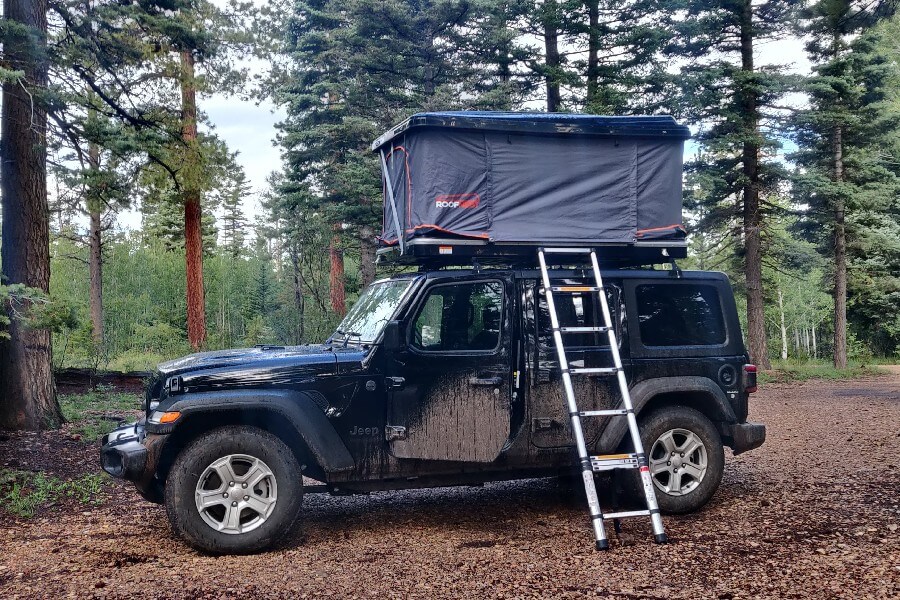 On the opposite, less traveled North Rim of the Grand Canyon exists a grand lodge – and it turns out to be quite the spot. It's surprisingly quiet for one of America's most popular tourist destinations. On the lodge patio where people sip their drinks silently, they don't even play music. People are posted up in a line of reclining chairs, plenty of space for everyone. We take in the grandeur a bit before setting off to find a sweet place to camp.
To get to this spot we drive through the rain on bumpy road 611, another dirt path leading out to the wilderness. There we find free camping in a grove of large pine trees overlooking this unforgettable Canyon where we get cooking right away. For our window of opportunity to cook before the rain comes is short. For it isn't long until the next series of storms rolls in.
We sit in the cold mountain wind and wolf down our burgers before starting to put everything away. No thunder this time, only rain for 5 hours. Perhaps August is not the best month for boondocking. Regardless of the bad timing, we are happy, perched up in our rooftop tent with the rain outside. We don't leave the tent until the next morning, about 14 hours later.
The rain was force majeure for dinner, so after our rooftop hibernation we treat ourselves again to bacon, eggs and corn tortillas. Breakfast outside in nature is something magical. To add to the beautiful moment, Giorgia tries a sugar bomb of a cereal called Lucky Charms for the first time. She is over the rainbow.
Roof Nest crisis solved by friendly RV campers
Getting ready to leave we notice that our Roof Nest is at risk of falling off the car. Several points had unscrewed after the bumpy dirt road and we realize that we could have lost our humble abode. Over the course of the morning and afternoon we manage to solve the problem of our broken Roof Nest with the help of an older California couple we meet. It's community that counts when you're on the road and people are generally very helpful.
With ominous clouds in the distance, we face another night in our tent. Under the veil of another oncoming storm, a unanimous decision is made to leave the monsoon ridden Grand Canyon.
Flying down the highway, Giorgia at the last minute spots a sign for camping information. So, we careen off the pavement onto a gravel worksite and I pull a shady little U-turn. Turning into the backcountry we find a place where there are no storms for the next few days called the Hurricane Cliffs.
We choose a camp spot away from the highways, away from the towns. We park and enjoy ciders over our first sunset on this trip and get to cooking and fire prep as the sunset turns to twilight. By the moonlight we have dinner and enjoy our place in the universe in this new desert. It's in the middle of this desert that I put the pen down, turn off our LED lamp and sleep to the sound of a lone cricket in the distance.
Angels Landing and boondocking in Utah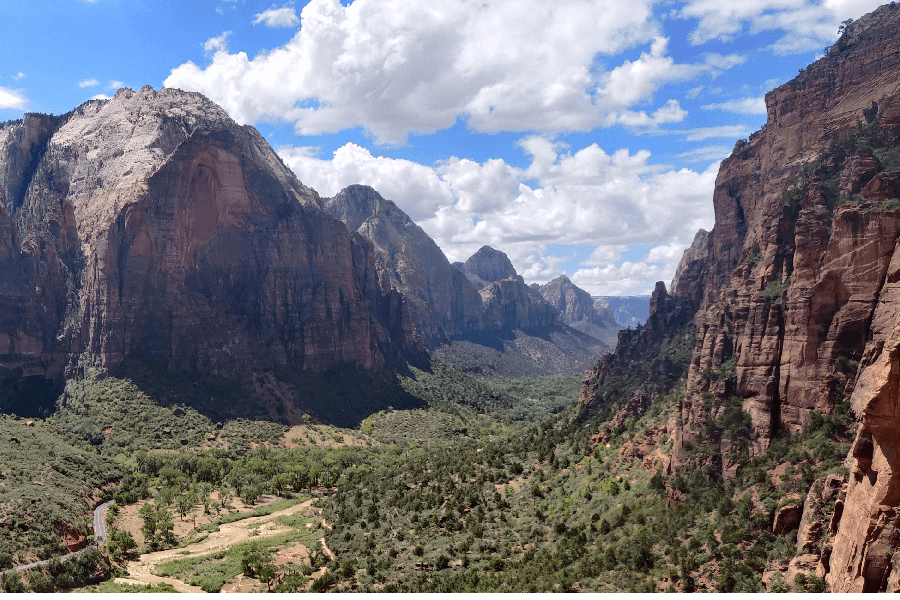 The next day we enter our most awaited destination: Zion National Park. An entire article can be written about our experience there, so allow me to distill it properly. It's a natural paradise within a canyon, including a valley and rock formations that allow for hiking, climbing and all sorts of ways to find new perspectives on the environment around you.
The National Park was originally called Mukuntuweap, a Paiute name from a local native American tribe that previously inhabited the area. However, a Mormon settler came along and thought that the name wasn't marketable, so he changed it to his name, Zion.
After receiving the permit to climb Angel's Landing, we pass a ranger checkpoint, where we find a sign signaling that 13 people have died since 2007 on this hike. After seeing so many people holding the guard railing with one hand and taking pictures with the other, I deduce that the death rate can potentially be correlated with the release of the iPhone.
The summit is extraordinary and offers the best view of this paradisical land below us. We head back before the afternoon storms roll in to post up in our nest.
Roof Nest Perks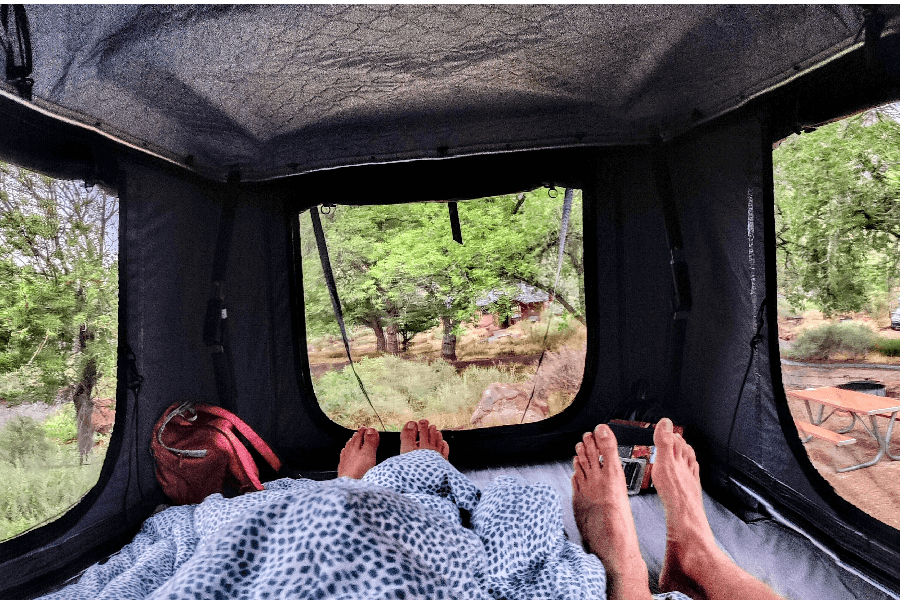 The rooftop camper is downright awesome for boondocking. Lots of comments from people from the moment we drive off the lot. Being above ground gives you the advantage of sight and peace of mind that you are at least 7 feet away from animals, insects and humans. It's like driving around with a two-story apartment.
The foam mattress is comfy, there is a netting above it to keep your phone, water etc. Best of all it opens on all four sides giving you a view of the terrain around you with bug screen. Wildlife roams around you, but you don't have to share these beautiful moments with mosquitos.
Exciting Boondocking: Flashfloods, storms and animals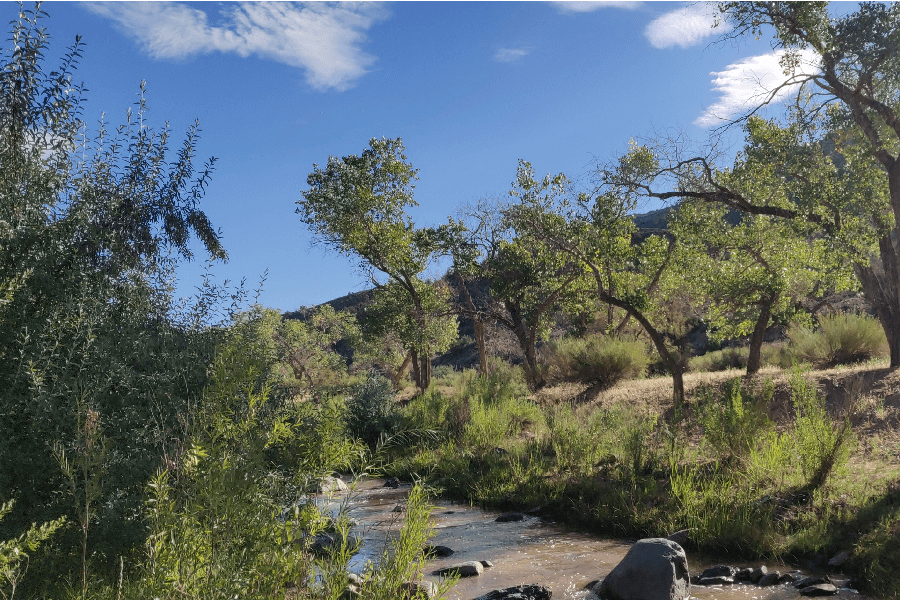 Leaving Zion is difficult, but we take off in the name of discovery. There is so much to uncover, and with a set of off-road wheels, a place to sleep and enough goods to survive, why not take off?
We camp a little far off from a creek this beautiful afternoon. Taking time for ourselves, we chill, nap and enjoy watching the day turn to twilight. The insects they are loud, but their sound is dampened by the sound of running water.
We ponder the risk of flashfloods, but we get over some of those fears with reassurance from a fellow overlander that we met at Zion National Park, the guy that suggested us the spot. Again, it's all about community.
Fauna that we have seen today: deer, squirrels, chipmunks, California Condors, a rabbit, a mouse and a Golden Huntsman Spider with shiny green eyes.
The way back – Valley of Fire State Park
Mountains, valleys, rivers and deserts. We decide that the latter is our favorite while boondocking. Less rain (sometimes), warm weather and grand landscapes. That's why we decide to spend our last night in the Valley of Fire in Nevada. We arrive and ask if there is space at the campsite (not technically boondocking as there are facilities, however it's our last night and we opt for showers).
It turns out Valley of Fire is not the most popular this time of year. Most kids are back in school, and most tourists are off seeing the famous National Parks. Add to the fact it gets up to 115 F (46 C) during the day, the park feels empty.
The State Park is one of the oldest of Nevada. It's called the Valley of Fire because at sunset it appears as though the rock formations are bursting into flames. We go for a short hike amongst the alien terrain to witness the last rays of light in the valley. The only other person is off in the distance, filming what looks like an amateur music video.
Pasta, stargazing and bushy tails
We are glad to be back cooking at the campsite. The weather is good, the company is lovely, but we cannot help being just a little melancholic. It's our last night boondocking in the wild and we will terribly miss our Jeep.
Tuna pasta is the order of the night and after dinner we sit back in our folding chairs, turn off the lights and watch a final night of the universe. For once it's not cloudy and we've got the best seat in the house.
That's when I notice something out of the corner of my eye. I shine a light in the direction to find that a desert fox has discovered our tuna juice spilled in the sand. His (or her) body is slender, with a big bushy tail. Seeing this unusual sighting of a rare animal is the perfect way to end our trip.
With all sides of the tent open, we climb up our Roof Nest for the last time. The heat of the day has barely subsided, but our internal clocks are telling us to sleep, having been set to the timing of nature. Tomorrow we are back in Las Vegas, but tonight, the desert has our full and undivided attention.