CryptoRastas is an NFT collection featuring pixelated caricatures of prominent reggae artists from around the world. 
Created by Digitaldubs, the famous Rio de Janeiro soundsystem and top Brazilian reggae producer, it's the representation of reggae culture on the blockchain. This April 1st, there's another big NFT auction, on the OpenSea marketplace, featuring more big names in the scene.
Digitaldubs, reggae champion from Rio
Through the numerous collaborations Digitaldubs has recorded over the years, he is in the perfect position to proliferate this NFT project.
He has worked and recorded with greats from the reggae community including artists such as Ranking Joe, the late Lee Scratch Perry, but also Brazilian artists such as Gilberto Gil and BNegão.
In 2019 we were invited to his bloco at the Rio de Janeiro carnival, read about it here.
When the NFTs drop, you feel no pain
On April 1st CryptoRastas will be auctioning off 10 new artist collaborations. CryptoRastas has done collabs in the past, but this one reaches new heights. The artists include Anthony B, Cali P, Jah9, Jah Mason, Jesse Royal, Million Stylez, Ranking Joe, R. Zee Jackson, Sugar Minott and Yaadcore. One can only imagine what will happen on 4/20.
The NFT collection has "10,420 unique avatars blessed on the Ethereum blockchain." Each avatar has varying levels of rarity according to their style, plus 200 official collabs to be auctioned.
The pixelated images represent big time reggae artists including their quirky details such as Lee Scratch Perry's colorful beard. Other details include red eyes or smoke coming out of their lit pipes and joints.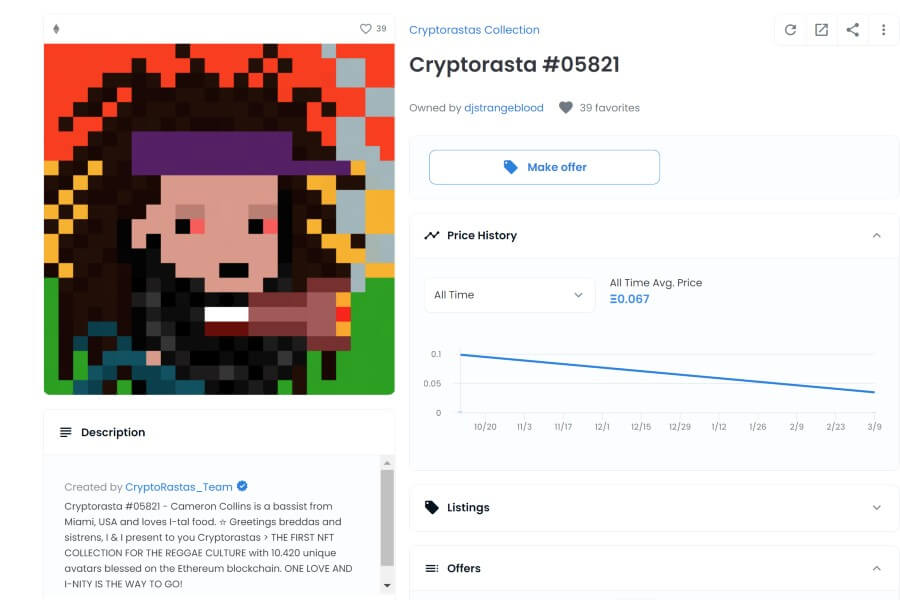 Remind me, what is an NFT again?
NFTs are Non-Fungible Tokens that are unique digital identifiers that exist on the blockchain.
Taking the shape of an avatar, GIF or other piece of artwork, an increasing number of people are finding these NFTs worth quite a lot. Some ranging from hundreds to millions of dollars. There are several reasons why people buy into NFTs.
The main reason is that it cannot be copied, substituted or subdivided. Everyone wants to say they have the original, or a limited edition of something. It's about creating value in scarcity and for that reason NFTs are kept and flaunted as collectibles, traded or resold on platforms such as OpenSea.
Digitaldubs recorded a track explaining NFTs with a corresponding music video featuring Dada Yute that is very well done. 
CryptoRastas, Buffalo Soldiers of the blockchain
CryptoRastas is another way that the music industry is diversifying itself with the increased use of blockchain technology. Their website states that owners of this NFT collectible will receive exclusive access to merch, NFT airdrops, giveaways, VIP access to events all over the world as well as tickets to shows and festivals in the real world or the metaverse.
In addition they mention potential access to meet and greets plus voting rights on future company decisions.
In essence, this is a member's club for reggae culture on the blockchain.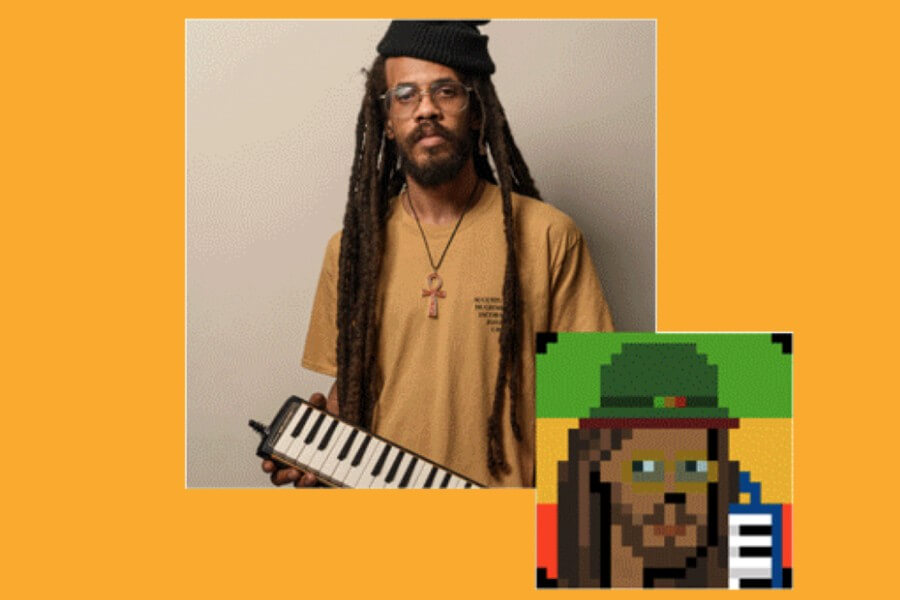 Positive vibrations are the best marketing
Many of the featured artists shout out their NFT look-alikes on Instagram, Facebook and other mediums.
This is the best organic marketing for an NFT, as the artist is basically promoting themselves in the best way they know: singing, playing or smoking a fat one. In any case, the vibe is clearly positive here.
Thanks to Digitaldubs, reggae culture is enriched in the digital world, permeating the metaverse forever. 
So the question is, when you finna buy?
CryptoRastas Social