15 Aug

UFC 226 – Maltese Producer Depth Goes Full VIP in Las Vegas
UFC 226 – Maltese Producer Depth Goes Full VIP in Las Vegas
A UFC VIP experience seen through the eyes of our guest writer Depth.
Darren Till
When I first saw the desert of Nevada I was blown away. I've lived in Malta all my life so I could really appreciate the size of the place.
It felt great to land because the whole trip was 18 hours – jetlag was definitely an issue
But hey I'm in Vegas and straight off the plane in the waiting area of the airport I spot Darren Till a top-ranked MMA Welterweight.
America had decided to treat me well from the beginning.
I booked a taxi to my hotel and on the way, I noticed two medical cannabis dispensaries, which I had to pay a visit to because of the health benefits that are widely reported.
I've been suffering from back pain for about six years now and I've tried everything from yoga to physiotherapy with minimal results.
After hearing they offer about fifty different strains I was sure one of them could help with chronic pain.
Walking through the door of the dispensary felt more like walking into the reception of a five-star hotel!
Picking the strains
The level of professionalism and passion for the plant really showed especially in the people working there. I was greeted in the best way possible, shown around the shop, and explained what every strain of cannabis does and how it affects the body and mind.
I picked three different strains, which I thought suited best for my needs, and was on my way.
Next, I went to my hotel room, randomly picked one of the three different strains I bought, and tried it out. 
After 10 minutes (no joke) my body felt so relaxed it was surreal. Neck and back pain was gone! The benefits are real.
Waking up the next day was super easy knowing I'm in Vegas.
I decided to leave my hotel and started to explore my surroundings and boy was I blown away by the size of the buildings and how beautifully they were built – it was really like a scene from a movie.
Eventually, I Found myself in a huge shopping mall, with hundreds of shops that sell plenty of stuff we don't have back in Malta.
After the first mall, I said to myself that I had to visit all the malls in Vegas because it was so much fun shopping. Without noticing, my first day had passed and I nearly spend half of my money.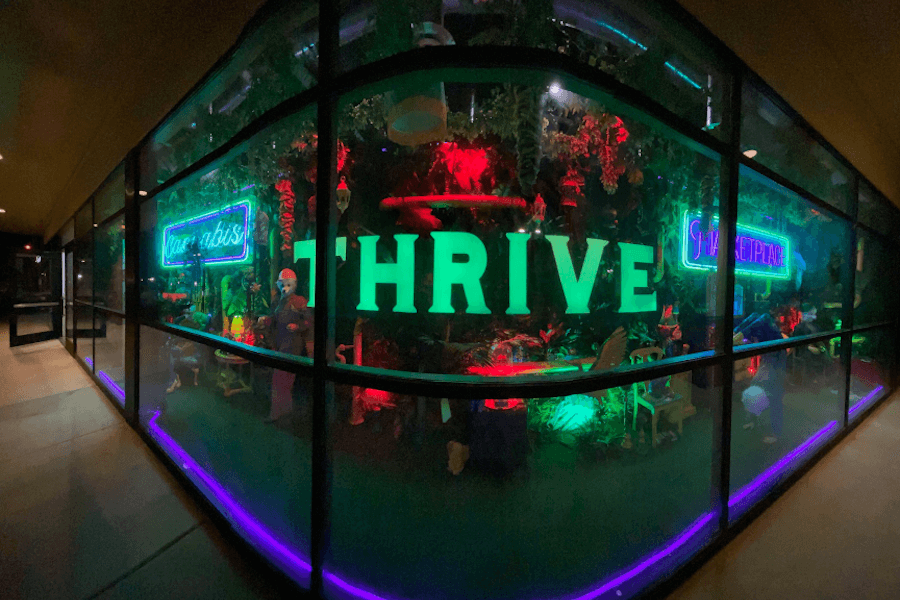 UFC 226 weigh-ins
The next day I had the weigh-ins, which took place in the famous T Mobile Arena.
Upon entrance, I was randomly searched,
I guess perhaps because of my Maltese looks. I had already been searched twice on my way to America (sorry sir, but you have been picked for a random security search). Anyways I was clear.
The vibe at the weigh-in was amazing. It felt surreal seeing Joe Rogan & Dana White ten meters in front of you.
You could see from their face-offs that no one was playing games.
These fighters were ready, with no fear in their eyes. It gave me so much adrenaline that it inspired me to do better in any aspect of life.
When the weigh-in was over I continued to explore Vegas and found my way to the famous Gordon Ramsey burger,
I then played my luck at the famous Caesar's Palace Casino and won $150! But then I lost $250… after that, I said to myself no more casinos. I checked back to my hotel, enjoyed a good jacuzzi, and smoked a legal joint.
UFC Fight day
The next morning was the whole reason why I had booked Vegas as my holiday destination because it was FIGHT DAY!
The day of the main event had arrived and known that it was going to be the most anticipated fight of the year., along with having a VIP ticket for the whole experience. that my excitement levels were very high!
It was the second only super-fight in UFC history and I had a VIP ticket for the whole experience.
Excitement levels were very high!
I wore my best suit for the occasion and made my way to the arena, where I wasn't searched once. I think the suit had something to do with it.
Anyway, I had a buffet & an open bar with superstars and some of the best fighters in the world.
The food was delicious. Soon after was a Q & A session with Chuck Lidell, Stephen Thompson, and Kelvin Gastelum.
That took thirty minutes and when it was over I made my way to my VIP seat near the Octagon for the prelims.
Daniel Cormier vs. Stipe Miocic.
That's when the magic began. Just ten meters in front of me stood celebrities like Brock Lesnar, Red Hot Chili Peppers, Tyrone Woodly, Dan Henderson, Tony Ferguson, and many more. It was surreal.
The first fight was electric with an early KO from Dan Hooker that woke up the whole arena. All of the other fights were great to watch except for Francis Ngannou vs. Derrick Lewis. They just stood in front of each other for three rounds with about eleven strikes in all…. Ridiculous.
The crowd was booing like crazy and all of a sudden I see a Mexican wave coming our way and that was definitely the highlight of that fight.
It was time for the main event, Daniel Cormier vs. Stipe Miocic. Cormier came out running as usual and Miocic was easy, calm & composed.
Both fighters were very confident that they were going to win. 
The fight started and ended with one left hook from DC. Absolutely spectacular. Deep down I knew DC was going to win, but not in that fashion.
Never in my life had I heard a crowd shouting & screaming like that, UFC history had been made.
After that DVC invited Brock Lesnar in the Octagon to let him know that he's going to be his next fight,
Which is going to be a great payday for both of them!
Floyd Mayweather's coach
Making my way out of the T-Mobile Arena I randomly started speaking to a guy about the night.
Turns out he's one of Floyd Mayweather's coaches!
We spent like 30 minutes talking and he invited me to go train with him on Monday at Floyd's gym.
I couldn't refuse.
Later on that night I explored the strip of Vegas. At night the place comes to life with all the lights and nightcrawlers.
Then went to sleep with Mary Jane.
The next day I visited the Mandalay Bay Aquarium, the world-famous gold & silver pawn shop & the famous Las Vegas Welcome sign, which I spent 30 minutes in the scorching sun just to take a picture.
And yes I hit the strip club on my last day.
What I learned from Vegas is that only by going the extra mile and not wasting any time can success be reached.
Words by Depth