Sunny Malta continues to punch way above its weight with quality artists gracing its shores. This Sunday Berlin based DJ & producer Kyle Geiger will play at Gianpula's Rooftop Club for the closing of in.di.go.
Kyle Geiger – another addition to in.di.go Sundays
Contributing to the local club scene, In.di.go's carefully selected music programming features a dubbed-up, stripped down techno sound. It blends beautifully between the darkness of the local underground together with the warmth and power of Malta's hot summer days.
Kyle Geiger grew up in the State of Indiana and then found himself in the techno-capital of the world, Berlin. We sat down with the artist to find out a little more about what makes him tick and his views on today's hot topics gripping the DJ world.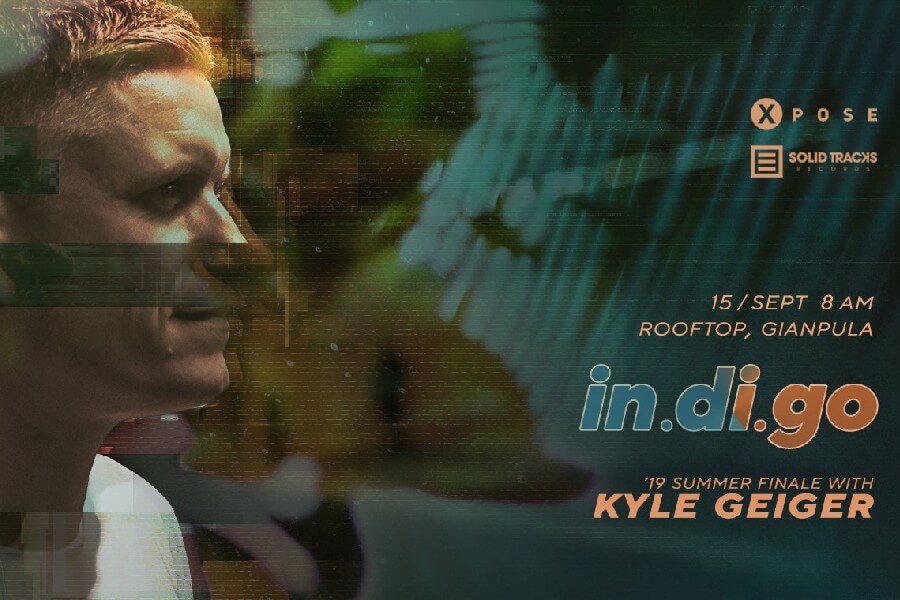 Origins
How did you first discover techno? Was there one artist that pushed you to start DJing?
I had linked up with a guy who had a mobile DJ business. He would play high school dances, weddings, events like that. A friend and I thought it would be a good way to make money, and we planned to play the same sort of gigs.
Before this business plan failed, I was buying tons of music of all genres, which I wasn't necessarily familiar with. I needed to have different stuff that would suit all sorts of people.
My influences are the kind of stuff people don't really speak about in an interview. I first got into that euro-dance stuff, like Real McCoy and 2 Unlimited. It's the most embarrassing stuff you could ever listen to now, but that was what opened the door. At the same time, I was really into rock music like Nine Inch Nails.
I knew when I was listening to the euro dance stuff that it was super cheesy. However there were elements that I liked, and with Nine Inch Nails there were the electronic aspects that weren't cheesy. The first time I heard 'Closer' it was at a middle school dance (the edited version of course). That was really what got me down the rabbit hole.
I appreciated having a Blockbuster music store in my hometown in Indiana, as it had a music section. Blockbuster was mainly known as a video store, but it had a separate, and much shorter-lived branch of music stores as well.
They had an awful business model, but it was super beneficial to people like me. You could basically take any CD to the listening station and they would take it out of the plastic, and you could listen to the whole thing.
The result was that we created bundles of merchandise that was no longer returnable to the distributors, but we loved every minute of it. RIP Blockbuster music.
Techno in the US vs Germany
There is certainly more support for techno in Europe in comparison to the US. I suppose it was very refreshing to play in Germany for the first time as an American DJ. How is being based in Berlin affecting your style?
I remember the first time I played in Europe. Somebody came up to the DJ booth with their phone screen, and I thought oh gosh, here we go again, they are going to ask me to play whatever top 40 song or rap song. In the end they were requesting one of my own tracks and I thought wow, it's a very different world.
I think what governs a lot of it are the liquor laws, and that clubs can stay open longer. When you change the hours of a club, you change the kind of music. Techno is really at its best when there is a 12-hour window from start to finish of the party. It has the capacity to go longer.
Influence of radio music
The things that really function well in a shorter window, which is what you have in the US, are genres like dubstep and EDM. This type of music is much closer to a traditional song format, with a start and beginning, that's why that type of music is big in the US. That's why the music is radio friendly.
You don't have something like the BBC in the UK, which is just for cultural enrichment. That doesn't really exist in the US, so what's important is what brings the most listeners, you end up with super homogenous music on the radio and that translates to nightclubs. A lot of people end up wanting to hear whatever they're listening to on the radio.
I don't want to present Europe as this homogenized, monolithic culture. But I feel like Europe as a whole, between all the different countries, has a lot more of the perspective that there's still value in things that don't necessarily make the most money. You have cultural things like the opera that receive funds from the state, because the state places value in cultural enrichment. Europe is a bit more open to cultural enrichment of music.
Kyle Geiger on living in Germany
After 7 years in Germany, how is your German?
It's not bad. I don't think I could be a spy though. It's good enough to get me really stressed out when I receive an official letter. I can understand it just enough to stress me out. Perhaps I might not have time to look at it in depth. Or maybe I might be in a rush; I see this letter and it lingers in my head the whole day.
My German is good. I had taken German in high school, but I had forgotten it. It was a priority for me to learn as soon as I moved here. It's a hard place to perfect your German because so many people know English and will just switch to English without asking.
Even like if you ask to repeat a question because you did not hear it, not because you did not understand it, people often repeat in English.
Set lengths
On average how long are your sets? How long does it take you to find your groove and feel a crowd?
If there was a DJ award for worst one-hour sets then I would be pretty close to the top. I always think the first hour of my set is the worst, and someone always without fail tells me that they especially liked the first hour, so you begin to wonder if it's a psychological thing.
There's a term I like to use – Gonzo DJing. It basically means that a DJ is at their best when you immerse yourself, become part of the party instead of acting like some god on the stage observing the commoners.
It's great that techno is so popular, but I think there is now a bigger separation between dancers and the DJ. A DJ is the best when they are playing a role in the party. I usually try to arrive a decent amount of time before playing, you still have to get acclimated to the environment. I think it's the second or third hour where I really get going.
This depends of course, if everything is technically sound, the setup is good, the DJ booth is solid and I'm not having to focus so much on familiarising myself with the sound, then it can go faster. I like longer sets, I don't like one-hour sets – 2 is manageable I guess. 4 is great – and that's not just a plug for this party.
Techno and technology
Technology is helping more people express themselves musically, through the help of software and other devices. How critical are you of these kinds of aids?
I think they're great. It's always funny to me, that, we can all get behind efforts to make more people able to read, more people able to do basic math, clean drinking water for everyone. When it comes time for people to have a better path to find music – for people not as musically or technologically inclined which helps to be creative – we get defensive about these things.
We hear comments like oh, now everyone's a DJ. It's great for music in my opinion. Of course, there are challenges that come with technology, and it can make you lazy, but so can having Netflix and Spotify. All these things can make you lazy, but it offers accessibility.
Production software
When I was first producing music, I was using software at the time. It was new and cool, but I was criticized back then.
There was a point in the 90s where you needed about €5,000 up front to have a studio set up. Now, I think it's great that someone can have a set of headphones and an old laptop and can make an impact musically.
For me the technology is always great, and artists have to find a way to harness it for their sound. Anybody that is really dogging the technology or saying it's less pure, I would just encourage people to ignore them, the naysayers. Technological advancements have only positively impacted me and hopefully everybody else.
Recommendations
Any up and coming acts that you highly recommend?
This was always a little more exciting when everything wasn't on the Internet. A lot of times I am having people that are wrapped up in the techno world for way less time than I've been.
I'm learning from them and taking notes from young kids who are sitting there with SoundCloud or YouTube open for 12 hours a day. It makes me wonder how I can keep up. Maybe what I can do is offer the DJs I really like.
A few DJs I really like who are well known but maybe are sometimes overlooked, Francois X from Paris, one of the residents of the now defunct Concrete club. He's an amazing DJ and has a really good range of music that he can play.
Residents of a healthy club are able to have a good range. It's a necessity for them. You can't be a one trick pony because you are playing opening sets, peak times, closings etc. One of the best sets I ever heard in Berlin was Levon Vincent. I love his productions, but I also think he's a fantastic DJ.
Kyle Geiger Socials
Images courtesy of: Kyle Geiger